—
George Orwell
---
Obama's speech in Lorain County, Ohio, January 22, 2010:
Obama's Train Wreck of a Town Hall in Ohio
. Maybe it's me; maybe I can't see any Obama speech as a good one these days. But today in Ohio, it seemed like the president was way off his game. I thought he was defensive, prickly, almost indignant that he's found himself in the tough spot that he's in. He began by talking about how much he didn't like being in Washington, and apparently said something about the job being stifling. Sir, you spent two years trying to get this job.
How hope, change turned into bum year for President Obama
. Every time Barack and his Teleprompter go out on the stump, he sinks further in the polls. As a pol, he's gone from Teflon to Velcro in record time. In Ohio he told his handpicked audience of swooning fellow travelers that he doesn't like being in Washington. Memo to Barack: Self-pity is not good box office. Then the narcissist in chief said, as he so often does, "This is not about me!"
Obama's Ego Continues to Reign Supreme
. Is it 2011 already? I could swear that sounded more like a campaign speech than a presidential address. And for something that's not about him, it's amazing how he manages to slip references to himself in 20 times after saying "it's not about me."
The State of the Union address, January 27, 2010:
Haven't We Heard This Before?
Obama delivered the least fresh State of the Union address I've ever heard, and I've heard more than 30 of them. It was filled with old ideas, campaign cliches, and frequent use of personal pronoun, "I." That's the Obama pattern.
State of confusion
. The president can read the election results; that much is clear from his State of the Union Address last night. ... But while the president spoke for some 70 long minutes last night, he didn't actually propose to do anything much to address voters' concerns.
A dissenting justice and a critical Obama, who sure likes the sound of 'I'
. Obama's speech was a long one, even for State of the Unions, clocking in at 70 minutes. And full of what felt like downsized ambitions. ... According to one count, Obama used the words "my" or "mine" 18 times and "I" 88 times, better than once a minute.
State of the Union: How did he do?
In the history of the State of the Union has any President ever called out the Supreme Court by name, and egged on the Congress to jeer a Supreme Court decision, while the Justices were seated politely before him surrounded by hundreds Congressmen? ... This was a truly shocking lack of decorum and disrespect towards the Supreme Court for which an apology is in order.
President Obama gropes for a strategy
. [Scroll down] With the big-bang strategy officially a failure, Obama's speech revealed in real-time a president groping for a new and more effective one. ... Health care, the consuming issue of 2009 and the one on which Obama aides insisted they should be judged, did not show up until more than halfway through.
Mister Speaker
. As mawkish and shameless as the Clinton SOTUs were, they nevertheless projected a kind of authenticity. With Obama, the big-picture uplift seems unmoored from any personal connection — and he's not good enough to make it real. Same with all those municipal name-checks.
The State of Obama
. The president gave a campaign speech tonight, but the Democrats had better hope that this is not what their campaign speeches are like this year.
President Wrong on Citizens United Case
. Tonight the president engaged in demogoguery of the worst kind, when he claimed that last week's Supreme Court decision in Citizens United v. FEC, "open[ed] the floodgates for special interests — including foreign corporations — to spend without limit in our elections. Well I don't think American elections should be bankrolled by America's most powerful interests, or worse, by foreign entities." The president's statement is false.
Obama's Dirty Laundry List
: The State of the Union address Obama delivered last night gave new meaning to the term "laundry list." It was an endless parade of campaign promises and presidential initiatives. It had no theme. The text literally could have been clipped together from the hundreds of speeches, press conferences, and town halls the president has delivered since beginning his run for the presidency three years ago.
Obama Defiant
. In a speech that signaled his intention to "start anew," perhaps the most notable feature of President Obama's first-ever State of the Union address was how remarkably stale it sounded.
A Response to the president's State of the Union speech
: There are so many things I found objectionable with President Obama's State of the Union Address I don't know where to begin.
Now, Even Speeches Fail President Obama
. Obama's State of the Union address last night was not just overly long and dull, it was totally tone-deaf politically. Coming on the heels of a political upset in Massachusetts, with deteriorating poll numbers and anxious members of his own party, Obama badly needed a home-run to change the political dynamics. He struck out.
The Slam, the Scowl and the Separation of Powers
. It was an impromptu moment of political theater with a constitutional lesson at the heart of it. President Barack Obama took the extraordinary step of bashing a decision of the Supreme Court in his State of the Union address last night — while six of the justices sat there stonily.
With all due disrespect Mr. President!
[Scroll down] But to suggest in your state of the union speech — "
With all due deference to separation of powers, last week the Supreme Court reversed a century of law that, I believe, will open the floodgates for special interests, including foreign corporations, to spend without limit in our elections
." — after coming to power on an unprecedented and vulgar amount of corrupt international special interest funding, is just plain insulting! You spent more to become president than any president in US history, more than four times your opponent, and every penny of it came from "special interest groups," more than $200 million of it from still unknown overseas sources.
Carteresque
. In 1960, Fidel Castro addressed the U.N. General Assembly for four-and-a-half hours. President Obama didn't hit that target last night — it only felt like it.
Obama Lies About the Supreme Court; Media Blames Justice Alito
. President Obama's State of the Union address last night was notable for many reasons. First, it is not often that you hear such petulance from a sitting president of the United States — complaining about not receiving applause from your political opponents is simply ridiculous. Second, it is not often that a president directly lectures the American people...
Obama's gambling problem
: The American people watched as he placed his usual cards on the table: cap-and-trade, health-care reform, handouts for various factions of our society, populist demagoguery, etc. Regrettably, he hasn't learned that those cards aren't winners, and perhaps we now have to finally admit to ourselves that our president has a problem.
A perpetual campaign? Yes, he can
. It was a welcome call to end the partisanship that has gripped the political process — but a prescription rendered utterly meaningless when, just minutes after finishing the speech, Obama's permanent-campaign organization dispatched a mass e-mail soliciting, yes,
campaign funds
.
Obama Letting It Ride on a Bad Bet
. In his [2010] State of the Union, the president waxed eloquent about the baleful climate of what is commonly called the "permanent campaign" mindset in Washington. This was an interesting line of attack from a man who has never disbanded his campaign operation, Organizing for America, and who responded to the Scott Brown election by bringing his campaign manager into the White House.
Obama Was Wrong and Alito Was Right
. During his first State of the Union speech on Wednesday, President Barack Obama incorrectly stated that foreign nationals and foreign entities can now contribute unlimited amounts of money to U.S. political campaigns because of a recent U.S. Supreme Court ruling lifting certain campaign finance restrictions.
Racing towards destination unknown
. So it's full speed ahead, even if nobody knows where we're going. We can console ourselves that if we're lucky we might not get there. That's the main point of President Obama's eagerly awaited assessment of the State of the Union.
A speech with nothing for everybody
. That was some performance Wednesday night by President Obama, delivering one of the longest-ever State of the Union addresses but offering no evidence whatsoever of a willingness to listen to the swelling nationwide chorus of voices of discontent with his policies.
State of the Union: More Lies, Fewer Facts
. After President Obama finished delivering his State of the Union speech in the House chamber last night, it was evident that the Democratic loss in Massachusetts on January 19 had taught him nothing. He still attacked the free market, talked of raising taxes, pushed for the passage of ObamaCare, and continued blaming President George W. Bush for every economic woe that couldn't be pinned on a sitting Republican. In fact, Obama did everything but the one thing citizens wish he would do: take the will of the people into account somewhere in the midst of his decision-making process.
State of Confusion
. This was — as Obama likes to say — "the moment" to ackowledge this scene, and talk about what it means and where it goes. The real State of the Union. Instead, what sticks in my mind is that the president put more gusto into castigating the Supreme Court than he did into addressing the clear and present danger of Iran's terror-sponsoring mullahs and their nuclear bomb program.
Obama's dream dead in less than 15 hours
. Less than 15 hours after President Obama promised a three-year freeze on non-defense discretionary spending, Senate Democrats went and killed the dream. With their 43 "no" votes, they blocked a bipartisan provision on Thursday [1/28/2010] that would have allowed only 1 percent spending growth in the categories President Obama intended.
Foreign contributions to Obama campaign should be investigated
. [Scroll down] The charge is ironic because Obama's campaign disabled a track back feature on its website which did permit such contributions to be made through pre-paid credit cards purchased around the globe. The campaign never was fined or otherwise disciplined for this because his party had blocked replacements to the overseeing Federal Election Commission and lacking a quorum, it could not act at the time.
Obama's Deaf Ear May Cost His Success
. This week, Obama showed himself once again to be out of touch with both Americans and with the current debt situation in the United States.
Obama's 17% unemployment rate
: The president is full of it when he talks about creating or saving jobs. During his State of the Union address Wednesday night, he said, "Now, because of the steps we took, there are about 2 million Americans working right now who would otherwise be unemployed. ... Economists on the left and the right say this bill has helped save jobs and avert disaster." This is pure fiction. Job losses under President Obama's watch have increased steadily without remission.
More Mr. Nice Guy
. In his lengthy State of the Union address, President Obama was brief on national security issues, which he squeezed in toward the end. International terrorism, wars in Iraq and Afghanistan, and even America's relief efforts in Haiti all flashed past in bullet-point mentions. On Iraq and Afghanistan, Obama emphasized neither victory nor determination, but merely the early withdrawal of U.S. forces from both. His once vaunted Middle East peace process didn't make the cut.
Obama 'One-term' State of the Union
. The election last week of Scott Brown in Massachusetts sent a powerful message to President Obama and company. Massachusetts very dramatically reflected the thoughts of Middle America and did something about it. ... President Obama's State of the Union address did very little to instill confidence that Washington has gotten the message.
This is President Obama's office, is it not?
Whoever said that there is no "I" in team clearly had nothing to do with crafting President Obama's State of the Union Address. His remarks underscored the man's flawed hubris and served as a metaphor that echoed the housing crisis mindset of buying a house that he couldn't really afford.
How do you spell brazen?
In listening to the State of The Union Address, and other recent pondering of President Obama, I am constantly amazed at his ability to say things that he knows can be fact checked. Let me give you a few examples.
Obama's crocodile tears over the "perpetual campaign"
. It turns out that almost before the TV lights went out in the House chamber following his SOTU address, the administration sent out a fund raising appeal to the millions of supporters in the president's personal political army, Organizing for America.
Obama's SOTU speech scores readability of an eighth grader, two grades below GWB
. President Obama blamed himself for not being able to communicate his message properly to Americans, but a new analysis of the president's State of the Union speech, brings to light why Mr. Obama could be having problems in this area.
Most Voters Don't Believe President's Assertions About Economy
. The president in the speech declared that his administration has cut taxes for 95% of Americans. He even chided Republicans for not applauding on that point. However, just 21% of voters nationwide believe that taxes have been cut for 95% of Americans.
Voter Views on State-of-the-Union Points
: The president presented the $787-billion economic stimulus package as a success story. However, just 35% of voters believe the stimulus plan has helped the economy, while 31% believe it hurt.
Let Me Be Clear: It Was a Boring Speech
. What a different speech this could have been. And it's only luck that allowed President Obama's first State of the Union (although it's his third speech to a joint session of Congress) to be as boring as it was.
The Audacity Of Deceit Continues
. Unbelievable! That's the only way I can describe the State of the Union Address last week, but first I have to admit that I didn't watch the live broadcast. ... It was much easier to read President Obama's speech than to watch him at the podium with Vice President Biden and Speaker Nancy Pelosi nodding like bobbleheads and grinning at his every word. I did get to see portions of the broadcast and came away with a feeling of wonderment: Is he serious?
Obama picks campaigning over leading
. It began with the State of the Union address last week. Obama could have tried to catch some Republican flies with honey, challenging them to meet him in the middle and letting them weigh the political consequences of saying no. He opted for vinegar instead. The speech started with a call for cooperation and ended with the president taunting Republicans and tagging them with the blame for Washington's mess.
Obama makes a mockery of his own lobbyist ban
. More than 40 former lobbyists work in senior positions in the Obama administration, including three Cabinet secretaries and the CIA director. Yet in his State of the Union address, Obama claimed, "We've excluded lobbyists from policymaking jobs." Did Obama speak falsely? Well, it depends on what the definition of "excluded lobbyists" is.
Ego, Obama's Achilles' Heel
. [Scroll down] In President Obama, I see a bully. During his State of the Union address, Obama used his (pardon the pun) "bully pulpit" to bully the free market, banks, insurance companies, Republicans, and even the Supreme Court. Obama governs the Chicago way: no compromise — simply destroy your opponent.
Mr. Clout Goes to Washington
would be the perfect title of a movie about his reign.
Obama's Philosophically Fascist State of the Union Address
. President Obama's State of the Union address was the greatest American rhetorical embrace of fascist trope since the days of Woodrow Wilson. I am not suggesting Obama is a Nazi; he isn't. ... President Obama is, however, a man who embodies all the personal characteristics of a fascist leader, right down to the arrogant chin-up head tilt he utilizes when waiting for applause. He sees democracy as a filthy process that can be cured only by the centralized power of bureaucrats.
Clarence Thomas on Why He Skips the State of the Union
: [Scroll down] Thomas offered several reasons for the court's decision, which I won't repeat here; but what intrigued me was his parenthetical explanation for his absence from the State of the Union address. "I don't go because it has become so partisan," he said, "and it's very uncomfortable for a judge to sit there. There's a lot that you don't hear on TV: The catcalls, the whooping and hollering and under-the-breath comments. One of the consequences is now the court becomes part of the conversation, if you want to call it that, in the speeches. It's just an example of why I don't go."
What Obama might as well have said
. Obama's State of the Union address reminded me of Eddie Murphy's "Saturday Night Live" Gumby skit. The president could have conveyed the entirety of his 70-minute, petulance-on-parade speech in about 70 seconds.
The Constitution, Nazis, and the Corpse Man
: In his State of the Union address, Obama stated that "We find unity in our incredible diversity, drawing on the promise enshrined in our Constitution: the notion that we are all created equal..." Darn near made me want to stand up and salute, (something our POTUS could use some lessons in, by the way). There's a problem here, however. It turns out that "the notion that we are all created equal" is not "enshrined in our Constitution" — it's from the Declaration of Independence.
The Editor says...
The writer goes on to remind us that Mr. Obama is a Harvard-trained Constitutional lawyer. You would think that he must have rehearsed this speech numerous times before delivering it, and yet he never caught this error.
Supreme Arrogance
: It has been widely recognized that President Obama's attack on the Supreme Court during his State of the Union address was arrogant and rude. Obama broke with two hundred years of SOTU tradition and publicly humiliated and denounced the honorable justices of the Supreme Court in a move that should make Americans cringe. By using the privileged platform of his State of the Union address to attack a specific judicial ruling, Obama crossed a line that even many in his party have admitted was beyond the pale.
What a generous way to put it.
The president's habit of telling untruths
: Here's how predictable the president's slippery relationship with the truth has become: Hours before the State of the Union address,
Washington Examiner
reporter Timothy P. Carney posted a "pre-emptive fact check" that, among other things, prebutted any presidential claim to have "stopped the revolving door between government and corporate lobbying." As it happened, that night Barack Obama made an even bolder (read: less truthful) claim: that "we've excluded lobbyists from policymaking jobs."
'One Nation' under Obama Has No Respect for America
. In his State of the Union address before Congress, Obama became the first president to ever publicly deride sitting Supreme Court justices for their recent decision upholding the free-speech rights of American corporations. Such a mockery of Constitutional separation of powers is unprecedented and smacked of third-world dictators threatening to jail resistant judges.
The Rage Against Citizens United
. Presidencies and parties decline for lots of reasons, but looking back, one of the pivotal events in writing the history of the first Obama term is likely to be the tongue-lashing he gave several Supreme Court justices seated before him at his 2010 State of the Union message.
Health Care Speech #35, March 3, 2010.
Apparently Mr. Obama thinks that if he keeps repeating the same
lies
over and over we'll eventually forget that they're lies and we'll all like his ideas. Beyond that, the White House propaganda office seems to place a great deal of value on the visual impact of
doctors in lab coats
. Any reasonably observant person can't help but notice that Obama's speeches are carefully staged, and the doctors are mere props.
All Rhetoric, No Reality from White House on Health Care
. Flanked, again, by doctors in lab coats, President Barack Obama gave yet another speech this afternoon [3/3/2010] urging Congress to pass his health care reform plan. The President again claimed his plan lowers health care costs. It doesn't. The President again claimed his plan would not give government bureaucrats or insurance company bureaucrats more control over health care. It does. The President again claimed that "if you like your plan, you can keep your plan. If you like your doctor, you can keep your doctor." That simply is not true. The President again said his plan gives the American people the same health care as Members of Congress. It doesn't.
Obama Health Care Speech Given to Room Full of Doctors Wearing White Lab Coats
. So let me get this straight, the White House is claiming all these doctors spontaneously decided to wear white lab Coats? Wow, they really think we're stoopid...
Obama throws down gauntlet on health care
. President Obama declared the health care debate over on Wednesday and urged congressional Democrats to take the politically risky step of pushing his newly written compromise reform bill through using a controversial tactic to circumvent a Republican filibuster.
Obama speaks ... again
. Thirty-five. Including today's speech, that's the number of times Obama has delivered major remarks on health care reform, according to the Washington Post. What has happened between number one and number 35? Tea parties, town hall protests, and rising public opposition to the legislation before Congress. Doctors in lab coats won't change the numbers: The public does not want this bill and does not think it will improve health care in America.
Obama and the Doctors
: One of Barack Obama's favorite stage props lately is a doctor in a lab coat trying to make us believe that physicians support Obamacare. In keeping with every other Democrat claim about health care "reform," the truth is something rather different.
Strongsville, Ohio, March 15, 2010.
Obama: Polls Do Not Reflect the People
. President Obama was out stumping for his health care bill in Ohio today. In the conclusion of his speech, he told the crowd that he would ignore the polls and do what the people want.
The Editor says...
I wonder what Mr. Obama thinks a poll
is
.
Getting Onboard? Obama Travels to Ohio With Kucinich
. President Barack Obama traveled to Ohio to campaign for his health care bill, and he just happened to go to the congressional district of Rep. Dennis Kucinich, the only Democrat currently in the House to vote against the bill because it was not liberal enough.
Obama: The American People Don't Want Us to Consider Polls of the American People
. President Obama made another stop on his health care road show in Strongsville, Ohio this afternoon [3/15/2010], making the rather odd case that the American people don't want their representatives to look at polls measuring what people want. ... If Obama refuses to look at public opinion polls, then how can he profess to know what the American people want?
Obama softly threatens Dennis Kucinich
. President Obama just finished enthralling a crowd in Ohio in one of the last acts (one hopes) of his push to pass health-care reform. Rolling up his shirtsleeves, Obama began his speech with a little public arm-twisting, calling out a few of the local notables assembled; and way up at the top of his list was Rep. Dennis Kucinich (D), in whose district Obama was speaking.
This proves that Obama will read whatever comes up on the teleprompter.
Obama saves us all!!
Under Obama's Healthcare Plan, business owners who provide health insurance to their employees "would see their premiums fall by as much as
3000%
." According to the President, this means, "they could give you a raise." So those of us lucky enough to be employed will soon be rolling in it.
[Emphasis in original]
Obama: You will see 'premiums fall by as much as 3,000 percent' under Obamacare
. Monday in Strongsville, Ohio, President Obama said that ObamaCare will reduce health insurance premiums by "3,000 percent." ... Just think, America: These are the people telling us that they know best how to run 1/6 of our economy.
3,000 percent!
Stumping for Obamacare yesterday in Ohio, Obama touted its manifold virtues like the patent remedy salesmen of old. For whatever ails us, this legislation is the cure. Here Obama touts the legislation's magical reduction of expenses for employers with an incidental benefit to employees.
Hundreds protest as Obama makes health reform pitch in Strongsville
. Hundreds of veteran and first-time protestors lined several blocks of Royalton Road in Strongsville Monday, making what could be a last-ditch appeal to stop health care legislation and chanting "kill the bill," as President Obama's motorcade sped by through a chilly mist.
Obama Wags the Dog with the Obama Intifada
. President Obama's health care plan is swirling the drain. Americans don't like it — the latest Rasmussen poll has just 43 percent of Americans in favor, with 53 percent opposed — and that dislike has the Obama administration suggesting that polls don't actually mirror the will of the American people. "They're waiting for us to act," Obama told a crowd in Ohio on Monday. "They don't want us reading polls. They want us to look and see what is the best thing for America." This is paternalism of the highest order — he knows what's better for us than we do ourselves.
Dose of truth for Obama
. Forget "Mr. Smith Goes to Washington." All Mrs. Martin had to do was stay in her seat, and she landed another blow against Obamacare. ... While she kept her reactions more in line with Justice Sam Alito's, the president must have noticed. As he shook hands after the speech, he asked her, "Are you OK?" "'Yes, sir, I'm fine,' I told him. 'I just don't support your bill,'" she said. "And at that point, security and everyone stopped."
Three Thousand Percent
. Is it all that simple, or does the president not know what he's talking about?
The world watches our president fail
. In case the president has not noticed, since he began giving these great speeches on health insurance, public support for his plan has gone from slightly supportive to grab the pitchforks. His speech in Strongsville, Ohio, was so poorly researched that it took Fox News one phone call to discredit it.
Charlotte, North Carolina, April 2, 2010
Obama gives 17-minute answer to health-care query in N.C.
. Toward the end of a question-and-answer session with workers at an advanced battery technology manufacturer, a woman named Doris stood to ask the president whether it was a "wise decision to add more taxes to us with the health care" package. "We are overtaxed as it is," Doris said bluntly.
Obama gives rambling, incoherrent 17 minute response to concern about being 'overtaxed'
. We constantly hear about the President's supposedly cool demeanor and unflappability, regardless of evidence to the contrary. Keep that in mind as you read this Washington Post account.
Eloquent No More
. The mainstream media is slowly waking up to the fact that Obama is a bore. No, really. He's long since stopped saying anything new or interesting, and he talks constantly, at great length. So when he went into a mind-numbing filibuster to a perfectly reasonable question from a woman at a Q&A session in Charlotte as to whether it was smart to throw a load of new taxes into health-care "reform," not even the
Washington Post
's Anne Kornblut could conceal her — and the audience's — disdain for the Condescender in Chief.
Obama's 17-Minute Non-Answer Answer
. The president's remarks at a North Carolina lithium battery plant last Friday were so tedious as to garner attention of, among others, the Washington Post's Anne E. Kornblut. In answer to a question from Doris of Lake Wylie, S.C., Kornblut wrote that Obama gave a 17-minute response that lulled "the crowd into a daze" as "his discursive answer — more than 2,500 words long — wandered from topic to topic." The worst part: Obama didn't answer the question. He didn't even come close.
Some presidents talk too much
. The president, who early on came to regard himself as the prince with the voice that could make the earth move, has never been able to resist the sound of his voice. He likes question-and-answer sessions with carefully screened constituents because it gives him jumping-off places for stump oratory. When a woman named Doris stood up at a rally at a battery factory in North Carolina to ask whether "it was a wise decision to add more taxes to us with the health care package," he had a few words for her. Nearly three thousand of them.
Challenging Obama: He's weaker than you think
. President Obama does not like to be challenged. During a Q & A in Charlotte, North Carolina, last week, a woman named Doris asked the president whether it was smart to raise taxes in the midst of a sluggish economic recovery. ... Anyway, Doris raised what Obama sometimes annoyingly calls a "legitimate" point. But the president did not answer her question. Instead, he launched into a 17-minute defense of the health care reform.
Hampton University, May 9, 2010.
The President's Trick Or Tweet
. President Obama, while addressing college graduates, condemns our access to new media as a subversion of democracy. Is the iPad a threat to democracy or exactly what Thomas Jefferson had in mind? At Hampton University in Virginia on Sunday, the president lamented that in an age of text messaging, the Internet and the iPad, information and its unfettered exchange had become a diversion that was putting a strain on democracy. We are not making this up.
The Editor says...
Hmmm... The internet puts a strain on democracy, he says. Is that why he's trying to
take control of the internet
?
Obama Doesn't Like the iPad
. For someone who is supposed to be the very essence of cool and with-it-ness, President Obama gave a remarkably technophobic if not luddite talk at Hampton University yesterday [5/9/2010].
Last Year He Said He Had All Michael Jackson's Music on His iPod
. President Barack Obama told Hampton University's graduating class on Sunday that he does not "know how to work" an iPod. Last July, however, after pop-star Michael Jackson's death, Obama told the Associated Press that he had Jackson's music on his iPod.
The shameless, shocking hypocrisy and lies of President Obama
. [Scroll down slowly] What a phony... and, btw, for someone who decries people's use of IPODs, why did he give one to Queen Elizabeth as a diplomatic gift — one filled with his own speeches. How priceless!
Obama Swipes at Media, Says 'Information' Onslaught Pressuring 'Democracy'
. In his latest swipe at the modern media environment, President Obama used a commencement speech over the weekend to bemoan the onslaught of information in the digital age and suggest that the gusher of news out there is too much of a good thing.
The Thinness of His Skin
. President Obama is beginning to say reliably disconcerting things in public, from his offhand dismissals of longtime foreign allies to his recent assertion in Illinois: "I do think at a certain point that you've made enough money." ... But for startling insight into the mind of our 44th president, we cannot do better than his recent commencement address at Hampton University in Virginia.
West Point, May 22, 2010.
Forked-Tongue-In-Chief at West Point
. In modern history when it comes to forked-tongue-ness President Barack Obama excels well beyond anyone's imagination. Like most of his foreign policy speeches on American national security, his commencement address to the cadets at West Point on Saturday proves my point.
Obama Call for 'International Order' Raises Questions About U.S. Sovereignty
. President Obama is facing criticism for his declaration over the weekend that he would seek a new "international order," with some questioning how much U.S. sovereignty the administration is willing to cede in exchange for more global cooperation. Obama, delivering the commencement speech Saturday [5/22/2010] at the U.S. Military Academy at West Point, said that "stronger international standards and institutions" and stronger alliances can "resolve" challenges ranging from terrorism to nuclear proliferation to climate change to economic decline.
Obama Speaks His Mind at West Point
. President Obama used a teleprompter for his West Point commencement address, which means that he took the occasion seriously. What he said, however dull and clichéd, represents not just the sometimes-flighty emanations from his remarkable brain, but also United States policy at large. ... The speech, marked by Obama's frequent slouching into the passive voice, may reflect the fact that the president had little intellectual or emotional sympathy for the ranks of cadets in front of him.
Obama at West Point: Lessons Unlearned
. On Saturday, Pres. Barack Obama gave a commencement speech at the United States Military Academy at West Point, which in effect told the thousand or so soon-to-be second lieutenants that, if he has his way, they'll soon be out of a job. Obama outlined for the cadets his vision of a new international order organized around bodies such as the United Nations.
What Diplomacy?
Saturday, President Obama announced to West Point cadets that the U.S. military role was set to be diminished and "diplomacy and cooperation" would take its place instead. Then on Wednesday, the Associated Press reported that the Obama administration's new National Security Strategy would emphasize diplomacy over military action again, with the latter to be used only in concert with U.S. allies and organizations.
The Oval Office, June 15, 2010.
Anticipation:
Obama defending Gulf effort in Oval Office address
. National anger rising, President Barack Obama is defending his efforts against the country's worst environmental disaster and hoping his first Oval Office address Tuesday night will stoke confidence that he can see the job through until the gushing oil is gone and Gulf Coast lives are back to normal.
Obama to name oil recovery 'czar' in first Oval Office address
. President Barack Obama, in his televised speech to the nation Tuesday [6/15/2010], will announce the creation of an oil recovery "czar" to oversee progress in siphoning crude from the Gulf of Mexico oil spill, his chief spokesman said.
Not Another Czar!
In a "fireside chat" to quell concerns about the Gulf oil disaster, the president announced the appointment of an oil czar. Is more bureaucracy the answer to every problem?
The Obama Window
. Politico reports that the president will make another push for his central planning repackaged as a "green economy" in a national address tomorrow night. The reason for what used to be a global warming tax then a climate change tax is now "green jobs" and showing he's really engaged and angry at BP. You see, they spilled some oil when drilling in deepwater offshore instead of in ANWR and other, drier places onshore with lots of oil where they're not allowed. So it just follows that we should stop offshore drilling and... mandate windmills.
Obama will use Oval Office speech to politicize the Gulf oil disaster
. Has the Obama administration willfully been scuttling clean up efforts in the Gulf so that the oil could make its way to shore and onto the beaches and birds for maximum political leverage? Now Politico is reporting that the President will use his oval office address for a full court, no hold-bars, assault on the oil and energy industries.
Obama Oval: Nothing but nets
. President Obama has waited all this time to throw down the big Oval Office address to the nation. Tuesday night at 8 p.m. will be the debut Oval chat of his presidency — carried live on all four networks, says Yahoo. Because nothing says "I mean business" like wooden, artificial remarks to the pool camera from behind the Resolute desk to an impatient, non-cable audience who thought they were tuning into "Losing it with Jillian."
Reaction:
You know an Obama speech is bad when Keith Olbermann trashes it
. You know that President Obama's speech was a dud when Keith Olbermann trashes it immediately afterward. I'm glad to hear that Obama finally has a plan for the Gulf oil spill. I am quite underwhelmed, however, by his recycled (no pun intended) call to solve the problem by making our buildings more energy-efficient.
Era of Obama rhetoric is over
. President Obama's Oval Office speech Tuesday marked the end of an era — an era in which at least half the population believed any crisis could be defused by one man's supposed rhetorical genius and personal charisma. The derisive reception of President Obama's Tuesday night speech from the Oval Office on the Gulf of Mexico oil spill makes it clear that Obama's sweet voice no longer suffices, not even for his biggest boosters.
ABC's Moran, Stephanopoulos Shill for Obama's Gulf Address
. Despite widespread criticism of President Barack Obama's Oval Office address on the Gulf oil spill — including flak from MSNBC's left-wing posse of Chris Matthews, Keith Olbermann, and Howard Fineman — ABC's Terry Moran and George Stephanopoulos on the June 15 "Nightline" fawned over the president's speech and ignored its obvious shortcomings.
Obama in the Oval Office — This Emperor Has No Clothes!
. [Scroll down] What did President Obama do? He blamed everyone he could think of for the Gulf oil fiasco — BP, President Bush, the bureaucracy, Mother Nature, and the American people (for consuming too much oil) — but of course NEVER took responsibility, himself, for his own administration's slow and bungled response. What answers did he offer? The typical Obama solutions: we'll throw money at the problem, lots of it, but we're not quite sure yet what we're throwing it at or how it will turn out; we'll confiscate a private company to punish it; and with stirring and eloquent words tells the American people "trust me," everything will be okay.
Obama disappoints from the beginning of his speech
. Less than a minute into President Obama's Oval Office address, my heart sank. For the umpteenth time since the Gulf of Mexico oil spill began, an anxious nation was informed that Energy Secretary Steven Chu has a Nobel Prize. Obama's speech pretty much went down hill from there.
The Liberal Tipping Point Away from Obama
. [Some have pointed out] the grave disappointment expressed last night about Barack Obama's speech on the part of MSNBC's Chris Matthews, Keith Olbermann, and Howard Fineman. This is a significant development, because it indicates this is a liberal tipping point — both tactical and emotional — away from Barack Obama.
The President's Oil Reserves Lie
: During his speech, the president made a statement that was blatantly false. The president noted, "We consume more than 20% of the world's oil, but have less than 2% of the world's oil reserve. And that's part of the reason oil companies are drilling a mile beneath the surface of the ocean — because we're running out of places to drill on land and in shallow water." We are not running out of places to drill on land and in shallow water. In fact, it is due to the president's party of extreme environmentalists that BP had to drill some forty miles from the coastline in deep waters to extract oil.
That Stench of Rotting Bull is Just Obama's Oval Office Speech
. Putting aside for a second the fact that this speech was given about 50 days late, last night's oval office speech proved that the President is not ready to be honest with the American people. For the first 30 days of this crisis, President Obama was ignoring the fact that the crisis existed, and now when he uses the oval office to give the people confidence that he is on top of the problem he spends more time trying to sell cap and trade than discussing capping the well. Essentially, he is still ignoring the crisis.
Obama's address: grand setting, weak policies
. The main impression left by President Obama's address on the oil spill is the chasm between the ambition of its commitments and the thinness of its policies.
Hope and Change Meets Fix the Leak
. I don't think vague hope and change rhetoric works when thousands of gallons of oil spew forth. ... In other words, instead of the vague dreaming, we needed (1) a review of concrete fix-it methods for the leak, and then (2) short-term mechanisms that will lessen dependence on oil. Instead, we got nothing detailed how to solve the problem, more green dreaming, more now-is-the-moment campaign mode, more "some say, others say," and more "they will pay."
Crude grab for power never ends
. Once again, President Obama channels Oscar Wilde, who famously said the only thing he couldn't resist was temptation. So it is with Obama's attempt to turn the Gulf oil debacle into a reason why America should embrace his cap-and-tax energy policy. No matter the crisis, Obama can't resist the temptation to exploit it in his quest to grow the government.
Obama makes nice Oval Office speech, but is the BP well capped?
President Obama addressed the ongoing BP oil spill catastrophe from the Oval Office on Tuesday night, using that particular venue for the first time of his presidency because, well, he's trying everything. No matter what Obama says, as long as the deep-water well is still gushing, his administration is going to be on the defensive.
Where Does He Get the Authority to 'Inform' a Private Company That It Must Surrender Its Money?
In his first-ever address from the Oval Office on Tuesday night, President Barack Obama said he was going to "inform" the chairman of BP that he must surrender the company's money to an independent party that will distribute it to people and businesses determined to have been harmed by the oil spill in the Gulf of Mexico. The president's declaration raises a serious constitutional question about his authority.
There's a pipe spewing oil into the gulf, so let's build more windmills
. Obama, the first modern president to pass his first full year in office without addressing the country from his historic desk, had the setting right. Just back from a day-and-a-half on the gulf coast listening, reassuring, talking tourism, eating seafood. He wore the proper suit, had the requisite flags and family photos in the background. For 18 minutes he delivered the words crisply and forthrightly, though too often distracting anxious viewers with his fidgeting hands like the lecturing professor he once was. Or wait! Was Mr. Cool nervous?
Obama's First Oval Office Speech a 'Flop'
. That harsh judgment was delivered this morning by Dana Perino on Fox News Channel. She has plenty of company in regarding the effort as less than successful. As predicted, he used the free TV time to shill for cap and trade (although avoiding that term — apparently the marketing team led by David Axelrod is rebranding the tax scheme). He also ended with an appeal to God, something he normally avoids as much as he has avoided attending church since leaving Rev. Wright under the bus.
Did someone mention
Jeremiah Wright
?
Obamas' Long Nose
. I read President Obama's Oval Office speech at an airport gate rather than seeing it on television, so I might have misjudged its impact. But it struck me as uninspiring at best. Obama has been behind the curve ever since the Deepwater Horizon exploded, and over the last week or two he has transparently tried to stop the political bleeding with a series of symbolic acts. The problem is that these gestures won't do anything to contain the oil that is already swirling around the Gulf...
MSNBC trashes Obama's address
. Chris Matthews, Keith Olbermann and Howard Fineman react to President Obama's Oval Office Address on the oil spill. Here are the highlights of what the trio said: Olbermann: "It was a great speech if you were on another planet for the last 57 days." Matthews compared Obama to Carter. Olbermann: "Nothing specific at all was said." Matthews: "No direction." Howard Fineman: "He wasn't specific enough."
Obama's Curiously Flat Gulf Speech
. Somewhere between Pensacola and the Oval Office, the oil spill in the Gulf of Mexico went from an "assault" to an "epidemic" — and President Obama went from commander in chief to surgeon general. In Florida, he had referred to the disaster as an "assault" and spoke, at an Army post, in military terms, but by the time he got home he had changed the analogy to a medical matter. And that, in short, is why his speech to the nation fell so flat even as he delivered it.
Rahming Through a Lame Duck Climate Bill?
. Ominous words are emanating again from the president on climate change and energy independence, this time as "a response" to the Gulf oil catastrophe. Somewhere between the war rhetoric and comparisons to the moon landing, President Obama last night (vaguely) told Congress to pass the energy legislation that's been languishing there since last summer.
Barack Obama Embraces His Inner Jimmy Carter
. Perhaps it is because his chief speechwriter has spent the crisis playing beer pong in Georgetown bars. Perhaps it is because while embracing peak oil, the oil spill never piqued his blue state interests since it affected red states. Whatever the reason, Barack Obama gave the most depressing Oval Office speech since Jimmy Carter's malaise speech.
The Left: We didn't like Obama's big speech
. Commentators turn up their noses at the oil address.
Obama running on empty: The president's energy speech was fueled by hot air
. In his Oval Office address on Tuesday night, President Obama issued a ringing challenge to "embark on a national mission to unleash American innovation and seize control of our own destiny" through developing clean alternative energy. The president stated that the future of unlimited clean energy had been denied to Americans through a cabal of "oil industry lobbyists" and politicians lacking "courage and candor." But don't worry, the O Force is determined to focus the efforts of government on the problem, defeat these conspiratorial forces and save the country.
President Obama's Oval Office Address Fails To 'Cap' America's Frustrations
. The tragedy in the Gulf of Mexico forced President Obama to dive into what were previously uncharted waters for him last night: the Oval Office address. Alone, with no crowd to save or jeer him, nothing but the prestige of his title as a safety net, it was his responsibility to remind Americans that, no matter how out of control any situation may seem, he was fully in charge. If you're not feeling particularly reassured this morning after, you're not the only one.
Mr. President: If we can put a man on the moon...
[Scroll down] Stopping the leak — now believed to be shooting between 35,000 and 60,000 barrels of oil into the Gulf each day — was a topic the president sidestepped during his 18-minute speech. ... Hearing the president invoke American technological genius in the service of his political goal — a cap-and-trade bill — while remaining silent on the application of that technological genius to the problem at hand in the Gulf cannot have increased the public's confidence in Obama's ability to handle the crisis.
Oil Talk
. Enduring criticism from partisans of every stripe for his response to the accidental gusher in the Gulf of Mexico, Mr. Obama managed last night to convey that he's deeply upset about the disaster and angry at BP. And this being a crisis, he naturally took the opportunity to put his moribund climate legislation back in play.
Obama's Boring Speech
. Frankly, Obama was a crashing bore. He's been that way for a while, but at moments like this, when you know what he is going to say ("Bad BP!" "Pass cap-and-trade!"), he is especially so. And he can never pass up the chance to pass the buck. He describes the difficulties with the Minerals Management Services as if someone else had been president for over a year and as if this is the fault of "deregulators" rather than a massive bureaucracy without accountability.
Obama's intentions
. President Obama's Oval Office speech last night focused on the Gulf oil catastrophe, but its true purpose was impossible to miss: shoring up the president's tanking popularity. Some 57 days after the BP oil rig blew — triggering an underwater oil gusher that's yet to be contained — a majority of Americans, polls show, think Obama's been too detached from the crisis. Thus, the president is taking a new tack: huffing and puffing.
Obama is Kicking Louisiana
. During his address this week to the nation from the Oval Office, the President made clear that he will not offer real help to the struggling people of Louisiana and the Gulf Coast. In his speech, he presented no specific action plans and instead relied on lame platitudes. In contrast, he made clear his support for a destructive national energy tax and a horrible cap-and-trade energy bill, which will devastate Louisiana's economy. Obama is using the tragedy of the oil spill to further his political agenda, all at the expense of Louisiana jobs.
Will oil drilling become a pipe dream?
If President Obama's Oval Office speech made one thing clear, it is that his administration and the activists who back it view the Gulf oil spill as simply an opportunity to advance their pre-existing agenda — which has nothing to do with cleaning up the Gulf, protecting the fragile coastal environment or fostering the region's economy.
The no-win presidency
. President Obama has been criticized by both the left and the right for his lackluster address to the nation on Tuesday. He clearly deserves the harsh reviews. Instead of dwelling on the horrendous situation in the Gulf — and the ways he intends to fix it — he spent the latter part of his brief speech in the Ivory Tower.
Obama Holds up China as Model for 'Green Energy Jobs'
. In his speech to the nation from the Oval Office on Tuesday, President Barack Obama cited one foreign nation — the People's Republic of China — as a model for creating what he called "green energy jobs." But the environmentalist group Greenpeace released a report in October 2008 that said China was the world's "largest producer and consumer of coal," making coal that nation's largest source of air pollution, and that — in 2005 alone — 5,938 people died in China as a result of coal-mining accidents.
Obama Speaks At Lower Grade Level Than Bush
. You know why President Obama's Gulf Coast oil spill address from the Oval Office failed so miserably on Tuesday? It went over too many heads. At least that's what the folks at CNN.com believe.
CNN: Americans are Too Stupid to Understand Obama's Brilliant Speech
. President Obama's speech on the gulf oil disaster may have gone over the heads of many in his audience, according to an analysis of the 18-minute talk released Wednesday.
Is Obama really doing everything in his power to fight the spill?
In his nationwide address last night on the Gulf crisis, President Obama declared: "We will fight this spill with everything we've got for as long it takes." But at least one congressman isn't convinced, complaining that Mr. Obama won't pursue promising solutions if it means bucking his union allies.
Presiding over disaster
. Whatever he said, Mr. Obama confronted an insuperable difficulty. It's hard for a President to speak effectively when there's nothing that he can do effectively. Mr. Obama's earlier likening of the Gulf disaster to the attacks of 9/11 only heightened this dilemma. When George Bush appeared at Ground Zero on 9/14 the attacks were over and retaliation was imminent. ... In the Gulf of Mexico, by contrast, the oil continues to gush, and there's nothing the President can do about it.
Who told Obama drilling is 'absolutely safe'?
There was one particularly striking moment in President Obama's widely panned Oval Office speech on the Gulf oil disaster. About midway through his talk, Obama acknowledged that he had approved new offshore drilling a few weeks before the Deepwater Horizon rig explosion on April 20. But Obama said he had done so only "under the assurance that it would be absolutely safe." Absolutely safe? Even before the Gulf spill, few defenders of offshore drilling would go that far.
Obama's Answer To Spill Comes Up Short
. He could barely get himself through the pedestrian first half: a bit of BP-bashing, a bit of faux-Clintonian "I feel your pain," a bit of recovery and economic mitigation accounting. It wasn't until the end of the speech — the let-no-crisis-go-to-waste part that tried to leverage the Gulf Coast devastation to advance his cap-and-trade climate-change agenda — that Obama warmed to his task. Pedestrian is beneath Obama. Mr. Fix-It he is not. He is world-historical, the visionary, come to make the oceans recede and the planet heal. How? By creating a glorious, new, clean green economy.
Will Obama Be the 'Jimmy Carter of the 21st Century'?
US President Barack Obama's address from the Oval Office on Tuesday was supposed to be a moment of leadership during the worst environmental disaster in American history. But critics from across the political spectrum wondered afterwards whether he'd shown leadership at all.
Obama's Latest Shakedown
. President Obama's oil spill speech revealed, once again, how stunningly shameless he is. This relentless ideologue is not even marginally competent at masking his ongoing crusade to apply a wrecking ball to every sector of our economy and remake it in his own image.
A Beginner Behind the Wheel
. After the Tuesday Oval Office address to the nation, I was grumbling about the speech when my son asked me what was making me so angry. Desperate to find an analogy to convey my meaning in understandable terms, I brought it down to his teenage level.
Obama now owns oil spill
. It's his. Obama now owns the BP mess. His Oval Office oil spill speech was a colossal disaster. Far from being uplifting or helpful, it disappointingly added fuel to the fire. Devoid of answers, solutions or leadership, the president's speech was a stark reminder of why campaigns are tough, invasive and a brutal examination of a candidate's experience and record. Or at least should be.

Obama's oil speech sinks
. [Scroll down] There was the president of the United States, speaking from the Oval Office, where our presidents have warned us of grave dangers, mourned great tragedies and articulated the great sacrifices of brave Americans fighting for our freedom in wars across the ocean. And essentially, Obama looked like he had been dragged there.
Insult to Injury?
It's safe to say President Obama's first Oval Office address to the nation last night was not an overwhelming success. Or any success. When you've lost Keith Olbermann... mostly you just gain some Drudge headlines. However, suffice to say, not only did Obama not quell any doubts about his ability to handle this crisis, he may have raised some.
The Left Turns on Obama
. The far-left in America is turning on their guy Barack Obama. After his speech on the oil disaster a few days ago, the crazy left Greek chorus on MSNBC hammered the president. He wasn't specific enough, he was too weak, I don't sense "executive command," they wailed. You would have thought they were talking about President Bush.
A Few Questions for President Obama
. America needs decisive leaders who understand what government can (and cannot) do to stop the Gulf gusher, clean up the mess, and get business, jobs and prosperity back on track. Instead, President Obama sounds like an anti-business Community Organizer in Chief — pointing fingers, making baseless claims about ending our "addiction to oil," and leaving no crisis unexploited to promote job-killing cap-tax-and-trade and renewable energy policies. His June 15 "vision" raised more questions than it answered.
Cap-And-Trick
: President Obama says the oil disaster proves the need to get off fossil fuels. ... With an abundance of hand gestures, the president didn't really say in his speech Tuesday night. He did say fossil fuels were bad and green energy is good, but the people of the Gulf states don't need wind turbines right now. Contrary to Obama's assertions, our "addiction" to foreign oil no more caused the Deepwater Horizon oil spill than any addiction to nuclear energy caused the reactor accident at Three Mile Island.
No energy in Obama energy speech
. Barack Obama made a dull speech on Tuesday evening. And he made a frightened speech — an overly careful assembly of energy cliches likely to be remembered by no one. All this in the face of the greatest ecological catastrophe in American history, the seemingly unending oil leak in the Gulf of Mexico. This was a man playing catch-up, aware that the public is apparently even less enamored of him on this issue than they were of George W. Bush on Katrina.
No Leadership, No Solutions, No Clue
. [Scroll down] It is, of course, a solemn time in American politics, and the president may have missed an opportunity to demonstrate genuine leadership and originality. Economic uncertainty is unabated across the land, and American forces continue fighting foreign conflicts of uncertain resolution. Perhaps the crisis in the Gulf of Mexico has become the proverbial straw that broke the camel's back. Unfortunately, bland speeches offering refurbished climate change initiatives probably aren't going to thrill a lot of pressed and worried voters.
The Left Wanted Barack Obama, and They Got Him — Warts and All
. After Obama's Oval Office address to the nation about the oil spill (which, as Ed Morrissey rightly points out, should have been on Day 1, not Day 57), Keith Olbermann and guests Chris "Tingle Me" Matthews and Howard Fineman couldn't even find it within themselves to give their man the benefit of the doubt. As Olbermann said, "It was a great speech if you were on another planet for the last 57 days." And Matthews opined, "I don't sense executive command."
No Leadership, No Solutions, No Clue
. [Scroll down] It is, of course, a solemn time in American politics, and the president may have missed an opportunity to demonstrate genuine leadership and originality. Economic uncertainty is unabated across the land, and American forces continue fighting foreign conflicts of uncertain resolution. Perhaps the crisis in the Gulf of Mexico has become the proverbial straw that broke the camel's back. Unfortunately, bland speeches offering refurbished climate change initiatives probably aren't going to thrill a lot of pressed and worried voters.
Can Obama plug leak in his support?
I believe it was Jean Giraudoux who first said, "Only the mediocre are always at their best." Barack Obama was supposed to be the best, the very best, and yet he is always, reliably, consistently mediocre. His speech on oil was no better or worse than his speech on race.
Their Finest Hour but Not Ours
. In the wake of yet another disappointing Oval Office speech, this time about the oil spill and energy policy, the arrival today of the 70th anniversary of two of the most influential speeches by world leaders is a harsh reminder of the gap between President Barack Obama's pedestrian yet self-aggrandizing style and the measure of genuine leadership.
Obama tilts at windmills
. We learned again in the president's speech on the BP disaster this week that all of our interests in the energy sphere are aligned: Move from carbon-based fuel to renewables and we'll create American jobs, heal the climate, put more distance between us and geopolitically unstable regions and punish those nasty oil companies while saving our shrimp and seagulls. Win-win-win-win-win.
Obama's energy pipe dreams
. Just once, it would be nice if a president would level with Americans on energy. Barack Obama isn't that president. His speech the other night was about political damage control — his own. It was full of misinformation and mythology. Obama held out a gleaming vision of an America that would convert to the "clean" energy of, presumably, wind, solar and biomass. It isn't going to happen for many, many decades, if ever.
A Big Government Disaster
. On June 15, 2010, President Barack Obama made his first address to the nation from the oval office. Hearing his address, several things struck me. First of all, Obama mentioned that when the oil spill occurred, he ordered scientists and the Energy Department to study how to repair the spill. True to his big government agenda, Obama wasted time on the study while more oil continued to pour into the Gulf region. Secondly, Obama also said that we are running out of oil to drill. This is patently false.
Malaise All Over Again
. Surely it's just my fallible memory, but I can't recall a presidential address that has fallen as flat as Barack Obama's last week, at least not since Jimmy Carter gave his (in)famous Malaise speech back in the dismal summer of 1979. ... Barack Obama had scarcely finished his speech last week about the oil spill and what a great job he'd been doing to contain it when the rotten tomatoes started flying.
Environmental Rift Widens
. The conflict came into view this week in the aftermath of Mr. Obama's Oval Office address on the spill, when environmentalists, bloggers and even sympathetic commentators accused Mr. Obama of failing to lay out a tough legislative response that seized on the public's outrage over the spill. Complicating matters, green groups themselves have split over whether to attack or support the White House.
The Vuvuzela President
. The constant droning noise emanating from President Obama sounds more and more like the kazoo-like tone drowning out World Cup Soccer games. His vacuous Oval Office oil speech last week was redundant proof that he's succeeded in turning the bully pulpit into just bull.
Does Barack Obama want to be president?
Ever since viewing his depressing and disconnected "energy" speech last week, I have been mulling whether Barack Obama actually wants to be president anymore. That was an address given by a man who looked very much like he didn't want to be there, didn't want to continue. He appeared slumped and worn, as if he aged eighteen years in eighteen months. His demeanor was oddly distracted.
Obama's Gulf Oil Spill Commission and the Missing Experts
. Instead of an oil spill commission staffed with experts, as promised in his Oval Office address, the president has announced a panel with membership that reads like a Who's Who of radical environmentalism. Former Senator Graham of Florida, for example, has consistently pushed for a ban on oil drilling, and Frances Beinecke of the National Resources Defense Council has argued for the global warming agenda — including linking "global poverty" to global warming, an argument used at the Copenhagen conference to support reparations to be paid to nations such as Robert Mugabe's Zimbabwe for our supposed global crimes.
The Bait-And-Switch On Cap-And-Trade
. President Obama's speech to the nation last week about the oil spill in the Gulf of Mexico followed a predictable script. Whenever a problem confronts this administration, the president's answer is sure to include one of a trio of his 2008 campaign initiatives: health care reform, action to address climate change or education reform.
Obama in Crisis
. [Scroll down] We have a president who in April gave a 17-minute, 2,500-word answer to a woman's question about taxes in the health care bill, but who cannot come up with an appropriate response to an oil spill. ... So he did what he knows how to do. He gave a speech. It was so awful, even the left panned it. Instead of acting to end the crisis, the president tried to exploit it. A huge oil spill? Use it to hype cap-and-trade! That's not a response, that's a sales pitch.
White House Successfully Puts Cap on Gusher of Unflattering Oil Spill Stories
. It's as if the entire country decided that the president had bombed in his speech, that the federal response was an immense disappointment, and that the coast was doomed ... and then moved on to more interesting topics.
Columbus, Ohio, June 18, 2010
Obama's 58 minutes in Ohio
. President Barack Obama turned his attention from the BP oil spill Friday to talk about another concern: economic recovery. But not for long — 58 minutes to be exact. In fact, he spent less time on the ground in Columbus, Ohio, than it took to fly there and back. The president revved up Air Force One, flew to Ohio, motorcaded to a road construction site, gave a speech on the Recovery Act and flew back to Washington all in the span of three hours. ... This was Obama's eighth trip to Ohio since taking office.
10 minutes of talk with each golden word costing you $502
. Obviously, as part of his administration's plan to reduce spending to address the ginormous deficit, President Obama flew on Air Force One the other day from Washington all the way out to Columbus, Ohio, and back. About a four-hour round-trip flight. He was on the ground in the Buckeye State for a total of 70 minutes. By another count, he was on Ohio soil barely 58 minutes, touting more what he sees as an economic recovery. (Obama had tickets to an evening White Sox baseball game back in Washington.)
The Golfer in Chief
. [Scroll down] Last week, for example, Mr. Obama spent between $500,000 and $1 million of taxpayer money to fly to Ohio to deliver a 10-minute speech touting his purported achievements. Because of the presidential presence, the work site Mr. Obama visited was closed for the day, taking work hours away from the working man. "That's $200 we are missing out on," said construction worker George Harrison. "Everybody needs to eat, right?" Eat cake, George.
This is just another example of
money down the drain
.
The Editor says...
It costs about $68,000 per hour to fly Air Force One.
*
One year ago, a round trip to Chicago cost an estimated $236,000.
*
Yearly operating expenses are somewhere between $240 million and $280 million.
*
And of course the President flies aboard Marine One, back and forth to Andrews AFB, before getting on Air Force One, and there are numerous other aircraft and ground vehicles on duty when the President flies, and we may never know how many there are or how much they cost to operate.
American University, July 1, 2010
Obama Immigration Speech: Policy or Politics?
Even the White House seems skeptical that the president will present anything new. Speaking with the press aboard Air Force One on Wednesday [6/30/2010], Deputy Press Secretary Bill Burton offered, "I think a lot of the elements [in his speech] will be familiar."
Obama's Stirring Immigration Speech Slightly Tainted by Misquote of 'The New Colossus'
. With immigration reform attracting negligible Republican interest and seemingly going nowhere, President Obama laid out the case for action and what it would look like in a major speech at American University this morning [7/1/2010]. In doing so, Obama employed a familiar formula: identifying what the extreme left wants to do (straight-up amnesty), identifying what the extreme right wants to do (round up every illegal and kick them out), and then placing his vision for immigration reform squarely in the middle.
Obama edits Emma Lazarus poem on Statue of Liberty
. In his immigration speech today, President Obama cited the most prominent symbol of America's immigrant tradition: The Statue of Liberty. He also quoted famous lines from the Emma Lazarus poem inscribed at the base of the statue — at least some of them.
MSNBC's Witt: I Got 'Chills' Listening To Obama Immigration Speech
. When it comes to Barack Obama, MSNBC is the network of thrills and chills ... Chris Matthews famously felt a thrill going up his leg listening to an Obama speech. Now, MSNBC anchor Alex Witt has been similarly moved by Obamian oratory, declaring this morning "I got a few chills" listening to PBO's "very powerful" speech on immigration.
Why Obama's Immigration Speech Was a Failure
. The president stepped up Thursday to update his campaign promise of immigration reform. But Tunku Varadarajan says his words were banal, completely conventional, and full of empty rhetoric.
Obama's Immigration Speech: Big Words and Passion, but What's New?
Reaching out in every direction — to immigrant history, to the Statue of Liberty and Emma Lazarus' stirring poetry — Obama showed at times the fervor of his 2008 campaign speeches, calling immigration reform "a moral imperative," and demanding accountability and a common sense solution. But beneath the powerful rhetoric and genuine commitment, there was little new.
Assimilation and the Founding Fathers
. In his immigration speech on Thursday, President Obama heralded America as a "nation of immigrants" defined not by blood or birth, but by "fidelity to the shared values that we all hold so dear." If only it were so. Left-wing academics and activists spurned assimilation as a common goal long ago. Their fidelity lies with bilingualism (a euphemism for native language maintenance over English-first instruction), identity politics, ethnic militancy and a borderless continent.
Immigration bill advocates miffed at Obama speech
. Immigration Works, the pro-comprehensive immigration bill group headed by the indefatigable Tamar Jacoby, hailed Barack Obama's speech today, but then had some sharp words for the president.
Politics Over People
. The president's immigration address was little more than a cynical bid to sugarcoat amnesty for illegals as his polls sag. Maybe that's because he's not doing his real job: fostering jobs and enforcing the border.
The Fix Is Not In
. It's a measure of the minimal importance that President Obama assigns to enforcing the country's immigration laws that he waited until this week to deliver his first speech on immigration. When he did, the president merely confirmed what is already common knowledge: the system is broken and there is nothing that his administration will do to fix it.
Obama and Immigration: Rewriting History?
This week, while shilling for "comprehensive immigration reform" (aka amnesty for illegal aliens), President Obama cited the famous poem "The New Colossus" ("Give me your tired, your poor, Your huddled masses yearning to breathe free") written by Emma Lazarus in 1883. For one whose intellectual powers are constantly being touted by his followers, it's interesting to note how little he seems to know about the Statue of Liberty's history — or, perhaps, how little he cares about twisting that history in order to push his radical progressive agenda.
Barack Obama Is Making Me Laugh
. I sat chuckling all through Obama's immigration speech Thursday. Forgive me, but that has been my recent response whenever I listen to Obama's speechifying. I am somewhat surprised at my recent response to his outlandish rhetoric, but he makes such a mockery of his very words, of America, and of capitalism, that he is, invariably, comical. ... So I listened to his speech on immigration and chuckled as he lectured us, yet again, on what America is —
as if
he had a clue about what America is.
Shootout At El Paso City Hall
. In his speech Thursday, President Obama assured us that our "southern border is more secure today than at any time in the past 20 years." So why is El Paso's City Hall taking fire from Mexico?
Obama Plays Election-Year Politics on Immigration
. "Years before the statue was built," Barack Obama began the peroration of his July 1 speech on immigration, Emma Lazarus "imagined what it could mean." Actually, the French sculptor Bartholdi was at work on the Statue of Liberty before Lazarus published her famous "give me your tired" poem in 1883. (The statue was assembled in New York Harbor two years later and dedicated in 1886.) The speech itself was similarly misleading.
University of Nevada at Las Vegas, July 9, 2010.
Obama's Economic Unreality
. Sadly, with President Obama, each day is crazier than the previous one. His latest economic speeches border on the surreal. I just can't quite figure out who he thinks his audience is because so much of what he says doesn't square with reality. In a speech Friday [7/9/2010] in Las Vegas, Obama painted quite a rosy portrait of his economic record to date — at least rosy compared with what we've all experienced with our five senses. ... [It's like] a student telling a math teacher that three minus two equals four.
Free Market Obama
. Now he tells us. He's been reading Friedrich Hayek and Milton Friedman instead of playing golf and shooting hoops, as reported by the press. While no one was looking, he's been downloading podcasts of the Glenn Beck show and checking out heritage.org on his iPad. He's a born-again free-marketer, supply-sider, and friend of business large and small. That's the freely translated gist of President Obama's July 9 speech at the University of Nevada at Las Vegas.
Holland, Michigan, July 15, 2010.
He came, he saw, he insulted
. In the latest stop on his "Recovery Summer" tour, rock star President Barack Obama landed in Holland, Michigan Thursday [7/15/2010], insulted its congressman, handed American stimulus dollars to a Korean corporation, and proclaimed Obamanomics a success even as Michigan has lost 94,000 jobs since his Recovery Act was enacted. ... Obama said his benevolence would create 300 jobs in Holland — but that's $500,000 per job. At least it's a bargain compared to the $1.25 million per job Obama spent on two solar companies in Arizona over the July 4 weekend.
Obama Speech: Avoiding Confrontation?
Does President Barack Obama have a problem with direct confrontation? The president swooped into Holland, Mich., to break ground on the last of nine advanced automotive battery plants funded by the stimulus plan, a $300 million Compact Power plant owned by the South Korean company LG Chem and financed in part with $150 million of federal dollars.
Iftar dinner at the White House, August 13, 2010.
Islam Means the End of Religious Freedom
. At an Iftar dinner in the White House, Barack Hussein Obama proclaimed that he supports the building of the Ground Zero mosque as part of his "unshakable commitment to religious freedom". Which of course sounds very noble and good, until you ask a single question, Where is the religious freedom in the Muslim world?
Islam Means the End of Religious Freedom
. Obama concluded his remarks by saying: "
And we can only achieve "liberty and justice for all" if we live by that one rule at the heart of every great religion, including Islam — that we do unto others as we would have them do unto us
." But that is not the rule at the heart of Islam. And this is not the first time that he has tried to sell that particular lie.
How stupid does Obama think we are?
Pretty stupid. Already getting trounced in the polls, Democrats are reeling over the President's decision to side with the Muslim Brotherhood over the American people by endorsing the Ground Zero mosque. So he's trying to close Pandora's Box.
Let the backpedaling begin!
Under Fire, Obama Clarifies Support for Ground Zero Mosque
. President Obama on Saturday [8/14/2010] sought to clarify his comments supporting the building of a mosque near ground zero that have ignited a political firestorm ahead of a difficult election season for Democrats.
No, Mr. President — We're not traumatized
. Penetrating commentary on President Obama's remarks last night on Islam, 9/11, and Ground Zero is already available. The lawyers at Powerline dissect Obama's high-flown rhetoric...
An Awful President, A Worse Theologian
. [Scroll down] This is revealing: the ultimate destination of multiculturalism is platitudinous stupidity. All religions, Obama tells us, are really the same, and can be summed up in the Golden Rule. Actually, there is no religion that can be reduced to the Golden Rule, least of all Islam. Islam does not enjoin believers to do unto infidels as you would have infidels do unto you. On the contrary! Islam tells its followers to subdue infidels; to kill them; to, at best, reduce them to dhimmitude. The Golden Rule is antithetical to Islam.
Two days later...
Obama's "forceful" support of Ground Zero Mosque already changing
. After 19 long months, there is nothing new under the sun about Barack Hussein Obama. His repeated, un-American attacks on America have never changed. Many knew before he "forcefully", "strongly" endorsed the Ground Zero Mosque that he seemed to much prefer the Islamic way to the Christian one. Comical to see him trying to backpedal his way out of the forceful endorsement of the Mosque from yet another vacation. His constant use of "Let me be clear" has never been more clear.
Obama's Clintonian speech pulls rug from under mosque supporters
. When President Obama used the occasion of the White House Ramadan iftar dinner to announce his support for the Ground Zero mosque, some of his partisans rushed to praise what they viewed as a ringing endorsement of the controversial project. ... The problem was, just hours after the speech, Obama began to back away from his clarion call. I wasn't defending the mosque project, he explained. I was just defending the right of Muslims to build "a place of worship and a community center" on private property in Lower Manhattan.
Speech on mosque was Obama's call
. President Barack Obama's decision to make public comments Friday that further stoked an already brewing controversy over the construction of a mosque near ground zero was "purely" his own, an administration official said Saturday [8/14/2010].
Obama mosque retreat
. President Obama carefully backpedaled on his support for building a mosque near Ground Zero, saying yesterday that he was merely defending the legal right to religious freedom — but not giving the project his stamp of approval.
A Dim Bulb in the Oval Office?
During his eight years in the White House, President George W. Bush was often described by liberals as being about halfway between an idiot and an imbecile. ... President Obama, on the other hand, is invariably described by these same people as brilliant — indeed, the most articulate carbon-based life form ever to have walked the Earth. So how come every time President Obama opens his mouth to state his position on some issue — as he did this weekend, speaking about his support for that mosque near Ground Zero — the White House scrambles to issue a "clarification" — followed less than a day later by an "elaboration" of the clarification?
Obama's Mosque Remarks Reverberate
. President Barack Obama's weekend remarks supporting the right to build a mosque near Ground Zero reverberated across the country, nationalizing a debate over the New York City project. A number of Republicans on Sunday [8/15/2010] folded the president's remarks into their election-year narrative that Mr. Obama, a former constitutional scholar, is out of touch with the American citizenry.
Obama backtracks over Ground Zero mosque
. Barack Obama has backtracked over his support for plans to build a mosque near Ground Zero. The U.S. President was hit by a furious backlash from victims of the September 11 terrorist attacks after he backed the highly controversial plans in a speech on Friday.
Obama backtracks on ground zero mosque controversy
. Weighing his words carefully on a fiery political issue, President Barack Obama said Saturday that Muslims have the right to build a mosque near New York's ground zero, but he did not say whether he believes it is a good idea to do so. Obama commented during a trip to Florida, where he expanded on a Friday night White House speech asserting that Muslims have the same right to freedom of religion as everyone else in America.
Obama Fumbles Mosque Question
. 'Let me be clear," Pres. Barack Obama said at Friday night's
iftar
dinner at the White House before making what nearly everyone took to be a deeply felt endorsement of the Ground Zero mosque. ... "As a citizen, and as president," Obama said, "I believe that Muslims have the same right to practice their religion as anyone else in this country. That includes the right to build a place of worship and a community center on private property in lower Manhattan, in accordance with local laws and ordinances."
Our Clueless Professor
. Have we ever had a president so disconnected from the heart of America? On Friday night, at a White House iftar, the breaking of the Ramadan fast, Obama strode directly into the blazing controversy over whether a mosque should be built two blocks from Ground Zero.
The President Distorts Arguments on Ground Zero Mosque
. In the process of his unfolding explanations, the president seemed to be arguing with phantoms, or with straw men. None of the prominent critics of Cordoba House deny that Muslims deserve the same freedom as other religious groups to build houses of worship to serve their adherents. But no faith community can use religious liberty as an excuse to build whatever they want wherever they want it.
The Incredible, Sinking Obama
. President Obama's high-handedness is causing the public to backhand him in recent polls. A national uproar has followed the president's declaration last Friday that he supports a Muslim group's right to build a mosque and a $100-million community center two blocks from Ground Zero, where about 2,600 civilians died in the 9/11 World Trade Center attack.
Obama's flimflammery in the name of faith
. Barack Obama, like all flimflam men, is a master of words. But unlike the best of the flimflam men, he can't keep his stories straight.
President Obama's Mosquerade
. At a Ramadan Iftar dinner at the White House, the president says building a mosque near Ground Zero is just a real estate deal. Of course, 9/11 was just a "man-caused disaster." So is his presidency.
Obama puts himself into a terrible rhetorical tangle
. [Scroll down] If Muslims show signs of not being harmless by, say, the deliberately provocative act of building a mosque at or near the site of the World Trade Center, destroyed by Islamic terrorists on September 11, 2010, you either stop them (preferably without any public fanfare) or, if you are unable or unwilling to do that, pretend it is no big deal. The last thing you want to do is to be seen as taking the side of the provocateurs against the feelings of ordinary, non-Muslim Americans, which must be why President Obama attempted to backtrack.
The Cynical Brilliance of Imam Rauf
. In the elite modern Western mind, Cordoba has been transmogrified into a mythical Lala Land of interfaith tolerance. To invoke the city is to prove one's ecumenical credentials. Just ask our president, who, in his June 2009 Cairo speech, fantastically claimed that the Muslim city taught us tolerance while Christians were launching the Inquisition (1478) — quite a feat two and a half centuries after most of the Muslims of Cordoba had fled, converted, or been cleansed during the city's fall (1236) to the Christian forces of the Reconquista. But no matter, we got the president's drift about who was supposedly tolerant and who was not.
Obama's Point of No Return
. When historians come to select the moment when Obama went over the edge of the world, I think they'll find the great Iftar mosque speech of August 13, 2010 hard to beat. During a White House dinner celebrating Ramadan the president found it appropriate to come out in favor of religious freedom. Not in support of Christians being attacked by janjaweed gunmen, or Bahais tormented by Iranian mullahs, or Jews being stalked by assassins, or even American citizens being told that they cannot pray in public, but in favor of a shadowy foreign foundation with suspicious financing and disturbing Jihadi connections that wishes to build some kind of victory monument congruent to the site of the 9/11 massacre.
Just How Smart Is Obama?
[Scroll down] Does it take a genius to figure out that coming down on the unpopular side of the issue, contrary to the will of nearly 70 percent of the American people, would be a major political blunder, particularly with the midterm elections just around the corner? Liberal pundits heaped praise on the president for his courage and steadfast adherence to principle. Why, then, did he hastily backtrack the very next day?
Critics say Obama's message is becoming 'incoherent'
. President Obama's comments on a plan to build an Islamic center in the shadow of ground zero are not only giving opponents an opportunity to attack him but also reveal a messaging problem from the White House, a communications expert said.
Obama is Making Everybody Angry
. It's almost as if President Obama's agenda includes provoking anger at himself. Taking opposite sides over a two-day span, Obama first indicated opposition to the building of a mosque on the edge of Manhattan's Ground Zero, and the next day opposed the idea. After voicing his support Friday night, he reversed himself after his remarks sparked a firestorm of criticism, saying that he was merely noting that the Mosqueteers had a right to build there.
The Separation of Islamophilia from State
. By modern secularist standards, Barack Obama's boosterism for Islam violates the "separation between Church and state." Had George W. Bush held a rosary and modest fish dinner at the White House to mark the beginning of Lent, the ACLU left would have freaked out. But these same secularists didn't mind Barack's "Iftar dinner" last Friday night.
Another Obama White House Lie About Islam
. In his remarks at the iftar observance, Obama claimed that the "first" iftar dinner in the White House was hosted by Thomas Jefferson. ... What tosh. There has never been a tradition of iftar dinners at the White House, sporadic or otherwise, until after the year 1992. Jefferson's dinner was no iftar dinner and no other president until Bill Clinton even hosted one.
Obama doesn't understand his country
. In the iftar dinner speech, Mr. Obama presumes to know what "our Founders understood," as relating to religious freedom. Mr. Obama cites Thomas Jefferson and quotes the Virginia Act for Establishing Religious Freedom, in part that "all men shall be free to profess, and by argument to maintain, their opinions in matters of religion." I wonder if Mr. Obama knows the context of the Virginia Act and Thomas Jefferson's reasoning? The act prohibits the commonwealth of Virginia from compelling attendance at religious worship and financial support of religion. Significantly, in making his argument, Jefferson does not appeal to vague principles of "religious freedom" and "our values," as Mr. Obama does.
More about the proposed
Ground Zero mosque
.
Oval office speech, August 31, 2010.
Fact-checking Obama's Iraq speech
. A look at some of the statements President Obama made in his Oval Office speech and how they compare with the facts.
Obama Has Learned Nothing About Being Commander in Chief
. President Obama's biggest problem as Commander in Chief is that he is not a leader. ... There was not a single moment in his speech where he spoke to the troops about their mission. He spoke about them in reverent tones, but he never articulated what we were fighting and why it really mattered. There is a reason for that, he has absolutely no rapport with them, he doesn't understand them, and he has absolutely no clue how to lead them.
After the Speech: Obama's Commitment to Victory Questioned
. President Obama's prime-time speech to the nation announcing the end of combat operations in Iraq is getting generally poor reviews from Republicans and conservatives, not only for what Obama said, but for what he did not say.
A grim speech for a grim war
. It was shocking how little awe there was. President Barack Obama announced Tuesday night "that the American combat mission in Iraq has ended" in a grim little speech from the Oval Office. He spoke for 18 minutes and managed to avoid asking — let alone answering — any essential questions about the war such as: Did it make America safer, and was it really worth it?
A Limp and Boring Speech
. President Obama's speech from the oval office, only the second of his presidency, was surprisingly limp. With three momentous subjects to cover — Iraq, Afghanistan, and the U.S. economy — Obama struggled to say anything new or interesting. It isn't just that the soaring rhetoric of 2008 has disappeared; Obama is now affirmatively boring.
Obama's Speech
. Yes, there were some fine parts. How could there not be? But I really disliked it. Maybe I'm letting other factors poison my take, and I should probably sleep on it before rendering final judgment. But here are a few things that really stuck in my craw.
The Bankruptcy of Barack
. Obama delivered a speech about a war that he exploited for political advantage during the election, and ignored the rest of the time. A war that he tried to sabotage as a Senator, and neglected once in the White House. Where Bush conducted constant conferences with commanders in the field, Obama has let the clashing egos of former Clinton Administration staffers, and a few imported radicals, determine how the war will be conducted.
The President's Pivot and Divot
. "Operation Iraqi Freedom" ended not with a bang but with a whimper. One would think a seven-and-a-half-year war deserves more than a seventeen-and-a-half-minute speech, and Obama couldn't even feign interest or stay on topic for that brief period of time on Tuesday. He was clearly phoning it in, itching to "turn the page" back to himself.
Obama's 'Come Home America' Speech
. Imagine if after World War II, America had left Europe in the face of the aggressive Soviet threat. What would Asia look like now if, following the Korean War, the U.S. had set a quick date for withdrawal from the peninsula? As much as he may wish, Mr. Obama cannot ignore Iraq or withdraw prematurely from Afghanistan. He has ownership of both wars; it's part of his job description. He will share in the wars' success or be blamed if they are lost.
The Bankruptcy of Barack
. Obama delivered a speech about a war that he exploited for political advantage during the election, and ignored the rest of the time. A war that he tried to sabotage as a Senator, and neglected once in the White House.
Where's the magic gone?
The reviews on Barack Obama's Iraq speech on Tuesday night, August 31, 2010 are in and they are almost all unkind.
Obama's victory lap
. President Barack Obama is like a guy who sneaks onto a marathon race course a mile or so from the finish line and pretends he ran the whole thing. In his speech Tuesday night commemorating the return to the United States of the last American combat brigade in Iraq, Mr. Obama patted himself lustily on the back for not screwing up a self-imposed timetable for withdrawal of U.S. forces that was made possible by the policies of President George W. Bush.
Obama's shrinking presidency
. One of the unintended results of the redecoration of the Oval Office was the downsizing of Barack Obama. In last week's prime-time address to the nation, the president sat behind a massive and capaciously empty desk, looking somehow smaller than he ever has — a man physically reduced by sinking polls, a lousy economy and the prospect that his party might lose control of Congress.
News conference, September 10, 2010.
Obama speaks out for Muslims
. In a press conference designed to defend his economic policies, President Obama waded deeper into religious tensions gripping the nation by speaking out forcefully in defense of religious pluralism. Speaking a day before the ninth anniversary of 9/11, Obama made a passionate plea to Americans to differentiate between terrorists and Muslims.
Obama says he leans 'heavily' on his Christian faith
. President Obama said he "relies heavily" on his Christian faith as president during a press conference on Friday. ... Obama invoked his religion in response to a question about several recent national controversies about Islam.
The Names Have Been Changed to Protect the Guilty
. These days, Barack Obama would rather talk about his birth certificate than use the word "stimulus." At the press conference that wouldn't end last week, Obama was asked if his latest and greatest spending proposal amounted to a second stimulus. He answered, "There is no doubt that everything we've been trying to do is designed to stimulate growth and additional jobs in the economy," but adamantly avoided the dreaded s-word.
Obama Unplugged — and Unintelligible
. For starters, it is hard to be "thoughtful" when you are touchy and prone to regurgitating leftist talking points. In fact, Obama's Friday presser was at times rather incoherent — he didn't change Washington, it's the GOP's fault, the stimulus isn't really a stimulus but it is stimulating, and so forth. ... At this point, all but the die-hard Obama supporters must be chagrined to find that the only straight answer he can give is on the Ground Zero mosque. (He is fine with it.)
Talker-in-Chief Barack Obama
. At Friday's East Room Q&A, President Obama weighed in on the Manhattan imam's plan to build a mosque at Ground Zero (an "inalienable right") and the Florida preacher who had threatened to burn the Koran ("that's a problem"). It was his first press conference since May, which proves not that he doesn't like to talk but that he doesn't like to talk to people who talk back. Barack Obama is America's first lecturer-in-chief.
Ruse Conference
. The president on Friday revealed the narrative for the Obama re-election campaign of 2012, and it shamelessly rewrites history. The story goes like this: Bush hurled the global economy on a path toward depression by cutting the taxes of millionaires. Obama then came to the rescue with his policies — but the Republicans dug us into such a hole that it's taking even longer to dig out. The trouble with this myth is that even Democrats running for re-election are shunning it.
Pentagon memorial, September 11, 2010.
Obama Gives Al Qaeda a Pass
. Please tell me this nightmare will be over soon. What kind of person in this world would characterize ruthless, evil, filthy, and beheading sadists as "a sorry band of men?" The President of the United States in a memorial address at the Pentagon on Saturday 9/11, that's who.
Obama on 9/11: Get Over It
. Obama's remarks on 9/11 were about what you would expect from a president who has ridiculed his countrymen for overreacting to the most lethal terrorist attack on our soil and who can't manage to utter the worlds "Islamic fundamentalists" or "jihadists." Really, let's not dwell on the bad stuff, he tells us.
Barack Obama seeks peace with Islam on anniversary of 9/11 terror attacks
. The US president said at a memorial service at the Pentagon, where 184 people were killed: "As Americans, we will not and never will be at war with Islam. It was not a religion that attacked us that September day. It was Al-Qaeda, a sorry band of men which perverts religion."
The United Nations, September 23, 2010.
Obama Addresses the U.N. and Blames...Wall Street?!
President Barack Obama told the United Nations General Assembly on Thursday [9/23/2010] that America's financial crisis was the reason their economies were suffering and promised to not rest until people around the globe prosper.
Just like he promised not to raise taxes...
Obama vows to preserve open Internet
. During his address to the United Nations General Assembly on Thursday [9/23/2010], President Obama promised the United States would continue to support a "free and open Internet" and would call out nations that censor content.
Obama 'Pontificus Magnus' Descends Upon UN
. Before Obama took the floor, Ban Ki-Moon continued to attempt to justify his salary and perks against the backdrop of a laugh track in my head when he issued the prime directive: "Let us remember, the world still looks to the United Nations for moral and political leadership." And with that, Pontificus Magnus appeared, brushing aside the 15-minute speech limit Fidel Castro style, and doubling his time allowance.
President Barack Obama Coddles International Outlaws At the United Nations
. President Franklin D. Roosevelt once said that "Normal practices of diplomacy ... are of no possible use in dealing with international outlaws." Rather than listen to FDR's advice, President Barack Obama squandered yet another opportunity to confront today's international outlaws during his annual visit to the United Nations. Instead, Obama delivered meaningless platitudes to the United Nations General Assembly during his speech on September 23, 2010 — just like he did last year.
Post-election news conference, November 3, 2010.
The Observer at His Own Funeral
. At his post-defeat press conference, Barack Obama worked hard to project an air of somber reflection, even as his remarks revealed that he had learned nothing from the defeat. Amidst the practiced pauses and detached narration of the crash came a litany of excuses, evasions, and arrogant denials.
President's presser shows he's in serious denial
. Wittier minds than mine have weighed in on the President's post-election press conference, Jeff Dunetz and Victor Davis Hanson to name two. But it was clear from the first moments that it was going to be a dismal experience for all involved. The President began by thanking Pelosi and Reid for their "extraordinary leadership" these past twenty-one months. On what planet does this man reside?
The President's Presser Proves He Doesn't Have a CLUE
. On Election Day the American People sent Barack Obama a message, unfortunately he wasn't listening. During his pres conference yesterday, he looked contrite (actually he looked as if he was passing a kidney stone), clearly he indicated either he didn't hear, didn't have a clue, or didn't care what the voters were trying to tell him.
Obama Doesn't Get It
. President Obama came close, but he still just cannot admit that his radical policies and their effects on the economy are the cause of his devastating political rebuke. For most of his press conference, an oddly depressed Obama voted present, as he all but said that the problems are mostly ours, not his — or at least not his agenda but perhaps an occasional inadequate communication.
What I Saw at the Obama Press Conference
. Watching the president speak truly is dispiriting, but I managed to do so, gentle reader, to spare you the agony. "No one party can dictate where we go from here." Unlike the last two years?
Skinning The Carbon Cat With EPA
. It's been said that a socialist thrown out the window will come back through the front door as an environmentalist. This reminds us of something we noticed in the president's day-after concession speech. Though acknowledging the cap-and-trade law is no longer a legislative priority, Obama also said he's not giving up on the idea of restricting Americans' output of carbon dioxide.
Obama Doesn't Rule Out Using EPA Regulations to Cap Carbon Emissions
. In a White House press conference Wednesday, President Barack Obama did not rule out using regulations issued by the Environmental Protection Agency to cap carbon emissions in the United States without an act of Congress. Meanwhile, on October 25, the EPA announced new regulations to limit "greenhouse gas" emissions by heavy-duty trucks and buses.
Did someone mention the
EPA
?
Before Obama's fall
. In his post-defeat press conference, Obama said people are frustrated by the pace of the economic recovery. True enough. But Sean Trende of RealClearPolitics notes that the unemployment rate in many electoral models would have only accounted for a Democratic loss of 20-30 seats. In 1982, when the unemployment rate was higher than today, Ronald Reagan lost 26 House seats.
Obama jumps on natural gas bandwagon
. A remark by President Obama at his postelection news conference Wednesday should send Iowa's wind energy advocates into full alert. When asked about environmental issues, the President suddenly started talking up natural gas, saying there are "terrific natural gas resources" in the United States.
Obama Doesn't Seek Compromise; Neither Should We
. I take no great pleasure in having been correct in predicting Barack Obama's reaction to his Tuesday "shellacking." To borrow his terminology, he is
wired
not to hear the American people's opposition to his radical agenda, as painfully demonstrated in his postelection news conference. Unhappily, Obama's answers showed even deeper intransigence than I had thought he would be willing to reveal. He is every bit as committed to his destructive agenda as he was Nov. 1 and, despite his claims, is not looking for "common ground."
Top Democrats in Denial
. In a press conference that was humble in tone but myopic in substance, Obama reiterated again and again that he got all of the policies right and the American people who disagreed hadn't studied the issues closely enough. It only "felt" like the government was getting too "intrusive," Obama explained.
For Obama, There Is No Other Truth
. For whatever reason, President Obama, like the cultists, seems incapable of even entertaining the idea that his policies might be incorrect, even when faced with the evidence of our stagnant economy and soaring deficit. In fact, the closest the president comes to admitting error is in accepting responsibility for not getting the message of his success out clearly enough.
Press conference, December 7, 2010.
Obamanomics Takes a Holiday
. In accepting the deal to cut payroll and business taxes and extend all of the Bush-era tax rates through 2012, Mr. Obama has implicitly admitted that his economic strategy has flopped. He is acknowledging that tax rates matter to growth, that treating business like robber barons has hurt investment and hiring, and that tax cuts are superior to spending as stimulus.
Get that Man a Teleprompter!
Surely, if President Obama had been scripted this afternoon he wouldn't have let loose with such a self-revelatory rant at the end of his presser. To this point, the hallmark of Obama has been his bloodlessness and lack of emotion, in almost any circumstance. ... We've learned today that what really gets under his skin and makes him boil is criticism, and especially criticism from progressives. Only a man of the left could care so much about attacks from the left wing.
He Has Met the Enemy, and They Are Him
. Mr. Obama has mastered the ability to look both unprincipled and graceless at the same time. There is also a touch of bipolarity in this administration that is doing a fair amount of damage to it. ... Notoriously thin-skinned and accustomed to worshipful treatment by those around him (including the press), Obama is now clearly disquieted. On some deep level, Obama must understand that, at this moment at least, his presidency is coming apart.
Obama At War
. To say the least, it was a remarkable performance — and very revealing. In both his opening statement and answers to the handful of questions my colleague posed, the President almost seemed to be back on the campaign trail where he was before the Republican sweep November 2nd — or already on the trail for 2012. Partisan rhetoric flew like shrapnel, with Mr. Obama saying that extending the "Bush tax cuts" for higher income Americans "seems to be their [Republicans'] central economic doctrine" and "This is their holy grail."
The anger of Barack Obama
. President Obama, long criticized by many in his own party for lacking appropriate passion, delivered a blunt and confrontational message to his liberal critics during a press conference today. Faced with increasing criticism from liberals over his decision to ompromise with Republicans on a two-year extension of the Bush tax cuts, Obama openly chastised the party's base — warning them of being "sanctimonious" and reminding them that "this country was founded on compromise".
Obama not so accurate on Social Security, Medicare histories
. We were wondering if any historian types would bring this up. In defending the need for compromise the other day, President Obama mangled the legislative histories of Social Security and Medicare.
The Incredible Shrinking President
. [Scroll down] Here's the thing: the dynamics of hostage-taking always involve the threat of harm to the hostage, Mr. President. This means that you would always cave in to their demands if you cared enough for the hostage. Worse, the comment ignores the fact that until Ted Kennedy died, Obama's party controlled Congress with a filibuster-proof majority, and the White House could have steamrolled through any tax provision it wanted. The decision to let the tax issue ride suddenly put them in an unfavorable bargaining position — though certainly it didn't rise to "hostage taking." It's called losing the hearts and minds of the voters.
Obama Turns White House Presser Over to Bill Clinton
. The apparent goal: Enlisting Bubba to help sell the bipartisan tax deal to hesitant Democrats. The practical result: An avalanche of major media and online buzz over the spectacle of former President Bill Clinton commandeering a White House press briefing after the current Oval Office occupant surrendered the microphone, and
left the room
.
The Editor says...
Just imagine for a moment that in the year 2015, President Palin calls a news conference, introduces former President George W. Bush, and then runs out of the room, leaving Mr. Bush to answer all the tough questions. The press would immediately call it the beginning of Bush's third term. Fortunately for Mr. Obama, today's reporters are all
very helpful
.
Did Obama just quit?
After watching the following, I think it's a legitimate question. This afternoon Obama met with Bill Clinton. Afterward he held his third press conference this week, this time with Clinton by his side. Then
this
happened...
Obama abdicates to Bill Clinton, lunacy
. The surreal week in Washington was brought to a fitting climax on Friday when Barack Obama handed the presidency over to Bill Clinton for 20 minutes. "I'm going to take off," he said. ... And take off the president did. It wasn't an official, unofficial or illicit transfer of power in any way, of course. But it somehow felt like it. What happened here has, to my knowledge, never happened. When the president finishes speaking, whenever the president finishes speaking, the event ends. Period. Not any longer.
Help Me Bubba-Wan, You're My Only Hope
. Did Barack Obama just cede the presidency to Bill Clinton? ... Here's what I saw. I saw a current president who has never looked less interested in doing his job. I also saw a former president who never lost interest in doing that job. Obama's demeanor and body language suggested that he'd rather be anywhere but where he was, and then he followed through and actually bolted for the door.
Should We Gloat Over Obama's Childish Behavior?
It's easy enough for conservatives, libertarians, et al, to gloat about Barack Obama's recent petulant, child-like performances — at first unable to be even slightly gracious in compromise with Republicans on the tax bill and then, only a few days later, fleeing in panic when Clinton acted the real president, fielding questions with a relaxed authority so surpassing Obama's it was almost comical.
Pelosi and the Hostage Fakers
. President Obama defended his bipartisan tax deal this week by claiming that Republicans were political "hostage takers" who wouldn't budge, but it looks like he fingered the wrong suspects. The real kidnappers are Speaker Nancy Pelosi's House Democrats, and the main hostage they are taking is none other than Mr. Obama. Republicans should not pay the ransom.
Obama's Stunt-Double Presidency
. Late for a Christmas party, the president enlists the Man from Hope to explain the change we need to make. When the going gets tough, those over their heads send for the cavalry.
The second banana at the White House
. The most powerful man in the world revealed himself unable to assert the authority of either himself or his office. His press aide stood helplessly at the edge of the scene, allowing Bubba to drone on about taxes, the aftermath of the earthquake in Haiti, credit markets, economic theory, nuclear weapons, bipartisanship and the weather. ... The ineptitude of the Obama White House, revealed piece by piece over the months, was at last writ large enough for all to see. Could anyone imagine Harry Truman or Ronald Reagan allowing a former president to come into his house and take over a press conference?
The Meme That Would Not Die
. They've said this about Obama for years, that he's some sort of Great Compromiser, who would bridge the gaps between Left and Right, between Black and White, and all the other chasms of American political and social life — like... I dunno, like some miraculous kind of spackling paste. ... The same Obama who, when faced for the first time by real opposition, put on the most petty and petulant press conference performance in presidential history. The same Obama who, just days later, walked out on another briefing, blaming his wife.
The Never-Ending Christmas Party
. We got a taste of the real Barack Obama at the end of last year, when he handed a high-pressure press conference off to an astonished Bill Clinton, and raced off to attend a Christmas party. Everything he has done since then is consistent with the appalling lack of leadership he demonstrated in that moment. Obama never came back from his Christmas party.
Tucson, Arizona, January 12, 2011
I didn't hear this speech, nor would I care to listen to it now. But from what I heard, it was President Obama's best speech yet. (Too bad he still relies on a teleprompter for every word.) In this case, it was the crowd that ruined the speech, turning what should have been a somber and dignified memorial into
Wellstone III
.
Rev. Obama's Revival Meeting
. To the untrained eye, the University of Arizona ceremony appeared to be a well-meaning memorial service visited by a somber president attempting to heal the nation. However, to an educated onlooker, the event closely resembled a tent revival run by a hypster whose pious pontificating was more about furthering a political agenda than consoling the aggrieved. Was I the only one who recognized that when Obama entered the packed stadium, all that was missing was a donkey and palm branches?
Prez perfect — but the crowd was appalling
. The tone of the event came to resemble a pep rally, no matter the monstrous fact of the six dead and the many injured. ... There's been a great deal of talk in the wake of the massacre about the need for a national conversation about civility. Maybe what we need is a national conversation about elementary manners.
Hume on Obama Arizona speech: parts 'most peculiar'
. "I just wanted to add, I think the president prepared this speech in the expectation that this would be indeed a memorial service," Hume said. "I think it ended up being nothing of the kind. This was much more of a pep rally and perhaps that is precisely what the people of Tucson and the people of this region needed and wanted.
Some question pep rally atmosphere at Obama speech
. Some have wondered whether it was a scripted political event, but White House spokesman Robert Gibbs said Thursday [1/13/2011] he and other aides didn't expect Obama's speech to receive as much applause as it did.
Was Obama's Speech His Finest Hour?
The suggestion by Garry Wills in "Obama's Finest Hour" that the speech compares favorably with Lincoln's Gettysburg and Second Inaugural Addresses strikes me as a tad excessive, but Obama gave a beautiful speech at a critical moment and lifted both the country and his own presidency. Everything a speech can do, it did. In some sense, it was a sermon to himself, since he bears as much blame (and perhaps more) as anyone for the divisive rhetoric that has marked the first two years of his presidency.
Critics Assail Cheering and T-Shirts at Obama Tucson Speech
. There has been relatively little criticism of the context of President Obama's speech last night calling for civility in the wake of the Tucson tragedy — in fact, conservative blogger Ed Morrissey called it perhaps "the finest moment of his presidency." But some are pointing to both the response of his audience and the fact that t-shirts were handed out to cast the memorial as an inappropriately political event.
Was that a memorial service or a pep rally?
President Obama's speech was fine, as always. He read the teleprompter with eloquence and did a fine chin in the air impersonation of Che Guevara, as usual. His words were appropriate for the most part and he rose above the political fray by making a point of chiding people that were playing the blame game. My beef is not with Obama this time. It is his mindless minions in the crowd that draws my ire. Apparently the crowd was mainly composed of university students and from what I could gather they had already started tapping kegs for the wake.
A somber Memorial, Barack Obama style
. Word this morning indicates the idea for the tacky t-shirts originated with University of Arizona brass. Whether astro-turfed or university initiated, Obama basked in it. Obama entered the stadium to deafening applause. Was it, too, orchestrated by university brass? Wearing their most appropriate in-sympathy countenance, both Obamas walked in to the McKate Memorial Center on the University of Arizona campus Wednesday in condolence mode. During the speech that media pundits forecast would lead to a new, more centrist president, incredibly the audience screamed out to Obama, "We love you!" There were resounding cheers for unpopular Homeland Security Secretary Janet Napolitano. Popular Governor Jan Brewer was booed.
Obama's Tucson degradation
. President Obama is cynically exploiting the tragic shooting in Tucson for political gain. His memorial address Wednesday night was a surreal spectacle in narcissistic self-congratulation. ... Instead of being a solemn and serious event, the memorial resembled a pro-Obama pep rally. The president of Arizona University praised Mr. Obama for his "visionary" and "courageous" leadership. Throughout the memorial and Mr. Obama's speech, students regularly cheered, clapped, whistled and hollered.
White House Says It Wasn't Responsible for Picking Rowdy Basketball Arena
. White House Press Secretary Robert Gibbs said Thursday [1/13/2011] that the White House was not responsible for choosing a basketball arena, as opposed to a church or a smaller auditorium that might be more conducive to a solemn event, for Wednesday's night's memorial service in Tucson, Ariz. The McKale Memorial Center, an athletics facility at the University of Arizona, was packed with a reported 14,000 people, who repeatedly broke out in cheers and screams of a sort not ordinarily associated with a memorial service.
Obama showed grace and wisdom in Tucson
. President Obama is often criticized in this space, so we think it only fair to point it out when he does something praiseworthy. In his address Wednesday evening in Tucson commemorating the senseless slaying of six people, including a federal judge, and the attempted assassination of Rep. Gabbie Giffords, D-Ariz., Obama performed admirably.
Where Will Obama Go From Tucson?
President Obama is receiving uniform praise for his memorial remarks in Tucson, Ariz. Even conservatives are saying he hit the right notes, substantively and tonally. I agree, with a few qualifiers and gentle cautions.
Mournapalooza!
It's beyond me why family members of the victims didn't walk out in justifiable indignation. While the commentator class continues to celebrate the greatness of Obama's speech, the entire galling mess is an excellent reminder ... about how we got stuck with this guy in the first place.
Theme of "Together We Thrive" T-shirt came from Obama's Organizing for America
. University of Arizona brass did not originate the "Together We Thrive" T-shirt. They merely recycled it for Obama — and recycled it in time for what should have been a dignified Memorial for the dead. If you were a mourner who took home a "Together We Thrive" T-shirt have a look at the bottom of your shirt. "Rocking America and Rocking the Vote" is a common theme of the DNC, and it's right there on your Memorial T-shirt memento. Welcome to the era of Obama, where cheering and standing ovations, for the first time in history, became part of the Requiem for the Dead.
Wellstone Memorial Redux
. I suppose the excuse du jour will be that these weren't stage directions, just merely the assumption that the president would have to pause while the expected hosannas rained down upon him. But presumably, if you put "APPLAUSE" into the text on a Jumbotron, a sufficient number of people in the audience will do just that. And as always during solemn memorial services, t-shirts with text printed in an all-caps avant-garde typeface were provided to all attendees.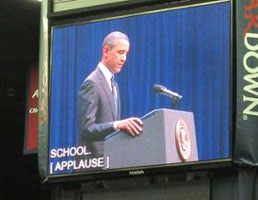 If White House Was Surprised by Applause, Why Did They Ask For It On Jumbotron?
On Thursday [1/13/2011], White House Press Secretary Robert Gibbs said that they were surprised by the applause at the
memorial
pep rally on Wednesday for the victims of the Tucson shootings.
30 year-old Chicagoan Wrote Tucson Speech
. In a Friday [1/17/2011] article I had speculated that chief Obama speechwriter Jon Favreau had penned Obama's over-praised Tucson oration, but it turns out that Obama elevated heretofore unknown Cody Keenan from the "eulogy and commencement beat" for his moment in the Arizona sun. In an uncommonly frank moment Wednesday night, while flying back from Tucson on Air Force One, White House press secretary Robert Gibbs told a Chicago Tribune reporter and others that Keenan had been the speechwriter. By Thursday morning, Gibbs was insisting that "Obama had wielded the heavier pen."
The Editor says...
Wouldn't it be great to have a polygraph examiner interview President Obama about the works that he has allegedly written? Wouldn't it be refreshing to have a reporter ask Mr. Obama to recite a speech he has given, right after the speech is concluded? My guess is that he would not be able to remember even one complete sentence, because (I believe) someone else writes all his speeches.
Obama Is America's First Post-Responsibility President
. The concert hall promoters had done their pre-production work well. Souvenir T-shirts bedecked the chairs, imprinted with the song title of one of Obama's lesser-known numbers from his blockbuster year of 2008. The screaming fans were all in place. At last, He appeared and performed a fresh new rap, a sparkling stew of platitudinous poppycock about not disappointing the dreams of a child. His fans shrieked and applauded, their ebullience trampling the dignity of the mourners among them.
Obama's Tucson degradation
: President Obama is cynically exploiting the tragic shooting in Tucson for political gain. His memorial address Wednesday night was a surreal spectacle in narcissistic self-congratulation. It dishonored the victims, those who were murdered and maimed by Jared Lee Loughner, including Rep. Gabrielle Giffords, Arizona Democrat. Instead of being a solemn and serious event, the memorial resembled a pro-Obama pep rally. The president of Arizona University praised Mr. Obama for his "visionary" and "courageous" leadership. Throughout the memorial and Mr. Obama's speech, students regularly cheered, clapped, whistled and hollered. All the while, the president basked in his newfound glory.
Together in Chains and T-Shirts
. On the premise that words have meanings, and in the spirit of vitriol, eliminationationism, toxicity, and incivility, I offer here an inflammatory, abrasive, and indecorous critique of the latest bucket of double-talking swill to be dumped on America by the White House. On Wednesday, January 12th, President Barack Obama delivered a "eulogy" that magically but predictably morphed into a campaign speech before some 14,000 people in a university sports arena.
A Philosopher Reflects on the Giffords Shooting
. The shooting of Congresswoman Gabrielle Giffords, though a terrible tragedy, is not of historic significance. More significant is the efforts of the Left to blame this on the Right, particularly the Tea Party movement. The absurdity of these attempts is obvious, and many on the right have done a very good job of blasting them. I will add a few things that need to be said.
Tucson and the Tea Party
. Throughout social media, the left is really blowing the dog whistle on the Tea Party movement, from blaming opportunist Sarah Palin, whose Tea Party credentials are dubious, to status updates, comments, and this
San Francisco Chronicle
editorial posted by the newspaper's editorial page editor John Diaz (with whom I have worked) insinuating that anyone on America's right and everyone in the Tea Party movement may somehow be responsible for the heinous crimes, which appear to have been the act of a lone nihilist who mixes literacy,
We the Living
, and the gold standard into his puny little mind and comes up with mass murder.
The Scarecrow of "Violent Language" and The Left's "Climate of Hate"
. There is a drive on now to blame the Tea Party, "right-wingers," and any frank discussion of Obama and/or liberal politics for the shooting. The liberal/left is scrambling to cast a pall of "responsibility" on the authors of any "toxic rhetoric" alleged to have "encouraged" the shooter Jared Loughner to act out his fantasies and to "take action" against a perceived enemy. The abrupt shift of focus from Jared Loughner the mad man to the necessity of "civil" discourse could only be orchestrated by the left.
Driven To Tears
. It's being called a "national tragedy." That isn't at all what it is. A "tragedy" is the collapse of a crowded building, an earthquake (like in Haiti), a school bus accident on a rain-slicked highway — you get the idea. No, the shooting was a crime perpetrated by someone who fits the textbook definition of criminally insane. I am sickened to my very core at the attempt to politicize this heinous act.
The Hypocrisy Underlying Obama's Speech
: Says Obama: "We recognize our own mortality. And we are reminded that, in the fleeting time we have on this Earth, what matters is not wealth, or status, or power, or fame, but rather how well we have loved and what small part we have played in making the lives of other people better." Would Obama give up even one ounce of
his
power for the sake of people who still want to live lives of liberty, without the nationalization of medicine, for example? Not a chance. Wealth and power matter a great deal to people like the Obamas.
Obama's Mandela Moment
. However politically brilliant all of this was, it remains in some sense quite morbid, in a creepy sort of never-waste-a-tragedy sense. The reaction to the killings almost instantly blotted out information about and concern for the dead and maimed. Yet in this entire confusing media circus, questions simply were not only not answered, but in fact never raised. In logical terms, how are we to use a moment to reexamine political speech when the moment was explicitly declared not to be connected with political speech at all? How can a president subtly distance himself from the macabre and revolting behavior of his left-wing base while simultaneously editorializing on unhinged invective in general?
Intermission for America
. A good speech is a dessert after the job is done and a great speech is an appetizer that inspires a movement. Obama's speech was a snack. A confection without context. The treat that he baked for himself and then offered to us.
The Truth About 'Investments' Hurts
. "Think and grow rich" might work for an individual envisioning business success, but it is delusional as national economic policy. We can't wish or will the country to prosperity, or recover from a recession caused by too much debt by incurring more debt. "Together We Thrive" was not only inappropriate as a theme for a memorial to the victims of the Tucson shooter, it is the economic policy of a collective society, not of a free one.
Media Excuse Obama's Lies About Shootings
. The liberal media have gone from blaming conservatives for the Arizona shootings to praising President Obama's speech, in which he made the false claim that nobody knows why the massacre happened. The media called the speech consoling and inspirational. "Obama's speech likely bound for history books," said USA Today.
State of the Union speech, January 25, 2011
Anticipation:
The SOTU, Hope and Change
. Most of what Obama says Tuesday night [1/25/2011] will focus on ways he can be credited with "creating and preserving" American jobs and stemming the tidal wave of home foreclosures. Predictably, he will find ways to blame his predecessor for our current economic travail.
A Solution at Obama's Fingertips
. On Tuesday, the president will deliver his State of the Union message. The conventional wisdom is that Barack Obama will continue his "move to the center." The quotation marks are necessary because some people think he really is moving to the center, while others think he just wants to appear like he is.
Barack Obama's State of the Union address could be a Big Government disaster
. While the British government has embarked on a large-scale austerity programme to completely eliminate the nation's structural deficit by 2015, the Obama administration still remains committed to further stimulus spending in the United States, clinging to the naïve and hopeless belief that Big Government solutions are needed to get America's economy back on its feet.
O's overstimulating
. President Obama's State of the Union speech will outline a spending spree on "green" projects, education and road-rebuilding, arguing the largesse will create jobs and boost the nation's competitiveness in the world economy. Obama is proposing the spending hikes despite voters' election of a GOP House last November that has vowed to be more frugal with public dollars.
Obama to speak out of both sides of his mouth during SOTU
. It should be an interesting State of the Union speech on Tuesday night. We get to see the president of the United States pull off one of the great feats of prestidigitation known; talking out of both sides of his mouth. Only a liberal can believe you can cut spending and increase spending at the same time while reducing the deficit.
Will Obama's State of the Union Rise Above the Cliches of a Stale Speech?
Ever since Woodrow Wilson invented the modern State of the Union Address by coming before a joint session of Congress in 1913, presidents have been struggling vainly to rise to the rhetorical occasion. The clichés of this annual exercise somehow inspire even the most eloquent presidents to deal in buzz words and hackneyed phrases.
The Left's Tucson Strategy: Stage Two
. The Left's attempt to link the Tucson shootings to angry rhetoric (not theirs, of course) was stage one of a broader strategy — what both military men and political strategists refer to as preparing the battlefield. The movement to feign nonpartisanship at the State of the Union address by seating Republicans and Democrats together is another aspect of this stage. At the same time, the Left is moving on to stage two — an effort to cash in on battlefield preparation by attacking specific figures on the right and trying to shut down speech that the Left finds inconvenient.
My Advice to the POTUS about the SOTU
. Just stick to your script from those glorious campaign days in 2008. Remind everyone that everything wrong in the world is the fault of the unexceptional and arrogant U.S.A. Remind everyone that it is all Bush's fault. Remind everyone that you cannot get out of Iraq or Afghanistan fast enough. Mention the troops. Everyone loves the troops. It is essential to throw in some reference to global warming, to electric cars, to wind and solar energy, and to take a moment to remind everyone how horrid Big Oil and Big Coal are. That's pretty much been your energy policy anyway.
Having Fun with the State of the Union
. It matters not what President Obama will say in his speech tonight. Despite the exit of some old staffers and the entrance of some new ones, he is not changing, and any presidential rhetoric that might imply a softening of left-wing ideology is a smokescreen.
What Obama Will Not Say at the SOTU
. The annual take-a-stab guessing game of what any president will say at the State of the Union address is now on. If I might, I would like to play the other side of that card. Here is what President Obama will
not
say in his SOTU speech.
Reaction:
The Speech Is Flat
. Remember in 1957, when President Eisenhower said, "This is our generation's Sputnik moment"? Of course you don't, even if you are old enough. Ike never said anything of the sort, nor did he need to. When you're actually in such a "moment," you don't have to announce it. So of course President Obama was talking nonsense when he said, in his State of the Union Address last night, that "this is our generation's Sputnik moment."
Obama's State of the Union Was Tantamount to Plagiarism
. If imitation is the sincerest form of flattery, what can be said of plagiarism? President Obama's second State of the Union address contained enough recycled ideas and lines lifted from speeches of others to make historians wince. I suppose this is what one does when one not only has nothing new to say, but is required by custom and Constitution to come forth with a report of some kind by a certain time and day.
Obama's Plan Would Cost Another $20 Billion
. President Obama's agenda spelled out in his well-received State of the Union address would boost spending an additional $20 billion and lead to higher taxes, according to a line-by-line analysis from the National Taxpayers Union Foundation.
The Obama Presidency remains in a dangerous state of denial
. If there is one big takeaway from Barack Obama's State of the Union address last night, it is that this presidency remains in a complete state of denial regarding the massive threat the United States faces with its budget deficit. Obama's speech was a major lost opportunity to address the number one menace to America's long-term prosperity — the towering mountain of debt.
All Three Networks Agree: Obama Sounded 'Reaganesque' in State of the Union
. During coverage of President Obama's State of the Union address Tuesday night, all three broadcast networks, CBS, NBC and ABC, managed to compare the tone of the speech to that of Ronald Reagan. Reporters and pundits uniformly praised the supposed optimism of Obama.
Obama's State of the Union Speech: underwhelming with a lukewarm reception
. So Barack Obama did not match his performance at Tucson: this was a mediocre speech which did not even succeed in getting the usual succession of standing ovations. Bottoms stayed firmly on chairs as he recited what he regarded as the achievements of his spending programmes. (It reminded me more than anything of one of Gordon Brown's interminable Budget speeches.)
Fact Checking President Obama's State of the Union Address
. ABC News takes a close look at some of the claims in the president's second annual State of the Union address to the joint Houses of Congress.
State of the Union 2011: So much for civility
. The civility show didn't last long in Congress. Actually, it never really started. Sure, Republicans and Democrats were able to beat their swords into photo-ops to receive President Barack Obama's report on the state of the union. Democrats sat with Republicans. Senators sat with House members. Bitterly divided delegations cloistered in the leather-upholstered back benches.
Sen. Jim DeMint Reacts To State Of The Union
. South Carolina Sen. Jim DeMint was in attendance during President Barack Obama's State of the Union address Tuesday night. Sen. DeMint spoke to reporters after the speech and said, "It's hard to take the president seriously." The Senator made the comment while discussing how he feels that the president hasn't delivered on any of his promises.
The Great Misallocators
. President Obama on Tuesday night stressed U.S. economic competitiveness as a new policy theme, accentuating the point he made last week by naming General Electric CEO Jeffrey Immelt to lead his new jobs council. ... The pairing is also instructive because both Mr. Obama and GE symbolize a major reason the U.S. has become less competitive — the misallocation of resources.
Obama's class-conscious State of the Union
. The fact that Obama used "working class" in the State of the Union — and a check of the White House website shows that he has used it many times as president — probably reflects the insularity of the president and his speechwriters. They see it all the time in the New York Times, so everybody uses it, right?
A disappointing State of the Union address
. President Obama entered office promising to be a different kind of politician — one who would speak honestly with the American people about the hard choices they face and would help make those hard calls. Tuesday night's State of the Union Address would have been the moment to make good on that promise. He disappointed.
The President's Speech: An Irresponsible Performance
. State of the Union speeches are typically unimpressive and unmemorable. Last night's address by President Obama was in that tradition. While his delivery was fine, the speech itself was mediocre — flat, undisciplined and unfocused, at times pedestrian and banal, with goals seemingly pulled out of thin air (e.g., by 2035, 80 percent of America's electricity will come from clean-energy sources).
When Numbers Get Unserious
. "The challenge for the president," The New York Times reported before last night's State of the Union address, "is to convince independents and centrists of his fiscal responsibility without further alienating his base." President Obama tried to accomplish this feat by calling the spending he favors an "investment" and portraying its opponents as shortsighted misers. Obama depicts budget cutters as panicky passengers "trying to reduce the weight of an overloaded aircraft by removing its engine," a metaphor that transforms frugality into a vice and makes continuing to spend money we don't have seem like the only responsible course.
Education and the State of the Union
. In which Obama rests on his laurels and tells parents and 20-somethings to get their acts together.
President Obama, The Bankrupt Do Not Invest
. In the State of the Union speech, President Obama called for numerous "investments." Most Americans, especially fiscally conservative tea partiers, fully realize "investments" translates from DemocratSpeak to English as "spending."
State of the Union 2011: Barack Obama gets another F for world leadership
. Tonight's remarkably dull State of the Union address was dominated by President Obama's heavily flawed vision for reviving the American economy, with plans that remain overwhelmingly mired in an outdated Big Government mentality, and which spectacularly failed to include a coherent strategy for eliminating America's massive $14 trillion debt. But the State of the Union is also traditionally a major opportunity to project US leadership on the world stage, and once again Obama has fallen short.
Obama and the Bodysnatchers
. My pal, a frequent
Spectator
contributor and a super smart guy, Aram Bakshian, summed it up perfectly after Barack Obama's State of the Union address. "Obama does not seem like a leader anymore," he said. It is sadly true. This was painfully apparent in tonight's speech.
Krauthammer Underwhelmed by Obama Vision in SOTU Address
. If President Barack Obama was aiming for a "this is our generation's Sputnik moment," he aimed too low according to Fox News Channel's Charles Krauthammer. Immediately following Obama's State of the Union address Tuesday, the syndicated columnist and FNC regular explained he was underwhelmed by the speech.
Excuses, Excuses
. On January 25, the president delivered his State of the Union address. Speaking with vigor and aplomb, the president demonstrated once again that he can look serious, act like a president, and read the words that have been written for him. But so far, he has not demonstrated his ability to
be
a president, create jobs, or do anything else.
Was that plagiarism in Obama's State of the Union?
[Scroll down] A number of other passages coming out of the presidential mouth struck a few listeners as sounding vaguely familiar. Talking of the need for improved education, Obama in one prominent line said, "We are the first nation to be founded for the sake of an idea." Hmm. Turns out, someone else said those same memorable words about the time Obama was editing the [Harvard] law review.
Obama speech shows he's out of touch
. In his first two years in office, he was manifestly so far removed from America's experience and ideals that he lost the election of 2010. His big spending, overregulation, government takeovers and bailouts and healthcare program cost him his mandate. But, in his State of the Union speech, he hewed so close to the conventional that he will now lose control over events. His speech marks the real end of his presidency and the ascendancy of congressional government led by the House Republican agenda.
Obama's State of the Union Was Tantamount to Plagiarism
. If imitation is the sincerest form of flattery, what can be said of plagiarism? President Obama's second State of the Union address contained enough recycled ideas and lines lifted from speeches of others to make historians wince.
Obama's Tribute To Big Government
. Jimmy Carter's malaise speech of the summer of 1979, in which he seemed oblivious to the American spirit, ended up in the judgment of history as the archetype of his presidency. Barack Obama may have just done the same thing to himself with the "Sputnik Speech." Even supporters of the president and the Alinskyite radicalism that dominates his party will find it hard to acclaim this gifted orator's decision to spend 60 minutes sermonizing about government being more important than suffering Americans give it credit for during a hard recession.
Sputnik Moment Or A Lost Opportunity?
Jimmy Carter's malaise speech of the summer of 1979, in which he seemed oblivious to the American spirit, ended up in the judgment of history as the archetype of his presidency. Barack Obama may have just done the same thing to himself with the "Sputnik Speech."
Obama Misses Main Point Entirely
. Of all the disappointments of President Obama's State of the Union speech, none looms as large as his failure to address the fiscal problems. Does he not know it's getting worse, not better?
The Disastrous SOTU
. President Obama's State of the Union address and the Republican and Tea Party responses to it were a dismal occasion. From the terminal platitude that all are "part of the American family," to the likelihood that a girl in Tucson may "have dreams like the rest of us," which "is what sets us apart as a nation," it was a groaning farrago of clichés and unlikely undertakings, followed by replies that had been written before the contents of the president's address were known and had almost nothing to do with what he said.
Obama Channels Failed Michigan Governor
. Former Michigan governor Jennifer Granholm has yet to start teaching her new Cal-Berkeley course on green governing — but she already has a devoted student in the White House. President Obama's State of the Union speech Tuesday night was eerily similar to the failed economic vision that Granholm laid out in her State of the State address exactly five years ago: It even included her rhetorical ruse substituting "investments" for "spending."
Space Cadet Obama's 'Sputnik' Gaffe Says It All
. Earth calling Barack: Do you have any idea which country ultimately won the space race — and why? This question goes to the heart of what was so wrong with the President's State of the Union address.
Obama Believes American Exceptionalism Begins With Government
. If you listened to the speech and came away believing Obama is receptive to moving to the center, then you didn't hear or understand him. For the GOP to make headway on restoring fiscal sanity to this nation, it must first understand him. Then it must oppose and reverse him.
We Do Big Things Through the Government
. President Obama's State of the Union address was arguably his best opportunity since his mid-term "shellacking" to seriously address the debt and deficit issues that threaten America's economic stability now and far into our grandchildren's future. His failure to deal with reality, however, was evident throughout the speech. The president called for the nation to do "big things," yet he cited only government programs and initiatives as examples of "innovation."
Obama's spaced out speech
. President Obama's announcement on Tuesday that "this is our generation's Sputnik moment" came across as puzzling. Had al Qaeda sent a suicide bomber into space? But it turned out to be just a clumsy metaphor. The first Sputnik launch in October 1957 is a now distant event that no longer arouses passion. It would be as if someone described the Watergate scandal as that generation's Teapot Dome.
Who Needs a Sputnik Moment?
Never in my worst nightmares did I expect to hear the president of the United States give voice to a dream of building "our generation's
Sputnik
moment." For the privilege of becoming an American citizen some 32 years ago, I paid with two death sentences, both levied on me by one of those Soviet bloc countries that spawned the
Sputnik
era and later collapsed under its own weight. From my vantage point, ObamaCare now looms over us with disturbing reminders of the Soviet bloc's
Sputnik
-era health care system.
Obama Stung by SOTU Plagiarism Rap
. Kudos to presidential historian Alvin Felzenberg for his tug on Obama's cape. A Ph.D. from Princeton and the former spokesman for the 9/11 commission, Felzenberg is the first intellectual insider to suggest publicly that President Barack Obama is not the writer the literati have anointed him to be. In his review of the State of the Union speech posted on the U.S. News website, Felzenberg goes so far as to accuse the president and his speechwriters of plagiarizing it.
Did Obama Forget About the Teachers Union?
When Obama started to speak about the need to improve education, upgrade our schools and attract quality teachers, an elephant appeared in the living rooms of most Americans who were watching. Obama never mentioned the beast, but most of the country saw clearly the three letters on his back — AFT. American Federation of Teachers — the union that, along with its counterpart, the NEA, National Education Association, has destroyed public education in America. How can we take seriously any proposal to improve schools that does not deal with the force that has dragged them down — the teachers union?
The Old Obama in New Clothing
. The November election sent a clear message to Washington: less government, less debt, less spending. President Obama certainly heard it, but judging from his State of the Union address, he doesn't believe a word of it. The people say they want cuts? Sure they do — in the abstract. But any party that actually dares carry them out will be punished severely. On that, Obama stakes his reelection. No other conclusion can be drawn from a speech that didn't even address the debt issue until 35 minutes in.
'... without the pat-down'? Whoa, Mr. President!
Wait a minute, Mr. President. Did we hear you correctly in your State of the Union address? Did you really say your new high-speed trains would be "faster than flying...without the pat-down"? Your administration is said to be quietly pushing back against public resistance to those intrusive TSA pat-downs. ... For you to make fun of those privacy concerns is particularly uncaring. You are a privileged person who doesn't have to go through that gantlet every time he flies.
MRC's Bozell Blasts Media Coverage of Obama SOTU
. When Republican presidents in years past delivered their State of the Union addresses, NewsBusters publisher Brent Bozell noted this morning, "no sooner had the words, 'God bless America,' left their lips than the analysts were there... just pouncing on them, pointing out any discrepancy, pointing out any controversy, ridiculing any mistake." Now "along comes Barack Obama..."
What Obama's State of the Union speech has in common with Taco Bell
. I agree with the liberal blogosphere — Obama's State of the Union was "Reaganesque." Well written and well delivered. Awe-inspiring. Except that it was all distortions, false promises, and bait and switch. Don't believe a word. It was pure sales and marketing, with zero substance. It was the same old "Cash for Flunkers." Failed programs renamed "investments" in order to sell the con. Obama's State of the Union reminds me of the Taco Bell lawsuit in the news this same week. ... There's no meat in Obama's product either.
Support for Barack Obama plan cooling fast
. Initially warm support for Barack Obama's State of the Union address this week is giving way to criticism that his proposals for big spending on education and innovation were based on "empty platitudes".
Winning the future: With trains and windmills?
Tuesday's State of the Union speech was President Obama's concession to the hard reality of Nov. 2, 2010. Instead of massive expansions of state power and control, he spoke of massive infusions of taxpayer cash. ... He proposed huge federal "investments" in transportation (high-speed rail), "green" energy, high technology and other areas. But soon after calling us to rise to our "Sputnik moment," he proposed freezing domestic spending. As The Associated Press noted, either he's serious about the spending increases he calls investments, or the spending freeze, but he can't be serious about both because doing both is impossible.
Solar shingles won't save America
. Whether it's "solar shingles" or smart grids, President Obama just can't imagine a world in which government isn't deciding how to spend your money. Despite Mr. Obama's best efforts Tuesday [1/25/2011] to dress up the classic tax-and-spend agenda as "investment" in the future, merely freezing the current budget maintains a course that only can end in fiscal ruin.
Browner Resignation, Obama Omission Could Spell the End of Global Warming Policy
. The abrupt resignation of Carol Browner, President Barack Obama's global warming czar, and the omission by Obama of global warming from his State of the Union speech on Tuesday could mean that the White House has given up on global warming, according to climate change analysts.
Uncle Sam in the driver's seat
. Disregard Barack Obama's rhetorical cotton candy about aspiring to be transformative. He is just another practitioner of reactionary liberalism and champion of a government unchastened by its multiplying failures. The word "entitlements" was absent from his nearly 7,000-word State of the Union address — a $183 million speech that meandered for 61 minutes as the nation's debt grew $3 million a minute. He exhorted listeners to "win the future" by remembering the past.
Hope, Change, and "Invest"
. I missed the middle section of Obama's State of the Union address when I took a break to read "War and Peace," but I gather he never got around to what I was hoping he'd say, which is: "What was I thinking?" The national debt is $14 trillion, the Democrats won't stop spending, and President Nero gave us a long gaseous speech about his Stradivarius.
Cap and Trade Returns From the Grave
. The president presented his new, conciliatory face to the nation this week, and his State of the Union was as notable for what it didn't include as what it did. He uttered not one word about global warming, a comprehensive climate bill, or his regulatory attempts to reduce carbon. ... Listen carefully to Mr. Obama's speech and you realize he spent plenty of it on carbon controls. He just used a different vocabulary.
Obama Refuses To Learn Government's Clean Energy Failures
. It would have been nice if, prior to giving his SOTU, the president had checked out a paper by Professor Peter Grossman entitled, "The History of U.S. Alternative Energy Development Programs: A Study of Government Failure." He traces the numerous efforts our government has made at investing in alternative energy, from nuclear power in the 1950s to the Partnership for a New Generation of Vehicles in the 1990s, and found that none of them have worked.
High-Speed Rail, Budget Buster
. If the nation is going to reduce its out-of-control spending, the first step is to stop spending money on things we do not need. Despite President Obama's call in his State of the Union speech for linking 80 percent of the nation by high-speed rail, it is hard to imagine a more unnecessary program.
A Sputnik Moment?
From a strategic point of view, Sputnik was a Soviet blunder of the first magnitude. If the Americans had gone first, it would have given Russia a chance to demonize all space operations as imperialist aggression in the heavens. Every U.S. satellite launch would have been denounced as a crime against humanity. The U.S. space program in both its civil and military aspects would have been crippled. But from a propaganda point of view, Sputnik was a triumph, and in this they were aided and abetted by America's Democrats.
Americans Don't Have 'Sputnik Moments'
. Khrushchev had his Sputnik Moment. The Soviets had their Sputnik Moment. Communist sympathizers throughout the world had their Sputnik Moment. But despite President Obama's comment during the State of the Union Address, Americans don't have Sputnik Moments.
What's wrong with Peggy Noonan?
Whether naiveté or denial, Noonan's refusal to recognize Barack Obama's ideological intransigence is unbelievable. By all means, hope is a virtue, but it must be tempered with wisdom. Noonan is unwise and begging to be lied to, as long as those lies are less obvious and better spun than those told by the President last Tuesday evening.
Obama's Rathole Moment
. If there were a Nobel Prize for historical misstatement, this "Sputnik moment" speech would be the odds-on-favorite. ... It is almost as if Obama believes that in some dysfunctional inner-city school, there are kids with poor English skills about to drop out, but if we just rescue them and get them to return to the classroom and study algebra, America's future will be saved. Yes, a bunch of middle-aged, nerdy white males got us to the moon, but it will take an entire village of ethnically, racially diverse and gender-balanced people, many of whom were the first in their family to finish high school, let alone attend college, to get us to Mars — a Spaceship Rainbow.
Obama's Sputnik analogy doesn't fly
. It's a sign of how tinny and uninspiring President Obama's State of the Union address was that a week later it all seems so forgettable.
Tale of Two SOTU's
. Even though it was Obama's first State of the Union since his party lost control of the House and saw its Senate majority shredded, the [New York] Times didn't dwell on the decline in his party's fortune. By contrast, Kate Zernike's 2007 lead story on Bush's first State of the Union after the Republicans lost Congress emphasized the power shift away from the president, while lauding new Speaker of the House Nancy Pelosi.
No Need for State of the Union
. I didn't watch the 2011 State of the Union speech. I didn't need to. After all, for years now what gets said is merely a lot of cheerleading and campaign style rhetoric. You really can't take much of anything any president now says seriously. And so, after reading the text of the 2011 speech later it became obvious that the 2011 speech was another case of a politician speaking out of both sides of his mouth. While this is nothing unusual, in this instance the amount of double-speak was worse than usual.
It's Not the Economy Stupid, It's President Obama
. By the time President Obama finished giving his State of the Union message, he had failed leadership 101 and convinced the nation that he is incapable of successfully leading it, especially in a time of crisis.
Obama's antique vision of technological progress
. Barack Obama, like all American politicians, likes to portray himself as future-oriented and open to technological progress. Yet the vision he set out in his State of the Union address is oddly antique and disturbingly static.
The rot in values that is causing America's decline
. Science and math. Science and math. President Barack Obama's new mantra is science and math. If only America's students focused on science and math, he told us in his State of the Union address, then we'll be as innovative as China and will no longer have to farm out the building of wondrous handheld gadgets. The gods of science and math will make our economy blossom. ... Obama surprises me. How much science or math does he know?
Obama: A Roman God Updated?
We know the real state of the union: government spends too much, borrows too much, and prints too much money. Too many are out of work and too many recent grads aren't finding it. Government has promised but can't pay for health care, retirement, and its hundred-plus-countries military adventures. As our Janus said in his State of the Union speech, that calls for freezing domestic spending for the next five years while redoubling the recent transportation and construction projects of the last two. Redoubling spending while freezing it might challenge mortals, but for a god, it's just a day at the office.
2011 SOTU: The Patriot Response
. Here is the abbreviated version of the SOTU: "I want ... I believe ... I've seen ... I've heard ... I said ... I will be ... I'm asking ... I don't know ... I challenge ... I urge ... I set ... I know ... I'm proposing ... I ask ... I took ... I made ... I would ... I intend ... I've ordered ... I will not ... I've heard ... I am eager ... I'm not ... I'm not ... I'm not ... I am ... I've proposed ... I care ... I recognize ... I'm willing ... I've proposed ... I created ... I don't agree ... I am prepared ... I hear ... I will submit ... I ask ... I will veto ... I will travel ... I call on all ... I know ... I stand..." ... [Keep] in mind that nothing Obama proposed has an authorizing provision in our Constitution.
Freedom Occurs Only Once
. Its total effect resembles the result of a vocabulary project assigned to kindergarten students by a progressive teacher to see how many words could be glued onto a single sheet of paper. Missing like a deafening silence from the mix-and-match are words that did not frequently occur in Obama's speech, or not at all: freedom, liberty, capitalism, free markets, totalitarian, control, regulation. Freedom occurs only once: ["]And America's moral example must always shine for all who yearn for freedom and justice and dignity.["] ... Liberty does not occur once. Capitalism is nowhere to be found in the text.
On Energy, Obama's Full of Hot Air
. President Obama's State of the Union address last week left a lot to be desired. Lisa Fritsch summed it up well on [PajamasMedia®], writing, "Obama's speech [...] was focused far too much on lofty goals than the nitty-gritty we need to refloat our ailing ship of state." In fact, in two specific areas his soaring rhetoric belied reality and misrepresented our nation's future security. First, in calling for the "reinvention" of our domestic energy policy, the president issued a challenge rooted in ideology rather than grounded in a clear understanding of America's current and future energy needs. This is especially troubling because his goal flies in the face of science and the free market.
The Welfare State of the Union
. President Obama has been speaking lately of what he views as an upswing in the economy. "The economy is growing again," he declared in the State of the Union address. Not surprisingly, he failed to mention that for 104 consecutive weeks, larger and larger numbers of Americans have become dependent on welfare. Or that within those families receiving welfare, fathers have become more and more irrelevant, and youth crime has increased.
When one man's 'loophole' is another man's stimulus
. President Obama says he wants to cut the corporate income tax rate while closing "loopholes." But — as is often the case on taxes — it's best to heed what he does, not what he says. Obama has supported — often stridently — most of the biggest "loopholes" in the current corporate income tax code. Unless he is willing to end manufacturing tax breaks, low-income housing credits, and ethanol subsidies, his loophole-closing talk from the State of the Union and his speech to the Chamber of Commerce is just more Obama jabberwocky on taxes.
Spontaneous Order
. At last month's State of the Union, President Obama said America needs more passenger trains. How does he know? For years, politicians promised that more of us will want to commute by train, but it doesn't happen. People like their cars. Some subsidized trains cost so much per commuter that it would be cheaper to buy them taxi rides.
Leeches of the world, unite!
Working in tandem with Senate Democrats, President Obama delivered a State of the Union address last month that could have been composed on another planet. He trotted out a variety of spending initiatives, such as more money for education, high-speed rail, broadband Internet access and green technologies. He didn't detail any spending cuts worth mentioning.
Defining "Clean" is the Energy Challenge
. Clearly no sane person would be in favor of "dirty" energy standards, but there are many problems with the impossible goal the administration has set out to reach. First among them: the administration itself cannot agree on what it means by "clean energy." The remarks the president made in his State of the Union address to the nation last week are a case in point. President Obama posed the challenge that "by 2035, 80 percent of America's electricity will come from clean energy sources." There is an easy part of this pledge. Oil, the "dirtiest" of all among his environmentalist friends, already accounts for virtually nothing in electric power generation. The market saw to that over the past 20 years.
Chamber of Commerce speech, February 7, 2011
The Era of the Obama 'Blank Screen' is Over
. [Scroll down] Mr. Obama recently stood before a crowd at the Chamber of Commerce, hoping that the audience might somehow view him as a blank screen. ... As Mr. Obama went on to expound on the "principles" that made America great, the Chamber speech became noticeably creepy as the president demonstrated that he knows little about free market principles. The president's alleged JFK moment was more of desperate demand for business to do something to help Obama look good than anything else.
Hell just froze over
. [Scroll down] The president knows he doesn't understand business. He's never owned a business, managed a business or, from what I can tell, even worked for a private business during his entire life. He knows zippo about how the free market operates and how onerous big-government regulations and high taxes can trample the economy. All he knows about business is what he has read or what someone has told him.
Press conference, March 11, 2011
Obama Blames Oil Companies For Lack Of Drilling
. In his Friday [3/11/2011] press conference to discuss gas prices, President Obama was rather defensive, straining to counter the notion that his administration has been unfriendly to oil drilling, something most people would like to see a lot more of these days. Where do people get that notion? Perhaps his Interior Department appealing a judge's ruling that it act on several pending deepwater permits had something to do with it.
O's urgent inaction
. The White House is worried: The Libyan crisis and the general instability in the Middle East have led to spiraling gas prices. The president wanted to show the American people he knows it's a problem. So he staged a press conference yesterday, and he basically said he's going to do ... nothing.
Obama news conference registers 3.7
. President Obama called a news conference Friday. Yes, the weekend was nigh, and few people beyond the media were listening. But that was his target audience because he looks to be in a tidal wave of political trouble and needs a quick reset in time for the Sunday morning talk shows. The Real Good Talker has lost control of the political narrative in the nation's capital, which is very hard for an incumbent president to do.
Spectator-in-Chief
. President Obama held a news conference today and assured Americans that he's "monitoring" gas prices, Qaddafi and budget negotiations... leaving many people wondering what exactly he was actually DOING about these issues... which have been boiling for weeks.
Obama Comes Up Short On Oil
. Not surprisingly, President Obama's news conference on oil prices turned out to be a melange of deceptive facts and useless proposals, all pointing to a lack of interest in serious solutions.
Clearing up Today's Obama Energy Lies
. This afternoon the President of the United States tried one again to mislead the public about domestic oil production and how much untapped oil is left in the ground. He said that domestic oil production is at the highest level in seven years and he indicated that American reserves are not adequate to help the US reduced its dependence on foreign oil. If Congressman Wilson was in the audience he might have repeated his famous shout "
You Lie
."
Obama in a rush for higher gas prices?
At Friday's news conference, President Obama tried to connect with the common man coping with rising gasoline prices. Instead, the president left little doubt that he is clueless about cars. "You may want to buy a fuel-efficient car," quoth Obama, "but you may not be able to afford it. And so you're stuck with the old clunker that's getting 8 or 10 miles a gallon." Eight to 10 mpg? Which clunker would that be? I wondered. ... You have to go back to the Carter administration years or earlier to find Obama's idea of a gas-guzzling family car — and even that vehicle would have been a van, light truck/SUV or luxury model. And yet he is behind the wheel of Washington's energy policy.
Obama Copies Bush Speech
. Obama closed Friday's [3/18/2011] remarks by saying, "I've taken this decision with the confidence that action is necessary, and that we will not be acting alone. Our goal is focused. Our cause is just. And our coalition is strong." Nearly a decade earlier, when President George W. Bush announced that U.S. forces were launching military strikes in Afghanistan, Bush said: "To all the men and women in our military ... I say this: Your mission is defined. Your objectives are clear. Your goal is just." Bush used similar wording in other remarks at the time.
Obama's address to the nation regarding the war in Libya, March 28, 2011
Obama Congratulates Himself
. In his speech on Libya Monday evening, President Barack Obama demonstrated why self-congratulation is an awful basis for foreign policy. ... Perhaps the wrong speech got loaded onto his teleprompter, because the preachment Obama delivered fudged the past, gave us weasel words in place of real goals, and substituted a vigorous Nobel Peace Prize-winning pat on the back for any good reason to make this our fight. The evasions of fact and friction were so breathtaking that they need to be cataloged for posterity.
Obama Arming Al Qaeda?
With President Barack Obama scheduled to speak to the nation tonight about the role the U.S. military is playing and will play in the military action in Libya, the White House national security and communications teams continue to scramble to get their stories straight.
Obama ditches Oval for speech
. An address from the Oval Office has at least three problems for President Obama. Among other things, it implies the nation is at war — and if there is one thing the administration is rather emphatic about, it's that we are involved in a limited military action in Libya, not a war. The president also is not great in an Oval address — few are. Tense and alone at the Resolute desk, reading off a teleprompter into a network camera while a few staffers and TV crew stand silently by — it's an isolating, airless moment that does not always convey confidence.
Barack Obama's muddled speech leaves Libya war aims unclear
. President Barack Obama delivered an elegant speech in a setting — the National Defence University -- in which he appeared much more at ease then he does in the Oval Office. ... The bad news is that he left Americans no clearer about how this war ends and while speaking about American leadership tried to pretend that it was the European allies and Nato that were going to take the weight from this point on (the reality is that the US wil continue to do the heavy lifting).
Being a leader is about more than reading off a teleprompter
. Mr. Obama waited nine days after U.S. forces began to engage in hostilities in Libya to make a major address to the nation. He initially avoided making more than perfunctory remarks because U.S. involvement in the nonwar was supposed to be brief and limited. But as the kinetic became more frenetic, and Mr. Obama didn't see the favorable bump in public opinion most presidents enjoy after unleashing military force, he was compelled to address the issue head on.
A War By Any Name
. Tonight, in a speech that probably should have been delivered before American planes began flying missions over North Africa, Barack Obama will try to explain to a puzzled nation why we are at war with Libya. Not that the word "war" will pass his lips, most likely. In press briefings last week, our Libyan campaign was euphemized into a "kinetic military action" and a "time-limited, scope-limited military action."
Obama Speech: Full Of Rhetoric, Bereft Of Logic
. President Obama's Monday night speech was long on rhetoric and short on logic. He said: "I believe that this movement of change cannot be turned back, and that we must stand alongside those who believe in the same core principles that have guided us." Just what would lead him to conclude that this includes the largely unknown forces who are trying to seize power in Libya? Too often in the past, going all the way back to the days of Woodrow Wilson, we have operated on the assumption that a bad government becomes better after the magic of "change."
How I Won the Kinetic Military Action
. President Obama's speech last night was fine as far as it went, which was not very far: Qaddafi was about to wipe out a lot of citizens, so we had to act fast; a lot of people told us we could do it, so we did it; we avoided a humanitarian crisis — mission accomplished; now others can take over. But the crisis ten days ago was actually not a humanitarian crisis but a strategic one: you don't declare Qaddafi "must go" (for violating the Obama Doctrine that leaders who wage war on their people lose legitimacy), declare that his violence is "unacceptable" — and then stand by doing nothing as he wipes out all opposition.
Obama's BAM! ZAP! and POW!
It was "Mission Accomplished" but without the banner. In a strong, almost pugnacious, speech Monday night, President Barack Obama said he had achieved his initial goals in Libya. "So for those who doubted our capacity to carry out this operation, I want to be clear: the United States of America has done what we said we would do," he said.
AP Fact Check Destroys Obama's Libya Speech
. Here is a look at some of Obama's assertions in his address to the nation Monday, and how they compare with the facts.
Obama's TV ratings for his speeches continue to plummet
. Monday night's policy address on Libya delivered 25.6 million viewers, continuing the president's trend of declining ratings for his issue-oriented telecasts. ... With a decline like that, it is apparent that "The Obama Show" has jumped the shark.
Obama plays with dynamite
. In his belated address to the nation Monday, President Barack Obama explained why, after nearly a month of dithering, he chose to intervene militarily in Libya's civil war. ... The speech was widely praised by liberals, who tried hard not to notice that Mr. Obama sounded a lot like George W. Bush.
The Great Prevaricator
. After committing U.S. forces to combat in Libya, the administration rehearsed the message it would deliver to the American people 10 days later. When you tell the truth, you don't have to practice anything.
Obama knocks down another straw man.
A fundamentally dishonest speech
. President Obama gave an impassioned, sometimes eloquent, defense of his policies in Libya tonight. But when it came to justifying the limited goals of the military mission, his speech was fundamentally dishonest.
Obama Still Murky on Libya
. President Obama just gave a weird speech. Part George W. Bush, part trademark Obama — filled with his characteristic split-the-difference, straw-man ("some say, others say"), false-choice tropes. His support for those "yearning for freedom all around the world" was the sort of interventionist foreign policy that a Senator Obama — if his past reaction to the removal of Saddam Hussein is any indication — would have objected to, especially in the case of sending bombers over an Arab Muslim oil-exporting country.
Left Unsatisfied
. Setting aside the swipes at his predecessors ... From a communications standpoint, I think Obama's speech tonight fell short of its needs and expectations. I know he reads a speech well, but the cadence is always the same — it's as if you could take any of his major addresses and guess exactly how they are going to go. And the sentences often lead to head-scratching: the mind wanders -- thinking, did he really just say that? Do they really believe those words?
Obama on Libya: Look, Just Trust Me On This
. On paper, I agree with a lot of what Obama is saying. But he's stringing together a lot of pretty-sounding phrases without really getting at the questions most skeptical Americans have: why intervene here and not in other places?
More slush from the limp, cont'd
. President Obama took the podium tonight to reiterate the rationale supporting our participation in the limited attack on the Qaddafi regime. I was struck by the tone (literally) of Obama's remarks. As I heard it, Obama's tone was was angry and defensive. The speech was as a result extraordinarily uninspirational and even difficult to understand.
Energy speech, March 30, 2011
Pump And Circumstance
. In a Georgetown University address that echoed President Jimmy Carter's "moral equivalent of war" speech in 1977, the president on Wednesday outlined his plan to reduce oil imports by one-third over the next decade. Carter, too, set the goal of reducing oil imports by a third through conservation, increased fuel efficiency, more use of ethanol and other alternative energy sources, and the wearing of more sweaters. There was nothing new in Obama's version. It didn't work then. It won't work now.
President pumps politics
. President Obama's promise Wednesday to do something about rising gas prices was drowned out by the giant sucking sound of American dollars being funneled into OPEC pockets. Not that many expected his plan to make much difference anyway. A president who, as a candidate, said he didn't mind high fuel prices is not likely to be the one leading the nation toward energy policy sanity.
Full-Throttle Drill, Drill, Drill
. In the fact sheet that accompanied the speech, there's a lot of talk about "responsible development" for natural gas fracking chemicals, state regulators, tapping experts, the environmental community, and protecting public health and the environment. In other words, the standards for new drilling could be so high that there won't be that much new drilling. The president doesn't discuss the role of the EPA, which is going after coal, natural gas, and oil. And while he says he'll speed up new leases and permits, he then blames oil companies for not using their old leases. That's an old saw of an argument that neglects to mention dry holes.
On Energy, Obama Lies With Statistics
. The Obama administration has been reading the polls, and is panicked by the implications of $4 a gallon gasoline. Consequently, President Obama gave a speech today in which he trotted out a "Blueprint For A Secure Energy Future." We will have more to say about the administration's proposals, which I don't think contain anything new, but for the moment, I want to note the dishonesty with which President Obama introduced them.
Barack Obama's Oil Lease LIES!
How do you know which parts of Obama's energy speech were either lies or misrepresentations? The parts where his mouth was moving. This morning President Obama outline his energy policy which is comprised of trying to pull the energy policy wool over America's eyes.
The President's New Energy Plan
: If you want to lower the price of something, the best solution is to produce more of it. This is basic Econ 101 stuff. But nowhere in the administration's new energy proposals, presented by the president this Wedesday in a speech at Georgetown University, is the idea of pumping more oil in the United States addressed, except to say it is impossible.
Obama's Energy Policy: A Looming Disaster
. Once again, on energy policy and action, President Obama talks the talk, but has no substance behind his teleprompted words. ... Obama's speech made it clear that while he advocates making hard choices, he has very little experience and no plan for doing so. ... Within hours of Obama's speech, the Stock Market apparently weighed, measured and found Obama's proposals hollow, and ineffective, and the price of oil went up.
Budget deficit speech, Georgetown University, April 13, 2011
The Mendacity of Barack Obama
. While I have always been wary of and have written about his dishonesty, after the speech the president delivered the 13th of April regarding the federal budget, one that was chock full of lies, deceit, and crass fear-mongering, it must be said that Barack Obama is the most dishonest, deceitful, and mendacious person in a position of power I have ever witnessed. That performance was the culmination of four years of outright lies and narcissism that have been largely ignored by the media, including some in the conservative press and political class who are loath to call Mr. Obama what he is in the bluntest of terms: a liar and a fraud.
Obama Channels Ted Kennedy
. If Obama wants to make a serious debt reduction proposal, it has to be presented in detail, in budgetary form, so that it can be analyzed properly and scored by the Congressional Budget Office. Obama hasn't done that; instead, he purports to shave trillions off the national debt with breathtaking insouciance.
Paul Ryan responds
. Thinking over Obama's speech a bit, I see that the "budget address" was really an excuse to pummel the House Budget Chairman Rep. Paul Ryan (R-Wis.). After all, that was the only thing "new" about the speech. It's petty and embarrassing for the president to attack a House member, so Obama surrounded his attack on Ryan with a whole lot of fluff. But make no mistake: This was about discrediting the only serious plan out there.
The President's Speech
: As recently as February, in his budget, Obama essentially denied that we had a fiscal crisis. Today, he admitted it and described it, or at least parts of it. It is certainly unorthodox for a president to renounce his own budget two months after proposing it, but that is just what the president did — implicitly dismissing even the goals set out by his budget in its own terms as totally inadequate.
Obama's honesty deficit
: President Obama outlined what he called a framework for deficit reduction Wednesday. It was a tacit admission that his 2012 budget submission did not go far enough. That shows Republicans succeeded in seizing the initiative with their own comprehensive, pro-growth proposal to restore America's solvency. Mr. Obama's flimsy "me, too" smacks of desperation.
Obama to soak rich, please Dems
. President Barack Obama gave a terrific reelection speech Wednesday. It wasn't billed as that. It was supposed to be a number-packed speech about budgeting and spending and all manner of fiscal gobbledygook. Instead, it turned out to be a speech in which the president told liberals he still shares their goals and Democrats he is still one of them.
The President's Budget Address and the Reality of Taxing the 'Rich'
. The President is going to address the nation yet again. He apparently intends to unveil another revised plan to fool the American people into believing he is sincere about reducing the deficit and reining in spending after the unserious budget he presented in February was soundly rejected by the country. While his hand has been forced by the twin factors of the Republicans in the House (buoyed the effectiveness of the Tea Party movement) and the upcoming Presidential election, he will nonetheless bring up increasing taxes on the so-called wealthy and corporations as one of the primary means of solving the debt and deficit problem.
Obama's Deceit
. I have had it with this President's blatant dishonesty. His speech today was appallingly deceitful and misleading. This President, has spent more money and added more debt than any other President in history. This is not political rhetoric, this is simply fact! Barack Obama's budget deficit in March of 2011 was larger than the deficit for all of 2007! ... So where did Obama come up with the claim that he inherited a trillion dollar deficit? In 2008, the deficit under Bush climbed to a new high of $458 billion.
Obama's Budget, Again
. Pardon me, but I thought the President had already submitted a budget, and that was just two months ago. Now he devotes another of his many "major speeches" to the budget and comes out with another policy makeover — or the appearance of one. This time it is a budget that wrecks the country by raising taxes and cutting Medicare and defense instead of simply doing nothing, as was proposed in February. In reality, nothing has changed, especially the President's faith in Big Government.
Obama's Speech Was a Waste of Breath
. Obama had a difficult assignment in this speech, partly because of the exaggerated hopes for it. Even allowing for that, it was weak both politically and substantively. My instant unguarded reaction, in fact, was to find it not just weak but pitiful. I honestly wondered why he bothered.
Waste, Fraud and Abuse: Obama's speech was replete with all three
. Even by the standards of the World's Greatest Orator, yesterday's was a dreadful speech. We observed recently that Barack Obama's reputation as the WGO rests largely on his talent for the insubstantial — for reciting "poetry" as opposed to expounding "prose," in Mario Cuomo's terms. Few subjects are more prosaic than the federal budget, the topic of the president's talk yesterday.
Obama's Dreamland
. Barack Obama just gave a belated but stern warning about escalating debt — a few weeks after he presented a 2011 budget with a $1.6 trillion deficit, the largest shortfall in American history. Congressional Republicans are now crowing about reducing Obama's red ink by forcing some $38 billion in cuts. Such supposed slashing means America would borrow just $1,562 billion this year rather than the scheduled full $1,600 billion.
The Presidential Divider
. Did someone move the 2012 election to June 1? We ask because President Obama's extraordinary response to Paul Ryan's budget yesterday — with its blistering partisanship and multiple distortions — was the kind Presidents usually outsource to some junior lieutenant. Mr. Obama's fundamentally political document would have been unusual even for a Vice President in the fervor of a campaign.
Obama Sinks to the Occasion
. President Obama always lets you down. Just when you think he's ready to deliver a lofty speech chocked with specifics on handling the spending and debt emergency, he offers up a hyper-partisan attack on the leading Republican proposal, gives practically no details of his own plan, and then sanctimoniously puts himself on the side of preserving "the American dream for future generations."
Our demagogue in chief
. President Obama has all but ensured his defeat in 2012. His speech Wednesday outlining his framework for deficit reduction was a pivotal moment in his presidency — the decisive tipping point, in which he revealed his almost limitless capacity for cynicism and mendacity. He frittered away whatever credibility he had left.
Spare us hollow sermons on taxing the very rich
. President Obama, we have endured your unfledged theories on how to be more popular around the world. We have survived your whimsical approaches to economic recovery. Save. No, spend! Borrow more! And your earnest dabbles as physician, public-health expert and hospital administrator have left us bewildered and broke for decades to come. All this we suffer because, after all, we did elect you president. You beat the other guy.
Spare us the lectures, Mr. Obama
. The nation's first Facebook president is at it again. At George Washington University on Wednesday, President Obama managed to insult just about everyone in America who thinks about things. As for the Obamaphants in the media and on the federal dole, I can't speak for them. On Wednesday, the "fortunate" members of society who already give so much, were told to cough up more by the most fortunate and least giving, most self-centered man ever to occupy the Oval Office.
President Boring
. What is it about Barack Obama that caused his vice president Joe Biden to fall asleep during the president's speech Tuesday? [sic] Did Biden, getting on in years, just need his afternoon nap? Well, maybe, but the television cameras showed a woman quite near the veep nodding out as well. No, I think it was a natural response. Biden and the woman were bored stiff. Barack Obama has become the most tedious president in my lifetime. He is like those college professors whose classes you did everything you could to avoid but, if you had to go, sat as far back as possible in order to get a little shut-eye yourself.
Save Wrath for Obama
. In his speech on Wednesday, [President Obama] accused Republicans supporting the Paul Ryan budget of aiming at "a fundamentally different America than the one we've known throughout much of our history. A 70% cut to clean energy. A 25% cut in education. A 30% cut in transportation." Well, no. This is a lie. Even if Republicans may propose a 25 percent cut from federal government support for education, that is not a 25 percent cut in the nation's education: It's a 3.68 percent cut in total government support for education (local, state and federal combined). And that doesn't even take into account how much other money goes to private education (more than 6.2 percent of American students go to private schools).
It's OK To Disagree, As Long As You Obey
. If you watched Obama's campaign appearance yesterday — the one you were told would be a historic speech detailing the President's plans for deficit reduction — you might remember this passage...
Obama: Incorrigible Statist and Debt Menace
. In my book "Crimes Against Liberty," I described President Obama as dishonest, hyper-partisan, a bully, a narcissist and a hard-core left-wing ideologue. Anyone who thinks my description is exaggerated or too harsh didn't hear his Wednesday speech on the budget.
Spare Us the Hypocrisy, Mr. President
. President Obama offered few concrete suggestions for spending cuts this week in his much-anticipated speech on reducing the federal debt, but he had lots to say about raising taxes. "As a country that values fairness, wealthier individuals have traditionally borne a greater share of this burden than the middle class or those less fortunate. Everybody pays, but the wealthier have borne a little more," the president said. So he wants to raise the top marginal tax rate to 39.6 percent and eliminate itemized deductions for the top 2 percent of earners.
President Obama Goes from Wrong to Dishonest
. America saw a different President Obama yesterday. Over the last two years, the president's job was to repair the economy and to make us safer. He has failed at both but at least he appeared to be trying — his failures were arguably attributable to inexperience, misguidance, and incompetence. Yesterday, however, the president went from being wrong to being deceptive and intellectually dishonest.
The Incredible Shrinking Obama
. Barack Obama's budget address last week ranks among the most dishonest and dishonorable presidential speeches in generations. It contained an avalanche of false and misleading statements. It was shallow and bitterly partisan. Yet the speech served a useful purpose: It provided the American people in general, and Republicans in particular, with the basic line of attack President Obama will use between now and the 2012 election.
If Obama Had Kept His Campaign Promises, We Wouldn't Have a Deficit Today
. President Obama pledged Wednesday "to act boldly now" on the huge deficits. But alas his newly revealed budget for 2012 is no better at cutting the deficit than was his first attempt just two months ago.
A Consequential Man
. What would you think of a man who knew he was not well for more than a year, then assembled a team of experts which spent seven months to diagnose a fatal, but treatable disease and recommend a comprehensive cure? Would you consider the man prudent? Sensible? Cautious? What would you say about the same man if, four months after learning the diagnosis and cure, he rejected the diagnosis of his hand-picked experts, leaving the disease untreated, but promised that, if his condition hadn't improved in another three years, he would assemble another team of experts to diagnose his condition and recommend treatment? Most people would have little sympathy for a fatal act of denial by an unserious man.
Patient Obama
. Last week the president gave a speech on the deficit, rightly trying to convince Americans that it is now beyond unsustainable. Yet his theme was that the Republicans' attempts to reduce it were cold-hearted, endangering the most vulnerable among us, such as those with Down's Syndrome, while protecting the proverbial "rich" from commensurate sacrifice. Let us, then, look at Obama, and the context of his speech, as a doctor might a patient.
About That Speech
. At first glance, President Obama's partisan speech last week attacking GOP budget proposals was precisely what an incumbent running for re-election shouldn't do. It was not a speech designed to appeal to independent voters, a group Mr. Obama has suffered serious erosion with. But Mr. Obama's tone makes more sense when one realizes that his sinking poll numbers also indicate an erosion in support with his liberal base.
Obama's Got a Bridge to Sell You
. I called President Obama's speech last week among the most dishonest and dishonorable presidential speeches in generations. This week, it appears he's eager to build on that reputation. In a town hall event in Annandale, Obama evoked the August 2007 St. Anthony Falls bridge collapse as a justification for higher taxes.
Obama Seems Incapable of Loving America
. [Scroll down] Every once in a while, as he did in that speech in 2008, Obama shows us who he really is and what he really believes — if we are listening. Such a moment of startling honesty came recently when Obama delivered what the mainstream media laughingly described as a "response" to Rep. Paul Ryan's common sense budget. What the speech really amounted to, of course, was simply a tired partisan kick-off of his 2012 re-election campaign. In it, Obama again stated his contempt for the nation that has given him so much.
The Mendacity of Barack Obama
. While I have always been wary of and have written about his dishonesty, after the speech the president delivered the 13th of April regarding the federal budget, one that was chock full of lies, deceit, and crass fear-mongering, it must be said that Barack Obama is the most dishonest, deceitful, and mendacious person in a position of power I have ever witnessed. That performance was the culmination of four years of outright lies and narcissism that have been largely ignored by the media, including some in the conservative press and political class who are loath to call Mr. Obama what he is in the bluntest of terms: a liar and a fraud.
El Paso, Texas, May 10, 2011
Obama's illegal alien nation
. President Obama is in El Paso Tuesday [5/10/2011] to give a speech on what he calls "the broken immigration system." He'd know because he's the one helping break it. Nowhere is this more apparent than in the Secure Communities program under which local law enforcement must turn over illegal criminals to the Immigration and Customs Enforcement (ICE) for deportation. The agency estimates that local law enforcement arrests over 1 million people a year who are not U.S. citizens.
Obama says border is secure enough to begin legalization
. Facing a political gridlock that has doomed immigration legislation for years, President Obama, making his first visit to the border since taking office, turned to activists and immigrant-rights supporters across the country Tuesday and said it's now up to them to force Congress to act.
The Mexican City That Had More Casualties Than Afghanistan
: President Barack Obama's commitment to providing legal status for illegal aliens is reflected in the time he has spent focusing on the country's immigration laws in recent weeks, the White House said on Monday, one day before the president is set to deliver a national address on immigration in El Paso, Texas. El Paso is across the border from Juarez, Mexico, a city where 3,111 civilians were murdered last year — more than in all of Afghanistan.
President's El Paso Immigration Pander
. President Obama's El Paso speech delivered the predictable: a call for the same old mass amnesty mix ("comprehensive immigration reform," to open-borders types). And at least for a time, he's put immigration front and center. First, look at Obama's "solution." Government's "threshold responsibility" is "to secure the borders and enforce the law." Obama asserted that his administration has done that. In fact, the Government Accountability Office reports that only 129 of the 2,000 miles of the southern border are under control.
Border bluster
. Does President Obama want to fix America's broken immigration system — or just score political points? Judging from his trip to Texas Tuesday [5/10/2011], it's hard to see any serious interest from him in reform. And that's a shame. Because, as he himself notes, the status quo is a disaster.
Where Obama's Border Lies
. As noted in this column last week, Richard Stana, director of homeland security issues for the Government Accountability Office, informed the Senate Homeland Security Committee in March that there are only 129 miles of the 1,954-mile-long U.S.-Mexico border where the Border Patrol can prevent or stop an illegal entry from taking place at the border itself. There are another 744 miles where it can stop an illegal entry at "distances of up to 100 miles or more away from the immediate border." That leaves at least 1,081 miles of border where Homeland Security has anything but "operational control."
The Amnesty Bandwagon Rides Again
. The public relations campaign for President Obama's latest revival of "immigration reform" makes one thing crystal clear: This is not, and never has been, about homeland security. This is not, and never has been, about economic security. It's about
political
security, plain and cynical.
Yes Mr. President, I Do Want Alligators in My Moat
. In yet another one of Obama's highly touted campaign speeches (are there any other type?), the President once again chose to use derisive rhetoric to whip up the masses against those horrible Republicans. Obama attempted to put the GOP on the defensive by suggesting that Republicans not only want the country surrounded by a moat to prevent evil immigrants from entering, but that in order to ensure success, they would fill the moat with alligators. Apparently, the only result that Obama achieved from these ridiculous and extremely un-presidential one-liners was an electorate feeling complete and utter disgust at his obnoxious display of arrogance with regard to such an important domestic issue.
Demagoguery 101
. Looks like the Tucson truce — no demonization, no cross-hairs metaphors — is officially over. After all, the Republicans want to kill off the elderly, throw the disabled in the snow and watch alligators lunch on illegal immigrants. The El Paso speech is notable not for breaking any new ground on immigration but for perfectly illustrating Obama's political style: the professorial, almost therapeutic, invitation to civil discourse, wrapped around the basest of rhetorical devices — charges of malice compounded with accusations of bad faith.
Obama Brings Non-White Americans Together
. Standing at the border with Mexico in El Paso, Texas, on Monday, the U.S. president scoffed at Americans who want a border fence. "You know, they said 'we needed to triple the border patrol,'" he laughed. "Well, now they're going to say we need to quadruple the border patrol, or they'll want a higher fence. Maybe they'll need a moat. Maybe they'll want alligators in the moat. They'll never be satisfied."
Border security is no laughing matter
. President Obama claims the border has never been safer, that his administration has done everything demanded by Republicans, and more, to secure the border, and cites the FBI's Uniform Crime Reports data to prove his point. He even went so far in a speech earlier this week in El Paso to chide his critics, claiming they will never be satisfied, not even with a moat full of alligators.
Candidate Obama Secures the Vote of Undocumented Democrats
. Presidential candidate Barack Obama, seeking the Democratic Party nomination in 2012, stumped for the illegal alien vote in El Paso, Tex., this week, urging Congress to pass an amnesty bill and hitting Republicans for wanting to build a moat at the border and fill it with alligators. Obama's signature soaring rhetoric extolled the beneficial impact of immigration throughout the history of the United States, citing Einstein and I. M. Pei ... After the inspiring reminder of what America owes to past (legal) immigrants, came the trademark slam, the Alinsky left hook. "At times, there has been fear and resentment directed toward newcomers." Translation: Enforcing immigration law is racist.
Bordering on demagoguery
. In his speech on immigration reform in El Paso last week, President Obama opined: "[W]e've seen leaders of both parties who try to work on this issue, but then their efforts fell prey to the usual Washington games." Michael Barone observes that Obama himself has been a prominent practitioner of these games.
Alligators, Moats and Other Such Nonsense
. President Obama gave what was billed as an important speech on immigration last week near the border in El Paso, Texas. Unfortunately, it was one of the most demagogic moments in recent presidential history. Nearly everything Obama said was either factually incorrect or deliberately misleading.
The State Department, May 19, 2011
Obama's Abandonment of America
: Before we get into what the speech means for Israel, it is important to consider what it means for America. Quite simply, Obama's speech represents the effective renunciation of the US's right to have and to pursue national interests. Consequently, his speech imperils the real interests that the US has in the region — first and foremost, the US's interest in securing its national security.
Obama's Israel Surprise
. President Barack Obama, seeking to get ahead of historic changes rolling through the Middle East, promised support for democratic uprisings in the Arab world and called for the first time to begin negotiations for a Palestinian state based on Israel's pre-1967 borders.
Obama's Empty Speech
: There were some fine sentences in President Obama's speech, but two of his main points were wrong. The first thing he did was take credit for the Arab Spring, saying he had supported it all along. This is simply not true.
What Obama's MENA Speech Means
. Herewith President Obama's May 19 Middle East speech, annotated: ["]
It will be the policy of the United States to promote reform across the region, and to support transitions to democracy.
["] With this Barack Obama openly, unreservedly, and without a trace of irony or self-reflection adopts the Bush Doctrine, which made the spread of democracy the key U.S. objective in the Middle East.
Obama's Farewell to Israel Speech
. Yesterday [5/19/2011] President Obama, in what only be characterized as a flight from reality, suggested that "borders of Israel and Palestine should be based on the 1967 lines with mutually agreed swaps, so that secure and recognized borders are established for both states." But it gets better. "The full and phased withdrawal of Israeli military forces should be coordinated with the assumption of Palestinian security responsibility in a sovereign, non-militarized state." Would that be the "Palestinian security responsibility" that has long countenanced the firing of several thousand missiles into Israel?
Obama's borders Caused 60 Years of War
. Obama has just given an eager world his fantasy answer for the last sixty years of Arab-Israel conflict. The Great One's long-awaited solution is for Israel to pull back to the cease-fire lines of the 1948 War of Independence, or what Obama, in a moment of historical amnesia, calls "the 1967 borders." People have fought and died over those borders since 1949, not 1967. Make that sixty years of regular warfare.
Did Obama Think He Was Giving a Pro-Israel Speech?
Given what he probably truly believes of Israel in his heart, his acknowledgment of its utility as a scapegoat, its security concerns, its right to determine its own future, and the problems raised by the Fatah-Hamas agreement surely seemed like the height of generous good feeling.
Barack Obama, Neocon?
President Obama delivered a speech on the Middle East at the State Department today [5/19/2011]. If one takes it seriously, it signified — with one key exception — Obama's transformation into a virtual clone of his predecessor. President Bush's democracy agenda, which Obama once scornfully rejected, has now been adopted as Obama's own.
Dancing With Arafat's Ghost
. On Thursday, Barack Obama went to the State Department to "mark a new chapter in American diplomacy." The president's handlers boldly billed his lengthy address "A Moment of Opportunity" for the Middle East. It was neither. Instead, he delivered a naive, revisionist lecture that was sufficiently utopian and self-centered to have been drafted by Jimmy Carter. Unfortunately, he also demanded major concessions from the only democracy in the Middle East and America's most steadfast ally in the region, Israel.
Summing Up Obama's Speech: Making Israel Pay for the "Reset"
. Contrary to reports that said that Obama had decided to pass on enunciating his idea of a framework for Arab-Israeli peace in the wake of the unity pact between Fatah and Hamas, the president nevertheless proceeded to do just that. Though Obama paid due deference to Israel's security needs and stated his opposition to Palestinian attempts to delegitimize and isolate Israel, by stating that a framework of peace must be based on the pre-1967 borders, he has dealt the Jewish state a telling diplomatic blow.
Credibility Is Obama's Biggest Weakness In Middle East Strategy
. After Lincoln delivered the Gettysburg Address, the crowd walked away disappointed. ... In comparison, President Obama's address today proved doubly disappointing. It lacked Lincoln's simplicity and clarity. And the orator himself could offer no real accomplishments to give the speech weight. Credibility is the big problem with this president's Middle East strategy. Thursday's speech had to build on a foundation of next to nothing.
Just How Dumb and Damaging?
How dumb and damaging was President's Obama speech on the Middle East? [#1] Just when everyone was focusing on how Arab states could get their internal politics in order, Obama shifts the attention back to Israel. [#2] Just when everyone was focusing concern about the role of Hamas and Iran in shaping the future of Palestinians, Obama shifts the attention back to what Israel has to do. [#3] Just when the addition of Hamas was undermining the case for the UN "approving" of a Palestinian state based on pre-1967 borders with Jerusalem as its capital, Obama legitimizes the effort to go to the UN by unilaterally supporting the 1949 borders, which happen not to include East Jerusalem.
Criticism of Obama's Middle East speech is swift
. The reaction to President Obama's speech has not been favorable. Tim Pawlenty, keeping to his practice of reacting swiftly to Obama's foreign policy miscues put out a statement: "President Obama's insistence on a return to the 1967 borders is a mistaken and very dangerous demand. The city of Jerusalem must never be re-divided. To send a signal to the Palestinians that America will increase its demands on our ally Israel, on the heels of the Palestinian Authority's agreement with the Hamas terrorist organization, is a disaster waiting to happen."
The Nuclear Genie
: The president's policy speech lauded changes in the Mideast during the so-called Arab Spring. Curiously missing was anything about ominous nuclear developments in the Muslim world.
Rabbi: 'The President of the United States is Asking for Ethnic Cleansing'
. President Barack Obama has made an unprecedented demand on Israel, Jewish leaders said Thursday, after the president called for Israel to redraw its borders to where they were in 1967 before the Six Day War. One rabbi said Obama was, in essence, asking for "ethnic cleansing" of thousands of Jewish families.
'Arab Spring,' Christian Winter
. Obama wants to reward "democratic Egypt" with $1 billion in debt relief. Only, "democratic" Egypt is torching churches and slaughtering Christians left and right.
Obama's Israel Speech Fools Few
. Not only was this one of the most outrageous policy statements, regarding the Israel/Palestinian issue made by a President in decades, but President Obama's timing was shameful. The speech was given a day before Israeli Prime Minister Benjamin Netanyahu was due to arrive in Washington. Edward Koch, a former New York Mayor, a lifelong Democrat, believes that "President Obama is basically hostile to the state of Israel. A day in advance of his meeting with the Prime Minister of Israel he seeks to cut off Israel's legs in negotiations.
Obama's Revisionist History
. Always a master at misdirection and diversion, President Obama and his flacks have taken pains to assert that his new "1967 lines as a basis for peace" formulation for Israel's borders is, hey, "nothing new." There's a grain of truth in this argument. But a mountain of lie. The lie renders the truth utterly irrelevant. Let's take a little walk down memory lane of prior US administrations, and see just how fraudulent it really is.
Obama in the Abstract
. Let's assume that it was not President Obama's intention for the final section of his big Mideast speech, in which he took up the subject of the Israeli-Palestinian conflict, to entirely overwhelm everything he had just said in support of democratization and the "universal rights" of those living in the region. Of course, that's exactly what happened when the fateful words "1967 lines" passed his lips.
The Afghanistan Withdrawal Speech, June 22, 2011
Text of Obama's Afghanistan Speech
.
Obama's speech: A missed opportunity
. I am at a loss to understand what President Obama was trying to do with his speech tonight.
Quick Analysis Of Obama's Foreign Policy Speech
. This whole speech is about 2012. He thinks it'll be more popular to pull the troops out; so he'll do that. Let's hope his foolish risk pays off.
'The Most Irresponsible Speech Ever Given in Wartime by a US President'
. "It is time for nation building here at home," Obama said.
Barack Obama's Mission Accomplished?
The words were soothing — "take comfort in knowing that the tide of war is receding", rest assured that "the light of secure peace can be seen in the distance" — but what was entirely lacking was an explanation of American strategy in Afghanistan from now on.
Obama's aggravation with Congress over Libya on display
. Both in remarks the president made during his address on Afghanistan Wednesday night and in comments made by senior administration officials, the White House is losing patience with Congress.
Did someone mention
Libya
?
President Obama's Afghanistan speech confirms America's decline
. The American Century just ended. This was the phrase coined by Henry Luce, which so aptly described America as the modern-day colossus, more powerful than any nation had ever been. Wednesday night, President Obama said that power had reached its limit. He was bringing 10,000 troops home from Afghanistan. The war was not finished, but we are.
The president may be sabotaging his own Afghanistan strategy
. President Obama failed to offer a convincing military or strategic rationale for the troop withdrawals from Afghanistan that he announced Wednesday night. In several ways, they are at odds with the strategy adopted by NATO, which aims to turn over the war to the Afghan army by the end of 2014.
Obama's failed state
. The White House plan to begin troop withdrawals from Afghanistan is more political than military strategy. Whether it improves President Obama's chances of being re-elected depends largely on whether the Taliban think he should have a second term. In December 2009, the president said troop withdrawals from Afghanistan would begin in July 2011, and so they will. That original deadline Mr. Obama set was arbitrary, and there is currently no military rationale for the troop drawdown.
Most Ludicrous Analysis of Obama's Afghanistan Speech?
The elusive distinction of most ludicrous analysis of Obama's Afghanistan speech should be awarded to NPR for its story, "Obama's Afghan Speech Echoed Lincoln's Talk." The segment was less than a minute-and-a-half, but it was a doozy.
Obama is a master of ambivalence
. What other American president has employed a public argument so transparently political — the need to "rebuild our infrastructure" and "find new and clean sources of energy" — to explain his choices as commander in chief? What other president has deployed the words "fidelity" and "unwavering belief" — citing examples of military tenacity and courage — to announce a policy of premature retreat? What other president has more dramatically claimed "a position of strength" while more effectively conveying an impression of weakness?
Support the Tropes
. [Scroll down] The truth is, there's an Emperor's New Clothes aspect to Obama's supposed status as the World's Greatest Orator. We've heard the myth of his eloquence over and over, yet he keeps "unexpectedly" making gaffes or tin-eared statements. Here's the big one from his speech last night: "America, it is time to focus on nation building here at home." The term "nation building" was popularized by George W. Bush during a 2000 presidential debate with then-Vice President Al Gore. The soon-to-be president used it as a term of derision.
Obama Flinches
. President Obama flinched. Last night, he announced his decision to begin rapidly unwinding his Afghan surge. Of the 30,000 additional troops committed, Obama wants 10,000 out by the end of this year and the rest out by the end of next summer. This risks giving back to the Taliban all that's been won over the last year with blood, sweat, and tears.
Obama slides toward Afghan exit
. President Barack Obama is gambling that his gradual military withdrawal from Afghanistan won't prompt the tribal country to spin out of control in the next 12 months and will help him run as a jobs-and-growth candidate in 2012. "America, it is time to focus on nation building here at home," Obama declared in his prime-time announcement from the White House. "Let us responsibly end these wars, and reclaim the American Dream that is at the center of our story," he said in a speech that segued into a campaign-style pitch for the 2012 election.
Obama, the LBJ of our time
. Mr. Obama essentially has admitted defeat. He has publicly announced that U.S. forces will begin to pull out and that the process will be accelerated by the summer of 2012 — just in time for the election campaign.
Press Conference, July 11, 2011
Obama's Marxist Immersion Shows in Presser
. In yesterday morning's [7/11/2011] press conference, Obama let slip a telling expression. To give context to this quote, Obama earlier made multiple mentions of the fact that he was a "best-selling author" and was personally wealthy due to income from "his" books. It would seem that Jack Cashill's work has gotten under the Usurper's skin.
A Press Conference Devoid of Answers
. The fiscal crisis, President Obama declared at a White House press conference today, consists of two problems: the deficit and debt. Spending? That's something he'd like to see more of, only House Republicans won't let him.
Pat Caddell On Obama: "Does This Guy Have Any Idea What He Is Doing?"
. After watching Obama's press conference this morning, Democrat pollster Pat Caddell said it is time to confront the elephant in the room: That is, the question as to whether Obama actually has any idea what he's doing. He must be talking about the elephant in the MSNBC green room, or something, because I think everyone else has been openly wondering about that for some time now — and we have serious doubts.
Nobody Should Believe A Single Thing Obama Says About the Budget
. Granted, nobody should believe a single thing Obama says about
anything
— (including his denials that he knew anything about Fast and Furious), but in light of his press conference today, ahead of his budget negotiations with John Boehner and the Republicans, I thought it would be good to count the ways Obama has been duplicitous and disingenuous in his actions re the economy, (which he really and truly seems hellbent on destroying.) As always with him — you have to look at what he
does
— not what he
says.
'Exchange' You Can't Believe In
. Maybe the most unknowing moment from President Obama's debt-limit press conference the other day was when he said that "I'd rather be talking about stuff that everybody welcomes, like new programs." Define everybody — and, please, let us know when the new programs are going to stop.
Press Conference, July 15, 2011
Obama's tantrum in a high chair
. Every mom who has ever been at her wit's end recognizes Barack Obama. The president who earlier nagged Congress that it was time for Americans to "eat our peas" finally threw his own peas to the floor and banged his spoon on his supper dish. Such a tantrum in a high chair is a familiar sight in a lot of kitchens.
Obama: No Specifics
. It only took a few minutes for the President, broken record-like, to mention the immoral excesses of millionaires, billionaires, and corporate jet owners. Seriously? I thought we had roundly and soundly debunked this class warfare-fueled jab at the wealthy? It's mind-boggling that he is still using this as a political selling point — although he did admit that "I generally don't watch what is said about me on cable television," all the while blaming Congress for being out of touch with the American public.
Blow by Blow Account of the President's Press Conference
. We're talking too much about debts and deficits which means we can't talk about spending money on community colleges. Community colleges?? ... The only specific cut of any sort Obama mentions by name is ethanol subsidies. The only one. ... "Modest changes" in Medicare and Social Security can save trillions of dollars, Obama says. It's all so simple!
One Obama Presser, 36 Obama Lies and Deceptions
. Obama held a press conference last Friday, July 15 which turned out to be a purely partisan effort to increase taxes and increase the American debt. His speech and the answers he gave to cherry picked questions from the press was fundamentally dishonest: in all I counted three dozen lies, deceptions and misleading statements.
Press Conference, July 22, 2011
It's All About the Senate
. President Obama has done nothing to earn his Nobel peace prize, but after yesterday's [7/22/2011] performance at the White House podium no one should begrudge him an Oscar. His performance was mean-spirited, petulant, more politically vicious than anything we ever heard from Richard Nixon — and altogether a total crock...
The President Is Actually Trying to Talk the Markets Into a Panic
. An enraged Barack Obama just took to the nation's airwaves to announce his effort to strike a deal with Republican Speaker of the House John Boehner has fallen apart. Perhaps for the first time in American history, this president is literally using this press conference [7/22/2011] to create a financial panic over the weekend about the opening of the markets on Monday.
David Brooks turns on Obama
. After Friday night's presidential press conference, even one of the left's favorite conservatives is scratching his head at President Barack Obama's demeanor.
Krauthammer: 'This is Obama at his most sanctimonious, demagogic, self-righteous and arrogant'
. Late Friday afternoon, President Barack Obama went to the White House press room after House Speaker John Boehner reportedly walked away from the debt-ceiling negotiation. He had some very stern words about Boehner and the Republicans in the House. But Washington Post columnist Charles Krauthammer wasn't impressed with Obama's anger.
Obama, 11 a.m.: We won't default. Obama, 6 p.m.: We might default
. [Scroll down] Just a few hours later, shortly after 6:00 p.m. Friday, the president appeared in the White House briefing room and delivered a message that was almost precisely the opposite of what he had said a few hours earlier.
Obama's Cool Goes Missing — Again!
In what is becoming a familiar ritual in Washington, President Barack Obama went on a 35-minute tirade of angry accusations, name calling, and peeved rhetoric; this time, against his former golf buddy John Boehner, Speaker of the U.S. House.
National Debt Speech, July 25, 2011
Synopsis courtesy of
Lucianne
.
The President Tonight
. Eyelids flutter and slowly close as the nation nods off at Obama's totally political and hectoring speech.
Obama 'Shouldn't Have Gone On National TV To Give A Political Address'
. It didn't take long for the reviews to start coming in, and at least one MSNBC anchor wasn't too happy with President Obama's performance during his debt speech tonight.
Barack Obama has trouble commanding respect
. So this is what we have come to: the president of the United States, and not just any president but the World's Greatest Orator, standing in the White House petulantly reproving his partisan opponents and imploring his supporters: "If you want a balanced approach to reducing the deficit, let your member of Congress know."
Obama the Ineffectual
. I didn't watch the president's address live last night, but before reading it I did take a look at the insta-reaction, and there was a stunning lack of intensity in the response to it. It had become clear in the two hours before he spoke that he himself had no particular proposal to push or goal in mind for the speech.
Krauthammer: Obama "Has Gone From Emperor To Bystander"
. Charles Krauthammer: "When I heard today that he was going to speak at 9:00, instantly I thought, 'we've got a deal.' Why else would the President request airtime? Then I hear he's just going to make his argument.
Hill Republicans tee off on Obama's debt ceiling speech
. Republican responses from Capitol Hill were swift and brutal Monday night, following President Barack Obama's speech to the American people about the federal debt limit. The assessments were as unanimous as they were scathing: Obama's "balanced" fix to the debt limit is flawed.
Baby Talk
. Consider the condescension implicit in the president's statement -- "a term that most people outside of Washington have probably never heard of before." These "people outside of Washington" are not little children being lectured on an obscure subject by a worldly adult. These people outside Washington are ... citizens.
White House Did Not Want GOP Response to Presidential Speech
. The President is used to flexing his muscles and storming the public airwaves whenever he wants to sell skeptical Americans on socialist economic policies. The White House and media have before refused the GOP an opportunity to present a dissenting response, thus squelching the presentation of a balanced debate.
President Obama Is No Longer Tethered To Reality
. President Barack Obama's speech to the nation Monday night [7/25/2011] was highly disturbing. Because read carefully, it reveals a president wildly divorced from the fundamental realities of the nation he is supposed to be leading. President Obama actually told America on national television that it is a nation "with a system in which the deck seems stacked against middle class Americans in favor of the wealthiest few." It is incomprehensible how a man serving as president of these United States could make such a fundamentally false assertion about his own country.
Credit downgrade speech, August 8, 2011
White House cooks the books to project imaginary growth
. Standard & Poor's historic downgrade of the U.S. credit rating is an attempt to bring adult oversight to the political squabbling over out-of-control government spending. But rather than "eating his peas," President Obama is throwing a tantrum.
Markets to Obama: shut up
. With the stock market facing a historic meltdown, Americans could at least expect the president to be on time for a speech intended to inspire confidence. ... After twenty five minutes of waiting for Mr. Obama to show up, the markets resumed tanking. ... In the 20 minutes after he finished speaking the Dow slid 200 points. The market closed having lost 634 points. It was a vote of no confidence.
Debt man talking
. President Obama gave a statement this afternoon on the historic downgrade of the United States' credit rating. As of this writing, the statement is not posted on the White House site. I wonder why. ... Based on the Politico account, Obama spoke for seven minutes. If he'd talked a little longer, he might have taken the stock market down another 14 percent.
Obama's horrifyingly bad speech
. He was a half hour late. His head turned from side to side as if he were attending a tennis match. He practically never looked in the camera, as if he were averting our gaze. And those were the strong parts of President Obama's disastrous speech. It was a bit like a slow-motion car crash. After a while, one stopped listening to the blather and simply watched the stock ticker go down and down. And down some more.
Is Obama Smart?
Much is made of the president's rhetorical gifts. This is the sort of thing that can be credited only by people who think that a command of English syntax is a mark of great intellectual distinction. Can anyone recall a memorable phrase from one of Mr. Obama's big speeches that didn't amount to cliché? As for the small speeches, such as the one we were kept waiting 50 minutes for yesterday, we get Triple-A bromides about America remaining a "Triple-A country." Which, when it comes to long-term sovereign debt, is precisely what we no longer are under Mr. Obama.
Why Did Obama Give A Speech If He Had 'Absolutely Nothing To Say'?
President Obama's speech yesterday in the aftermath of S&P downgrading America's credit rating resulted in generally negative reviews from the
Morning Joe
crew.
Obama Serves Up a Silly Speech
. The speech did at least temporary harm. As soon as he finished speaking, the already jittery financial markets plunged. Americans didn't want to hear that we're fine people or that Warren Buffett thinks that we should have an impeccable credit rating. They didn't want him to repeat his basic talking points: the need to marshal the "political will" to extend the payroll tax cut and unemployment insurance benefits, or create an infrastructure bank.
The most powerful man on Earth?
A familiar air of indecision preceded President Obama's pep talk to the nation. The first draft of his schedule for Monday contained no plans to comment on the downgrading of the U.S. credit rating by Standard & Poor's. Then the White House announced that he would speak at 1 p.m. A second update changed that to 1:30. At 1:52, Obama walked into the State Dining Room to read his statement. Judging from the market reaction, he should have stuck with his original instinct.
Dow drops 200 points during Obama speech
. The Dow Jones Industrial Average plunged 635 points today, but it shed more than 200 of those points after President Obama began speaking on the economy this afternoon.
Fanning the flames
. An hour late and many trillions of dollars short, President Obama took to the podium yet again yesterday to explain that none of this mess is his fault. It's not about leading the nation, you see, let alone addressing its problems — it's about Campaign 2012.
The President Owns This Bad Economy
. Reacting to the U.S. credit downgrade, President Obama gave a damaging statement proving he has learned nothing from his ideological mistakes. A true leader accepts blame — and reality.
Presidential Failure
. If the president meant to calm the markets on Monday, he failed utterly — and no wonder. All he did was make it clear he's completely out of ideas on how to get the economy moving again.
'A' what?! Rhetorical 'whiz' fails to make the grade
. I don't think any president has ever said anything quite as depressing as the line Barack Obama delivered yesterday: "No matter what some agency may say, we've always been and always will be a triple-A country." Really? That's the best he could come up with in response to the unprecedented downgrading of the creditworthiness of the United States of America?
Teleprompter of the United States
. How bad was the president's speech yesterday? So bad that Dana Perino, former press secretary for George Bush, dismissed it on Fox News last night as the work of TOTUS (Teleprompter Of The United States). Even the usually supportive Dana Milbank of the Washington Post was appalled by it: "It's not exactly fair to blame Obama for the rout: Almost certainly, the markets ignored him. And that's the problem: The most powerful man in the world seems strangely powerless, and irresolute, as larger forces bring down the country and his presidency."
Obama's Bay of Pigs Moment
. Monday's speech, in which he addressed the downgrade, had the ring of denial about it. America's credit, dropping from AAA to AA+, was diminished. The moment called for frankness about what could — and should — be done. Instead, we got a dodge.
Obama and the 'Competency Crisis'
. The rising impatience with the leadership of President Obama was epitomized on Aug. 8 in the middle of one of the now-habitual Wall Street roller coasters. His speech on the economy was 53 minutes late. What showed on TV screens was an empty White House podium, an image suggestive of the absence of leadership. When the president did speak, the best he could come up with was "We've always been and always will be a triple-A country." The market's response was a Bronx cheer, a drop of another 300 points.
Johnson Controls, Holland Michigan, August 11, 2011
When Obama Loses America Wins
. [Scroll down] Not coincidentally, Johnson Controls is the recipient of $300 million of Obama's stimulus money as part of the administration's focus on so-called "green" technology and jobs. Nowhere on the President's Teleprompter was the part about the resulting "green" jobs costing about $2 million
each
.
Joint Session of Congress, September 8, 2011:
The Big Jobs Speech That Will Fix Everything
Anticipation:
Obama's Road to Bali
. Last month's jobs figures — zero jobs created — is further testament to the genius in chief and his posse. And while we wait for the speech laying out his latest jobs plan, the White House press office is making every effort to dampen expectations, as if that were necessary. The White House says it's not his
full
plan.
Will This 'Major' Jobs Speech Be Any Different
. Democrats hope the president will deliver big, bold ideas in his much-hyped jobs speech. But why should this one be different from his other "major" jobs speeches that consisted only of stale, failed ideas?
Obama's speech will save civilization
. The Harvard-educated professor is out of ideas. His $800 billion stimulus was supposed to drop the unemployment rate to 6.5 percent by now. But it's 9.1 percent, and last month, the president's efforts produced not one single job. But his speech will place new blame. Mr. Obama will, in the grand hall of Congress, portray Republicans — and the grass-roots tea partyers swept into office in direct response to his policies — as rubes and, between the lines, as racist.
Obama's dirty job
. The president will deliver a major speech on the employment situation only days after his government reported that no jobs — that's none, nada, zilch, zero — were created last month. For the first time since 1945, when World War II came to an end, not a single new job was created in the United States.
Obama: I'm Done Working with Congress
. Pundits decrying the level of rancor between the Obama White House and Congress should hold onto their hats — it's about to get worse, if the
New York Times
is right about the president's planned jobs speech to a Joint Session of Congress. ... Buried late in the article is a window into the two-part strategy the president will deploy at the speech: blame his captive audience, then announce he will be enacting policies that don't require congressional approval.
The President's Speech Impediment
. In this universe, a bigger stage is often the solution for a lack of substance. Put it this way: Without the backdrop of a joint session of Congress, how many networks would broadcast another Obama jobs speech?
Reaction:
The Humpty Dumpty President's Magic Words
. Anticipating President Obama's address also reminded me that my dogs communicate better than he does. They bark or growl to tell us things and they use actions to show us, now. President Obama, however, reads stuff written for his indispensable ally and constant companion, TOTUS. ... Dogs don't lie and don't need teleprompters.
Obama Came to a Fork in the Road and Took It
. Will President Obama's Thursday address be the worst speech ever? Kevin Hassett almost thinks so: ["]It might be that this jobs report stimulates the Obama team to drop all the Keynesian nonsense, but I doubt it. Frankly, I expect Obama's jobs speech to be the worst presidential speech in my lifetime.["]
Nancy's Nobbled Knickers
. Having just decided the other day to stop using the word "stimulus" (she's a quick study, fer sure), Pelosi now has her knickers in a bunch because congressional Republicans have decided not to have the usual post-presidential speech rebuttal Thursday night. ... Pelosi is right that it is very telling that Republicans think the speech will sink so badly of its own weight that the best response is no response.
Time to quit blaming and start leading
. In advance of Mr. Obama's coming recommendations, a few requests: Stop the blame game, take responsibility and show leadership. "Owning" the economy entails accountability for outcomes. To this day, Mr. Obama still blames his predecessor and Republicans for every problem facing our country.
Stimulus Jr.: Funneling taxpayer money to teachers unions won't create jobs
. President Obama can't shake his stimulus addiction. In his Thursday joint-session speech, he's expected to announce $300 billion in additional spending, adding to the $4 trillion he's already borrowed from future generations since taking office.
Football tonight! Also, Obama
. Some presidential addresses can overshadow sporting events. Richard Nixon's resignation speech temporarily halted nine major-league baseball games, two pro tennis matches and a contest in the World Football League. It would take an oration of great moment to force the delay of the opening game of the NFL season between the past two Super Bowl champions. Barack's paean to government spending isn't it.
Enough With The Deficit-Fueled Stimulus
. In his speech Thursday, the president is expected to announce a stimulus 2.0 package said to cost $300 billion. But why should anyone expect this to work any better than the $4 trillion in stimulus already in the economy?
Is Obama Insane?
A popular definition of insanity, variously attributed to Albert Einstein, Mark Twain, and Ben Franklin, is, "doing the same thing over and over and expecting different results." By this standard the President of the United States is clearly insane, if reports are true that Obama will tonight call on Congress to pass for yet another stimulus program, this time in the ballpark of $300 billion.
Why the Stimulus Failed
: Even zero jobs growth in August doesn't seem to have disrupted President Obama's faith in the economic policies of his first three years, so one theme we'll be listening for in tonight's speech is how he explains the current moment. Why did his first jobs plan — the $825 billion stimulus — so quickly result in the need for another jobs plan?
Invisible Hand vs. Clenched Fist
. The advance word on President Obama's Thursday jobs speech is: nothing new. According to George Stephanopoulos, it will contain tax cuts for corporations, an infrastructure bank, and the usual pabulum of job training for the unemployed.
We Need Jobs, Not Another Jobs Speech by the President
. Following a much-publicized brouhaha over the scheduling of a "jobs speech" in September 2011, President Obama finally delivered an address to the nation in which he outlined yet another stimulus program to create jobs. After all the hoopla associated with the speech, investors expected something imaginative — something new, different, and better. Instead, the president tossed up a $450-billion package that looked eerily similar to the "stimulus" programs he sold to Congress in 2009 — the ones that failed so miserably.
Reaction:
The irrelevancy of the Obama presidency
. Usually, the press gallery is standing-room-only; this time, only 26 of 90 seats were claimed by the deadline. Usually, some members arrive in the chamber hours early to score a center-aisle seat; 90 minutes before Thursday's speech, only one Democrat was so situated. Republican leaders, having forced Obama to postpone the speech because of the GOP debate, decided they wouldn't dignify the event by offering a formal, televised "response."
"Fantastic Words, but..."
An eagle-eyed lipreader passes along this clip of Nancy Pelosi reacting to President Obama last night.
Unstimulating, Again
. If $900 billion in fiscal stimulus did not deliver us from high unemployment, perhaps another $450 billion will do the trick: That was the theory underlying President Obama's speech.
Where's the Plan to Pay for it?
Supposedly, Obama's been advocating his $450 million jobs plan "for months." But based on last night's speech, it sounds like the entire concept was copy-and-pasted together at the last minute from his 2009 stimulus and a couple of his August speeches.
The 'hidden meaning' found in Obama's words
. People have lost confidence in Obama's ability to do anything positive for the economy. Once the feel good rhetoric fades away, the stark reality of a nation in crisis with a president who doesn't know what he's doing will return.
A Guide To Code Words In Presidential Speeches
. One thing that's clear after reviewing Obama's many jobs speeches over the past two years is that his speechwriters have gotten lazy. Over and over again, the president returns to the same basic formula: Times were tough when I got here, we've achieved a lot, but the hole was so deep it will take time to get out. And then he trots out the same rote prescriptions.
Obama's Address Was About Style, Not Substance
. In his speech he said he is asking Congress "to increase that amount (the amount they will cut spending) so that it covers the full cost of the American Jobs Act." In plain English that means that cuts in spending the Congress might have made independently of this "Jobs Act" will now be assigned to cover this bill, which means they are no longer cuts to reduce the deficit. Cutting spending and enacting new programs isn't cutting spending.
Using a Joint Session of Congress as a Prop
. Make no mistake: the president cheapened and degraded the majesty of an address to both Houses of Congress. We have every reason to expect that with the precedent now set, Joint Sessions are fair game for appropriation by future presidents seeking a majestic backdrop for political posturing. Barack Obama fond of the word "unprecedented" as a descriptor of his actions. Unfortunately, the word applies to his address last night, and not in a good way.
More Leeches!
President Obama's speech tonight was a political act, and has generally been treated as such. Indeed, his political purpose was so transparent that he felt compelled to devote his opening paragraphs to denying it. Politics, nevertheless, suffused the speech.
The only newly created "jobs" is the one called Saving America
. Joint Congress charades and hype notwithstanding, people know that government and trade unions do not supply jobs. They take them away. Especially since the Obama Regime came into power. With nothing new to say almost three years in, is it any wonder why Internet news on Obama's "Pass this jobs bill" has been scarce?
Obama speech like Groundhog Day
. The speech itself was almost literally a retread of the 2009 stimulus plan Obama pushed through a friendly Congress with almost no Republican support, with one important difference: The president never mentioned the cost of his proposal. He demanded that Congress pass his bill immediately more than a dozen times during the speech, but not once did he inform Congress of its price tag.
The Speech That Broke The Patience of the Country?
President Obama's speech on Thursday night bordered on parody. His repetition of long-overused talking points combined with his repeated attacks on job creators and his incessant demand to "pass it right now" produced a mixture of arrogance and absurdity so transparently political that it lacked any capacity to cause political movement or to change anyone's opinion on any issue.
The Jobs Speech
. Immediately after the speech ended reporters began Tweeting that the cost of the bill would be $447 billion according to a White House "fact sheet." If there is no bill, how can the WH say that?
Soaring rhetoric — again
. President Obama has always given good political rhetoric. His downfall is substantive follow-up. ... "Every proposal I've laid out tonight will be paid for." With Monopoly money, no doubt.
Jobs plan deja vu
. Americans who watched President Obama's call for a new jobs bill Thursday night might have wondered whether they were stuck in a time warp. A proposal to spend hundreds of billions of dollars to put people to work: Is this 2009 all over again?
Obama gives campaign speech to liberals
. President Obama's jobs speech was one of the weaker addresses of his presidency. The delivery was rushed, the laundry list of policies were rehashed from prior speeches and his constant refrain imploring Congress to "pass this jobs bill" made him come across like a salesman on a TV infomercial.
Pass This Speech Full of Old Ideas ... NOW
. Throughout the night, Obama pulled out his "we're in a crisis, we must pass this now" card, and repeatedly asked for Congress to pass the American Jobs Act "right away," promising twice that everything will be paid for. Then, there were flashbacks to 2009, when Obama called for the immediate passage of the $1 trillion American Recovery and Reinvestment Act or stimulus package.
Obama's jobs plan paid for? Seems not
. President Barack Obama's promise Thursday that everything in his jobs plan will be paid for rests on highly iffy propositions.
Obama: The Obsolete 'Post Office President'
. The preposterous irrelevance of President Obama's jobs speech is summed up by the fact that he repeatedly urged Congress to "pass this jobs bill right away" — but there is no bill. By the admission of his own aides, Obama's jobs bill is still being drafted. It won't be submitted until next week, and his plan for how to pay for it won't be submitted until the week after that.
Obama's Gift Has Stopped Giving
. Obama feels our economic pain. We know this because he was so sincere as he addressed a joint session of Congress last Thursday. Or at least he tried to sound that sincere. The problem is that Obama struggles to come off empathetic, due to his inherently professorial speaking style. To make up for this shortcoming, Obama often employs a sort of out-loud whisper to give the impression of intense emotion while still speaking quietly. On Thursday, the president sought a doubly empathetic tone, but what resulted was speaking that sounded like an awkward cross between a grunt and a whisper.
Back to the Future?
Those who are impressed by words seem to think that President Barack Obama made a great speech to Congress last week. But, when you look beyond the rhetoric, what did he say that was fundamentally different from what he has been saying and doing all along? Are we to continue doing the same kinds of things that have failed again and again, just because Obama delivers clever words with style and energy?
What Job 'Training' Teaches? Bad Work Habits
. Last Thursday, President Obama proposed new federal jobs and job-training programs for youth and the long-term unemployed. The federal government has experimented with these programs for almost a half century. The record is one of failure and scandal.
Devoid of reality
. President Obama's speech this past week should have been labeled, "Believe what I say, not what I do." All too much of the speech was devoid of reality.
You call that a jobs program?
After waiting for weeks to hear President Obama's answer to staggering unemployment and a stalled economy, the nation last night got nothing more than a $447 billion pile of recycled ideas that isn't likely to pass Congress.
Obama's jobs bill is no solution
. "Pass this jobs bill ... pass it right away ..."[,] President Obama urged Congress in his speech on Thursday night. Nearly 20 times in his 34-minute talk, the president used that phrase or a variation ... "You should pass this jobs plan right away." Obama sounded like a razzle dazzle TV infomercial pitch man telling his listeners to act fast, don't delay, call now, operators are standing by. What the speech did not have was an explanation of why Obama believes his proposal to spend another $447 billion on this Sequel to Stimulus will help the economy any more than his original stimulus plan.
The American Jobs Act: Why It Will Not Create Jobs
. President Obama, last night, outlined his latest greatest proposal for creating jobs: The American Jobs Act. It's a combination of some good things (tax reductions) and some bad things (tax increases). It's his grand plan to finally focus on jobs (after 3 years with unemployment over 9%). All of the past stimulus weren't enough so we are going to try it again with more stimulus money.
Stock Market, Associated Press Not Buying Obama's Speech
. As anyone who even remotely follows politics knows, Barack Obama had
an electioneering speech
a Congressional Address yesterday. It bombed in the eyes of the stock market and in the eyes of the normally sycophantic Associated Press. As of right now, the Dow Jones Industrial Average has fallen over 300 points after Obama's after-hours speechifying. And the Associated Press basically said to Obama "you've been weighed and measured and found wanting."
The President's Pedestrian Speech
. Several thoughts occur, all starting with P.
Projection
. That's psychologist-speak term for projecting your own faults on others. "This isn't political grandstanding," Obama told members of Congress, as Republicans snickered (but thankfully resisted the temptation to shout "You lie!"). "This isn't class warfare." These sentences came four paragraphs after Obama insisted that "the most affluent citizens and corporations" should pay more taxes (which spurs job creation how?), and not long before he promised to "take that message to every corner of the country."
Obama's Combative Save-My-Job Speech
. President Obama's address to Congress was exactly what we thought it would be: a shallow, callow campaign rally masquerading as something serious and important. As Charles Krauthammer framed it on Fox, tonight's address represented the first presidential campaign speech delivered in the House of Representatives in US history. Obama tried to strike an urgent tone, repeatedly instructing Congress to pass his plan "right away." These appeals for immediate action started before he even described a single idea.
A Stale Speech
. Is Obama just politically dense, or he is so inured to the Chicago us/them confrontational mentality that he knows no politics other than polarization, even when appealing for help?
Obama and the lunatic left
. Much of his speech called for more of the same — government activism; massive spending on infrastructure, bridges and roads; extending the payroll tax cut; and more public aid to states and municipalities. In short, he seeks to perpetuate the dismal policies of Obamanomics. He is a reckless ideologue masquerading as a pragmatist. Mr. Obama's presidency has been dominated by one seminal reality — failure.
Obama's bad jobs idea
. President Obama did not mention it in his speech last night, but his American Jobs Act contains one really bad idea that will probably destroy jobs in a misguided effort to save them. I refer to his call for a ban on what some are calling "unemployment discrimination": the alleged practice by which some companies refuse to hire applicants because they are unemployed, or even announce in their job postings that they don't hire applicants who aren't currently working.
The President's Old, New Jobs Program
. President Obama's jobs program is disappointing, to put it mildly. Given our economic troubles, this heavily politicized rehash of failed policies is a slap in the face to 27 million Americans without full-time jobs. In an angry speech clearly intended to rally his demoralized troops, the president on Thursday unveiled a $457 billion jobs plan that was touted as "new," but really just recycles past failed policies.
The President's Plan Falls Short
. Who really expected an unbelievably large $450 billion plan? That's way more than 50 percent of the original $800 stimulus package in 2009 — which did not work. Leaked reports leading up to the speech suggested a $300 billion plan — already way too big. But $450 billion? At a time of massive deficits and debt? And a downgrade? How is this going to be paid for? That's what many folks want to know. Obama didn't tell us.
GOP to Obama: Can We Have That in Writing?
. House Republican leaders have sent President Obama a letter requesting a non-speech version of the "jobs plan" he outlined before Congress on Thursday. They intend to have the written legislation scored by the Congressional Budget Office. Because as CBO officials have previously made clear, they "don't estimate speeches."
Twelve Words to Describe Obama's Jobs Speech
. Thursday night's show by President Obama struck me as... Presumptuous: He demanded — 17 times — that Congress immediately pass a bill no one has seen. Tired: The speech contained little new, just mostly recycled ideas or extensions of current programs that haven't worked. Small: Its proposals, while expensive, offer little hope of really jump-starting the economy.
Canada's Oil Sands Are a Jobs Gusher
. For all its soaring rhetoric, President Obama's "jobs speech" last week didn't demonstrate a lick of insight into why economies grow or how wealth is created.
Obama Makes Plea to 'Pass This Bill' 100-Plus Times
. In six speeches during the course of seven days, President Obama has hammered home his call for Congress to act on his $447 billion jobs plan, saying some version of the phrase "pass this bill" more than 100 times.
The tragedy of Obama
. Once again, the president seeks a "stimulus" for the economy in the form of nearly a half trillion dollars in government spending and tax cuts. We've been through this before. It didn't work in 2009 and 2010, and it won't work now.
The American Con Job Act
. The president is out and out campaigning for re-election while promoting his latest half-baked half-trillion-dollar "American Con Job Act," which he says will generate jobs and jump-start the sluggish economy, which continues to slide south. When I sat down to write this, there was no bill for Americans to read and digest. In my America, the president would have had the bill to present to Congress when he spoke to its members last week. What happened to all that transparency, Mr. President?
Obama's Big Green Boondoggles
. With the scandalous bankruptcy of Solyndra (a shady California solar power company that received $535 million in stimulus funds and is now under investigation by the FBI) hanging overhead, President Obama wisely whitewashed any mention of "green jobs" out of his latest address to Congress. But buried in the details of his latest government jobs bill released this week ... are yet more big green boondoggles that will reward cronies, waste taxpayer dollars and make no dent in the jobless rate.
Obama's None-Too-Divine Comedy
. Obama's political irrelevance has now become so obvious that on the night of his infamous jobs speech the GOP didn't even feel the need to offer a rebuttal to his political theater masquerading as a major policy speech. ... But far worse than enduring those indignities, during his grand pontification, a unique sound was heard in abundance. Even the Washington Post's Dana Milbank heard it: laughter. Perhaps for the very first time in his career, the golden child was openly
laughed at
— and deservedly so.
The Obama presidency enters its pathetic phase
. For Obama, the pathetic phase began over the summer when the economy weakened further and his job approval rating tanked. ... For one thing, Obama suffers from what Maureen Dowd of the
New York Times
has identified as the "speech illusion." This is the notion that he can swoop down from on high, deliver a speech, persuade millions, and move the political needle in favor of his legislation. And, naturally, make himself more popular. Quite the opposite has happened. The speech wasn't a bomb, but it was close.
Dumb And Dumber
. Over the weekend, President Obama encouraged everyone to read his jobs proposal and judge it for themselves. We took him up on his offer, and found five more reasons to kill the bill.
Weeks later...
Obama's Jobs Bill Has No House Co-Sponsors
. House Minority Whip Steny Hoyer (D-Md.) today [10/4/2011] said that he supports President Barack Obama's $447-billion jobs proposal although he is "not enthusiastic" about the plan's payroll tax reduction provision. Hoyer, however, is not listed as a co-sponsor of Obama's job proposal legislation...
This is an original compilation, Copyright © 2013 by Andrew K. Dart
The Rose Garden, September 19, 2011:
Pass the "Buffett Rule"
. On Monday [9/19/2011], President Obama will propose a minimum tax for millionaires whose earnings come from capital gains and from dividends. This is not a serious legislative effort — the president is not working with congressional leaders to craft this legislation — rather, this proposal is an attempt to boost a sagging re-election campaign...
Obama: 'This Is Not Class Warfare'
. At a press briefing at the White House on Monday, President Obama formally announced a package revealed over the weekend to trim $3 trillion off the federal deficit over the next several years. "This is not class warfare," Obama insisted. "It's math."
Obama's Deficit Plan: Neither Bold nor Courageous
. Judging from President Obama's Rose Garden speech today outlining his proposal to reduce the deficit by $3 trillion over 10 years, there are two groups in America who apparently have job security and are working overtime: his pollsters and straw men.
Obama Hits Bottom
. Pres. Barack Obama promised to have a plan to pay for his massive new stimulus bill by Monday. He broke that promise, as he has broken so many others, and remains in the "plan to have a plan" stage of his inscrutable meditations, having only made yet another unsubstantial speech, full of high sentiment and short on details. The president says he wants to ensure that the very wealthy do not pay lower effective tax rates than do the middle-class, and argues that families and businesses earning more than $250,000 in any given year should pay an additional $1,500,000,000,000.00 or so in taxes...
Playing Robin Hood isn't leadership, Mr. President
. "This is not class warfare, it's math," President Obama said in the Rose Garden on Monday while pitching his latest round of tax increases, the so-called Buffett Tax on millionaires. ... Obama isn't fooling anybody, except perhaps himself, with this Robin Hood act. As WTOP's Mark Plotkin, a liberal Democrat, said Monday, "It is class warfare. They're not gonna say it, the Democrats, but they feel there is a political advantage to saying that people who make that much money are not paying their fair share."
The Lecturer in Chief Has Forfeited His Moral Authority
. As predictable and repetitive as Obama's economic speeches are, his capacity for audacity shows ever increasing signs of creativity. Do you suppose he has any ability to feel shame for what he's doing to this country and embarrassment for blaming everyone but himself? ... Almost three years into his term, did you hear him accept any ownership of his policies? Did he apologize for nearly doubling the national debt?
I'm for The Rich
. "We simply cannot afford these special lower rates for the wealthy," President Obama declared in his Rose Garden message Monday. ... The president, brimming with indignation, asserts that hedge fund managers are paying taxes at a lower rate than teachers and firefighters. "How can you defend that?" he demands. You don't have to defend that, because it isn't true.
Obama ties Medicare cuts to tax increases on wealthy
. Seeking to put his stamp on deficit-reduction talks, President Obama on Monday said he will veto any debt plan that cuts Medicare benefits without also imposing higher taxes on the wealthy, and he embraced a broad call that all millionaires be made to pay an effective higher tax rate on income than middle-class families do.
Obama Is Careening Down the Wrong Path
. Barack Obama is careening down the wrong path towards re-election. He should be working as a president, not a candidate. He should be claiming the vital center, not abandoning it. He should be holding down taxes rather than raising them. He should be mastering the global economy, not running away from it. And most of all, he should be bringing the country together rather than dividing it through class warfare.
Obama's Bizarre Tax Attack
. It could almost make your head spin. With an economy on the front end of another recession, President Obama's tax attack on the folks who are most likely to succeed, invest, start new businesses, and create jobs is nothing short of staggering. Only liberal-left class-warfare ideology can explain this.
Republicans to President Obama: No, really what is your plan?
President Obama rolled out his notion of a debt plan today. House Budget Committee chairman Rep. Paul Ryan (R-Wis.) had this response: ["]The President's partisan speech and misguided proposals are disappointing, but not surprising. ... The President has finally admitted that he plans to send the bill for Washington's reckless spending straight to American businesses and families.
Obama's $1.5 Trillion Election Ploy
. President Obama's $1.5 trillion tax increase on job creators is a dead-on-arrival campaign ploy. He himself said two years ago that such taxes during a recession would only "put businesses in a further hole."
Obama Yields to Liberal Outcry on Entitlement Reform
. President Obama has tried for months to convince critics on the left that entitlement programs such as Medicare had to be cut in order to save the programs, but he seems to have yielded under pressure from his political base. In his new $1.5 trillion deficit-cutting plan, unveiled Monday at the White House, Obama backed away from the changes he had been talking about for months.
His Biggest Big Lies
. [Scroll down] So if "the rich" are not paying their fair share, Mr. President, what would that fair share be? Based on these official facts, for you to run around the country telling America that we could have jobs and balance the budget and solve the debt crisis you are creating if the rich would just pay their fair share of taxes only demonstrates that you are not qualified to be President.
Obama figures he can just lie
. A polite word for what President Obama is being with his claims about millionaires and taxes is "disingenuous." A more straightforward term would be lying. Neither the Associated Press nor the Wall Street Journal called him that yesterday, but both reported the facts that the President is grossly and willfully distorting.
Presidential prevarication
. Not that there was ever any doubt, but the Associated Press ran the numbers on President Obama's soak-the-rich tax scheme, and guess what? The president's a fibber. The news agency culled figures from a number of key authorities — like the IRS and the nonpartisan Tax Policy Center -- and demonstrated conclusively that top US earners pay
far
higher rates than other folks.
And
foot a wildly outsized portion of the federal tax tab.
Obama's jobless economy
. President Obama is asking Congress to raise taxes on job creators to pay for his "jobs" bill. On Monday, Mr. Obama said the Joint Select Committee for Deficit Reduction should find another $450 billion in deficit reduction (i.e., tax hikes) to bankroll his American Jobs Act, further impoverishing the nation while doing nothing to alleviate the 9.1 percent unemployment rate.
Math says Obama's speech was class warfare
. "Middle-class families shouldn't pay higher taxes than millionaires and billionaires. That's pretty straightforward." That's what President Obama said in his White House speech Monday on deficit reduction. It was even more straightforward than he seemed to think. Not only should middle-class families pay less than millionaires and billionaires, but in fact they already do pay less than millionaires and billionaires. Much less.
Obama is right
. The cold, hard truth is that the rest of America — the poor, the lower-middle class, the unions and the government employees have to pull more of the load. The reality is that Mr. Obama's voters get a free ride as a bribe to vote, support and contribute to the president. Yes, we need more "fairness." The problem is that Obama voters — those doing the most protesting and complaining — are the ones who need a refresher course in the definition of "fair."
Obama's Math: More Fuzz Than a Peach
. In Obama's fist-pounding, finger-pointing, bellyaching repeat of many previous speeches, he put forth a "plan" to bring down the deficit. And what an original non-plan it was. Raise taxes, fake spending cuts — just like all his other non-plans. Nothing written, you understand, just promises to cut out fraud and waste. And, of course, tax the rich. This time he prefaced his "tax the rich" part by saying, "This is not class warfare; it's math."
Obama disconnects rhetoric, reality
. In President Barack Obama's sales pitch for his jobs bill, there are two versions of reality: The one in his speeches and the one actually unfolding in Washington.
The United Nations, September 21, 2011:
Barack Obama's UN speech sounded like a second-rate university lecture
. After watching President Obama's 40-minute address to the United Nations General Assembly this morning, I think the White House should seriously consider hiring a new team of speechwriters. There was little depth or direction to this muddled speech, which seemed to meander from one foreign policy topic to another without really saying anything of substance.
Obama's UN Speech: A Failure
. President Obama's speech to the United Nations on September 21st struck at many targets in his
tour d' horizon
but it was neither inspiring nor bold. ... Most of the speech was rhetorically engineered, a kind of pabulum for U.N. delegates.
'We Must Stand Up for the Rights of Gays And Lesbians Everywhere,' Obama Tells U.N.
. In his speech to the U.N. General Assembly Wednesday [9/21/2011], President Obama called for "open societies" that "empower their citizens," including homosexuals and women. "No country should deny people their rights because of who they love, which is why we must stand up for the rights of gays and lesbians everywhere," Obama said one day after the United States started allowing homosexuals to serve openly in the U.S. military.
Press conference, October 6, 2011:
Fact Check: Obama claims miss some evidence
. In challenging Republicans to get behind his jobs bill Thursday, President Barack Obama argued Republicans have supported his proposals before, demanded that they explain themselves if they oppose him, and challenged others to come up with a plan of their own.
Obama's Empty Threats
. In the president's press conference today, there were several things that stood out. Obama continued his compulsive need to blame others for his problems. He continued to make transparently untrue claims. He continued to portray himself as a man of incomparable political virtues and his opponents as selfish, uncooperative partisans. None of this is new; in fact, the act is all getting a bit tiresome. But what particularly amused me is the president's imperiousness.
The two Obamas: Professor and populist
. President Barack Obama's midmorning White House news conference on Thursday offered a rare glimpse of an inwardly calm, disciplined and analytical president wrestling with his outer demons. For 72 minutes in the East Room, Obama the Professor publicly grappled with Obama the Populist.
Obama's teleprompter is an idiot!
Obama Cites Employed Boston Teacher In Jobs Bill News Conference
. President Obama used the story of a Boston teacher to push his jobs bill Thursday, even though the teacher has a job.
Obama expects unanimous agreement, which is exactly the opposite of what he's got.
Obama's New Mantra
. Any senator who's thinking about voting against President Obama's jobs bill when it comes up for a vote in the Senate next week "needs to explain exactly why they would oppose something that we know would improve our economic situation at such an urgent time for our families and our businesses," President Obama said Thursday. At a White House news conference, Obama also said he expects and hopes that "everybody" in Congress will vote for his bill because it includes ideas that both parties traditionally have supported.
Obama 'makes up meeting with teacher who "lost his job"'
. Barack Obama is today facing accusations that his tale about a teacher told he was losing his job three times was not entirely accurate. The President claimed on Thursday to have 'had a chance to meet a young man named Robert Baroz' — but they have reportedly never met. He also talked about the teacher 'receiving three pink slips because of budget cuts' — but neglected to mention he reportedly never lost his job.
Obama Lies For "A Higher Truth"
. It's quite telling that President Obama couldn't find a highly qualified teacher in the Boston Public Schools to talk about who is actually unemployed. It would seem that liberals who accused President Bush of lying about WMD don't care if President Obama lies if it promotes a cause with which they agree. It's OK for President Obama to lie if it is in service of "a higher truth."
President Obama's Teachers Tale Embellished?
. Obama said he had met a young man named Robert Baroz who has two decades of teaching experience, a master's degree and and excellent track record of teaching. "He's an English teacher in Boston who came to the White House a few weeks ago," the president explained to reporters. "In the last few years, he's received three pink slips because of budget cuts. Why wouldn't we want to pass a bill that puts somebody like Robert back in the classroom teaching our kids?" But there are two elements of Mr. Obama's story that are being questioned. According to the Boston Herald, Robert Baroz never met the president when he was at the White House. And Robert Baroz is currently employed.
Obama's English Teacher Fiction
. President Obama gave yet another speech on Thursday trying to peddle AJA to the American people — the American Jobs Act, as opposed to the 1977 Steely Dan album. Obama cited the experience of a Boston English teacher named Robert Baroz to urge passage of the bill. Unfortunately, the president used a little creative writing to make the story more effective.
Aimless Obama walks alone
. [Scroll down] Obama himself is spending his public time pushing a $450 billion "jobs" bill — really another stimulus in disguise — that even Senate Democrats won't support. He grimly flogged it repeatedly at his Thursday press conference, even though snowballs in hell have a better chance of survival. If he cracked a single smile at the hour-plus event, I missed it. He seems happy only on the campaign trail, where the adoration of the crowd lifts his spirits.
Osawatomie, Kansas December 6, 2011:
Welcome to Texas!
Campaigning in Kansas today, President Obama momentarily forgot which of the 57 states he was in. But that was just a slip of the tongue. The really dumb thing he said is that the internet is causing unemployment. ... This is one more reminder — as if we needed it — that President Obama has no understanding of the economy.
Enough with the Dishonest Spending
. The president's speech today [12/6/2011] was an unserious response to the serious economic threats our nation faces. It represented a virtual declaration that, for the remainder of his term, his focus will be on campaigning rather than governing. America faces profound long-term challenges, but the president still has no real long-term plan. This cannot be denied.
Obama Drafts the Tea Party into the Occupy Wall Street Mob
. In his Kansas speech Tuesday, President Obama linked the motives of the Tea Party movement to those of the Occupy Wall Street crowd. It was revisionist history on parade.
And the Next Presidential Mask Is TR?
This is all pretty pathetic. What we have here is an adolescent president in desperate search of an adult identity of his own, without which he borrows liberally from others, often oddly from Republicans or conservatives.
1910 and 2011 are as Different as TR and Obama
. [Scroll down] Obama is right when he says Roosevelt was called a socialist and a communist for his manifest of a "new nationalism." But Roosevelt was not an opponent of the free market. His objective was to save capitalism from the capitalists whose goal was largely the destruction of the free market and its conversion into a network of monopolies.
Obama: Limited Gov't That Preserves Free Markets 'Doesn't Work. It Has Never Worked'
. In a speech delivered at Osawatomie High School in Osawatomie, Kansas, on Tuesday, President Barack Obama argued that while a limited government that preserves free markets "speaks to our rugged individualism" as Americans, such a system "doesn't work" and "has never worked" and that Americans must look to a more activist government that taxes more, spends more and regulates more if they want to preserve the middle class.
Obama attacks Republican economic theory: 'It's never worked'
. President Obama, in one of his most expansive speeches to date, declared on Tuesday that supply-side economics is a failure and called "gaping inequality" across the country a moral shortcoming that is distorting American democracy.
'Osawatomie Obama' launches assault on facts and history
. President Obama delivered his Osawatomie speech, according to aides, because he wanted to associate himself with the rhetorical and ideological significance of Teddy Roosevelt's "New Nationalism" address at the same Kansas location in 1910. It's odd enough that Obama would associate his policies with a speech that defined a failed political movement — the Bull Moose Party — but there is something else about Osawatomie County that makes it a strange locale for a presidential address ostensibly intended to encourage greater American unity. This was the place in Kansas that was headquarters for John Brown, the murderous radical who obsessed throughout his life about inciting a race war he believed would end slavery in the South.
1913 NYT editorial blasts Obama's policies
. Lefties are abuzz about President Obama's speech in Kansas, saying he channeled Teddy Roosevelt. Clive Crook of the Atlantic headlined his reaction: "Obama Channels Teddy Roosevelt." Aha! Gotcha! Liberals seize the T.R. connection as somehow giving credibility to President Obama in that T.R. was a Republican and all. But there is just one problem with T.R.'s political philosophy: It was too socialistic for the New York Times.
Obama recycles themes from failed democratic presidential campaigns
. Which presidential candidate said this in an ad: "I refuse to make your family pay more so that millionaires can pay less?" Who promised to "fight for seniors" against opponents who wanted to "slash Medicare?" If you answered President Barack Obama, you're about 27 years too late. Those pronouncements came from an ad for Walter Mondale and Geraldine Ferraro, the Democratic pols who ran against Ronald Reagan in 1984.
Obama's Kansas Declaration
. Declaring that the debate over how to restore our economy is the "defining issue of our time," President Barrack Obama invoked former president Theodore Roosevelt's progressive reforms of the early 20th century as a template for economic recovery today. "Roosevelt," the President said, "... knew that the free market has never been a free license to take whatever you want from whoever you can. It only works when there are rules of the road to ensure that competition is fair, open, and honest." From there, the President made the regent argument that the "rugged individualism" that characterizes laissez-faire capitalism has "never worked," and that we should echo Roosevelt's call for a New Nationalism.
Obama's Godfather Speech
. Democrats are depressed about the awful economy we've had the past three years. In Mr. Obama's view, this is a coincidence; the bad economy happened during his term because of mistakes someone else made in 2001 and 2003. Lest the base confuse his policies with someone else's, Mr. Obama needs to transform Democratic depression into some form of Democratic energy. This week, and apparently in the election next year, he has chosen a strategy based on fear and loathing of an opposition he identifies simply as, "They." "They argue, even if prosperity doesn't trickle down, well, that's the price of liberty."
Obama Blames the Rich
. A haze of ugliness hung over Pres. Barack Obama earlier this week in Osawatomie, Kan., where he delivered a speech as malodorous as an Occupy Wall Street encampment and about as thoughtful.
Whitewashing History, Obama Style
. If U.S. history is a painting on a giant canvas, President Barack Obama's speech this week in Osawatomie, Kansas, is a thick coat of whitewash layered all over it, and the failure of the last three years lies underneath. The President's pretense is that, no, it's not Obamanomics that has caused persistent unemployment, stunted growth and record deficits — it's supply side economics! Talk about audacity.
Obama should quit emulating others
. Pundits and politicians, perhaps struggling to make sense of their own era, are fond of finding parallels between contemporary figures and those from times gone by. President Obama, in particular, appears to takes great comfort from this exercise.
Obama: Man on a Mission
. In his remarks this week in Osawatomie, Kansas — the site of Theodore Roosevelt's famous 1910 "new nationalism" speech — Obama laid out the themes for his re-election campaign. White House Press Secretary Jay Carney denies it was an "election speech," but Obama's own campaign manager, Jim Messina, touted it as one in a fundraising email. But such is the way of this White House. Facts are dependent variables, history the president's Pool of Narcissus, reflecting his own glory.
Barack Obama, Political Hack
. In his speech in Osawatomie, Kansas, President Obama took another stab at summarizing the philosophy of the Republican Party. And this is the best Obama could do: "Their philosophy is simple: We are better off when everybody is left to fend for themselves and play by their own rules." This is a silly and intentionally misleading statement — silly because it's so transparently false and intentionally misleading because the president surely cannot believe his own rhetoric. The problem for Obama is it's becoming a pattern.
Obama's Osawatomie Speech Echoes Symbols of Occupy Wall Street, Abolitionism, and the Weather Underground
. President Barack Obama's recent speech in Osawatomie, Kansas is being hailed by the left and the mainstream media for its renewed focus on inequality — and for its crafty use of Republican president Theodore Roosevelt to push socialist themes. Even some conservative observers are hailing the speech — not for its divisive substance, but for the fact that Obama is no longer attempting to hide his radical views in moderate rhetoric. Indeed, the choice of Osawatomie may be more significant than the Roosevelt conceit or Obama's maternal family roots.
Obama's campaign for class resentment
. In the first month of his presidency, Barack Obama averred that if in three years he hadn't alleviated the nation's economic pain, he'd be a "one-term proposition." When three-quarters of Americans think the country is on the "wrong track" and even Bill Clinton calls the economy "lousy," how then to run for a second term? Traveling Tuesday to Osawatomie, Kan., site of a famous 1910 Teddy Roosevelt speech, Obama laid out the case.
Five Big Lies in Obama's Economic Fairness Speech
. One thing is certainly true about President Obama — no matter how many times people point out the falsehoods in his speeches, he just keeps making them. Case in point: his latest "economic fairness" address. In that speech Tuesday, Obama once again tried to build a case for his liberal, big-spending, tax-hiking, regulatory agenda. But as with so many of his past appeals, Obama's argument rests on a pile of untruths. Among the most glaring...
Obama's Kansas speech: some suspect facts
. To bolster his case about unfairness, the president is also relying on a suspect statistic about billionaires paying as little as 1 percent in taxes. Even if true, it is a clearly a rare event. Moreover, it is certainly surprising that the White House would rely on such a dubious, unverified source for a major presidential address.
Obama Channels Hugo Chavez, Shows Why He Can't Lead On The Economy
. On Tuesday, President Obama went to Osawatomie High School in Kansas to deliver an address framing the economic issues for the 2012 election. ... But the speech only showed why Obama can't lead America on the economy. Instead of leading us forward into the modern economics of the 21st century, he keeps reaching back into the economics and politics of old — the failed Keynesian economics of Franklin Roosevelt in the 1930s, the disastrous stagflation of Jimmy Carter in the 1970s, and the supposed promise of progressivism 100 years ago, before the demonstrated failures of Marxism worldwide in the 20th century.
Obama's thin gruel at Osawatomie
. Even by the standards of campaign rhetoric, this is a shockingly shoddy piece of work. You can start with his intellectually indefensible caricature of Republican philosophy: "We are better off when everybody is left to fend for themselves and play by their own rules." Or his simple factual inaccuracy: "The wealthiest Americans are paying the lowest taxes in over half a century." Or his infantile economic analysis, blaming job losses on the invention of the automated teller machine (they've been around for more than four decades, Mr. President, and we've had lots of job growth during that time) and the Internet. But what's really staggering is the weakness of his public policy arguments.
Craving Another Great Depression: How else to explain the celebrated Kansas speech?
Pushing his agenda for higher taxes on "the rich," President Obama kicked off his December 6 speech in Kansas by saying his Kansas grandparents "shared the optimism of a nation that triumphed over the Great Depression." In fact, the 1929 stock market crash turned into the long-running Great Depression because the counterproductive soak-the-rich policies of the federal government hadn't "triumphed" in reversing the downturn.
Remember who we're fighting
. In a major speech in a Kansas high school, Mr. Obama told us too many Americans no longer can become part of the middle class, whether or not they play by the rules. He blames not himself, of course, but large corporations and wealthy interests, many of which also contribute to his campaign. America has pioneered democracy, the rule of law, free-market economics and the Bill of Rights, but Mr. Obama thinks it's our system that denies most Americans a "fair chance" to succeed.
Barack Has a Record
. Every Obama speech is fraught with lies and half-truths. He relies on his belief in the ignorance of his audience, and that Americans are too lazy and soft to recognize his dishonesty. When your record is abysmal, you can't tell the truth. Obama, hasn't a clue on how to fix the economy. Instead, without ideas, he copied Teddy Roosevelt's 100-year-old speech in Osawatomie.
Liberal History from Osawatomie Bam
. Send us more money, says the president after his history lesson, so his administration can inflate the higher-ed bubble just like Fannie and Freddie and the housing bubble. In the interest of balance, I think we need some "conservative history" for a change. It is different from liberal history, because it doesn't make heroes out of politicians, but instead portrays politicians as ordinary men with ideas.
Obama's Osawatomie decree
. I've tried to read all of the conservative commentary on President Obama's big speech in Osawatomie, Kansas, this past week. The speech is important from a variety of perspectives. Perhaps most significantly, the speech previewed Obama's reelection campaign themes; insert groans here. To some extent it shows Obama hitching his wagon to the Occupy crowd and provides another case of his leading from behind. It sinks to the level of left-wing tripe. Obama's heart and mind are full to overflowing with this stuff.
Our Marxist Wizard of Oz
. This is the man the Democrat party took off the streets of Chicago, then pursuing a career as a Marxist street agitator, and launched into the White House, favoring him over Hillary Clinton because she was too moderate for the party. They did that because he best reflects the heart and soul of today's radical-left, Che Guevara Democratic Party. It is in this context that we should understand and analyze Obama's Hugo Chavez speech given last week at Osawatomie High School in Kansas.
A lesson in combating invasive government
. In his recent speech in Kansas, our misguided president again attacked capitalism, tax-cuts, and limited government and perhaps made his die-hard belief in socialism clearer than ever before. ... [Obama speech excerpt omitted for brevity.] ... This is, of course, utter fiction. But being so used to the majority of Americans laying down like lambs, the president feels perfectly comfortable spreading this sort of misinformation around.
Why does Obama channel racist TR?
With great fanfare, President Obama made a speech last week in Osawatomie, Kansas, the venue in 1910 where then-ex-President Roosevelt had introduced his theme of a "Square Deal" for Americans. In doing so, Obama attempted to clothe himself in Roosevelt's own reputation as a Progressive thinker and activist political leader. But how "progressive" was Roosevelt's thinking? Is his positive reputation deserved? The sad fact is, Theodore Roosevelt was an unabashed racist who celebrated genocide. He was a Nobel Peace Prize winner who glorified war and facilitated the Japanese conquest of Korea. He was a eugenicist who thought only fit people (as he, or the government, defined them) should be able to reproduce.
Most Americans don't buy Obama's class warfare rhetoric
. President Obama believes the greatest threat facing our country today is income inequality. ... According to a Gallup poll conducted just days before Obama's speech, only 46 percent of Americans believe it is important that the federal government do something to reduce the income gap between the rich and poor. ... A closer examination of the numbers shows that income inequality is little more than a perennial obsession among liberal Democrats like Obama. Just 43 percent of independents, and only 21 percent of Republicans, say the gap between the rich and poor is an important issue, whereas 72 percent of Democrats say that it is. Maybe Obama's Osawatomie speech maybe wasn't written to appeal to most Americans but rather to fire up the Democratic base for his 2012 re-election campaign.
If GOP Goes Easy on Obama, It'll Be a Fatal Mistake
. Obama's speech in Osawatomie, Kansas, was supposed to focus on the economy. But its real purpose was to continue to stoke class envy. Obama lashed out at those who "want to go back to the same policies that stacked the deck against middle-class Americans for way too many years. "
[T]heir philosophy is simple: We are better off when everybody is left to fend for themselves and play by their own rules
," he declared. ["]
We simply cannot return to this brand of 'you're on your own' economics if we're serious about rebuilding the middle class in this country
." Obama has repeatedly shown that he's the Mudslinger-in-Chief.
'Fairness' and 'Social Justice'
. In Osawatomie the President tried to conjure up progressive Teddy Roosevelt's "New Nationalism" speech of 1910, but sounded like a man speaking scoffingly and carrying a big chip on his shoulder. The speech was pocked with economic fallacies, hypocrisy, class warfare rhetoric, anti-Americanism, distorted history, and some outright lies. Leftists lauded it.
State of the Union address, January 24, 2012:
Commentary in anticipation of the SOTU address:
Obama Misreads Roosevelt In Speaking In A Rooseveltian Tone
. Now comes word from White House aides that Obama plans to don the costume once more for Tuesday's State of the Union. Expect a speech casting the upcoming campaign as a contest between the interests of the American people and the interests of powerful corporations apparently owned and operated by something other than people.
Obama to strike partisan tone in State of Union
. President Obama will invoke populist themes and attack Republican lawmakers as obstructionists on Tuesday in his most widely viewed remarks of the year, the State of the Union address. In the last year of his first term, Obama will use his third address to a joint session of Congress as a launching pad for his re-election campaign.
Obama Flunks His Own Fairness Test
. If State of the Union speech leaks are any indication, the president wants his re-election campaign to be about fairness. But why should anyone believe him, since his own policies have made America much less fair?
Oddsmakers predict Obama cliche-o-rama in State of the Union
. Wondering what cliche President Obama will use first in his State of the Union speech on Tuesday? So are the oddsmakers. ... What Will Obama say first?
We have more work to do
Health care reform
As I stand here today
Fundamental belief
God bless America
Crossroads of history
Defining moment
Make Washington work
Common purpose
Pursuit of happiness
Building a better America
Reduce the deficit
War on terror
It won't be easy
Hungry for change
Don't get me wrong
We'll have to make hard choices
No Matter the State of the Union, Reporters Love Obama's Speeches
. There's no need to spend a lot of time wondering about what the media will say after The Great One speaks, since — like a gaggle of corporate yes-men — journalists have gushed over every one of these major addresses. ... If the media were to focus on the dismal state of America under Barack Obama, their reviews might not be so adoring.
How to tune out and mentally survive Obama's State of Union Address
. [Scroll down] While countless mothers try to stretch out the evening meal of Kraft dinner and rehearse their children to rush the door to welcome their father home from another unsuccessful day of landing a job, Obama will drone on about how everything is alright. There will be jobs provided by him and only him; there will be government money to save the house and farm mortgage and food stamps for all who need them. But everything is not alright, and there is nothing Obama can say that matters because the only words that count to patriots are the ones he should take back and bury with the dog's backyard bone: "The fundamental Transformation of America".
Reactions to the SOTU address:
Obama's State Of The Union: The Hollow Man Speaks
. First off, the speech was obviously very well rehearsed down to the last vocal inflection and raised eyebrow in fact. I wouldn't be a bit surprised if there were theatrical directions emanating from TOTUS tonight. Simply amazing. Yet as he spoke, the contradictions between what was coming out of his mouth and what we've seen coming out of this White House are so radically different they underlined one of the qualities I dislike most about this president — the way he arrogantly thinks everyone's stupid except him, and thinks that the usual rule that nothing ever goes away on the internet doesn't apply where he's concerned.
Obama Misquotes Lincoln
. Leaving aside the tortured logic of describing a government takeover of health insurance, with the practical effect (and secret ultimate goal) of driving private companies out of the industry altogether, as "a reformed private market," or a top-down federally controlled public education system as containing any meaningful amount of "competition," Obama is deliberately misquoting Lincoln, in a way that completely changes the meaning of what the Great Emancipator said.
We've heard all this before.
Deja Vu At the State of the Union
. Someone at the Republican National Committee noticed that a lot of what President Obama had to say during his 2012 State of the Union address sounded awfully familiar.
State of the Union roundup from around the web
. Jarrett Stepman rounds up the best commentary about Tuesday's State of the Union Address.
The Real State of the Union
: Has Barack Obama learned nothing in three years? Last night, during his State of the Union address, he promised "a blueprint for an economy." But economies are crushed by blueprints. An economy is really nothing more than people participating in an unfathomably complex spontaneous network of exchanges aimed at improving their material circumstances. It can't even be diagrammed, much less planned. And any attempt at it will come to grief.
What Exactly is the Actual "State" of This Union?
I watched the State of the Union address and thought it was flat; in spite of polite interruptions, there wasn't any passion. Sure, President Obama tried to muster up emotion and that typical crescendo, but even for stuff he really believes in I found it wanting.
Obama Policies Failing Americans
. One didn't need to be a political insider to know that in this year's State of the Union the president would address the public's concern over scarcity of jobs and an unsteady economy. Attempts to assuage these worries included overviews of new proposals to spur growth and examples of success stories already unfolding as a result of his work. Unfortunately, the reality is quite different. This administration's policies have failed the American people. The recovery President Obama promised is not happening; and worse, he is destroying many new opportunities for job creation.
Obama plagiarizes Ford ad
. In a stunningly cynical and ironic statement, Barack Obama said: "Let's never forget: Millions of Americans who work hard and play by the rules every day deserve a Government and a financial system that do the same. It's time to apply the same rules from top to bottom: No bailouts, no handouts, and no copouts." This comes from the man who bailed out company after company, who increased by 44% the handouts of food stamps and who threw away billions in loan guarantees to his billionaire cronies. His speech was perhaps the biggest copout of the year if not the century.
Obama's SOTU Written at 8th Grade Level for Third Straight Year
. Obama's SOTU addresses have the lowest average Flesch-Kincaid score of any modern president; Obama owns three of the six lowest-scoring addresses since FDR. ... In Obama's own words: "My message is simple."
Barack Obama is still driving America towards decline
. Two words hardly mentioned in Barack Obama's 65-minute State of the Union address to Congress: freedom and liberty. President Obama's fourth and possibly last State of the Union speech was long on big government proposals, but short on the principles that have made America the world's greatest power.
All he inspires now is outrage
. Barack Obama doesn't have his mojo back. Last night's State of the Union was so pedestrian that even its most provocative sections — proposing new taxes and new witch hunts — had little rhetorical power or oomph.
Obama announces financial crimes unit
. President Obama announced a new unit devoted to major financial crimes as he offered tough words for Wall Street during his State of the Union address. The unit will be staffed by "highly trained investigators" and charged with tracking "large-scale fraud."
The Editor asks...
Isn't that what the FBI is for?
A State of Denial
. Toward the end of his State of the Union address, President Obama delivered a paragraph that was so blatantly absurd and self contradictory as to actually become clarifying — so incoherent that it shed a bright light on his thinking and his grave dilemma. It's hard to believe he actually said this, but he did.
Obama's Open Buffet
. While the nation drowns in debt and the economy continues to teeter, Obama devotes himself to the empty symbolism of the "Buffett rule." He had the Omaha billionaire's secretary placed in a seat of honor near the First Lady. Barack and Michelle are the quintessential champagne socialists, enjoying the trappings of power — the First Lady donned an ostentatious royal blue designer dress that probably cost more than several months of her prop's secretarial salary — while decrying the excesses of the rich.
Obama's proposals evasive and irresponsible
. Don't worry, America. There's nothing that ails this country that can't be made right by a catalogue of piddling proposals that will be forgotten tomorrow — and oh yeah, more taxes on the rich. Such was the message of President Obama's State of the Union address.
Haven't We Heard this Before?
The Republican National Committee has compiled this video comparing lines President Obama used tonight in his State of the Union Address with lines he used in previous addresses before Congress.
Obama pushes plans that flopped before
. President Barack Obama laid out an array of plans in his State of the Union speech as if his hands weren't so tied by political realities.
Every millionaire should pay 30% tax
. Mr Obama, in what Republicans hope will be his last State of the Union address, outlined steps he believes will bolster the embryonic economic recovery, making the case that the US government should act to reduce inequalities in wealth. But the speech was short on specifics and long on campaign-style rhetoric.
Obama Makes Populist Pitch
. If there was any doubt Mr. Obama's address was intended as a campaign speech, he made a point of including policies that appeal to many possible constituencies: Hispanics, women, anti-Wall Street groups, labor and environmentalists. Two hours before delivering the speech, he sent an email to his campaign supporters saying, "Tonight, we set the tone for the year ahead."
Obama calls for taxes, investments
. While the speech focused on the lofty goals of rewarding hard work and providing more economic opportunity for all Americans, the details of the president's plans for leveling the playing field — such as raising taxes on the wealthiest Americans, imposing stricter regulations on Wall Street and creating government mandates for health care — have deeply divided the nation during his time in office.
Obama's Big Six State of the Union Tax Myths
: In his speech, Obama repeatedly turned to the tax code to explain what's wrong with the country. It favors the rich, he said. It benefits companies that send jobs abroad. It subsidizes the dirty old oil industry. It's the cause of our deficit problem. And worst of all, plenty of people and businesses aren't paying their "fair share." None of it is true.
Obama's Hypocrisy: Making Warren Buffett Richer
. As the great investor's secretary sat with the first lady at the State of the Union, the president spoke of economic "fairness." Is it fair to make a supporter wealthier at the expense of the American people?
Obama's words in State of the Union don't match his actions
. If you're keeping score, the president made only six blatant class warfare remarks in his State of the Union speech. That's a new low for Barack Obama.
Obama's new mortgage-fraud unit met with skepticism
. President Barack Obama's State of the Union pledge to create a special unit to punish fraud in mortgage finance met with skepticism Wednesday for coming so late in his term and amid signs that his administration is close to settling with large banks accused of shoddy mortgage-lending practices.
Obama Proposes Mortgage Bailouts, Handouts, Copouts
. Inquiring minds are reading the complete text of President Obama's State of the Union Address to see what distortions, lies, and hypocrisy it contains. I found a nice Orwellian set of paragraphs smack in the middle of his speech.
Keystone Kops energy policy
. In his State of the Union speech, President Obama had barely cleared his throat when he outlined his vision for an American "future where we're in control of our own energy, and our security and prosperity aren't so tied to unstable parts of the world." Just days before, he had delivered a crippling blow to his own plan.
Obama's SOTU ratings tank 12%, worst of presidency
. President Obama's State of the Union Address was the lowest rated of his presidency, down 12 percent from last year's speech. Obama drew 37.75 million viewers last night on 14 networks and cable news channels, according to the website TVbythenumbers, which tracks television ratings.
Obama Says He's 'Protecting Our Kids From Mercury' — While Mandating It In Their Homes
. Last night, Pres. Obama reaffirmed his determination to protect our country's children from the dangers of mercury, despite his vigorous defense of a mandate that all Americans put more of it into their homes. "I will not back down from protecting our kids from mercury poisoning," Obama promised in last night's State Of The Union address.
State of Obama's Tax Assertions — ATR Fact Check
.
Obama Claim:
"Right now, companies get tax breaks for moving jobs and profits overseas. Meanwhile, companies that choose to stay in America get hit with one of the highest tax rates in the world. It makes no sense, and everyone knows it."
Reality:
Companies don't get tax breaks for moving anything overseas. Rather, they face double taxation when they try to bring foreign-earned profits back here to America. America is one of the only countries in the world which seeks to tax income coming back home from overseas.
The State of His Policies
. Normally a President at the start of his fourth year would be running on his record, accentuating the legislation he's passed. Mr. Obama can't do that with any specificity because the economic recovery has been so weak and the legislation he has passed is so unpopular. So last night he took credit for the shale gas revolution he had nothing to do with and proposed new policies to "spread the wealth around," as he famously told Joe the Plumber in 2008 before he took the words back. We thought he meant it then, and now he's admitting it.
The Deteriorating "State of the Union" Parody
. Barack Obama's latest iteration lasted for more than an hour, and could more precisely be characterized as the "state of Obama's ego."
What can the President do to make America Prosper?
The President's policies are raising energy prices, which makes consumers poorer and destroys jobs in energy-intensive industries. If President Obama is sincere when he says that 'we can't wait' to create jobs and economic growth, then he should reverse his anti-energy policies and tell the EPA to stop its regulatory onslaught against coal-fired electricity. He could start tonight by taking back his decision to block the Keystone pipeline.
Renewing War Against Coal
. President Barack Obama talked a lot about "renewable" energy during his State of the Union speech Tuesday night. But he made it crystal clear he plans to renew his administration's war against coal while forcing expensive, unrealistic non-alternatives down the throats of Americans. During his entire speech, the president never used the word "coal." Yet he criticized Congress for rejecting his "climate change" proposals — at the same time failing, on purpose, to mention he has instructed the Environmental Protection Agency to ruin the coal industry with or without lawmakers' approval.
The State of the Union flop
. Once upon a time, small ball was not Barack Obama's game. Tuesday, it was the essence of his State of the Union address. The visionary of 2008 — purveyor of hope and change, healer of the earth, tamer of the rising seas — offered an hour of little things: tax-code tweaks to encourage this or that kind of behavior (manufacturing being the flavor of the day), little watchdog agencies to round up Wall Street miscreants and Chinese DVD pirates, even a presidential demand "that all students stay in high school until they graduate or turn 18." Under penalty of what? Jail?
Obama loves oil! Not!
Without his nose growing visibly, the President claimed the government was behind the technological advances that led to the current shale gas boom, and even suggested that he might take credit for the rise in domestic oil production. In fact, Mr. Obama's administration has hampered and castigated oil companies at every turn. In the light of the hysterical grandstanding over the BP Gulf spill (whose impact proved to be greatly exaggerated), it was ironic indeed to hear the President now declare a great opening up of offshore exploration.
Only the debt ceiling will reach the moon
. An honest leader would feel he owed it to the citizenry to impress upon them one central truth — that we can't have any new programs because we've spent all the money. It's gone. The cupboard is bare.
Trade, Tires, and Jobs
. "Over a thousand Americans are working today because we stopped a surge in Chinese tires," asserted President Obama in his State of the Union Address. President Obama referred to steep tariffs that his Administration imposed on tires imported from China. Not everyone sees it that way.
Obama's Vision for a Spartan America
. What Obama is saying, quite plainly, is that America would be better off if it wasn't America any longer. He's making the case not for American exceptionalism, but Spartan exceptionalism. It's far worse than anything George W. Bush, the supposed warmonger, ever said.
Trust deficit made visible by State of the Union
. Obama tried to take credit for the current jobs and economic success of the natural gas boom: "We have a supply of natural gas that can last America nearly one hundred years, and my administration will take every possible action to safely develop this energy." The duplicity lies in the weasel word, "safely." Big Green's minions insist there's no safe way to develop fossil fuels and they comprise a lobbying and regulatory roadblock sufficient to heap mountains of delayed and rejected drilling permits on sites properly leased by oil and gas companies. They have Obama's ear — and apparently the keyboards of his speechwriters.
Obama's Misstatements on the Union
. Excessive spending is the primary threat to our nation's and Americans' financial future, yet Obama glossed over it and distorted his record. He said, "We've already agreed to more than $2 trillion in cuts and savings. But we need to do more." But everyone knows he's had to be dragged kicking and screaming to the cutting table. His unrelenting passion is spending.
Obama embraces default amnesty
. President Obama's State of the Union address — coupled with recent troubling decisions by his administration to expand a pattern of de facto amnesty for illegal immigrants — cemented the unfortunate reality that this president continues intentionally to abdicate a responsibility to advance serious immigration reform. Empty rhetoric, repetitive platitudes and continued support for the already-rejected Dream Act do not make up a comprehensive proposal to this complex policy issue.
Obama Tosses Left A Bone With Anti-Bank Witch Hunt
. President Obama has unveiled a new task force to "investigate" America's banks. But he's just pinning blame for bad economic choices on the victims of job-killing mandates, while throwing a bone to his political base.
Obama loves oil! Not!
If the President thinks he won any Greenie Points by kicking the Keystone XL pipeline down the road, he certainly lost them all — and probably then some — with his support for fracking and offshore drilling [in his State of the Union speech]. Radical environmentalists don't want to hear about energy security, objective risks, or practical safety measures: they want to close down hydrocarbons as the work of the climate devil.
These Dems spin better than Rumpelstiltskin
. How profoundly America has changed since January 2009. I was pondering this the other night during the State of the Union address. Did you know that our elite military units like the Navy SEALs are now examples of America at its absolute finest? Why, wasn't it just a few years ago that Sen. Dick Durbin was comparing these very same troops to the Khmer Rouge and Joe Stalin's Red Army?
After Billions in Federal Bailouts, Now GM Lobbying States for More?
. How much bailing out does one company need? After receiving some $50 billion in tax dollars from us courtesy of Obama's "cash stash," GM is claiming success with a "big profit" with last year's third quarter report, and in his recent State of the Union Speech, President Obama claimed that GM was "back on top as the world's number one automaker." But true or not, if all is coming up roses for GM, why is the company now lobbying the individual states for mini bailouts? That is exactly what is happening.
How I woke up to the untruths of Barack Obama
. When I happened to wake up in the middle of the night last Wednesday and caught the BBC World Service's live relay of President Obama's State of the Union address to Congress, two passages had me rubbing my eyes in disbelief.
Natural gas sector set up by Obama to be sabotaged?
President Obama spoke of the role natural gas must play in America's energy future during his State of the Union address last week, but industry insiders fear it's merely lip service designed to distract from what they consider the administration's behind-the-scenes plan to sabotage the sector.
Obama forgets his first two years in State of the Union address
. If you came away from President Obama's State of the Union address thinking nothing worth mentioning happened during his first two years in office, then you got precisely the message he intended. ... Why no mention of Obama's signature economic legislation, the $814 billion American Recovery and Reinvestment Act, aka the stimulus bill? His biggest domestic accomplishment, the $1.2 trillion Obamacare plan was noted, but only twice and almost in passing.
Obama's Love of Neo-Soviet Russia Shines Through in SOTU Address
. Russia is ruled by [Vladimir] Putin, a proud KGBer who has sought to rehabilitate Stalin; restore the national anthem of the USSR; control the content of school history texts; abolish local elections; and liquidate, often by murder or incarceration, his toughest critics. He has also radically increased Russian military spending and has launched an invasion of Georgia, a cyber-attack on Estonia, an energy war on Ukraine, and a verbal conflagration against the United States, which he most recently referred to as a nation of parasites. In his State of the Union address, Obama did not say a single word about any of this.
The people are tired and simply shut their ears during Obama's boilerplate SOTU speech.
What We Do Not Want to Hear Anymore
. The State of the Union could have been written by a computer program. ... What is it about George Bush that obsesses Obama? It is now January 2012, 40 months after the September 2008 meltdown. So let us finally quit scapegoating "they" ("In the six months before I held office..."; "In 2008...") who did such terrible things to poor us. Instead, accept the truth about both culpability and responsibility.
Rubio: Obama 'made everything worse'
. Freshman Sen. Marco Rubio (R-Fla.) panned President Obama's State of the Union speech during the weekly Republican address, saying the president largely ignored his own record because he has made the economy worse during three years in office.
The NEA's Plan: Keep Your 'Kids' Captive Longer
. Not surprisingly, given that the NEA is a key part of the Democratic Party base, President Obama endorsed a similar idea for turning us into a nation of illiterate Peter Pans in his State of the Union address, in which he advocated that all states make the legal age for leaving school to 18. Some states allow people legally to leave school at 16, which actually strikes me as the better option.
The Audacity of Deceit
. Knowing President Obama's Alinskyite proclivities, his third State of the Union address — coming as it did amidst a reelection campaign — could have been predicted to be filled with lofting, sometimes inspiring but routinely bait-and-switch rhetoric. Even so, his exploitation of the U.S. military for nakedly political purposes translates into an extreme plumbing of what might be called his audacity of deceit.
Obama to reporter: I will unite America!
[Scroll down] It was not even a week prior to his conversation with [ABC's Diane] Sawyer that Obama once again emphasized the sham "Buffet rule" in his tedious State of the Union address, the idea that the country is replete with millionaires and billionaires who pay lower tax rates than their poor, downtrodden secretaries, and that in order to bring fairness and equity to the tax code, such high-rollers shouldn't pay lower than 30 percent in taxes.
Life Is Not Fair
. During his January 24, 2012, State of the Union (SOTU) speech, Obama used the word "fair" over and over again to justify his desire for more and more government control over outcomes. "Fair" is one of those words that allows the listener to define it to his own personal taste, and the definition changes from one specific case to another. To Obama, "fairness" is not a description of the opportunities available, but rather the results that occur.
President Obama's Civilian Soldiers
. President Obama's State of the Union speech last week was about battlefield preparation. He is taking his party back to the old Progressive totem of the "moral equivalent of war." ... There's a harsh logic to this. Ever since Karl Marx, liberals have rebelled against the fat, sloppy way of voluntary cooperation that leaves no room for political power and civilian soldiers. So voluntary cooperation must go. Forget about humans as social animals. Think soldier ants. The great achievement of President Obama is to present his vision so clearly: America as a progressive ant-hill.
Obama laughs over spilled milk but fines companies for not producing fictional fuel
. During his State of the Union address last week, President Obama joked about the absurdity of an Environmental Protection Agency (EPA) regulation that could have forced dairy farmers to pay $10,000 for spilled milk. Equally absurd is the same agency fining companies $6.8 million in 2011 for failing to use a fuel that does not exist. Even more absurd is raising the fine in 2012 — but that is exactly what the EPA is doing.
All the President's Props
. [Scroll down] Warren Buffett's Secretary was played by Debbie Bosanek, who is Warren Buffett's actual secretary, and who makes between $200,000 and $500,000 per year, according to the calculations of Paul Roderick Gregory over at Forbes. ... If Gregory's deductions are correct, then Bosanek is likely a member of that charter club known as the "wealthiest 2%," a coven of blackhearted plunderers and blue-blooded aristocrats that looted the country for all it was worth in 2008. Progressives have demanded higher taxes on the wealthiest 2%, yet hailed Bosanek as an overtaxed hero. They've blamed the wealthiest 2% for all the nation's ills, but hoisted up this secretary as an emblem of justice in the class wars. Well, which is it?
Obama Delivers 'Class Warfare' SOTU
. President Barack Obama contends that government-imposed 'share-the-wealth' schemes truly represent 'American values.'
Obama's Calculated Deception
. Calculated deception as a central public manipulation strategy practiced by President Obama involves the President taking advantage of what he thinks the average person doesn't know and won't be told by a compliant media. Such calculated deception was central to last week's State of the Union Address. That address is useful only as an outline of the President's reelection strategy. ... The Obama SOTU exhibited again Obama's core "progressive" conviction that the average American is hopelessly stupid.
ANWR — Is President Obama Serious About Domestic Oil Production?
President Obama admitted in the
State of the Union
that energy production creates jobs, so why isn't he opening up new areas like the North Slope of the Arctic National Wildlife Refuge (ANWR) for oil and gas production? As we have noted numerous times, the federal government leases a mere 3 percent of federal lands for energy production. The United States is already the world's third largest oil producer, but we could produce a lot more oil if the federal government would let the American people explore for oil on more federal lands.
[Italics in original.]
Or is it state of the disunion?
The president made no fewer than 15 references to manufacturing and the importance of private sector jobs. He talked about pushing more than 500 regulatory reforms to enhance the country's business environment, and made other comments suggesting that the White House puts a priority on the private sector. But in reality this administration has been all about spending and expanding the scope and reach of government to the tune of $9.4 trillion since 2009. Under President Obama's watch, we have also added more than $4 trillion to a national debt that now exceeds $15 trillion, making the U.S. the brokest nation in world history.
Obama's Amazing Energy Spin Machine
. The bankruptcy of Ener1, a "green energy" firm that got a $118 million stimulus grant, has brought the Obama administration's commitment to sinking billions of dollars into alternative energy boondoggles back into the spotlight. Unfortunately, President Obama remains committed to continuing down this wasteful path, as his statements about energy in his recent State of the Union Address made clear. While the president spent more time on the topic than any other policy area, he distorted the facts, misrepresented his plans, and ignored his record.
The Obama Fable about Energy
. As I always say it is better to read Obama's speeches then to just listen. Obama never talked about the high price of gasoline at the pump in his last SOTU. It is way too high, and it is causing folks to have to sacrifice. But, after all, Obama said we would need to sacrifice for hope and change. The big question should have been answered by the community organizer as to why the price of oil is getting out of sight again?
An economy drowning in Obama's 'fairness'
. "If you make more than $1 million a year, you should not pay less than 30 percent in taxes," asserted President Obama in his State of the Union speech. That would effectively double the tax rate on income from capital gains from the current 15 percent rate, producing a triple negative impact on U.S. economic growth and job creation by reducing the incentive for domestic investment, increasing the incentive to move more jobs and capital overseas and reducing the amount of capital available in the private sector by way of greater transfers of income to the government.
Drill There, Build Here, Now!
. Obama has continued the crazy lefty polices of his party and refused to drill in the Arctic National Wildlife Refuge. He has curtailed drilling off the coast. And his actions have contributed to the chaos in the Mideast as even long-friendly Egypt teeters ever closer to Islamist insanity. But he capped his anti-energy term with such blatant hypocrisy that media lefties should be screaming. First, he fought GOP efforts to take action on the Keystone pipeline. Finally, when his hand was forced, he shut down plans to move tar sands energy via pipeline from Canada to Texas. He then followed that blatantly political and amazingly cynical move with a State of the Union speech claiming he believed in power to the people — mentioning the word "energy" nearly two dozen times.
As Hope Shrieks Away
. In his State of the Union address Obama actually urged us to model a failed program of the Great Depression, the Hoover Dam, as an example America can use once again. There are many good arguments to support the construction of the Hoover Dam — it's a neat engineering feat and helped open the West — but it's didn't do a thing to solve the issues of the Great Depression it was proposed to solve. Today, it wouldn't even make it past OSHA, the EPA, the State Department or the Canadian Convention and Visitors Bureau's approval processes. Thus it's a typical liberal big-government proposal that resembles our president — high on grandiosity and iconography but poor on real results.
National Prayer Breakfast, February 2, 2012:
Obama Speech at National Prayer Breakfast: Insincere Theological Farce
. Glancing down at his notes every few seconds Mr. Obama managed to get through what looked like the worst drudgery of his day at the National Prayer Breakfast. ... There was a good helping of name dropping in which Obama said various ministers dropped by or phoned him at the White House. He specifically named Joel Hunter and T. D. Jakes. A fully emotionally embellished account of his visit with the Reverend Billy Graham was also added to the obviously perfunctory address. The subtle infusion of Obama's politics and policy filled the air, and the speech, which the president could hardly disguise, was an attenuation of his usual political rhetoric.
Render unto Barry...
President Obama advertised some big endorsements for his tax-the-rich more policies and class warfare reelection strategy yesterday [2/2/2012]. In a speech at the National Prayer Breakfast ... Obama made the case that Jesus, Muhammad, Moses and Plato (?!) are all on board with him, although that may be understating the matter.
GOP lawmaker walked out on Obama's speech at National Prayer Breakfast
. Republican Rep. Phil Gingrey (Ga.) walked out of President Obama's speech at the National Prayer Breakfast on Thursday, his spokeswoman confirmed to The Hill. Jen Talaber said the five-term lawmaker "left quietly" in the middle of the president's remarks. "He was disturbed and offended by the president's use of prayer and reflection time for partisan politics and class warfare," Talaber said. "Rep. Gingrey enjoyed listening to the keynote speaker and found the breakfast to be inspiring until President Obama began politicking."
The President at the Prayer Breakfast
. President Obama, whose church attendance during the three years of his presidency has been as notable for its paucity as his visits to the golf course have been notable for their frequency, showed up — as he proudly pointed out, for the third time — at the National Prayer Breakfast to talk about the importance of his faith in his governing, politics, and policy-making. Coming from a president whose administration, from one end to the other, has worked consistently to limit religious freedom in this country, demonize Christian believers, and remove religion from the public square, the speech was a masterpiece of manipulation and demagoguery.
Is Jesus On Board with Obama?
Perhaps most interesting about the President's speech is what people are NOT saying in its aftermath. For example, President Obama's admission that his understanding of the Bible is his basis for his economic policies has not drawn any public concerns about the so-called "separation of church and state" (Barry W. Lynn — where are you?). Likewise, there seems to be no apprehension about President Obama's remarks from the ranks of religious leaders.
Marx, Jesus, or Obama — Who Are You Going To Believe?
President Obama has hit a new low. By promoting his reasoning for hiking taxes on the rich at the National Prayer Breakfast, he diminished the seriousness of his proposals and manipulated Jesus' teachings for his own political purposes. Listening to Obama talk about taxation almost as a form of worship was beyond the bounds as he said, "For me as a Christian, it also coincides with Jesus's teaching that for unto whom much is given, much shall be required." He was quoting and distorting the Gospel of Luke and the Parable of the Faithful Servant. And, as Christians, we are greatly grieved by what Obama has done.
"We have had egotistical presidents before, but never to my knowledge have we had one who saw himself as replacing God."
Obama's abuse of scripture
. Many of us who are biblical scholars have watched Mr. Obama's use, or should I say abuse, of the Bible with dismay. Who can forget when he gave a speech mocking the ceremonial law of the Old Testament then saying something to the effect of, "How can you govern by the Sermon on the Mount?" Well, he did it again at the National Prayer Breakfast on Thursday. I never understood that name since very little prayer, if any, takes place. Instead, perhaps it should be called the National Breakfast Gathering.
American Exceptionalism Under Assault
. In this election cycle, one noticeable phenomenon is how the Republican presidential candidates are emphasizing our country's founding principles — liberty and freedom — more than in any campaign in the modern political era. Each speaks often of the Declaration of Independence. Citing articles of the Constitution is commonplace. The president's record of evoking such themes stands in stark contrast. In his State of the Union address, for example, our president made only one perfunctory reference to the Constitution and then went on to misquote it.
Energy policy speech, February 23, 2012:
Obama owns these gas prices
. With the average price of a gallon of gasoline rising 40 cents just last week, President Obama attacked Republicans yesterday [2/23/2012], trying to distract voters from his own failed energy policy. "The American people aren't stupid," Obama said "You know there are no quick fixes to this problem." And Obama is right. There are no quick fixes to this problem. But Obama has been in office for three years now. There is plenty the federal government can do to lower gas prices in three years. Problem is, everything Obama has done on energy has been designed to increase Americans' pain at the pump.
'Stupid' and Oil Prices
. 'The American people aren't stupid," thundered President Obama yesterday in Miami, ridiculing Republicans who are blaming him for rising gasoline prices. Let's hope he's right, because not even Forrest Gump could believe the logic of what Mr. Obama is trying to sell. To wit, that a) gasoline prices are beyond his control, but b) to the extent oil and gas production is rising in America, his energy policies deserve all the credit, and c) higher prices are one more reason to raise taxes on oil and gas drillers while handing even more subsidies to his friends in green energy.
The Five Biggest Whoppers In Obama's Energy Speech
. The White House billed President Obama's energy policy speech as a response to mounting criticism of record high gas prices. What he delivered was a grab bag of excuses and outright falsehoods.
Gasoline Prices and Dollar Prices
. Surging gasoline prices are back in the news, and President Obama shows his concern for Americans by doing what he does best. He gave a speech. Happy now?
Gassy Rhetoric: DNC chair blamed Republicans for high gas prices in 2005
. Obama told students in Miami on Thursday that there is "no silver bullet" when it comes to lowering gas prices. The White House press secretary told reporters this week there are no "magic solutions." But Democrats haven't always been so consistent in their message. In fact, one prominent Democrat argued in 2005 that President Bush and Republicans were directly to blame for high gas prices.
The Soylent Green Energy Initiative
. Anguished that people are actually holding him accountable for the results of his policies, President Obama — master of the moratorium, enemy of oil pipelines — fled to the University of Miami to assure everyone that he really wants an "all of the above" strategy. Much like "jobs created or saved," this is a lazy rhetorical device designed to allow Obama's dwindling band of die-hard supporters to pretend he's actually devising some sort of complex technocratic solution to America's energy needs.
New Chart Shows White House Plan for Higher Gas Prices & Fewer Jobs
. In yesterday's speech defending his failed energy policies — under which gas prices have nearly doubled and are rising faster than ever — President Obama called for the kind of "all of the above" energy strategy long-championed by Republicans. But far from supporting "all of the above," the Obama administration has spent more than three years blocking efforts to expand energy production and bring down gas prices, while pushing job-crushing tax hikes and taxpayer-backed loans to companies like Solyndra.
Miracle of the algae
. If Americans aren't sold on electric cars as the solution to our energy problems, I'm pretty sure that they won't fall for pond scum (algae). Yet this is part of what President Obama had on offer this past Thursday when he spoke at the University of Miami.
Deconstructing Barack Obama's Blatant Energy Lies
. I didn't get to hear President Obama's energy speech in Miami today, but I do know this much. He deflected blame. He passed the buck. He blamed Bush. He lied. And he demonized Republicans for begging Democrats to unleash America's vast treasure trove of energy.
Obama's Claim of Increasing Domestic Drilling Not Accurate, Say Energy Analysts
. President Barack Obama does not deserve credit for increased domestic energy production, according to non-partisan energy observers, as well as critics. President Obama spoke to a crowd in Miami on Thursday about rising gas prices. Today, the national average for one gallon of unleaded gasoline is $3.57, which is 18 cents higher than a month ago, according to AAA. In Florida, where he spoke, the average price per gallon is $3.68. The speech comes less than a month after Obama rejected the Keystone XL oil pipeline, which would have run from Canada through the midwest to the Gulf of Mexico.
President Blameless
. As expected, President Obama strode purposefully to the lectern at the University of Miami late last week and, solemnly surveying the crowd, took responsibility for skyrocketing gasoline prices that threaten our struggling recovery. Of course, that is not quite the way it went down. Shortly before the Florida speech, the Hill newspaper reported that the president was planning to "move aggressively this week to deflect blame for rising gas prices." Mr. Obama deflecting blame? You don't say. This must be the most blame-deflecting White House in our nation's history.
United Auto Workers, February 28, 2012
Auto bailout helped Obama's friends, at taxpayers' expense
. To chants of "Four more years! Four more years!", President Obama gave an impassioned defense of his auto bailout Wednesday [2/29/2012]. In front of a raucous crowd at the United Auto Workers conference in Washington, D.C., Obama said, "It wasn't popular. And it wasn't what I ran for president to do. ... But now, three years later, that bet is paying off." Obama got one thing right in that statement: Spending billions of tax dollars bailing out the auto companies rendered uncompetitive by the UAW and federal regulatory burdens wasn't popular. And it still isn't.
Obama to UAW: 'Trying to Climb to the Very Top' Is 'Greed,' Not What America's 'About'
. President Obama — in a speech to the United Auto Workers union — said that "trying to climb to the very top" was not what America is "about," saying that it was "greed" and that in reality "we're all in it together." "America's not just looking out for yourself, it's not just about greed, it's not just about trying to climb to the very top and keep everybody else down," Obama said at the UAW's annual National Community Action Program Legislative Conference in Washington, D.C.
The Editor says...
Obama climbed "to the very top", didn't he?
Obama's Union Speech a 'Load of You-Know-What'
. Speaking before the United Auto Workers union in Washington, Obama, champion of the working man, challenged auto bailout "naysayers" to "come around" and admit that "standing by American workers was the right thing to do," as bailouts "saved" the auto industry. (You have to wonder whether downtrodden citizens appreciate just how close they came to having to roller-skate to work.) "They're out there talking about you like you're some special interest that needs to be beaten down," Obama told cheering union members. And those who claim that bailouts were just a labor payback are simply peddling a "load of you-know-what." I do know what, Mr. President.
Obama gambles with our money:
Obama in speech to UAW convention: 'I placed my bet on the American worker'
. President Barack Obama delivered a rousing, combative speech Tuesday [2/28/2012] to UAW members, chastising his would-be Republican rivals for opposing a government intervention he said helped save the American auto industry and promising to battle on to protect the rights of workers.
Obama Slams Romney In Auto Worker Speech on Michigan Primary Day
. President Obama took two swipes at Republican presidential candidate Mitt Romney in front of auto workers in Washington on Tuesday -- on the same day that Romney is fighting for a crucial win in his home state of Michigan. In front of the friendly union crowd, Obama took a more campaign-style approach to his remarks, with a casual delivery and often booming statements in the microphone that pumped up the auto workers. Audience members often interjected his speech with cries of support and chants of "four more years, four more years!"
The Editor says...
Wow. It is amazing that the auto workers want another four years like the last four. Or maybe the union bosses told them to cheer, and they were just following orders.
The Shameless Obama Campaign
. The timing of Obama's speech to the UAW could not have been accidental. As the president was delivering his broadside against his political adversaries and rallying labor's shock troops, Republicans held primaries in Michigan and Arizona. Again and again, the president has demonstrated an eagerness to interfere with the GOP's moments in the spotlight.
Live Not By Obama's Lies
. [Scroll down] His February 2012 speech to the United Auto Workers convention had all the trappings of a 1930s labor rally. The president played the role of Agate in this impromptu production of "Waiting for Lefty," whipping-up the workers in an impassioned polemic that reminded the union of who handed them Chrysler and who, like Romney, thought normal bankruptcy laws should apply even when the political interests of the Democratic Party are at stake.
AIPAC, March 4, 2012
Fisking Obama's AIPAC Speech
. President Obama delivered a speech to the American Israel Public Affairs Committee on Sunday [3/4/2012]. ... Barack Obama's reception was lukewarm when he walked on stage — and for good reason, given the treatment he has meted out to Israel since assuming the presidency. I thought it would be interesting to do a so-called Fisking of his speech to illustrate its inaccuracies. Fisking is named after the British "journalist" Robert Fisk who has been notorious for passing off his biases and errors as facts.
Obama's AIPAC speech: what he didn't say
. A nuclear-armed Iran, he declared, could funnel nuclear weapons to terrorist groups and trigger a nuclear arms race in the world's most volatile region. All well said. And yet, Obama's speech still left one wondering about his far-from-smooth relations with Israeli Prime Minister Netanyahu. If the U.S. and Israel are on the same strategic path in countering Iran, as Obama claims, why did he fail to say anything nice about Netanyahu?
Obama at AIPAC — Truth in Advertising?
His previous actions and words speak louder than this week's salesmanship.
Press conference, March 6, 2012
Fact Check: President Obama's News Conference
. Fact Check 5 — U.S. Gas production has risen and imports are down. Yes, but thanks to Obama's predecessor.
A few words from President Civility
. President Obama held his first press conference in five months yesterday [3/6/2012], in a bid to grab some media attention away from the Republican primaries on Super Tuesday. After retailing more of the wonderful Obamanomic ideas that have somehow failed to lift America out of grinding unemployment, soaring gas prices, and general economic malaise, he settled down to some questions, and of course the subject of the dust-up between radio host Rush Limbaugh and leftist agitator Sandra Fluke was broached. The most divisive President in history was as nasty and manipulative as ever.
5 questions for Obama
. President Barack Obama's first full news conference in four months has nothing, nothing whatsoever, to do with upstaging the GOP on Super Tuesday, to hear White House officials tell it. Of course, nobody outside the four walls of the West Wing really buys that...
Prince George's Community College, March 15, 2012
Who's Obama sneering at?
Delivering his big speech on energy at Prince George's Community College, he insisted the American economy will be going gangbusters again just as soon as we start running it on algae and windmills.
Obama errs on Rutherford B. Hayes phone slam
. President Barack Obama slammed former President Rutherford B. Hayes, a Republican, on Thursday [3/15/2012] when excoriating his critics for dismissing alternative energy sources. He compared them to President [H]ayes, who he wrongly believed dismissed the invention of the telephone.
Obama in Full Crisis-Control Mode on Gas Prices
. President Obama is in full crisis-control mode as gasoline prices continue to rise. On Thursday [3/15/2012] at in Largo, Md., he gave his third speech on energy in two weeks, reiterating the same points he has tried to hammer home to voters since his State of the Union address.
Obama Flubs U.S. History — Again
. Barack Obama shares with his fellow Americans one of their most dubious national traits: a nonchalant disregard for historical accuracy.
Obama smears Rutherford B. Hayes
. Apparently, President Obama is so full of hate for the Republican Party that he even hates dead Republican presidents. Today he smeared Rutherford B. Hayes in a classic lefty manner — by putting words in his mouth and then slamming him for "saying" them.
These Gas Prices Are Obama's Gas Prices
. Barack Obama has spent his presidency finding scapegoats and fleeing responsibility. For example, our massive deficit is not his fault. Rather, it's George W. Bush's fault. Our painfully high unemployment isn't his fault either. Rather, it's due to the fact that "the economy is so automated." He's even tried to assure us that we can't blame him for the sharp rise in gasoline prices we've seen under his watch either. Rather, he boasts that he's expanded domestic oil production to its highest point in the last eight years.
Stop the demagoguery on oil and gas, Mr. President
. That was quite a performance Thursday [3/15/2012] at Prince George's Community College when President Obama spoke on energy issues. He repeated so many Big Green energy myths that even the most obsessive environmentalists must surely have been exhilarated. One of those myths deserves particular attention because it is at the core of Obama's "clean energy" agenda for America's future. As he so frequently does, Obama repeated the misleading assertion that America has only 2 percent of the world's proven oil reserves but uses 20 percent of all the oil consumed every year.
More Energy Lies From Obama
. Barack Obama gave a speech on energy and gas prices to an audience of college students today, at Prince George's Community College. He chose his audience carefully; the kids knew nothing about energy, and received him enthusiastically. But anyone even slightly knowledgeable about energy policy would have recognized Obama's speech for what it was: one misrepresentation after another.
Hayes quip a 'cheap shot,' says kin
. Count Stephen A. Hayes among those perplexed by President Barack Obama's knock on a late-19th century White House predecessor. Stephen Hayes, great-great grandson of Rutherford B. Hayes, took immediate notice Thursday [3/15/2012] when Obama, in a Maryland speech promoting clean energy, scoffed at what he called early skepticism about the telephone from Hayes, who was president from 1877-1881.
Obama's Energy Stance Taxes the Brain
. President Barack Obama said in a campaign speech Thursday that the reason you are paying a lot more at the gas pump is due not to supply or demand issues, or geopolitics, but because of tax breaks. ... [Oil companies] paid $1 trillion in sales and excise taxes out of their revenues between 1981 and 2008, a total that exceeded their after-tax profits by 40%, according to data from the International Energy and the Energy Information Administration. That doesn't count federal or state income taxes.
Krauthammer: Obama energy speech 'a double technical'
. In a speech on Thursday in Maryland, President Barack Obama claimed former President Rutherford B. Hayes wasn't particularly good at his job because he was supposedly dismissive of the telephone and its technological potential. Obama was making a case for his administration's push for renewable energy investments. But his jab at Hayes was historically unfounded.
Obama's whopper about Rutherford B. Hayes and the telephone
. In a speech on energy Thursday, the president took aim at the "cynics and naysayers" who dismiss potential new sources of energy, such as wind and solar. Leave aside the canard about most Europeans believing the earth was flat before Columbus — that's an elementary-school tale with little basis in fact. What about President Hayes? Was he really so dismissive about the invention of the telephone?
The president flunks history — again
. For a guy touted as an "intellectual," President Obama does get a lot of history wrong. In a speech attacking Republicans as "flat-earthers" Obama asserted: "One of my predecessors, Rutherford B. Hayes, reportedly said about the telephone, 'It's a great invention, but who would ever want to use one?' That's why he's not on Mount Rushmore because he's looking backwards. He's not looking forwards. He's explaining why we can't do something, instead of why we can do something." The [Washington] Post's Glenn Kessler easily nails him with four Pinocchios for his slur on Hayes.
Poking around the propaganda factory
. [Scroll down] In order to refute the charges of Newt Gingrich and others in the Republican Party that the president is responsible for high gas prices, the president made the following claim: "Do not tell me that we're not drilling. We're drilling all over this country. There are a few spots we're not drilling. We're not drilling in the National Mall. We're not drilling at your house. I guess we could try to have, like, 200 oil rigs in the middle of the Chesapeake Bay." So now, according to the president, if you are for more drilling for oil — if you are for lower prices at the gasoline pump — you should vote for President Obama. Except he knows, and you know, and everyone else knows that it isn't true.
Bagram Airbase, Kabul, Afghanistan, May 1, 2012
Obama Campaigns in Afghanistan
. Today, President Obama essentially declared victory in Afghanistan. Just in time for his re-election campaign, of course. First, he blamed President Bush for us not winning the Afghanistan war sooner. [...] Then he claimed credit for President Bush's goals...
Obama's midnight dash to Kabul shows that he dare not visit the place in daylight
. After the signing, there was just time for Mr Obama to duck into hangar and make a rousing address to the poor troops who must daily wonder which direction enemy fire is coming from, before making an address to the nation. This was, of course, another perfect excuse for the President to remind everyone of his heroic decisions in the Situation Room a year ago. Mr Obama tried to make a virtue out of absurdity, referring to a "new light" breaking on the horizon for Afghanistan, even as he gestured to the "pre-dawn darkness" in which he was speaking, but even Mr Obama oratorical skills couldn't disguise the tail-between-the-legs 'optics' of the event. It was terrible.
Obama's Afghan trip: 14,000 miles for brief remarks lacking one crucial word
. Here's what Obama got politically from this stagecraft: Bonus public attention focused on the Osama bin Laden assassination anniversary. Photos of troops clamoring for his fist bumps. An entire day focused on him, his words and non-stop talk of the 10-year war winding down. An entire news day, one of only 189 precious ones left before Nov. 6, not focused on Solyndras, prostitution scandals, GSA parties, $5 trillion in new national debt, no federal budget for three years running, high unemployment, sluggish growth, legal crucifixions nor Mitt Romney.
Obama: 'I traveled to Afghanistan to thank our troops'
. President Obama's weekly remarks, as provided by the White House[: "]This week, I traveled to Afghanistan — to thank our troops serving far from home, and to sign an historic agreement that will help us complete our mission and end the war.["]
The Editor says...
He should have said, "This week, I traveled to Afghanistan at your expense, to get myself on television for another few minutes and make a campaign speech using American soldiers as background props."
American Narcissus, Ctd.
. President Obama gave a shout-out to President Obama during a surprise visit to Afghanistan on Tuesday [5/1/2012]. Speaking to American troops gathered at Bagram Air Base, the president called out the names of several military units "in the house" — who cheered upon hearing their name — before adding: "And we've got me in the house."
Obama's Afghan trip: 14,000 miles for brief remarks lacking one crucial word
. As usual with this president, Obama's trip to and speech from Afghanistan had way more to do with politics than any real substance. Seven thousand miles, one way, is a long journey to share war remarks with countrymen that he should have and could have shared back home many months ago. Despite the administration's best backgrounding sales efforts, the document he signed with Afghan President Hamid Karzai is a meaningless basic agreement to talk later about forging a real agreement.
Generalissimo Obama
. One of President Obama's most annoying habits is his tendency to mistake the 300 million people of the United States for soldiers in an army charged with national reconstruction. He, of course, is the general. [...] And on Tuesday [5/1/2012], in the televised address at the close of his targeted Afghan night raid, Obama challenged his audience to "summon that same sense of common purpose" one finds in "our soldiers, our sailors, our airmen, Marines, Coast Guardsmen, and civilians in Afghanistan," and "redouble our efforts to build a nation worthy of their sacrifice."
Obama, liberal imperialist
. President Obama has put America on the disastrous path toward another Vietnam. This is the real meaning of his recent trip to Afghanistan. On Tuesday [5/1/2012], Mr. Obama delivered a nationally televised address from Kabul. The speech was filled with symbolism. The president spoke on the one-year anniversary of the killing of Osama bin Laden. [...] The speech was a cheap publicity stunt — political theater masquerading as statesmanship. Mr. Obama was not there to mark America's victory in Afghanistan or to boost the morale of our soldiers. Rather, his message was aimed at the electorate back home.
Obama Gives Himself Shout-Out At Bagram Airbase
. Speaking to troops at Bagram Airbase, Obama began doing his usual campaign routine of giving shout-outs to various members of the audience. He gives shout-outs to two task forces — "We've got Task Force Paladin in the house!" The soldiers cheer loudly. He continues, "We've got Task Force Defender in the house!" The soldiers give a rowdy "Hooah!" Then, impressed with his own bravery for being at the Airbase, Obama says, "And we've got me in the house." Halfhearted applause follows. Awkward!
Obama's hollow triumph
. Barack Obama's message during his surprise visit to Kabul was unequivocal: America's involvement in the war in Afghanistan is coming to an end, and her soldiers will soon be going home. Mr Obama is launching his re-election campaign this weekend, and is eager to remind Americans that he is the president who brought the troops back.
Barnard College, May 14, 2012
Barack Obama, the first female president
. Obama was still early in his address when he acknowledged that his praise for the young generation of women is "a cheap applause line when you're giving a commencement at Barnard." But Obama was being modest. He didn't deliver a cheap applause line. He delivered an entire speech full of them. His reelection campaign has been working for months to exploit the considerable gender gap, which puts him far ahead of likely GOP rival Mitt Romney among women. But Monday's activities veered into pandering, as Obama brazenly flaunted his feminine mystique.
Press conference, June 8, 2012
'Uhhh,' the president's 'uhhh' press conference was 'uhhh' terrible
. If you are president of the United States and you don't have anything to say, don't have a press conference to say it. If you're the president of the United States and by Thursday it's widely believed you've had one of the worst weeks of your presidency, take Friday off, and specifically avoid having a press conference.
Obama's Most Clueless Moment Yet?
President Obama's seemingly-bizarre claim that "the private sector is doing fine" is echoing across the country. When I first saw the quote, I thought it must be a momentary gaffe, or perhaps taken out of context. But no: Obama really did say, at some length, that the private sector is prospering and we need to spend more money on government.
'The private sector's doing fine': Obama's astonishing claim
. President Barack Obama, defending his economic record after unemployment rose to 8.2 percent last month, has told Americans that 'the private sector is doing just fine'. Speaking at a White House press conference, Obama sought to blame troubles in the European economy, the legacy of President George W. Bush and inaction by Congress for poor economic numbers in the United States.
Mission Accomplished
. President Obama called a press conference this morning [6/8/2012] to deliver an important announcement: "The private sector is doing fine." Seriously, he said that. Then he said, "The big challenge we have in our economy right now is state and local government hiring has been going in the wrong direction" — meaning it hasn't been growing fast enough.
Obama: "The Private Sector Is Doing Fine"
. Question: What about the Republicans saying that you're blaming the Europeans for the failures of your own policies? President Obama: The truth of the matter is that, as I said, we created 4.3 million jobs over the last 27 months, over 800,000 just this year alone. The private sector is doing fine. Where we're seeing weaknesses in our economy have to do with state and local government. ..."
Sen. McConnell On Obama: "He Must Be On Another Planet"
. Senator Mitch McConnell (R-KY) responds to President Obama's address made Friday morning in which he urged Congress to take action on jobs and said the private sector was "doing fine."
Obama Backtracks: "It's Absolutely Clear The Economy Is Not Doing Fine"
. "It's absolutely clear the economy is not doing fine," President Obama said at the White House shortly after declaring "the private sector is doing fine" at a press conference Friday morning.
Romney: Obama 'doing fine' comment will 'go down in history' as 'extraordinary miscalculation'
. Mitt Romney blasted President Obama for comments during a press conference Friday in which the president suggested the private sector was "doing fine." "He said the private sector is doing fine. Is he really that out of touch?" Romney said at an event in Council Bluffs, Iowa. "I think he's defining what it means to be out of touch with the American people."
President Obama's 'fine' mess
. President Barack Obama said the "private sector is doing fine" at a morning press conference Friday, as part of an answer to a question about whether he was blaming Europeans for "the failures of your own policies." Mitt Romney immediately pounced on the opening Obama gave him. "Is he really that out of touch?" Romney said while stumping in Iowa.
Clueless appeal to aid gov't workers
. A startlingly listless President Obama appeared in the White House press room yesterday morning, spoke some dull preliminaries about the European financial crisis — and then slipped and tumbled headfirst into re-election quicksand from which he will find it very difficult to extricate himself.
NYT Denies It Received White House Leaks Despite Evidence to Contrary
. "The notion that my White House would purposely release classified national security information is offensive," President Barack Obama said at a press conference Friday [6/8/2012] in reference to two
New York Times
stories.
No Obama agenda
. It is becoming painfully apparent that the president has no message and no agenda. Excuses for the persistent economic slump, which President Obama delivered in his news conference on Friday, are not an agenda. The unintended message is: I can't get anything done.
It's the public sector that's 'doing fine'
. "It's very clear that private sector jobs are doing just fine." Sound familiar? These words are not President Obama's. They were spoken six months ago by Senate Majority Leader Harry Reid. While pushing a Democratic proposal to spend another $35 billion we don't have to help states hire more public workers, Reid declared: "It's very clear that private-sector jobs have been doing just fine; it's the public-sector jobs where we've lost huge numbers." At last week's news conference, Obama simply repeated the point Reid made last October.
Obama's pregnant 'denials'
. President Obama is offended by accusations that the White House authorized leaks of highly classified national security information detailed in
Confront and Conceal
, a new book by David Sanger of The New York Times. Obama hasn't denied that leaks occurred. "The notion that my White House would purposely release classified national security information is offensive. It's wrong," he said during Friday's press conference. Media usually call it a "non-denial denial."
Obama's new economic adviser, Wile E. Coyote
. One of the immutable rules of politics is that if you have to explain something you've said publicly, the argument is already lost.
Obama Private Sector Stumble Shifts Debate Back to Stimulus
. It has been said that President Obama on Friday "walked back" a statement earlier in the day that "the private sector is doing fine." But in truth, the president doubled down, explaining again his argument that the only real problem that the private sector really has is the decline in government hiring as federal stimulus funds have dried up.
Another Fine Mess Obama's Gotten Us Into
. "Tone deaf" fails to describe President Obama's statement at Friday's press conference that "the private sector is doing fine," when median income is down 10% in three years, family net worth has plunged 39%, 23 million Americans are out of work and the official unemployment rate tops 8% for the 40th month in a row, the longest sustained period at that level since the Great Depression. Mitt Romney's charge that the president is "out of touch" might be more accurate, but we would prefer "clueless."
While Obama campaigns, the private sector is not doing fine and the middle class is shrinking
. Quite how aware the Prez is of the scale of America's economic problems is unclear. On Friday he made a big gaffe when he said, "The private sector is doing fine. Where we're seeing weaknesses in our economy have to do with state and local government." That's an astonishing statement, implying that the issue isn't the health of the market but the miserliness of the GOP.
Cleveland, Ohio, June 14, 2012
Our Plagiarizing President
. John Podhoretz notes — as have others, including the Obama-worshipping Jonathan Alter over at MSNBC — how boring Barack Obama's speech was yesterday in Ohio. Not only was it long-winded but it just recycled the same rhetoric Obama has been using for the past few years. Literally recycling — using the exact same phrases from previous speeches.
Running on empty
. OK, presidents repeat themselves; it's no crime. But they tend to repeat themselves when they're trying to advance a specific argument, piece of legislation, or cause — and they tend to repeat their strongest and most potent points in an effort to win that argument. That's not what happened yesterday. Instead, Obama dug back into his bag of tricks and brought out a bunch of unsuccessful arguments — ones that failed to generate support when he first advanced them and failed to move the policy needle in his direction.
Krauthammer On Obama's Speech: Anybody Who Believes Him Is "Hopelessly Oversold"
. "This isn't, this isn't a vision, this is a rehash," Charles Krauthammer said about President Obama's address on the economy today. "There is absolutely nothing new here and look, his own staff admitted that days ago saying 'this a way to frame the debate again.' Well to frame the debate means there is nothing the frame. The picture is empty, it's the same one he has been saying. It's small ball and the reason is the big answers that he thought he had in 2009, he has tried."
Joe Klein Pans Obama Speech On MSNBC: 'Failed Profoundly To Explain What He's Done'
. Time's Joe Klein added his voice tonight to people who support the President but weren't exactly sure about his speech on the economy today. Appearing with Lawrence O'Donnell on tonight's Last Word, Klein said he thought the speech "works well with the base" but that the base wouldn't be enough to win the election, and the President had generally "failed profoundly in his ability to explain what he's done."
Obama: "This Election Is About Our Economic Future"
. Speaking in Cleveland, Ohio, President Obama says "this election presents a choice between two fundamentally different visions of how to create strong, sustained growth; how to pay down our long-term debt; and most of all, how to generate good, middle-class jobs."
Obama's 'Reboot' Speech Is Just a Summer Rerun
. What a letdown for those pinning hopes on President Obama's "major" campaign speech Thursday. Nothing but recycled lines, cliches, dreary policy details and a campaign message that didn't sell before.
Obama's Pity Party
. Obama's overly long, repetitive, and by turns self-pitying and self-congratulatory address was so soaked through with nostalgia that MSNBC should have broadcast it in sepia tones. The speech — which even the liberal Obama biographer Jonathan Alter called one of the president's "least successful" political communications — revealed an incumbent desperately trying to replay the 2008 election. But no oratory will make up for a flawed record and a vague, fissiparous, and unappealing agenda.
Obama Speech 'Widely Panned' By Political Press Corps
. President Obama has no greater fan base than the mainstream media. They gleefully carried his water through Bill Ayers, the BP oil spill, and Fast & Furious. But because they have no more soul to sell, the one thing the media can't do is make the economy better for him.
Obama's Big Economy Speech: No Hope, No Change
. President Obama's campaign speech on the economy today was an utter disaster for him. It was a bromide of tired old arguments, pathetic blame-placing, and shopworn con tricks. And even liberals like Jonathan Alter had to admit that it was, overall, a dramatic failure. He began where he always does: with blame.
MSNBC left-leaning pundits turn on Obama after economic speech
. At the very end of MSNBC's "NewsNation" hosted by Tamron Hall, immediately after President Barack Obama had wrapped up his much-ballyhooed economic speech from Cleveland on Thursday, MSNBC's liberal-leaning pundits appeared to be less-than impressed. According to Bloomberg columnist Jonathan Alter, formerly of Newsweek, the speech was too long-winded to be effective.
Why Obama's Speech Today Was a Fail
. Neither Mitt Romney nor President Obama said anything particularly new today. Both delivered standard stump speeches — Romney without a teleprompter, the president with, as both candidates customarily do. Even MSNBC had to admit that the president's speech wasn't much to write online about. He spent 54 minutes saying things he has said a zillion times before.
Five Reasons Why Romney is the Favorite
. [#3] Intellectual exhaustion: The Obama campaign is out of ideas. On the economy, Obama has used virtually everything in his progressive toolkit. Nothing has worked. And so the president, unable to defend his record in the first term, is left with no compelling vision to offer in a second term. Witness his speech in Ohio yesterday. It was billed as a "major" address on the economy. But it was widely panned even on the left for being empty and uninteresting. The president himself cannot articulate why his agenda in a second term would be more effective than what he's done in his first term. He's running on empty.
Obama Economic Speech One Insult Too Many For Media
. It's true there were some reporters continuing to play the lapdog after Obama's economic speech at a Cleveland community college on Thursday, like the Washington Post's description that it "at times had the ring of a State of the Union address" and was "the most vigorous defense of his presidency to date ..." But the complaints of disappointment and being lied to in the aftermath of perhaps the worst speech of his presidency make the ever-worsening month of June even worse for the president. To lose Newsweek's Jonathan Alter, of all people, speaks volumes.
It's the public sector "doing fine"
. After recently letting it slip that he believes the private sector in the United States is "doing fine," many looked to President Barack Obama's economic speech Thursday in Cleveland, Ohio, as a potential defining moment of his reelection effort and, perhaps, as an opportunity to negate some of the backlash resulting from his "doing fine" remark. Yet, in a swing state as important as Ohio and at a critical juncture in his campaign, President Obama failed to break new ground or outline an agenda for economic growth. Instead he offered up the same tired approach that he has employed throughout his presidency: more government spending.
Priebus: Obama Just Loves the Sound of His Own Voice
. President Barack Obama makes the same speech over and over again because he just likes to hear himself speak, Republican National Committee Chairman Reince Priebus told Newsmax.TV on Friday [6/15/2012]. "He's in love with the sound of his own voice; he's in love with the man in the mirror," charged Priebus, citing what was supposed to be a major policy speech that the president gave in Cleveland on Thursday.
Obama's Perverse Plan for Permanent Recession
. President Obama told the nation in his June 14 economic policy address in Cleveland that his economic policy plans for a second term would "create strong sustained growth;... pay down our long term debt; and most of all... generate good, middle-class jobs... ." He then spent almost an hour describing policies that would do just the opposite.
Immigration amnesty announcement, June 15, 2012
Obama Jobs Program: Help Illegals Compete with Americans for Scarce Jobs
. Today, the Obama Administration, in an obvious attempt to boost the President's flailing reelection campaign, announced that it would bypass Congress and rewrite the nation's immigration laws.
Obama ignores questions about controversial de-facto amnesty decision
. President Barack Obama declined to take any questions from reporters about his controversial and significant decision to offer a de-facto amnesty to at least 800,000 foreigners aged 15 to 30. The president turned and walked away from reporters at the end of an early afternoon address in the White House's Rose Garden, even though two reporters called out questions about his decision.
Hecklers are Rude, But Obama Doesn't Often Take Questions
. President Obama told a heckler that he wants his press corps to ask him questions after he's done speaking — and when he was done speaking, he walked away without taking any questions. "Excuse me, sir," Obama said as a reporter from the right-leaning Daily Caller website interrupted him. "It's not time for questions, sir. Not while I'm speaking." Shortly after, Obama told the reporter, "the next time, I prefer you let me finish my statements before you ask that question." The rest of the press corps waited, as Obama asked. When he was done, the reporters shouted their questions. Obama turned his back, and walked inside the White House.
The Editor says...
Barack H. Obama is a coward who is afraid to answer unanticipated questions, probably because he realizes now that most news reporters are smarter than he is. The teleprompter would be no help in such a situation, and without that crutch, Obama is a stammering doofus.
Another Feckless Attempt to Change the Conversation
. So, what to do when your Keynesian-cuckoo economic policies are running the country into the ground? Change the subject, certain in the knowledge that our lapdog media will more than accommodate you. And so it is that the Obama administration has announced that it will once again bypass Congress, and stop deporting illegal aliens who come to America at a young age. Make no mistake: this is classic sleight-of-hand, designed to get the country roiled up about something — make that anything — that will obscure the monumental failure best labeled Obamanomics.
Obama interrupted by heckling reporter
. In a surprising breach of etiquette, President Barack Obama's Rose Garden remarks on Friday were interrupted by heckling from reporter Neil Munro of the website Daily Caller, whose editor-in-chief is conservative commentator Tucker Carlson. Obama, announcing a change of policy that would allow the children of illegal immigrants to avoid deportation if they meet certain criteria, was interrupted mid-speech by Munro. "Why'd you favor foreigners over Americans?" Munro shouted. "Excuse me, sir, but it's not time for questions," Obama responded. "Are you going to take questions?" Munro asked. "Not while I'm speaking." Obama said.
The Editor says...
The President is giving away the rights of citizenship — if not citizenship itself — to illegal aliens, and Politico is worried about a breach of etiquette. Is etiquette really important to the press? When somebody threw a shoe at President Bush, the reporters had a hearty laugh over it. Suppose the President calls the press to the White House and announces that he has declared himself
Emperor Obama the First
and will stay in office for the rest of his life. Are the reporters supposed to stand there and take notes without raising any objections or questions,
knowing from past experience
that the President is about to turn his royal back to them and saunter back into the White House?
Do You Recognize Barack Obama in These Texts?
The narcissist perceives every disagreement — let alone criticism — coming from people whom he does not consider to be his "peers" (e.g., the media) as nothing short of a threat. He reacts defensively. He becomes indignant, aggressive and cold. He detaches emotionally for fear of yet another (narcissistic) injury. He devalues the person who made the disparaging remark. By holding the critic in contempt, by diminishing the stature of the discordant conversant — the narcissist minimises the impact of the disagreement or criticism on himself. This is a defence mechanism known as cognitive dissonance.
Rep. Steve King to sue Obama administration over new immigration policy
. Iowa Republican Rep. Steve King said Friday that he plans to sue the Obama administration to halt implementation of its newly announced selective illegal immigration law enforcement policy. He told Mike Huckabee on the former Arkansas governor's radio program Friday that he successfully sued his own state's governor — and won — over a similar separation-of-powers issue. "I will tell you that — I'm not without experience on this — I'm prepared to bring a suit and seek a court order to stop implementation of this policy," King said.
Rep. King 'launching immediate review' into Obama admin ending deportation of under-30 illegals
. House Homeland Security Committee Chairman Rep. Peter King told The Daily Caller he's going to be looking into the Obama administration's newly announced plans to selectively enforce illegal immigration law. "The Administration is overstepping its authority by weakening immigration laws without Congressional approval," King said in an email. "I am very concerned about efforts to administratively implement amnesty for countless illegal aliens under the age of 30. It is vital that US borders are secure prior to any consideration of amnesty proposals."
Lindsey Graham: Obama Immigration Move 'Possibly Illegal'
. Senator Lindsey Graham (R-S.C.) took to Twitter Friday to attack President Obama's move to grant effective amnesty to young illegal immigrants: He was among the first lawmakers to react to the surprise announcement. "President Obama's attempt to go around Congress and the American people is at best unwise and possibly illegal," he tweeted. Graham, a former Air Force prosecutor, said the move, "regardless of motivation, will entice people to break our laws."
Obama grants legal status to young illegal immigrants
. The Obama administration said Friday it will stop deporting most illegal immigrant students and young adults in a campaign-year move that escalates the immigration debate to the fore. For years the administration had said it didn't have the authority to make such a move, saying it couldn't decide to stop deporting wide categories of people on its own without approval from Congress. But on Friday President Obama says administration now interprets the law to give it the discretion.
Mr. President: U.S. Latinos Respect the Constitution, Too
. President Obama can rewrite U.S. immigration policy all by himself. Who knew? The Obama administration will stop deporting — and begin giving work permits — to younger illegal immigrants who entered the U.S. as children and have since led law-abiding lives. The administration's policy will affect as many as 800,000 immigrants: they will avoid deportation and be eligible for work permits if they arrived in the U.S. before age 16, are younger than 30, and have been in the country for at least five continuous years. This president has continually lied to people with my skin color and surname.
Obama's Public Sector Full Employment Plan
. Last week, President Obama said "the private sector is doing fine." This was not reassuring to those of us who suspect the Democrats haven't the first idea what "private sector" means.
Cummings: Racism 'has something to do with' Obama interruption
. On Martin Bashir's Friday MSNBC program, Maryland Democratic Rep. Elijah Cummings said that President Barack Obama and Attorney General Eric Holder have received an "alarming" amount of disrespect, possibly because of their race. According to Cummings, the so-called disrespect included an incident involving The Daily Caller's Neil Munro in the White House Rose Garden on Friday [6/15/2012] and coverage of Holder's handling of the Operation Fast and Furious gun-walking scandal.
Statements from The Daily Caller regarding exchange in White House Rose Garden
. Tucker Carlson, Editor-in-Chief: "I don't remember Diane Sawyer scolding her colleague Sam Donaldson for heckling President Reagan. And she shouldn't have. A reporter's job is to ask questions and get answers. Our job is to find out what the federal government is up to. Politicians often don't want to tell us. A good reporter gets the story. We're proud of Neil Munro."
Obama ignores questions about controversial de-facto amnesty decision
. President Barack Obama declined to take any questions from reporters about his controversial and significant decision to offer a de-facto amnesty to at least 800,000 foreigners aged 15 to 30. The president turned and walked away from reporters at the end of an early afternoon address in the White House's Rose Garden, even though two reporters called out questions about his decision.
Nobody ever interrupts a black man when he's speaking, except maybe a racist.
MSNBC's Touré: Obama Being Interrupted 'Cannot Be Disconnected From the Fact That He's Black"
. NewsBusters reported moments ago that MSNBC contributor Julian Epstein strongly suggested President Obama being interrupted during a press conference in the White House Rose Garden Friday was because he was African-American.
More about Barack H. Obama's attempt to portray himself as
the victim of racism
.
Only Voters Can Hold Obama Accountable for Illegal Amnesty Policy
. President Obama's new amnesty policy regarding illegal aliens violates the law. But there's probably no route to trump it either in Congress or in court, so the only recourse is for the American people to trump it by electing a new president.
Obama's immigration amnesty: is it motivated by humanity, economics or crude politics?
The Obama administration has announced that it's granting what effectively amounts to amnesty to 800,000 children of illegal immigrants. Secretary of Homeland Security, Janet Napolitano, says this is about reducing expenditure on "low priority" cases so as to beef up enforcement elsewhere. You have to hand it to Obama: this is bold, radical, liberal stuff. It's the kind of thing you could imagine a hypothetical President Ted Kennedy doing on a wet afternoon when he's run out of other ways to offend Middle America.
Obama's move on immigration is an unconstitutional disaster for the unemployed
. President Obama thwarted the will of Congress and shunned the 20 million under- and unemployed Americans by announcing he will grant work permits to 2 million to 3 million illegal workers. This unconstitutional fiat ignores the rule of law and bypasses Congress, which on three occasions rejected DREAM Act amnesties in part to protect unemployed workers born here or who came here legally. We have a long tradition of election-year pandering by sitting presidents, but it is hard to recall when a president has proposed a measure so destructive to the most vulnerable of our society.
Rep. Steve King to sue Obama admin over amnesty order
. Rep Steve King, Iowa Republican, and Vice Chairman of the House Immigration Subcommittee, said he plans to sue the Obama Administration over its decision to halt deportations of young illegal immigrants. On Friday's Mike Huckabee's radio show he discussed the matter.
Granting new 'rights' out of thin air
. Whatever the merits or demerits of the Obama immigration policy, his executive order is good only as long as he remains president, which may be only a matter of months after this year's election. People cannot plan their lives on the basis of laws that can suddenly appear, and then suddenly disappear, in less than a year. To come forward today and claim the protection of the Obama executive order is to declare publicly and officially that your parents entered the country illegally. How that may be viewed by some later administration is anybody's guess.
Dobbs defends TheDC's Munro: 'What's rude is the president not speaking to the American people'
. According to [Lou] Dobbs, [Neil] Munro did the right thing because the president ultimately took no questions following his statement about his new immigration policy. "Well I think it's as funny as can be for this reason — Neil Munro of The Daily Caller, the gentleman asking the question, the White House would argue he was not being a gentleman, the president responding it's not time for questions," Dobbs said. "Well, the fact is after he made his statement, the president took no questions." In fact, Dobbs said Obama had been the rude one.
Illegal Amnesty
. Though apparently a little fuzzy on the subject of judicial review, President Barack Obama is supposed to be a constitutional scholar of some sort. On the subject of his decision yesterday to unilaterally enact sweeping changes to U.S. immigration policy on nothing but his own say-so, we would like to introduce Barack Obama to Barack Obama, who during a Univision interview just last year affirmed: "America is a nation of laws, which means I, as the president, am obligated to enforce the law. ... There are enough laws on the books by Congress that are very clear in terms of how we have to enforce our immigration system that for me to simply through executive order ignore those congressional mandates would not conform with my appropriate role as president." A little softness in the polls and one executive order later, the president has reversed himself.
Now What?
Everything Obama does in his first term has always been meant to serve two purposes. The first is to soften up and undermine the nation's basic institutions, including the Constitution itself; the second is to get himself reelected. He tested the waters earlier with his "recess" appointments and now, with the imposition of a form of the DREAM act, is openly mocking the Congress.
Are We in Revolutionary Times?
Legally, President Obama has reiterated the principle that he can pick and choose which U.S. laws he wishes to enforce (see his decision to reverse the order of the Chrysler creditors, his decision not to enforce the Defense of Marriage Act, and his administration's contempt for national-security confidentiality and Senate and House subpoenas to the attorney general). If one individual can decide to exempt nearly a million residents from the law — when he most certainly could not get the law amended or repealed through proper legislative or judicial action — then what can he not do?
Obama's Naked Pandering To Illegals
. In his most brazen act of pandering to date, President Obama has dangled de facto amnesty to 800,000 illegal immigrants in a shameless bid to win Latino votes. This is pure banana-republic electoral politics.
Executive Overreach
. President Obama's claim that he can refuse to deport 800,000 aliens here in the country illegally illustrates the unprecedented stretching of the Constitution and the rule of law. [...] President Obama cannot refuse to carry out a congressional statute simply because he thinks it advances the wrong policy. To do so violates the very core of his constitutional duties.
If We Took the Constitution Seriously, Obama Would Be Impeached
. If the citizens of this Republic still took the Constitution seriously, Obama would be impeached for his decision to unilaterally grant amnesty to certain illegal aliens. Article 1, Sec. 8 of the Constitution, which enumerates the power of Congress, states that "Congress shall have the Power To... establish an [sic] uniform Rule of Naturalization." Congress has passed numerous laws pertaining to immigration and naturalization, including laws requiring the deportation of illegals. The role of the President, according to Article II, Sec. 3, is to "take Care that the Laws be faithfully executed." Obama's refusal to execute Congress's immigration laws (or, for that matter, Congress's Defense of Marriage Act) is an impeachable offense.
On immigration, Obama wanted to bypass Congress
. With his announcement that he will, in effect, unilaterally enact a key feature of long-debated immigration reform, President Obama is doing something he has always wished to do: Get around a Congress that doesn't see the issue his way.
Associated Press, 1987: 'Why Do Grown Men And Women Shout At President Reagan?'
You'd think from the reaction to Daily Caller White House Correspondent Neal Munro's shouted question during President Obama's announcement of de facto amnesty for 30-and-under illegal aliens at the Rose Garden yesterday that it's the first time any reporter has ever shouted a question at a U.S. president out of turn.
I, Barack Obama
. We learned two things today: President Obama can apparently nullify laws he dislikes and he doesn't much care for questions from mortals, especially the uppity journalists at the Daily Caller. First off, how un-cool are those reporters? They would have never been allowed into the Choom Gang. And how un-intellectual? They didn't even edit the Harvard Law Review like a younger Mr. Obama did. It's a pretty easy job too. He showed you don't even have to write a single piece to be the editor. Only suckers do that.
An imperial presidency, on steroids
. A desperate and angry president can't even handle a boorish reporter without visible pique? Whatever happened to the maxim that the essence of good taste is never to be offended by bad taste?
You don't interrupt the president
. So goes the media narrative in the wake of the media hysteria surrounding the
Daily Caller
's Neil Munro and his so-called "heckling" of President Obama. Yeah, right. This is bunk. A pluperfect illustration of a double-standard, as was illustrated in this space yesterday with a video clip of the White House press corps not only interrupting then-President Ronald Reagan as he read a statement but then shouting and shrieking at him as he left the room. But is there more than meets the eye in this dust-up over Mr. Munro? [...] Someone needs to say
this
: There is a culture of corruption in the media world that is the White House press corps.
The Daily Caller's Tucker Carlson: 'The point is Neil Munro wants his questions answered'
. On the Fox News Channel's "Hannity" on Monday night during "The Great American Panel" segment, The Daily Caller's editor-in-chief Tucker Carlson offered an on-camera explanation for the events that transpired on Friday at the Rose Garden involving TheDC's White House correspondent Neil Munro. According to Carlson, Munro was being aggressive only to get answers from the administration.
The maddening details of Obama's DREAM Decree are becoming clearer
. As [a recent] CIS report notes, 1) The decree doesn't just apply to illegal immigrants who were "brought to this country by their parents." It also would give work permits to those who snuck across the border by themselves as teenagers. "Through no fault of their own" is a talking point for DREAM proselytizers, not an actual legal requirement. 2) The same goes for the phrase "and know only this country as home." That's a highly imaginative riff on the decree's actual requirement, which is for 5 years "continuous residence." It turns out "continuous residence" doesn't mean what you think it means.
"He is giving away things that are not his to give."
Prince of Handouts
. Quite a lot has been said about what Obama's instant amnesty scheme means in the purely procedural sense — that it's illegal and unconstitutional on its face, all of which is undeniable. What we haven't heard discussed is what it's actually for. It's being taken for granted that it's of a piece with general Democratic corruption at the voting booth — ACORN, Black Panthers swinging nightsticks, phantom voters, Eric Holder defending the voting rights of the deceased, and so forth. But in fact, it's much more straightforward than that. Obama's amnesty ukase is simply Chicago writ large.
Mark Levin goes nuclear in defense of TheDC's Neil Munro
. On his Tuesday [6/19/2012] show, returning from a brief hiatus, conservative talker Mark Levin, author of "Ameritopia: The Unmaking of America," gave an emotional, and a at times angry, defense of The Daily Caller's Neil Munro. Munro was criticized and maligned by a number of public figures after his ill-timed question of President Barack Obama during a Rose Garden speech on Friday. Levin started out with criticism of the Republican response, which he called "pathetic-to-tepid" and chalked up to fear.
Obamarule and the killing of the Constitution of the United States
. If last Friday's dictatorial action by President Obama is allowed to stand, historians may someday look back on June 15, 2012 as the day the Constitution died. [...] In declaring that his administration will not deport those who came to this country illegally at a young age, President Obama has suspended the law for approximately 800,000 young people. In truth, no one knows how many people will be covered by Obamarule. Will more come into the United States while the regulations are being written? Which bureaucrat decided in secret it covered 800,000 people and what was their analysis based on? Why people 16 and under? Why not 15? Why not 17? Why was serving less than one year in jail okay? Why not zero jail time? Why not 18 months?
It's the Cloward-Piven Strategy!
Obama's election-year immigration move could create logistical nightmare
. President Barack Obama's new de facto amnesty for young illegals will create a logistical nightmare when it is implemented, according to a chorus of legislators and policy analysts. The new program, initiated by the Department of Homeland Security (DHS) and announced by President Obama, will bring nearly one million new people into the offices of the U.S. Citizenship and Immigration Services (USCIS).
Obama Using Hispanics As Patsies
. Isn't President Obama a clever one? He ordered a change in policy via executive edict that could allow as many as 800,000 immigrants who came to the United States illegally not only to remain in the country without fear of being deported, but to work legally. Now why would he do that after boasting that his deportation record of illegals was the strongest ever?
ABC Reporter Engaged to Obama Press Sec. Sets Romney Up
. Last Friday, Barack Obama violated his oath of office by proudly announcing he would no longer enforce the law and deport somewhere around a million Mexican illegals. This act was nothing more than a power grab/political stunt and the result was cheers from the President's Media Palace Guards. Boxed in, or so the corrupt media thought, all eyes turned to presumptive GOP nominee Mitt Romney, who wisely chose not to play.
Obama's amnesty-by-fiat: Naked lawlessness
. "
With respect to the notion that I can just suspend deportations [of immigrants brought here illegally as children] through executive order, that's just not the case, because there are laws on the books that Congress has passed
." — President Obama, March 28, 2011. Those laws remain on the books. They have not changed. Yet Obama last week suspended these very deportations — granting infinitely renewable "deferred action" with attendant work permits — thereby unilaterally rewriting the law. And doing precisely what he himself admits he is barred from doing.
Roanoke, Virginia, July 15, 2012
The "you didn't build that" speech.
"You didn't build that?!"
Once again Barack Obama has demonstrated that he doesn't have a clue about how America works. [...] Obama claims that anyone in the US who runs a successful business has not achieved that success on his or her own volition, but instead has to thank the government for making that success possible.
Obama Insults Small Business Owners
. President Obama insulted small business owners during a campaign stop in Roanoke, Va. on Saturday [7/14/2012]. "If you've got a business — you didn't build that," Obama told the crowd. "Somebody else made that happen." President Obama said successful Americans did not become successful on their own — they had help. "If you've been successful, you didn't get there on your own," he said. "You didn't get there on your own."
"You didn't build that?!"
Once again Barack Obama has demonstrated that he doesn't have a clue about how America works. [...] Obama claims that anyone in the US who runs a successful business has not achieved that success on his or her own volition, but instead has to thank the government for making that success possible.
President Obama — Public Employee #1
. President Obama gave a speech last weekend that was so utterly out of touch with American values, so clueless as to how things work in this country, that I have to add a few footnotes to his performance.
Obama's Socialist Mantra: Risk Takers Are Free Riders
. The unbridled disdain President Obama has for the entrepreneurs who work hard and risk everything was made plain when he told supporters in Roanoke, Va.: "If you've got a business — you didn't build that. Somebody else made that happen." This was stunning news and a colossal slap in the face to the millions of small-business owners who get up every day and by the sweat of their brow and the drive of their ambition still pursue the American dream in spite of the obstacles and hurdles this administration has put in front of them.
Barack Obama says government invented the internet and the American Dream is a fantasy
. Of course, capitalism is a team sport. But the idea that an individual's merit is the product or property of the community is the antithesis of the pioneer spirit. On Sunday [7/15/2012], President Obama gave us a fascinating insight into his alternative philosophy. In a speech to supporters, he said that business leaders owed the government more money in taxes because it was the state that made their success possible.
The Ultimate Takedown of Obama's 'You Didn't Build That' Speech
. President Obama's instantly infamous "You didn't build that" speech is a major turning point of the 2012 election not because it was a gaffe but because it was an accurate and concise summary of core progressive fiscal dogma. It was also a political blunder of epic proportions because in his speech Obama unintentionally proved the conservatives' case for limited government.
Obama Certainly Built His Own First Term
. What a head fake: Just when you think Obama's going to genuflect to the Founding Fathers for creating a system of government that allows free markets to thrive, he insists that your small business was made possible by
government spending
. This quote perfectly bookends Obama's entire first term. Think about it: Anything good that happens is thanks to the government's "bold actions." The stimulus, the auto bailouts, and most importantly, the Affordable Care Act, are examples of Obama's one and only solution to a broken economy: expanding government without limit.
Carolla sounds off on Obama's 'ridiculous' class warfare speech
. Last week in Roanoke, Va., President Barack Obama gave a speech eerily similar to one given by Democratic Massachusetts senatorial candidate Elizabeth Warren, which suggested many successful people didn't get to where they are on their own, but with society's help, specifically government.
Obama against the Self-Made Man
. If Bartlett's ever puts together a collection of insultingly deflating quotations, it should include President Barack Obama's take on business success before a crowd in Virginia the other day: "If you've been successful, you didn't get there on your own." Obama was explaining — as is his wont — why the rich should pay more taxes.
The Biggest Mistake of Campaign 2012
...is not Mitt Romney's handling of Bain Capital, or anything Mitt Romney has done. The biggest mistake was the one made by Barack Obama on Friday, when what you might call his now-familiar "Declaration of Interdependence" went completely off the rails.
Media Shields Obama from... Small Business Owners
. Yesterday, I showed you how Slate's Dave Weigel and NBC's Peter Alexander worked together to journOlist away the Romney campaign's compelling and troubling evidence that the Obama White House has used billions in taxpayer dollars to pay off campaign supporters. Today, I'm going to show you how the media is protecting Barack Obama from paying a political price, not only for these alleged payoffs, but also for Obama's off-teleprompter statement in which he said, "If you got a business, you didn't build that — somebody else made that happen."
Hey Obama: We Built That Stuff Too!
First, let me say how thrilled I am that you went off-teleprompter last week. This "If you've got a business, you didn't build that. Somebody else made that happen" thing was just wonderful. Now I know how Chris Matthews felt. Oh ... I know. Your handlers weren't all that thrilled with your amazing screw-up, and, frankly, they have been worried this day was coming for a long time. They know how you feel about the private sector. [...] They had hoped to keep your true feelings in check with those teleprompters ... but nooooooooo ... you just had to improvise, didn't you?
The left's confused "you didn't build that" defense
. You can tell President Obama's defenders believe Mitt Romney's new attack on Obama's "If you've got a business, you didn't build that" comment is an existential threat to his campaign by the sheer volume of pixels devoted to the topic. Problem is, they just can't quite agree on how to defend him.
Context doesn't improve Obama's comments on building businesses
. Mitt Romney's success in going after Barack Obama's recent declaration that, "If you've got a business, you didn't build that. Somebody else made that happen" has prompted liberal bloggers to charge that Obama's comments were taken wildly out of context. But even if viewed in their full context, Obama's comments downplay the accomplishments of successful small business owners and diminish their contributions to government.
Krauthammer: "You Didn't Build It Should Be Hung Around Obama Until End Of His Presidency"
. Charles Krauthammer: ["]I think Obama has made the gaffe of the year when he said if you created a business, you didn't build it. That phrase, 'you didn't build it' should be hung around Obama until the end of his presidency. I read the totality of the statement and it's worse if you read it all. [...] "
The deeper importance of the "you didn't build that" debate
. There are multiple ways to discuss President Obama's "you didn't build that" comments. One discussion centers on whether Mitt Romney is fairly representing Obama's words, which is related to, but not quite the same as, a debate about what Obama meant. Then there's a deeper philosophical debate about liberal and conservative views about the proper role of government.
The Marxist Heart of Darkness
. Those who doubted Obama's immersion in Marxism now have a perfect window into his soul — namely, in the form of the stunning class warfare remarks he recently made in Roanoke, Virginia. We must grasp, however, what Marxism is and what it is not. Marxism is not a political philosophy to help the poor at the expense of the rich, and it is not a design for a utopian future. Marxism is simply a Heart of Darkness, a Siamese twin of Nazism, a curse on all humanity committed to three themes: (1) hatred, (2) misery, and (3) lying.
CNN Four Days Late to Obama's Infamous 'You Didn't Build That' Remark
. Four days after President Obama insulted job creators by asserting "If you've got a business, you didn't build that; somebody else made that happen," CNN finally reported the controversial remarks, and only once the Romney campaign featured them in a campaign attack. In contrast, when Romney surrogate John Sununu said on Tuesday morning [7/17/2012] that he wished "this President would learn how to be an American," it only took CNN a few hours to jump on the remarks.
You Didn't Sweat, He Did
. "If you've got a business, you didn't build that." If the World's Greatest Orator turns out to be a one-term president, it is likely to go down as the most memorable utterance of his career. Mitt Romney certainly hopes that happens.
'You Didn't Build That!' ... Oh Yeah?
One of the many great things about Paul Johnson's magisterial A History of the American People is that he begins that history in the Sixteenth Century. There was an identifiable, culturally distinguishable American People long before there was a Revolutionary War, a Constitution, or a central government. The American People, by their industry and ingenuity, didn't just build successful businesses... they built the most successful nation in history — and all, somehow, without HUD, Fannie, Freddie, the EPA, OSHA...
Obama camp denies POTUS said 'if you've got a business, you didn't build that'
. President Obama's campaign managed to deny that he said "if you've got a business, you didn't build that" in a campaign video that replayed a clip of the president saying that at a campaign stop in Virginia on Saturday [7/14/2012]. "That's not what he said," the video declares in response to Mitt Romney quoting the president's remarks. To contradict Romney, the Obama campaign replays this line: "If you were successful, somebody along the line gave you some help; there was a great teacher somewhere in your life."
It's Not Fair!
President Obama is right. There is a lot of unfairness in America. And he is the source of much of it. [...] Barack Obama has ditched the "hope and change" slogan of his 2008 campaign and is now peddling "fairness" as his mantra. He promises he will make life "fair" for Americans.
The Truth Behind President Obama's Attack on Success
. [Scroll down] Yes, the President was wrong, [...] but he was also boring. What he said is what progressives have said for more than a century. It wasn't true in Soviet Russia, in Nazi Germany, in fascist Italy, in poor and oppressed Cuba, or in starving and shivering North Korea. It has not been true anywhere nor at any time. Free markets bring innovation, health, and prosperity for any who will work hard enough to get it. Collectivism brings stultification, sickness, and desperate want for everyone.
Obama of Roanoke: We Saw You Coming
. Now that Brit Hume, perhaps the best network anchor of our time, is on record that it's fair to say that we know more (after the Roanoke speech) than we ever have about the President's view of business and the economy," the real Obama is finally starting to be recognized in the truly mass media. While Mr. Hume and many others have been reticent, Obama of Roanoke has been out there for all to see for years quite frankly. What might be "fair to say" is that Obama let slip in a momentous way what many of us knew all along about him.
The Vagabond at the Intersection: The Consequences of Pooled Burden
. [Scroll down] By the President's logic, it is not only our economic endeavors which are not ours alone. To arrive at my property, I must travel roads paid for by the masses. The innovation I may wish to patent came forth from an intellect cultivated by the public education system. Perhaps, instead of whining about the President's declaration, we should look back on the atrocities we've permitted over the last 80 years and acknowledge the unfortunate accuracy of his point. By tempting us all with the convenience of a pooled burden, our government has slowly and methodically eroded our sense of individualism and invaded our duty of self-responsibility.
The Ultimate Takedown of Obama's 'You Didn't Build That' Speech
. President Obama's instantly infamous "You didn't build that" speech is a major turning point of the 2012 election not because it was a gaffe but because it was an accurate and concise summary of core progressive fiscal dogma. It was also a political blunder of epic proportions because in his speech Obama unintentionally proved the conservatives' case for limited government. This essay will show you how.
Give Us This Day Our Daily Debt
. In his words: if you have any money at all, "you didn't get there on your own." You owe it somebody else. The roads you drive upon, the wealth that you enjoy. But is the same true of President Obama's ideas? Did he think them on his own? Or were they were provided by a whole lot of other people?
The Roanoke Shuffle: Obama and the Racial Gratitude Racket
. President Obama's Roanoke speech was not really an insult to businessmen. No, in fact, it was far worse: it was a threat. Worse still, it was a threat rooted in a long and ugly racial history in the United States.
Will the real Barack Obama please stand up?
President Obama's "you didn't build that" speech now stands poised to become a defining issue of the 2012 campaign.
Obama is divider in chief
. I must be having a nightmare, because what I hear the president say in his campaign speeches is scary stuff. When he went off the teleprompter in Roanoke and made the ridiculous claim about successful businesspeople not having done it on their own I thought I was listening to a Third World dictator speaking. The problem is, that is what he truly believes, and that should be enough for thinking people to absolutely tune this guy out and turn him out of office. His real philosophy came through as he did not have Mr. Teleprompter turned on to help him deliver his speech.
Democrats prosper when America doesn't.
Obama's "You Didn't Build That" Was No Gaffe
. [Scroll down] So why did Barack Obama say what he said? Understand one thing above all else: despite all the analysis from both sides,
it was no mistake
. Barack Obama meant every word of it, and more importantly, he meant every word of it in the context of
trying to get himself re-elected
. Thus, there is only one logical conclusion: Mr. Obama believes that
more than half
the electorate is now on board with his promise to fundamentally transform this nation from the greatest wealth-producing engine in the world, to a government-centric society where bureaucrats pick winners and losers.
Media Declares Use of 'You Didn't Build That' Racist
. Obama's Media Palace Guards know that when the full context is played of Obama's revealing "you didn't build that" quote, it's absolutely devastating for Obama because the full context of those comments show the President openly ridiculing America's small business owners. So what's a panicked media to do? Well, at first the corrupt media lied about Obama being taken out of context. But that's a desperate lie and everyone knows it, which means the Romney campaign was comfortable to keep on keeping on with its use of the President's comments.
Obama Throws Himself and Liz Warren Under the Bus
. The "You didn't build that!" line resonated most quickly because it's the clearest rebuke to business starters and builders in the speech. "Somebody else made that happen" gives the credit to whoever invested in the roads and other infrastructure, which, in America's progressive tax system, are the very same successful people Obama is rebuking. It's debatable whether the "that" refers to roads and bridges or to the businesses themselves, but the fact remains that the entire passage of the speech is an unmistakable slap at business creators. Context does not help him one bit. The context fully explains Obama's innate anti-business mindset.
Obama Built The Trouble He's In
. For a campaign that claims not to be worried about the fallout from President Obama's "you didn't build that" bomb, they sure are spending a lot of time and money hopelessly trying to do damage control on it.
You Didn't Build It... because I Didn't Earn It
. It isn't socialism that explains Obama's dismissive "you didn't build that" remark toward people of talent and individual initiative; it's the culture of affirmative action. As I listened to Obama's silly, if not pathetic, comments, I was reminded of nothing so much as the comments and attitudes of people like him: the so-called "multicultural" affirmative-action students one encounters in colleges and universities. These are people who, like Obama, earned little except a greased skid because of the color of their skin. [...] Obama knows he didn't have what it took to get into Columbia, and he didn't have what it took to get into Harvard Law. Let's face an inescapable reality. If Obama had great grades, his transcripts would be in a full-page ad in the
New York Times
.
Refuting Obama: The Story of Henry Ford
. Everyone is by now familiar with President Obama's famous collectivist speech in Roanoke, Virginia. Governor Romney promptly reacted to these statist sentiments, saying, "The idea that Steve Jobs didn't build Apple, that Henry Ford didn't build Ford Motor, that Ray Kroc didn't build McDonald's, is not just foolishness; it is insulting to every entrepreneur, every innovator in America. And it's wrong." Truly, in addition to their efforts, entrepreneurs did get help, but it was from private — not government — investors and employees, who in turn were rewarded with pay, promotions, and dividends.
Sorry Obama, Government Didn't Build That
. President Obama whines that he didn't mean what Mitt Romney says he did when he uttered, "You didn't build that." But even if you take Obama at his word, he's hopelessly and terribly wrong.
When push-back falls flat
. In response to Obama's push-back, Team Romney sent out the entire clip of Obama's remarks, notably unmanipulated or trimmed and a list of business owners quoted in local press taking umbrage at the president's remarks. The beauty of the gaffe for Romney's camp is the entire passage is offensive, even without "you didn't build that."
Liberal Columnist: These Devastating 'You Didn't Build That' Attacks Sure Are Racist
. Like the rising of the sun in the east and its setting in the west, one can always count on some element of the Left to resort to the 'R-word' to shield President Obama from the consequences of his own words and actions. Today, the inevitable officially occurred.
Four Little Words
. What's the difference between a calm and cool Barack Obama, and a rattled and worried Barack Obama? Four words, it turns out. "You didn't build that" is swelling to such heights that it has the president somewhere unprecedented: on defense. Mr. Obama has felt compelled — for the first time in this campaign — to cut an ad in which he directly responds to the criticisms of his now-infamous speech, complaining his opponents took his words "out of context."
Obama can't hide his contempt for small business
. President Obama's belated defense of his infamous "you didn't build that" comment has turned Clintonesque: it depends on what the meaning of the word "that" is. But it doesn't, really. Regardless of whether Obama said that entrepreneurs didn't build their own businesses, or whether he said they didn't build the roads and bridges to which the president presumably thinks they owe their success, he has once again taken a revealing and gratuitous swipe at small business owners.
It's the Bureaucrats, Stupid
. Once the very foundational nature of this insidiousness is understood, everything else falls into place. Perhaps even in the minds of the precious moderates and independents. It's the bureaucrats, stupid! Vote Obama in 2012, and you have cast your ballot for more rules and more paperwork and more bureaucrats to answer to should you dare to try to carve out your little piece of the pie without government help. Vote against Obama, and you are at least saying "no" to the Roanoke vision. Yes, bureaucrats, bureaucracies, red tape, endless and mindless regulations are the real cancer that is sapping the freedom from not only our economy, but also our very lives.
Obama's Entrepreneurial Communist Manifesto
. Obama's statements shouldn't come as any surprise, as he has declared emphatically from early in his presidency that "only government" is our savior, and he has supported his socialistic platform through multiple company and corporate bailouts. To Obama, government is your business partner; government is your savior; government is your hero; government is the economic caped crusader who swoops down like the Dark Knight to save your soul, sales and pocketbook.
A "You didn't build that" convention?
Could Democrats really be this tone deaf? For nearly two weeks, Team Obama has been reeling from his "you didn't build that" comment — to the extent that Barack Obama himself had to cut a personal response ad to stanch the bleeding, so far to no avail.
'You Didn't Build That' and the Darkness of Collective Punishment
. As Obama's "you didn't build that" quote is probed and analyzed, note that the idea of redistributing other people's achievements is only the tip of an ideological iceberg. Lest we take Obama's words out of context and be accused of "swift-quoting," let's review the full passage.
The most famous words of Obama's presidency
. President Obama's comment — "You didn't build that" — is the political gift that keeps on giving. They are now the most famous words he has said in his presidency. And oh, how he wishes they weren't.
The Key to Obama's Personality Can Be Found in "You didn't build that" Words
. Small business owners, who are the backbone of America, know that the fateful words spoken by Obama on Friday, July 13th best describe Obama without his mask. They are words that show more than any others what Obama and the Democrats are all about.
The Obama Ad Blitz Isn't Working
. Despite President Obama's effort to walk back these remarks, the damage they've caused to him remains. And that's because what he said in Roanoke, Va., on July 13 came across as a true expression of his worldview. The president's vivid words did not come out of nowhere.
Lost: The Plain Meaning of Words
. Remember the days when you didn't need an interpreter to understand what a president of the United States was saying? But that was ages ago, that is, before this year's endless presidential campaign began. Now the country has a president who has to keep explaining, or rather not explaining, what he said about American businessmen not creating their own businesses. That's his story and he's sticking to it, despite the plain meaning of words.
Obama's "You Didn't Build That" Debunked in Two Pictures
.
The case against reelection
. There are two ways to run against Barack Obama: stewardship or ideology. You can run against his record or you can run against his ideas. The stewardship case is pretty straightforward: the worst recovery in U.S. history, 42 consecutive months of 8-plus percent unemployment, declining economic growth — all achieved at a price of an additional $5 trillion of accumulated debt. The ideological case is also simple. Just play in toto (and therefore in context) Obama's Roanoke riff telling small-business owners: "You didn't build that."
You didn't build that: Obama says wealthy are 'lucky,' 'blessed,' 'fortunate'
. One month to the day after his infamous 'you didn't build that' speech, President Obama's description of wealthy people did not include "smart" or "hardworking," as he instead ascribed their success to good luck.
Derisive mockery is well deserved and entirely appropriate in this case.
Thank you, road
. My president is smart. He has read many books about work. He has consulted academic experts. He is as bright as the sun that shines on this idle road-crew. Their neon-orange vests, stained by sandwiches from Subway, reflect his undimmed brilliance. He sees what we cannot, beyond our own meager inventiveness and effort. He understands, as lesser beings don't, that we are part of a greater whole, a community that has enabled good fortune to come to me, though it is I who will lose everything if the business tanks.
The negative campaign is Obama's only weapon
. "You didn't build that" has become the defining line of campaign 2012, and it appears to have generated panic among the leaders of Team Obama.
"You Didn't Do That on Your Own": A Line as Old as the Dark Angel
. The President's infamous Roanoke speech was in fact standard socialist rhetoric devoid of spontaneity and soaked in a diseased collectivist vision.
Socialism and the Meaning of Investment by Government
. Many, including me, have identified the socialist premises in President Obama's remarks on July 13 in Roanoke, VA. But are Obama's actual policies as socialist as his socialist rhetoric? The answer is yes, but there has also been plenty of socialism in the policies of Obama's predecessors. Obama has merely accelerated our civilization-ending march toward a predominantly socialist system. [...] Even Obama and others in his Administration, in moments of candor, acknowledge that their policies entail income redistribution.
Barack Obama: The welfare king
. Consider the pernicious nature of Mr. Obama's deeply rooted hostility toward individual achievement: "If you've got a business, you didn't build that. Somebody else made that happen." A rationale for confiscatory taxes? Certainly, but it's so much worse. Mr. Obama's notion that government, rather than people, creates prosperity is not only an insult to every hardworking American, it is the subversion of the individual.
"You Didn't Build That" Isn't Going Away
. The official theme of the GOP convention Wednesday night [8/29/2012] was "We Can Change That," but that didn't stop several of the speakers from revisiting Tuesday's theme, the base-rallying battle cry: "We Built It." The message: The righteous exploitation of President Obama's "You Didn't Build That" gaffe isn't going away.
The Philosophy Behind the Policies of Obama and the Left
. Referring to their enterprises, Obama informed the country's entrepreneurs that "you didn't build that." The President didn't misspeak, as he now claims. Rather, he expressed a concept that is logically inseparable from the massive redistributive schemes that he favors and for which his intellectual counterparts like [John] Rawls have intelligently — even if wrongly — argued for a long time.
Why Obama is a third world president
. Just when the furor over the socialist sentiments in President Obama's "you didn't build that" speech seemed to subside, Paul Ryan has charismatically and cogently revived the issue in his newly-minted VP candidacy, thus rightfully keeping the issue alive as we approach the election. But even Ryan, as articulate as he is, is omitting the underlying point. And that point is that not only does Obama have socialist thoughts — but he is also a Third World thinker.
The 25 Most Obnoxious Quotes From Barack Obama
. [#4] "If you were successful, somebody along the line gave you some help. There was a great teacher somewhere in your life. Somebody helped to create this unbelievable American system that we have that allowed you to thrive. Somebody invested in roads and bridges. If you've got a business — you didn't build that. Somebody else made that happen."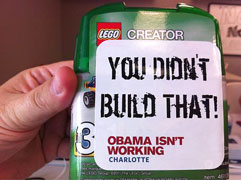 You didn't build that!
Republicans hand out Legos at the Democrats' national convention.
Obama, supporters lying to us
. Let's go back to "you didn't build your business, someone else did" — immediately the spin doctors began the narrative that President Obama was talking about infrastructure. Go listen to the full unedited video and it is painfully clear he was not talking about roads and bridges because he used the terminology that "someone else did."
Don't Even Think of Building That. It was a gaffe on the order of bitter clingers, and this time in full public view: "If you've got a business — you didn't build that," President Obama said at a July 13, 2012, campaign rally in Roanoke, Va. "Somebody else made that happen." The president's defenders and sycophants rushed to rationalize it away.
National Urban League convention, Wednesday, July 25
Never let a crisis go to waste.
President Obama calls for more thorough background checks when purchasing firearms
. President Obama called for "common sense" steps to reduce gun violence during a high-profile speech Wednesday night — but his spokesman later said they won't include any new laws. Obama told a supportive audience at the National Urban League convention that hunting and shooting are part of the nation's "cherished national heritage," but he said even gun owners would agree "that AK-47s belong in the hands of soldiers, not in the hands of criminals."
The Editor says...
The Aurora shooter did not use an AK-47. He had a Smith & Wesson M&P .223, two Glock handguns, and a Remington 870 shotgun.* But the facts apparently are of secondary concern to Barack H. Obama when he is trying to capitalize on recent tragedy and public outrage. Besides, he was speaking to a friendly crowd, so even if they know the difference (between an AK-47 and an AR-15), the facts don't matter to them, either.

Obama calls for strengthening gun rules, Reid says no time for debate. The president was vague in what specific measures he'd like to see enacted when he touched on the issue Wednesday evening in a speech to the National Urban League. He affirmed his belief in Americans' right to own guns, but he singled out assault rifles as better suited for the battlefield. "I believe the Second Amendment guarantees an individual the right to bear arms," Obama said. "But I also believe that a lot of gun owners would agree that AK-47s belong in the hands of soldiers, not on the streets of our cities."

Obama Has Demagogued Guns, from 2000 to Today. As Barack Obama attacks "AK-47s," while his press secretary promises that Obama respects Second Amendment rights, it is worth recalling Obama's long-running campaign for gun control, dating back more than a decade — a campaign he now seeks to downplay as he heads into a difficult presidential election, because he knows how deeply unpopular it would be.

A President is Known by the Weapons He Chooses. Talk about a gaffe and a tell, "AK-47s belong in the hands of soldiers, not in the hands of criminals." said President Obama. To the millions of American veterans who have faced multiple enemies around the globe who were armed with the AK 47, this is such a huge admission of where the sympathies of our supposed commander-in-chief lie as to make one want to choke. The President of the United States of America just identified what he believes to be the weapon of choice for military forces and guess what? It is in fact the weapon of choice of America's enemies.

The president did not suggest improving educational achievement for everybody, just blacks.
Obama announces new education program focused on African Americans. Locked in a tough re-election battle with Mitt Romney, President Barack Obama aimed to energize his core supporters — African American voters — by delivering a rousing speech and unveiling a new executive order at the Urban League's annual convention in New Orleans Wednesday night. The president told the largely African American crowd of roughly 3,700 people that the executive order will seek to improve educational achievement for African Americans at all levels "so every child has greater access to a complete and competitive education from the time they're born to the time, all through the time they get a career" the president said to cheers.

Obama creating African-American education office. The White House says the office will coordinate the work of communities and federal agencies to ensure that African-American youngsters are better prepared for high school, college and career.

In Obama's World, The Government Owns Your Paycheck. Speaking last Wednesday in New Orleans at a campaign event, Obama talked about "another trillion-dollar giveaway for millionaires" in reference to an extension of the Bush-era tax cuts. A day later, White House spokesman Jay Carney did the same thing. He called the extension "another $1 trillion giveaway to the wealthiest Americans." What they are talking about is the House Republicans' opposition to legislation approved in the Senate that would raise taxes on those earning more than $250,000 a year, a sum less than the president makes yet is somehow considered to be the mark of wealth.

Obama's Second Term. Trying to decipher what Obama's 53 minute speech — when printed, it's 17 pages! — actually says about his proposals on economic issues is, at best, painstakingly difficult. [...] He claimed that he asked Congress for the authority to reorganize the federal government for the next century. Does anybody remember that? And where's the bill? Was it presented in the House and was there a hearing?


Chicago fundraiser, August 12, 2012.

True Colors: Our Post-Constitutional, Liberal Fundamentalist President. It is no revelation that people are uncertain of the future. But in these words you can see that Obama clearly believes that the course that this country is on needs to be changed and that the problems which exist are not due to his policies. ["]Do we go forward towards a new vision of an America in which prosperity is shared?["] This second sentence is chilling. Karl Marx or Joseph Stalin could have written this. Obama is saying a lot here. His philosophy is clear: our present system is unfair, and his solution is to change the "vision," the fundamental values and goals of America.


"Surprise" press conference, August 20, 2012.

Obama Knocks Romney for Not Releasing Medical Records, Hasn't Disclosed His Own. This was brilliant timing on the president's part. [...] First off, by surprising the media, Obama knew the few good ones in there wouldn't be as ready to hit him with tough questions as they would with some notice. Secondly, Obama knew that he would be asked about [Todd] Akin and that his response would be what got all the media attention afterwards — not any questions he might receive about his failed economy and ugly campaign.

Obama Preps Media For "Surprise" Press Conference. A quick on-the-road communication from a longtime D.C. political operative rips the cover off of what is being reported as a surprise visit by President Barack Obama to the daily White House press briefing. This was no surprise visit — it was a carefully planned and staged event with the complicit cooperation of White House approved media figures all intended to gain political points by reigniting the now old and tired "war on women" ploy.

Obama's Campaign Speech 'Press Conference' In The White House. While the President has been continually appearing on television and radio programs that are considered to be extremely "light media", he has been avoiding any and all media outlets that would ask the difficult questions about policies including the present troubled economy. On Monday [8/20/2012], Obama stood cautiously before the White House Press Corps and fielded a variety of questions on the current presidential campaign, domestic and foreign affairs, as well as jobs and the economy. While the President spoke, one couldn't help but notice how he livened up when the questions were about the presidential campaign and GOP presidential candidate-to-be Mitt Romney.

Don't buy the 'surprise' part of that Obama news conference. "Looks like there's a surprise guest here," said Obama press secretary Jay Carney, sounding not the least bit surprised. Indeed, his boss took the podium in the White House briefing room Monday to make a statement and then answer a few questions. But there was as much surprise to this abbreviated Q&A as the Chicago River turning green on St. Patrick's Day.

Obama Programming Media to His Favor. Obama threw the White House press corps a bone on Monday by appearing for 20 some minutes and taking a grand total of four questions from those members of the Old Media whose official job is to report from the White House. The President has taken about six serious questions from the press since June. But this doesn't mean he's taken no other questions from the press. Unfortunately, the questions he has taken have not been from a free and open press but have been pre-programmed.

Obama's dark side. President Obama's ugly campaign is backfiring. With bad news clouding over our struggling nation, Americans are sick of all the political lies, such as Senate Majority Leader Harry Reid's claim that Mitt Romney hadn't paid taxes for 10 years and the Obama camp's inference that the Republican presidential candidate was guilty of a felony related to his business background. A defensive Mr. Obama even stopped hiding from the press for a few minutes on Monday to stammer, "We point out sharp differences between the candidates, but we don't go out of bounds." Yeah, right.


Nomination acceptance speech, September 6, 2012

Critics savage Obama's speech as new poll shows NO convention bounce. President Barack Obama is a near-legendary speaker who has been hailed the world over for the beauty of his words, the exquisiteness of his rhetoric and the historical significance of his oratory. But his speech in Charlotte, one of the most crucial junctures of his political career, has been almost universally branded a gigantic flop.

Did Obama's speech play fast and loose with the facts? Obama in Thursday night's speech took out of context a statement by Republican presidential challenger Mitt Romney about the end of the Iraq war. And while Obama sidestepped discussion of his mother's fight with insurance companies over her cancer coverage — an issue that tripped him up with fact checkers earlier this year — Vice President Joe Biden resurrected the subject.

The Democrats' Soft Extremism. Barack Obama is deeply overexposed and often boring. He never seems to be saying what he's thinking. His speech Thursday was weirdly anticlimactic. There's too much buildup, the crowd was tired, it all felt flat.

Obama: A Pedestrian and Overconfident Speech. Barack Obama gave a dull and pedestrian speech tonight, with nary an interesting thematic device, policy detail, or even one turn of phrase. The crowd sure didn't see it my way. The delegates were near delirium; to what extent they were merely still feeding off the amassed energy of the previous two nights I can't say.

Krauthammer On Obama: "One Of The Emptiest Speeches I Have Ever Heard". Charles Krauthammer: ["]I was stunned. This is a man who gave one of the great speeches of our time in 2004, and he gave one of the emptiest speeches I have ever heard on a national stage. Yes, it had cadence, and yes, there were deceptions in it, but that is not what is so striking about it. There was nothing in it.["]

Krauthammer on Obama: 'One of the emptiest speeches I have ever heard on a national stage'. Consider syndicated columnist Charles Krauthammer unimpressed with President Barack Obama's nomination acceptance speech. During Fox News Channel's coverage of the Democratic National Convention Thursday night in Charlotte, N.C., Krauthammer said Obama's speech lacked vision and called it "one of the emptiest speeches I have ever heard on a national stage." "I was stunned," Krauthammer said. "This is a man who gave one of the great speeches of our time in 2004, and he gave one of the emptiest speeches I have ever heard on a national stage. Yes, it had cadence, and yes, there were deceptions in it. But that is not what is so striking about it. There was nothing in it."

Obama's Convention. The president's convention speech was never going to be a make-or-break moment for him in this campaign: People already have an opinion of him, they basically know his pitch, and unless he planned to offer a major new proposal or argument it wouldn't have been easy for him to move anyone with his convention closer. But he surely could have done better than he did.

Obama at the DNC: That's it? It would have been better had he not spoken. Seriously. Like an aging rock star, President Obama, in a downsized venue, with downsized proposal and spewing downsized rhetoric only reminded us how far he has fallen from the heady days of 2008. The man, the agenda and the aura are faint imitations of their 2008 incarnations. And most importantly, he put forth an agenda that was entirely, and obviously, lacking, one that didn't begin to match the demands of our time. Even for the liberal media, it will be hard to characterize a speech this prosaic as uplifting or fresh.

Fact-Checking Obama. Obama had to give the speech of his life tonight, to convince not just the independents watching, but his own base whose faith has been diminished after "yes we can" went to "no, we couldn't." At the heart of Obama's speech was the attempt to reprogram the American dream from one found in the freedom of individual liberty and owning one's own output, to "sharing" — and by "sharing" he means the government will own your output.

Change You Can't Believe. The lies began even before President Barack Obama started speaking. The introductory video claimed that Obama had been affected — and roused to action — by "watching [his] mother die." Obama, while very emotive about his mother, neglected to visit her before she died of cancer — a mistake he admitted and regretted. Yet he has repeatedly lied about her in his speeches, including the lie that she died without health insurance.

Speech excerpts: Obama promises leadership similar to FDR. President Barack Obama promised leadership similar to that of former President Franklin D. Roosevelt in his convention speech Thursday night. Speaking of the challenges facing the country, Obama said: "It will require common effort, shared responsibility, and the kind of bold, persistent experimentation that Franklin Roosevelt pursued during the only crisis worse than this one."

The Terrifying Line in Obama's Speech That Everyone Missed. President Obama's convention speech got rough reviews, and rightly so. He offered little but tired bromides and recycled promises. [...] The language was flat, his delivery languid. The speech was stuffed with standard Obama chestnuts about the smallness of politics, the corrupting influence of money in politics, and how cynicism is our worst enemy.

Verdict is in: Obama speech a flop — even with Democrats. Politico is blaming this on Obama's strict adherence to the "politics of 2012" — "a race that has been defined by relentless, almost mechanical efforts to motivate voters with narrow appeals to specific constituencies and to destroy the opposition as a credible alternative." Such may be the case, especially since for the first time in 30 years, a sitting president had absolutely no case to make for his own re-election. Even rhetorically (forget the delivery) the speech fell flat. It was like giving a sports report and not mentioning the scores.

Obama fell flat. A surprisingly long parade of Democrats and media commentators described the speech less as a failure than a fizzle — an oddly missed opportunity to frame his presidency or the nation's choice in a fresh or inspirational light.

Obama takes us backward in the worst speech of his career. [Scroll down] Then we got to Obama, whose much-repeated claims of burning patriotic fervor were difficult to square with inviting a man who once compared American soldiers with Nazis to introduce him. And there isn't really much to say about Obama's flaccid speech, because you've heard it all before. To borrow a Bidenism, it was literally scotch-taped together from his stump speeches and 2008 campaign promises — an open, somewhat embarrassing play for nostalgia, inviting the audience to remember how swell they felt when voting for Hope and Change four years ago.

Obama Flops. The President's torpid, partisan acceptance speech fails to excite mainstream media, WFB analysis shows.

Disappointing speech, jobs report, presidency. After Thursday's Democratic convention close, the "faded Obama poster" of Paul Ryan's speech eight days earlier had a faded soundtrack to accompany it. No one pretended to love President Obama's speech, and only a few really attempted to defend it. Like his record, his supporters in and out of the media thought the speech just better moved on from, an unhappy reality that needed glossing over. And there is no shining up the jobs report that came out the following morning.

Obama tells voters they 'can do something about' droughts and floods and wildfires. President Barack Obama's Democratic National Convention speech declared that American voters can "do something about" extreme weather by supporting his re-election. Obama: "And yes, my plan will continue to reduce the carbon pollution that is heating our planet — because climate change is not a hoax.

The Editor says...
That sounds like President Nixon's self-exhonerating proclamation, "I am not a crook." I agree that "climate change is not a hoax", because the climate has been constantly changing for thousands of years. However it is my opinion that the notion that industrial activity and gasoline-powered cars are heating the planet is a hoax, and many others share this opinion.

Obama's Speech Ignores Independent Voters. He tossed them (us) a few rhetorical bones — a reference to the Simpson-Bowles debt commission he previously ignored, a bow to free enterprise as a jobs engine, acknowledgement that government can't do everything and needs reform. But basically, Obama's acceptance speech was defiant, confrontational and contemptuous of Mitt Romney and Republicans, portraying them as heartless tools of millionaires, job-exporters, lobbyists, oil and insurance companies, toxic polluters, banks that break the rules — and as enemies of old people, students, women and gays, to boot.

Obama, Convention Speeches and Soviet Propaganda. My expectations were realized when, the morning after the Obama acceptance speech, the morning drive time radio host featured a montage of sound bites from that speech and from one four years ago. They were, almost word for word, the same. Not to be out done by a local personality, the nationals I listened to later had similar features. And to top them all, Rush Limbaugh even dug up material from a Jimmy Carter speech made in 1980 that had extremely similar language.


The United Nations, September 25, 2012

Obama to UN: It's Not My Fault Stevens is Dead. Passing the buck in dramatic fashion on the world stage, President Barack Obama told the UN General Assembly this morning [9/25/2012] that the U.S. government was not responsible for the anti-Islam video that he once again blamed for recent attacks on U.S. embassies in the Middle East. He added that more guards at the U.S. consulate in Benghazi would not have helped save Ambassador Chris Stevens, and that the real problem was "deeper causes" such as religious intolerance.

Obama's Tragic Pander: 'The Future Must Not Belong To Those Who Slander The Prophet Of Islam'. Addressing the representatives of the United Nations General Assembly in a time of global crisis, President Barack Obama opted to legitimize the growing chorus of critics who condemn America's provocative right of free speech. The president's address to the world was anything but a full-throated defense of American values. It was, instead, an abundantly disappointing abdication of his responsibility to defend the cherished freedoms of the nation he leads.

President Obama Declares The Future Must Not Belong to Practicing Christians. In his speech to the United Nations General Assembly today the President of the United States declared that the future does not belong to practicing Christians. Already, the media and the left are in full denial, probably based on their general lack of understanding of theology. This would have been a gaffe had Mitt Romney said it. But with Barack Obama, he's just speaking bold truths. His bold truth declares that the future does not belong to practicing Christians.

Allen West to U.N.: U.S. 'Angel of Death'. Florida Rep. Allen West ripped President Barack Obama's United Nations speech Tuesday, saying he would have told the U.N. that America would be an "Angel of Death" that wreaks "havoc and destruction" on anyone who attacks the U.S.

Another painfully 'historic' speech for young Democrats to download on their iPods. Obama's speeches all come in one tone — what the mainstream media calls "historic". All those grand hopes and calls for unity can be moving, but they can also be intellectually empty. His speech to the United Nations General Assembly was a classic example.

Obama: Anti-Islam Rhetoric Must Be Rejected. Today [9/25/2012], President Barack Obama stated that negativity about Islam was a message that had to be rejected "by all who respect our common humanity."

At U.N., Obama downplays terrorism in Libya attack. Although his administration in recent days acknowledged that the deaths of Ambassador J. Christopher Stevens and three others were caused by a terrorist act on Sept. 11, Mr. Obama didn't mention terrorism as the likely motive in front of an international audience at the U.N. General Assembly's annual gathering. After referencing the killing of the ambassador, Mr. Obama focused much of his speech on promoting religious tolerance and free speech, blaming the film for provoking the anti-U.S. outbursts while saying there is never an excuse for violence.

Obama at U.N. Talks 5 Minutes About YouTube Video, 1.5 Minutes on Iran. President Barack Obama devoted 5 minutes of his speech before the United Nations General Assembly on Tuesday to a YouTube trailer that insulted Islam and 1 minute and 32 seconds talking about the threat of Iran obtaining a nuclear weapon. President Obama made his first reference to what he called a "crude and disgusting video" at 11 minutes and 33 seconds into his speech.

Obama: 'We Recognized Our Own Beliefs In ... Men and Women Who Took to Streets'. Hailing a "season of progress" in Tunisia, Egypt and Libya, President Barack Obama told the United Nations General Assembly on Tuesday that Americans see themselves in the protests that swept the Arab world.

Media ignore Obama attack on 'those who slander the Prophet of Islam'. President Obama spoke to the UN Tuesday, but what he had to say depended on the media outlet reporting it. [...] It was a 4,000-word speech. Obama covered a lot of ground. But the ground the major media covered conveniently left out was the most provocative line of the entire speech. The president told the UN that the "future must not belong" to a series of people including "corrupt" leaders and those who "bully women." But one line from that list stood out. "The future must not belong to those who slander the prophet of Islam." That line appeared almost nowhere in the old media where Obama's supposed defense of free speech dominated.

O's missing word: 'terror'. That was a perfectly fine speech Barack Obama gave at the United Nations yesterday. Perfectly fine, except that he has been president for the last four years. Perfectly fine, except that terrorists murdered our ambassador in Libya on the 11th anniversary of 9/11. And perfectly fine, except that the head of al Qaeda released a videotape urging that murder and others during what he called a time of "American weakness." Mr. President: The video didn't do it. Terrorists did.

The President Minces Words. Check out Tuesday's UN speech: [...] "Understanding that such a peace must come through a just agreement between the parties, America will walk alongside all who are prepared to make that journey." Blah. Blah. And more blah.

'Slander' and free speech are one and the same. Who said the following: "The future must not belong to those who slander the prophet of Islam." Iran's Ahmadinejad? Egypt's Morsi? Some little-known, fatwa-flinging cleric increasing the bounty on Salman Rushdie's head? None of the above. The words are President Obama's, and he spoke them this week to the U.N. General Assembly. No Big Media outlet reported this stunning pronouncement.

No Vetting Needed. Obama is out in plain sight before Americans and the rest of the world. There is no mystery. Nothing to uncover. He has intentionally taken America down. His most recent proclamation at the United Nations that "the future must not belong to those who slander the prophet of Islam" says it all, doesn't it? There is nothing vague about that comment.

Religious Visas Put Lie To Obama's Suggestion Muslims More Tolerant. Referring to the Muhammad video during his U.N. speech this week, Obama lectured Americans about "intolerance" toward Islam. "The future must not belong to those who slander the prophet of Islam," he said. "It is time to heed the words of Gandhi: 'Intolerance is itself a form of violence and an obstacle to the growth of a true democratic spirit.'" He actually believes Muslims have heeded those words. "Islam has a proud tradition of tolerance," he intoned during his 2009 Cairo speech. "Throughout history, Islam has demonstrated through words and deeds the possibilities of religious tolerance and racial equality." Obama must have learned his history at that Jakarta madrassa he attended.

Read This While You Can. Read this column by Diana West while you can — while we still have journalists brave enough to write the truth, and before the truth is censored. West, a syndicated columnist and author, noted an astonishing statement within Obama's speech to the UN General Assembly, and dissected and explored its meaning and terrifying implications.

"The Country He Served". What does that phrase "the country he served" mean? The country Ambassador Stevens was supposed to be serving was the United States, just as Libyan diplomats in Washington are supposed to serve the national interest of Libya. Yet in the context of his surrounding remarks (which are all about the place he was posted to: Chris "crafted a vision for the future", "supported the birth of a new democracy", etc) the President appears to give the impression that he thinks "the country he served" was Libya.

Steyn notes Democrats' 'extraordinary' double standard on Allah, Christian God. In his regular appearance on Hugh Hewitt's radio show on Thursday [9/27/2012], Mark Steyn, author of "After America: Get Ready for Armageddon," noted what he said were absurdities in President Barack Obama's address to the United Nations. Obama carved out new territory for a U.S. president during that speech when he said, "The future must not belong to those who slander the prophet of Islam." "He also said, I believe, that the future belongs to those who empower women," Steyn said of Obama, "and the power belongs to those who invest in education." [...] The fact is the president of the United States had no business saying that. If you happen to be a believer in Islam, Muhammad is your prophet. If you're not, he's just a bloke who died in the 7th Century and it should be permissible to say as much."


Re-election victory speech, November 6, 2012

Obama's appalling victory speech. President Obama has shown a willingness to ignore the Constitution whenever it suits him, overriding creditors' rights, ignoring the Constitutional cabinet officers in favor of czars not subject to the inconvenience of a confirmation process, assassinating American citizens with no judicial involvement, and issuing frightening executive orders.

Obama Calls United States 'A Former Colony'. In his re-election victory speech on Tuesday night [11/6/2012], President Barack Obama referred to the United States as a singular "former colony," when the United States was actually composed of 13 separate colonies prior to gaining independence from the British. "Thank you so much. Tonight, more than 200 years after a former colony won the right to determine its own destiny, the task of perfecting our union moves forward," said Obama, which was the first sentence of his remarks in Chicago, Ill.

The Editor says...
Perhaps he was thinking of his native country, Kenya.


Obama's Teary-Eyed Speech. I can't help but be dismayed by the blossoming of Obama's narcissism when he gets tears in his eyes addressing his Chicago staff. "I'm really proud of all of you." I mean, that's a good start. But his pride and sanctioning imply a grandiose self-love. What he's really proud of is his minions celebrating him and loving him. He is really proud of them being proud of him.
Press conference, November 14, 2012
Obama Press Conference: Stonewalls on Benghazi, Petreaus, Pushes Tax Hikes. Today [11/14/2012], President Obama held his first press conference in five months. It was a bizarre mix of softball questions from his press sycophants, false righteous indignation from the president over his administration's Benghazi failures and lies, and an oddly blustery position shift on tax hikes as opposed to tax loopholes. Obama opened his press conference with his usual patter about class warfare and the fiscal cliff, insisting on raising taxes first and foremost.
The Sad Sate [sic] of Today's Presidential Press Conference. I've covered nearly all of these news conferences over the past quarter-century. And in the not so distant past, presidents seemed to feel more of an obligation to explain themselves and the media seemed more willing to press the presidents when they were elusive. But there is no one in the current press corps with the aggressive, bulldog style of a Sam Donaldson or a Helen Thomas. Both of them are long gone from the beat, and they are missed.
Sen. Graham To Obama: I Hold You Responsible for Benghazi. Today, President Obama presided over an absurd press conference in which he puffed himself up with righteous indignation over Senators John McCain (R-AZ), Kelly Ayotte (R-NH), and Lindsey Graham (R-SC) calling for a full-scale investigation of Benghazi and opposition to Ambassador Susan Rice's possible nomination for Secretary of State. "Come after me," he said, calling Rice's opponents "outrageous."
President Obama, Washington Press Corps Gather for a Game of Slow Pitch Softball. President Barack Obama opened his first press conference in eight months, noting that America remains in a difficult economy. After reiterating his campaign boilerplate language regarding jobs and education, the president noted that he had met with "civic leaders" before he meets with business leaders later today. Those "civic leaders" included union heads and the leader of far-left MoveOn.org.
Our defiant and uncompromising president. This week's press conference was more of the same President Obama whom we saw on the campaign trail this year. He was resolute and even defiant. And though there was more conciliation at times than we are normally used to hearing from the president, he was ultimately espousing the same attitude towards resolving our fiscal challenges that we have heard all along.
Mr. Obama's latest temper tantrum. President Valerie Jarrett sent out her spokesperson Barack Obama to take questions from the media. It was Mr. Obama's first real press conference in eight months. As with previous press conferences, questions requiring a "yes" or "no" answer would be given lengthy explanations to reduce the number of questions asked. Whether the topic was Benghazi or the looming fiscal cliff, President Jarrett instructed Mr. Obama to answer all questions with "invest in education" or "green energy."
'Obama Part 2' a lousy sequel. Just a week after his re-election, President Obama showed only occasional flashes of conciliation yesterday, with his press conference sounding more like a sequel to the bitter campaign than a fresh start to a second term. Whatever the topic, he was by turns evasive, strident and pugnacious.
In victory, Obama remains hostile and evasive. Obama's first post-election press conference, if you could call it that, tells us a great deal about his attitude and the approach he intends to pursue in his second term, which is the same failed policy mix on steroids. Obama's re-election, of course, gives him the right to pursue these policies, but it doesn't deny elected Republicans the right or relieve them of the duty to oppose them.
Benghazi gate. After almost 3/4 of a year the president finally holds a press conference but the press fails to show up. I mean they physically showed up but not journalistically. In the world of politics and press when the press fawns over someone they find a way to either not ask a probing question or they simply ask a non-consequential one. That is what happened on Wednesday when the president was served up a bunch of softball questions that made for one of the dullest press conferences in recent memory.
Sandy Hook Interfaith Prayer Vigil, December 16, 2012.
Remarks by the President at Sandy Hook Interfaith Prayer Vigil. Newtown High School, Newtown, Connecticut, December 16, 2012.
He Says He Wants Us to Change. I have no doubt that the people who assembled at Newtown High School found comfort in President Obama's words on Sunday night. But make no mistake (as Obama is so fond of saying). The President didn't only come to Newtown to pay his respects to those who were gunned down at Sandy Hook Elementary last Friday morning. He also came to lecture the nation and to save us from ourselves.
Washington Post Editor Compares Obama's Newtown Shooting Speech to Lincoln's Gettysburg Address. Following his speech, Washington Post associated editor David Maraniss was apparently so moved that he took to Twitter to compare the president's words to Abraham Lincoln's Gettysburg Address.
WaPo Editor, Historian: Obama School Shooting Speech His 'Gettysburg Address'. While President Obama's speech from last night has been praised by both right and left... The Gettysburg Address?
Mark Levin: Did you notice Obama didn't mention Fort Hood as a massacre at Sandy Hook vigil? [Quoting Barack H. Obama:] ["]If there is even one step we can take to save another child, or another parent, or another town, from the grief that has visited Tucson, and Aurora, and Oak Creek, and Newtown, and communities from Columbine to Blacksburg before that — then surely we have an obligation to try.["] He never mentioned Fort Hood. 13 people were killed and 29 wounded and yet it didn't get mentioned. Why? [Mark] Levin explains why and also points out that there's another massacre that happened under his presidency never got mentioned either.
Obama Call For Change Exploits School Massacre. By using the massacre in Newtown, Conn., to fire up the left's anti-liberty agenda, President Obama and other prominent liberal Democrats are taking Chicago Mayor Rahm Emanuel's infamous maxim — "You never want a serious crisis to go to waste" — to new depths. At a Sunday night [12/16/2012] prayer vigil in Newtown, the president delivered words that on their face appear soothing, hope-filled and decisive — exactly what's expected of presidential leadership. "These tragedies must end," he said. "And to end them, we must change." But when Obama repeats that single-worded slogan from his presidential campaign, we know what kind of "change" he wants.
Why'd it take 4 massacres for Obama to vow 'These tragedies must end'? Obama did not specify what changes he has in mind to seek through his effort to "engage" fellow citizens. In his 1,696 words the president did not once say the word "gun."
Team Obama still raising money — off Sandy Hook shootings. They won the campaign handily and even had $14.2 million to spare, but the Obama-Biden campaign is still raising money, this time off the president's comments about the Sandy Hook Elementary School shootings in Connecticut.
Mass Shootings, Political Correctness, and Magical Thinking. It was a comforting speech for the victims of a tragedy, so it would be unfair to criticize the arguments from the point of view of logic. However, it is worth analyzing the issue of mass shootings as a problem that might be addressable with public policy.
Obama is so invested in reducing gun violence that he hands the job off to Biden. At Sunday's memorial service for the 26 innocent Newtown shooting victims, President Obama told a tearful crowd: "In the coming weeks, I will use whatever power this office holds to engage my fellow citizens — from law enforcement to mental health professionals to parents and educators — in an effort aimed at preventing more tragedies like this." Turns out "whatever power this office holds" is just the ability to tell Joe "BFD" Biden to come up with some ideas by late next month.
President Obama's Sandy Hook speech turned into a pro-life video. President Obama delivered an emotional speech about protecting America's children in December in response to the shooting at Sandy Hook Elementary school in Newtown, Connecticut. But the producers at Blackstone Films have turned that speech into a remarkable video to reflect on the duty of Americans to protect our nation's unborn children. It's a very powerful video that is sure to spark some controversy.
The Funeral for Senator Daniel Inouye, December 21, 2012.
Obama Has to Fib Even at a Funeral. Yes, everything is about Barack Obama. From the beginning, he has built his career on his own personal story, and the funeral service of former Hawaiian Senator Daniel Inouye at the National Cathedral on Friday apparently struck him as an opportune time to remind the world what that story was. [...] The problem, however, is not just that Obama used the word "my" 21 times, "me" 12 times, and "I" 30 times in the course of telling his story, but rather that even at a funeral, he could not keep the story straight.
Obama and Bush Eulogies: The Grotesque and the Graceful. President Obama has a very serious ego problem, and when he goes off teleprompter, it sticks out like a sore thumb. His eulogy for Senator Inouye on Friday was grotesque in its focus on the speaker, not the dearly departed.
Today We Are Gathered ... To Hear More About Me. Someone needs to tell Barack Obama — it must get particularly confusing this time of year — that his own birth is not Year One, the date around which all other events are understood. His much-noted, self-referential tic was on cringe-worthy display Friday when the president gave his eulogy for the late Sen. Daniel Inouye, who served in Congress for half a century representing Obama's birth state of Hawaii.
Obama Uses Funeral Service to Talk About Himself. President Barack Obama used the funeral for Hawaii senator Daniel Inouye to talk about himself. In the short 1,600 word speech, Obama used the word "my" 21 times, "me" 12 times, and "I" 30 times. Obama's speech discussed how Inouye had gotten him interested in politics. "Danny was elected to the U.S. Senate when I was two years old," he said.
Grotesque Obama eulogy for Sen. Inouye. Signs are accumulating that re-election has aggravated an already serious ego problem for Barack Obama. His eulogy for Senator Daniel Inouye yesterday shocked even some people favorably inclined toward the president, for its focus not on the departed, but on Barack Obama himself.
Press conference, January 14, 2013.
Our Mean-Spirited President Gives a Press Conference and Talks About Guns. Obama's comments on the debt ceiling were breathtakingly dishonest [...] Obama said, at least three or four times, that this year is different: he refuses to negotiate with the Republicans because they insist on "getting 100 percent of what they want." But wait! The fact that Republicans are willing to negotiate means that they aren't insisting on getting 100%, while, conversely, the fact that Obama refuses to negotiate means that he is the one holding out for 100%. Presumably most people are smart enough to understand this.
It's the old Karl Marx strategy: "Accuse others of what you do."
Obama: GOP 'Will Not Collect A Ransom In Exchange For Not Crashing The American Economy'. During a press conference in the White House on Monday, President Barack Obama warned Congressional Republicans not to hold the debt ceiling limit hostage in order to secure concessions on spending cuts from the White House. He spelled out what not increasing the debt limit would mean, and said clearly that the GOP in Congress "will not collect a ransom" from the president by holding the debt ceiling hostage.
Obama's Latest Political Slander. During the Obama years, in fact, the ranks of America's poor have climbed to levels unseen in nearly half a century. In addition, Obama was opposed to the 1996 welfare reform bill, which was arguably the single best policy reform to help poor Americans, and his administration has taken steps to weaken welfare work requirements. Yet the president feels like he's in a position to lecture Republicans about caring for the most vulnerable members of the human community.
Obama says Congress must pay its dinner bill. But he's the guy who ordered the caviar and champagne. Obama gave a press conference today that displayed some of the most controversial features of his governing style. The big issue was raising the debt ceiling. [...] Whereas the Republicans want to debate spending and then lift the ceiling, Obama wants to lift the ceiling first and debate spending later.
Obama on Congress: 'They Order Me to Spend'. Explaining why he has no choice but to demand an increase in the legal limit on the national debt, President Barack Obama said at a Monday press conference that Congress orders him to spend money. "This is a matter of Congress authorizes spending," Obama said.
Mark Levin is right: Obama is an imperial president. Levin's words will resonate with hard-working, over-taxed households across the country, and with good reason. There was not an ounce of humility in the president's remarks, as he lambasted Congress and flat out refused any negotiation on the debt ceiling issue. There were no words of gratitude to the American people, or any sense that his administration was there to serve the country, as opposed to lording over it.
Obama: Some Gun Control Measures 'I Can Accomplish Through Executive Action'. President Obama said he'd take "executive action" to deal with guns at his press conference today [1/14/2013].
Krauthammer: Obama Presser "Over The Top," Essentially "Libel". ["]The tone of this address was quite remarkable. He talked about Republicans being suspicious of Social Security and Medicare by the oldest saw that you could hear. And then he added — and suspicious of the government's role in making sure that impoverished children get food. Now that's a little bit over the top. That's essentially libel. And then he said 'Oh yes, I love hanging out at a Congressional picnics with these people who want to starve America's children.'["]
Liberal media glazes over Obama press conference attacks, contradictions. "I don't think anybody would consider my position unreasonable here," he said, shortly after he called for additional spending that would further boost the nation's debt. The debt is already slated to reach $20 trillion by the end of his second term — or roughly $125,000 per working-age American.
Krauthammer: Obama's attack on 'suspicious' Republicans 'essentially a libel'. "The point of raising the debt ceiling is to allow us to continue to borrow," Krauthammer continued. "That's the essence of what it's about. He talked about the debt ceiling a dozen times. Not once did he use the word 'borrow.' And what it means is we are now going to continue to borrow. For every dollar the government spends, only 60 cents of it come from our taxes; the rest, 40 percent, is borrowed money.[ ... "]
Obama Lies And Bullies Republicans On Debt Ceiling. 'If congressional Republicans refuse to pay America's bills on time, Social Security checks and veterans' benefits will be delayed," President Obama claimed at his much-ballyhooed "Final Press Conference of His First Term" on Tuesday. "We might not be able to pay our troops," Obama warned. "Food inspectors, air traffic controllers, specialists who track down loose nuclear material wouldn't get their paychecks." Even the left doubts Obama's phony claims.
Obama Slanders Conservatives, and the Constitution Loses, Again. Obama's whole position is predicated on the belief that if some government activity is even potentially desirable, then ipso facto the federal government should do it. That the Constitution is based on the principle of limited and enumerated powers for the federal government — and would never have been ratified otherwise — is, to him, one of those antiquated notions that we luckily got over decades ago.
President Obama Exaggerates Deficit Savings. At his press conference this week, President Obama made it seem as though the job of getting the government's deficits under control is nearly done. "The consensus is we need about $4 trillion to stabilize our debt and our deficit," he told reporters, "which means we need about $1.5 trillion more."
Obama Lies And Bullies Republicans On Debt Ceiling. "I'm a pretty friendly guy," President Obama said after suggesting Republicans plan to contaminate food, crash planes and let terrorists build nuclear bombs.
Obama's Debt Claims Debunked, Line by Line. Should we raise the national debt limit to accommodate more trillion-dollar deficits? In Washington, it's taken for granted that we should and will. But a lot of fiscal conservatives have got the crazy idea in their heads that any debt increase should be accompanied by something we haven't seen in years: a budget. An actual plan to balance the budget and stop accumulating debt.
Gun control announcement, January 16, 2013.
Obama plans to surround himself with children during gun control announcement. White House Press Secretary Jay Carney announced this afternoon that President Obama will unveil a "concrete package" of gun control proposals including assault weapons bans, high capacity ammunition magazine bans, and closing loopholes on background checks. Carney said that the president will be joined by Vice President Joe Biden as well as children who wrote to the president after the Newtown shootings.
What President Obama proposed on guns, and what might actually pass Congress. President Obama announced a sweeping slate of new gun control proposals Wednesday designed to curb mass violence, including new restrictions on guns, efforts to enhance school safety, and improving treatment of mental health issues. Some items will be enacted via executive order while others will require action on Capitol Hill.
Obama unveils gun plan, concedes tough fight ahead. Seeking to circumvent at least some opposition, Obama signed 23 executive actions on Wednesday [1/16/2013], including orders to make more federal data available for background checks and end a freeze on government research on gun violence.
Mark Levin on Obama gun proposals: 'This is 1930s stuff'. On Wednesday's broadcast of Fox News Channel's "Your World with Neil Cavuto," conservative talk show host Mark Levin said President Barack Obama's executive actions to curb gun violence, which were announced during a Wednesday press event, are as "un-American" and "fascistic" as they are unhelpful. "What do any of these 23 [executive actions] have to do with what happened in Newtown? I've studied all 23 of them now. They have absolutely nothing to do with the mass murder that took place in Connecticut — zero. And the president won't be asked about it. [..."]
Not a single one of the items Obama intends to implement would have stopped Adam Lanza.
On Guns, an Abuse of Power. Now, the 23 executive orders President Barack Obama signed that are aimed at "reducing gun violence" could be considered, at worst, cynically political or, at best, completely useless. But the way Obama treats the process, children, the debate, the Constitution and the American people is another story. Sen. Rand Paul recently remarked that "someone who wants to bypass the Constitution, bypass Congress — that's someone who wants to act like a king or a monarch." That may be a bit hyperbolic, but it is also a bit true.
On Guns, an Abuse of Power. Didn't Alexander Hamilton and James Madison warn us against the dangerous "passions" of the mob? It is amazing how many times this president uses majoritarian arguments to rationalize executive overreach. And really, speaking of ginning up fear: "If there's even one life that can be saved, then we've got an obligation to try," the president said, deploying perhaps the biggest platitude in the history of nannyism. Not a single one of the items Obama intends to implement — legislative or executive — would have stopped Adam Lanza's killing spree or, most likely, any of the others.
Conservative group sues to block White House gun control recommendations. A conservative activist group is suing the White House's gun violence task force in an effort to block a sweeping set of new restrictions on firearms to be unveiled Wednesday [1/16/2013]. FreedomWatch, founded by attorney Larry Klayman, argues that the task force held illegal meetings with lobbyists and did not give proper public notice. The group filed a lawsuit in a Florida federal court, seeking to shut down the task force and block any of its proposals from implementation.
Statement by Gov. Perry on President Obama's Executive Actions. Gov. Rick Perry released the following statement regarding President Obama's executive actions: "The Vice President's committee was appointed in response to the tragedy at Newtown, but very few of his recommendations have anything to do with what happened there. Guns require a finger to pull the trigger. The sad young man who did that in Newtown was clearly haunted by demons and no gun law could have saved the children in Sandy Hook Elementary from his terror. [..."]
Obama the Children Savior, Champion of Partial Birth Abortion. The White House spokesman Jay Carney-identified "little kids", filling in as props at Barack Hussein Obama's gun proposal presser today, have more respect for human life than the president does. Young as they are, those with baby brothers and sisters at home, would be absolutely traumatized to know that as a senator Obama championed partial birth abortion, the brutal slaughter of babies who make it through abortion.
Obama's Executive Disarmament Confirms that the Tea Party Can Not Go Away. Due to extensive media coverage of Obama's Disarmament Show, low-info voters will cry hearing stories of how guns make kids fearful and give Obama carte blanche, regardless of the Constitution. Predicting from their pattern of spineless behavior, Republicans will probably simply go along with Obama's illegal dictates. So who will stand and be the voice of our Founding Fathers and We The People? Answer: the Tea Party.
Hiding Behind the Children. The substance of Obama's proposals will not matter. This is strictly about emotion, not reason. All that will matter will be the powerful visual image of Obama being surrounded by beautiful, young children of all backgrounds. His underlying message will be, "Support my gun control proposals or else you hate children. You don't hate children, do you?"
Gun Sales and Background Checks: Obama's Bogus 40 Percent Stat. Of all the gun-control measures touted by President Obama on Wednesday, the one that got top billing was a dramatic tightening of background checks on gun purchasers. Obama himself said the need was urgent because "40 percent of all gun purchases are conducted without a background check." But before we make the most sweeping changes in federal firearms law since the 1960s, shouldn't we at least examine the validity of that figure? It's about as dubious as they come.
Photo-op president shooting blanks. [Scroll down] But all these are tepid, marginal stuff. And others are outright posturing — such as issuing a presidential memorandum "directing the Centers for Disease Control to research the causes and prevention of gun violence" — or simply risible — such as the order to nominate a new director for the Bureau of Alcohol, Tobacco, Firearms and Explosives. Um, what's stopping you, Mr. President? (Of course, senators may well want to ask the ATF nominee about the Fast and Furious debacle.)
Obama's Unserious Gun Proposals. Rifles, in general, are one of the least popular murder weapons. More than five times as many people are killed with knives. More are killed with blunt instruments. Twice as many are killed with bare hands. As an anti-violence program, focusing on a subset of rifles is a joke. The Obama administration's other gun-control measure is equally silly. It proposes to ban magazines that hold more than ten bullets.
Krauthammer: 'The Things Obama Signed Today, the Executive Orders Are Useless'. While Obama's media predictably gush and fawn over the President's anti-gun initiatives Wednesday, syndicated columnist Charles Krauthammer not surprisingly had a different take. Appearing on Fox News's Special Report, Krauthammer said, "The things he signed today, the executive orders are useless".
Ivory-tower Obama can't abide views he doesn't share. Obama supporters like to portray Republican attempts to negotiate as hostage-taking or extortion. But those are violent crimes. Negotiations — discussions attempting to reach agreement among those who differ — are peaceful acts. What we do know, from Bob Woodward's "The Price of Politics," is that Obama is not very good at negotiating. He apparently can't stomach listening to views he does not share. Perhaps that is to be expected of one who has chosen all his adult life to live in university communities and who made his way upward in the one-party politics of Chicago.
Obama Ignores Dangers Of Father-Free Zones. If gun-control worked, the president's hometown would be safe. Instead, gangs of fatherless youths daily kill other fatherless youths. How about an executive order endorsing marriage and intact families?
Obama's use of wide-eyed children to promote his gun-control proposals. There was something nauseating about the way Barack Obama surrounded himself with children as he unveiled his gun control plans. It looked like emotional blackmail. "Look these innocent babes in the face and tell them guns are good" — that was the implicit message of this cynical, innocence-exploiting press conference, which brought to mind one of the late Wacko Jacko's weird child-centred peace concerts more than it did a serious Lincoln-style presidential address. What Obama and his advisers appear to have overlooked is that it doesn't matter one jot what children think of guns, or anything else for that matter: politics is an adult business, and should be shaped by adult arguments, not childish fears.
Tax dollars for gun control. The directives on gun violence President Obama signed Wednesday were meant to seem harmless. A closer look at the president's first memorandum reveals it to be a sneaky assault on congressional authority in order to fund gun-control propaganda. Getting this done has been on the White House "to do" list for some time. In his 2013 budget submission, Mr. Obama deleted the prohibition that has been in effect since 1995 on the use of federal funds to advocate or promote gun control.
Forward! Obama's gun control agenda. President Obama's Wednesday press conference was political theater at its best. The carefully-selected audience applauded at all the right moments. The reading of letters from children was classic heart-tugging emotionalism. A little girl wrote: "We are sad. We want everybody to be happy and safe." How could we want anything else?
Tax dollars for gun control. The directives on gun violence President Obama signed Wednesday were meant to seem harmless. A closer look at the president's first memorandum reveals it to be a sneaky assault on congressional authority in order to fund gun-control propaganda. Getting this done has been on the White House "to do" list for some time.
Chicago Thugs Celebrate Obama's New Gun Laws By Shooting Woman on Bus. The report says police are looking for three men. No descriptions of the suspects, of course. We doubt they are law-abiding gun owners or members of the NRA.
Obama Now King of the Gun Grabbers. In just one afternoon, the man who is suspected of okaying the smuggling of guns into the hands of the Mexican drug cartels — known as Fast and Furious — has 'outed' himself as the king of the gun grabbers.
Where Are the 23 Executive Orders? The President held a press conference on January 16th explaining 23 executive orders that he was to sign in relation to gun control measures. President Obama, surrounded by children, concluded his press conference by sitting at a desk and signing several papers. But why are those 23 orders not listed on the White House website?
Kids Write Obama on Abortion. I'm getting sick and tired of the Obama administration using children selectively in order to help the president advocate his public policy positions. [...] As I sat and watched Obama surrounded by little human political shields, three things struck me as being especially hypocritical: 1. Just a few years ago, the president would have supported murdering all of those children by dismemberment. 2. The president would have classified their dismemberment as "health care" within a comprehensive reform package necessary to preserve the well-being of children, and finally 3. All the children at the press conference were protected from being murdered at that particular moment by government agents carrying concealed weapons.
The Children's Hour. Thus far, the criticism surrounding the president's shameless exploitation of schoolchildren at the recent White House 23-Executive-"Actions" performance has focused largely on how wrong it was to use little kids as political props. Even more reprehensible though is staged propaganda falsely promoted as unsolicited 'Letters to the President' written from the hearts of vulnerable children. Therefore, based on the content, style, and an odd mix of childlike misspellings and decidedly unchildlike opinions featured in the letters, it's highly probable that four children were used as political pawns recruited to assist President Obama in "fundamentally transforming the United States of America."
Obama's No-Show at the OK Corral. Obama's confectionery press conference had a whiff of artificial vanilla, not cordite. From somnolent to laughable: imagine primary care physicians seriously diverting time from filling out Medicare reimbursement forms to asking patients about their gun ownership.
A Shameless Media. Bob Schieffer of CBS News described President Obama's recent opening remarks at the gun control press conference as, "one of the best speeches I've ever heard him deliver". Schieffer went on to praise the president's cause as similar to the ten-year hunt for Osama bin Laden and Lyndon Johnson's successful attempt to pass civil rights legislation. Although Schieffer indicated that more than an Obama speech would be required, this wasn't objective journalism but slobbering praise for a man with a checkered record of accomplishment.
Obama Defiles Reagan Stagecraft. The $500 million gun violence 'package' included 23 executive actions addressing "gun control proposals including assault weapons bans, high capacity ammunition magazine bans, and closing loopholes on background checks." In other words, the same guy who claims he can't find millions of illegal aliens has miraculously found a way to track down and register 300 million guns. In pseudo-Reaganesque mode, the president's anti-Second Amendment effort was made public while armed Secret Service agents stood in the wings ensuring his personal safety.
Obama's Second Inaugural Address, January 21, 2013.
See this page.
Other speeches
The time Obama apologized to Kamala Harris for calling her good-looking. Years before Barack Obama urged voters to make Kamala Harris the first female vice president at the 2020 Democratic National Convention, he took heat for praising her looks and then apologized for doing so. "You have to be careful to, first of all, say she is brilliant, and she is dedicated, and she is tough, and she is exactly what you'd want in anybody who is administering the law and making sure that everybody is getting a fair shake," the then-president said at an April 2013 fundraiser outside San Francisco about Harris, who was the California attorney general. "She also happens to be, by far, the best-looking attorney general in the country." "It's true! Come on," Obama said as the crowd laughed. The comments prompted allegations of sexism.
The Father's Day Obama Betrayed Black America. On Father's Day 2008, candidate Barack Obama made his most honest speech on race, maybe his only halfway honest speech on race. The media barely noticed. The site was the Apostolic Church of God in Chicago. From the pulpit Obama spoke to the gathered voters — excuse me, congregants — with uncharacteristic audacity. He reminded his audience that too many black fathers were missing from "too many homes." He knew something of the phenomenon himself given that his father "left us when I was two years old." Yes, that con again. Putting aside for a moment his personal story, however fictitious, Obama made the traditionally conservative argument that fatherless children were five times more likely to grow up poor, nine times more likely to drop out of school, and twenty times more likely to get into serious trouble than children who grow up with both parents.
Barack Obama in 2008: Both Parties 'Have Monkeyed Around With Elections'. Barack Obama warned supporters that politicians had "monkeyed around" with elections, during a campaign speech at Kent State University in New Philadelphia, Ohio, on September 3, 2008. Then-Senator Obama (D-IL) said: "I come from Chicago. It's not as if it's just Republicans who have monkeyed around with elections in the past. Sometimes Democrats have, too. You know, whenever people are in power, they have this tendency to try to tilt things in their direction."
Obama's Speech for the Ages. We are rapidly approaching the anniversary of one the most historic speeches ever delivered by a U.S. President. No, it's not President Lincoln's Gettysburg Address or President Regan's Berlin Wall speech or even President Kennedy's inaugural address. October 21st will mark the 4th anniversary of President Obama's "I Don't Have a Clue" speech. On that date, in less than 900 words, our President took to the podium of the White House Briefing room and proceeded to deliver a statement proving just how misguided his foreign policy is. It stands an incredible combination of incompetence and incorrectness and should never be forgotten.
Fact-Checking Obama on Health Care. Never one to let anything speak for itself, the president made his case for the Affordable Care Act on Tuesday, the day its exchanges launched. To listen to his speech, the health-care law has fixed the U.S. economy, will save tens of thousands of lives, and has solved the U.S.'s long-term debt problem. Needless to say, none of these things are true.
Read this article:
Obama's Road to Nowhere
. "There are always going to be bumps on the road to recovery," President Obama said at a Jeep plant in Toledo the other day. "We're going to pass through some rough terrain that even a Wrangler would have a tough time with." His audience booed. They're un-fire-able union members with lavish benefits, and even they weary of the glib lines from his twelve-year-old speechwriters.
WPost Fact-Checker shreds Obama auto recovery claims
. President Obama's claims to have saved the U.S. auto industry with government bailouts, takeovers and buyouts in 2009 don't quite square with the facts.
Obama defaults to economic blame game
. A cascade of bad economic and political news knocked President Barack Obama off his game today, and prompted him to revive his 2008-style criticism of his predecessor, and also to suggest that investors, consumers and even the media are responsible for today's stalled economy.
Obama Versus the Open Mike
. When he's not enjoying a round of golf or an expensive vacation at public expense, Barack Obama spends most of his time fund-raising these days. After delivering a campaign speech at George Washington University on Wednesday, he dashed off to Chicago to raise funds from the evil rich people who want to starve your grandparents so they can enjoy huge tax cuts. After speaking at one of these events, he forgot his microphone was turned on, and he said some interesting things.
An Agenda in Shambles
. In April 2009, President Obama laid out his domestic agenda in a speech at Georgetown University. This was no ordinary chat; Obama envisioned nothing less than a reorientation of the American system. He sought to shift the economy from the rough and tumble cowboy capitalism of the past to a less risky, pricier, and perhaps slightly more comfortable European future. "We must lay a new foundation for growth and prosperity," Obama said. Less than a year later, this agenda is in shambles.
Boehner says Obama selling 'snake-oil'
. Minority Leader John Boehner (R-Ohio) was not persuaded by President Obama's just-completed healthcare speech in Pennsylvania. "President Obama's latest health care sales pitch is, just like all the others were, heavy on snake oil and light on the harsh reality Americans would face under his plan: higher taxes, reduced Medicare benefits, and lost jobs," Boehner said in a statement.
Obama's rhetorical shift on health care
. You'll be glad to know that, like with the Obama presidency before it, we have now moved from the "everything will miraculously change" portion of the Obama health-care pitch to the "I never said everything would miraculously change" portion. This comes from his speech selling health-care reform in Iowa today [3/25/2010]...
Will MSM Let Obama Get Away With 'We Don't Quit' War Whopper?
There are lies, damned lies, and then the kind of brazen rewriting of what a man stands for that Barack Obama engaged in yesterday [3/28/2010]. The swaggering Barack Obama, in his faux-military leather jacket, who boasted to American troops that "the United States of America does not quit once it starts on something," is the same man who in 2007 told the troops and the entire world that America and its military couldn't win in Iraq, never could, and should immediately quit.
Passover Mush
. Obama, as presidents have traditionally done, released a Passover message. It is typical Obama — off-key, hyper-political, and condescending.
The GOP in the Wake of ObamaCare
: The president has made, repeatedly and on the record, extravagant claims. He promised the moon and the stars. When those things not only don't come to pass, but when people see that their lives are worse off thanks to ObamaCare, there will be a very high political price to pay.
Obama tries to mop up the mess he has made.
Obama's No. 1 focus: It is not jobs
. The President comes to New England not to talk to business owners about how to create more jobs or to seek any input whatsoever on stimulating the economy. His trip, CNN has reported, is part of a political strategy to help Democrats in Congress who face strong criticism at home for supporting his health care legislation despite the opposition of their constituents. As Obama jets around the country trying to convince Americans that his health care law is not the disaster it so clearly is, the economy continues to struggle.
Financial District workers can't bear to watch
. Wall Street worker Steven Cohen didn't waste his time listening to Obama's speech to the financial industry Thursday [4/22/2010]. He knew exactly what message the President was going to deliver, and thinks it's all wrong. "Why would I watch his speech?" the 54-year-old real estate professional said. "The man is hurting the job creation engine that makes New York City run. "I have better things to do with my time."
President Obama Ribs Iowa Crowd for Not Applauding His Warning About "Hard Choices"
. "We're going to have to make some tough choices" about the deficit and national debt, President Obama said to a crowded gymnasium full of supporters at Indian Hills Community College, after a lengthy riff on how the unsustainable debt would need to be tackled. This, unlike most of what the president said during the town hall meeting, was met with silence.
Obama's Big Government Problem
: Listening to an Obama speech is like chowing down on a box of assorted chocolates — you never know what you're going to get. The president's commencement speech at the University of Michigan last Saturday [5/1/2010] was a classic case in point. To paraphrase an orator whose reputation for greatness did not involve the use of either speechwriters or teleprompters: never in the course of American politics has a president used so many words to say so little.
Obama Hypocrisy on Small Businesses and Jobs
. Obama keeps delivering ill-considered speeches as in Buffalo, making it painfully obvious that he mistakenly believes that the federal government can create private sector jobs. Obama does not seem to understand that any government job, or government-created job, can only be paid for by increasing taxes or by borrowing.
Obama's lazy tribute to Daniel Pearl
. Like a lot of guys who've been told they're brilliant one time too often, President Obama gets a little lazy, and doesn't always choose his words with care. And so it was that he came to say a few words about Daniel Pearl, upon signing the "Daniel Pearl Press Freedom Act."
What Daniel Pearl's decapitation means to Barack Obama
. Even given Obama's ever more terrifying and lethal performance in office, his comments about the jihadi murder of Daniel Pearl, and in front of Daniel's bereaved family, are simply astounding. This is what Obama said: "Obviously, the loss of Daniel Pearl was one of those moments that captured the world's imagination because it reminded us of how valuable a free press is."
America's sophist in chief
. The president traveled to Pittsburgh's Carnegie Mellon University on Wednesday [6/2/2010] to yet again tout his vision of economic renewal and to rip Republicans for their supposedly regressive opposition to his supposedly "progressive" agenda. The rhetoric, much of it Orwellian and liberally peppered with a half-baked political screed, came straight from the dented-can section of the grocery store. Obama is an accomplished shaman of the genre. But that's not a compliment.
Santa and Frank
. [Scroll down] This old trick is now being unveiled by the Obama administration, like so many other old political tricks used in this "change" administration. In one of President Obama's many prissy little sermonettes, complete with finger wagging, he has declared: "Next year when I start presenting some very difficult choices to the country, I hope some of these folks who are hollering about deficits step up. Because I'm calling their bluff."
All Talk, No Action
. President Obama uttered some fine words Wednesday [7/7/2010] on the value of export trade. But with no trade pacts on the horizon until after elections, it's just political busywork. What's really needed is courage.
Blather in Kansas City
. [Scroll down] Just as when the President lied about not having available oil reserves last month in his televised address to the nation regarding the BP oil spill, he told another outright lie in Kansas City. It was so blatant that it was almost humorous. Note the President's words, "So our goal has never been to create another government program, our goal has been to spur growth in the private sector." Really? Does any sane person who even casually follows politics or watched the 2008 presidential campaign believe this?
He's Playing You
. The bamacare socialized medicine takeover legislation doesn't even go into effect until 2014, and he is saying now in 2010 just 3 or 4 months after its passage, hey, look around, where are all those scary results they told us about? What I am wondering, actually, is just how stupid does he think we are? He is thinking that enough of us are too stupid to know that his socialized medicine bill doesn't go into effect until 2014, and that he can play us for fools with this kind of shameful, manipulative, abusive rhetoric.
President Obama Once Again Makes Erroneous Claim
. President Barack Obama on Monday incorrectly stated that a landmark campaign-finance ruling allows foreign entities to pour money into U.S. elections. It's the second time he's made such a claim, and this time it happened while he was promoting the Democrats' DISCLOSE Act in a Rose Garden speech.
Obama's Lack of Disclosure
. You know when a politician starts a sentence with "frankly," he's about to lie to your face.
Urban Myths
. Speaking to the Urban League on Thursday [7/29/2010], the president had a great chance to tout his accomplishments. Sadly, when it came to the economy, he had to stretch the truth quite a bit just to say anything.
In Wisconsin, Obama Touts Clean-Energy Jobs, Says Economy Is Rebounding
. Touring the ZBB manufacturing plant in Menomonee Falls, Wis., on Monday [8/16/2010], President Obama continued to make the case that the economy is on the rebound and that his administration's actions in the last 18 months to boost growth and create jobs have been the right ones. ... "What's clear," Obama continued, "is that we are heading in the right direction. Just a year and a half ago, the economy was shrinking rapidly. Now the economy is growing."
[Does anybody believe that?]
What Barack Obama's really saying at all these cross-country stops to collect money
. If any president's supporters knew what they were going to hear for their $30,400 fundraiser admission ticket, few would likely shell out even $30. Which is why so many Hollywood liberal luminaries like Jeffrey Katzenberg and Barbra Streisand bought the tickets and then completely skipped Barack Obama's speech...
Obama's foreign funny money
. In his weekly radio address on Saturday [8/21/2010], the president went on about the supposed effects of the Supreme Court's January decision in the Citizens United case, which loosened restrictions on certain types of corporate political activity. Mr. Obama warned of a "corporate takeover of our democracy." With plenty of melodrama, he complained about "a flood of attack ads run by shadowy groups." He even claimed, "You don't know if it's a foreign-controlled corporation." Mr. Obama surely knows his talking points are nonsense. His claim about foreign contributions repeatedly has been proved false.
Obama's Belabored Labor Day Speech
. An increasing number of Americans wish President Obama would stop trying to fix the economy, since his every effort seems to bring the country closer to bankruptcy. ... The president's speech to honor Labor Day, delivered last Friday [9/3/2010], naturally addressed the issues of labor, jobs, and the economy. Unfortunately, the president shows no signs of coasting. ... Mostly the speech was a tired collection of divisive class warfare attacks, in which Obama paints himself as the champion of the "great American middle class," and the enemy of the "powerful interests who had been dominating the agenda in Washington for far too long."
Obama: They talk about me like a dog
. Those following President Obama's prepared remarks during a speech in Milwaukee, Wisconsin Monday [9/6/2010] were thrown a bit of a curveball when it came to a description of his critics: "Some powerful interests who had been dominating the agenda in Washington for a very long time and they're not always happy with me. They talk about me like a dog. That's not in my prepared remarks, but it's true," he told a crowd largely consisting of union members.
The World Turned Upside Down
. Barack Obama recently addressed the Congressional Black Caucus and warned them, "Remember, the other side has a plan too. It's a plan to turn back the clock on every bit of progress we've made." The scare speech was a veiled attack on the Republican Party in terms of civil rights and racial progress — couched in equating Obama's own record since 2009 as the antidote to reactionary forces that would turn back the clock.
Does President Obama Think Our Rights Come from Our Creator?
The most famous words in the Declaration of Independence — and almost surely the most famous words ever written by an American — read, "We hold these Truths to be self-evident, that all Men are created equal, that they are endowed by their Creator with certain unalienable Rights, that among these are Life, Liberty, and the Pursuit of Happiness." On Friday evening [9/17/2010], when President Obama addressed the Congressional Hispanic Caucus Institute, he quoted that passage as follows: "We hold these truths to be self-evident, that all men are created equal [pause], endowed with certain unalienable rights: life and liberty, and the pursuit of happiness." In Obama's version, there is no "Creator."
By now it's obvious:
Obama wants no association with Christianity
.
Cramer Credits CNBC-Obama Infomercial for 146-Point Dow Jones Rally
. On Sept. 20, CNBC hosted a so-called "town hall" meeting on its network about President Barack Obama and how his administration is dealing with business issues. Obama took some criticism from participants and observers said the president was playing defense. However, CNBC's "Mad Money" host Jim Cramer had a different take on the made-for-television event.
Obama Warns That Corporations Are Taking Over
. No matter how shadowy or flush with corporate dollars an interest group is, the only thing
Citizens United
allowed it to do is speak. Advocacy has no impact unless it persuades people.
The Ego-in-Chief
. Two weeks ago, Obama essentially claimed Americans are too scared and ignorant to understand what his administration is doing. Taken to task for this arrogant claim the president nevertheless pushed ahead with his theory that Americans just aren't bright enough to appreciate his genius.
Obama's 'Green' Energy Plan Infringes on Liberty
. In numerous speeches, President Obama has stated that America's energy policy should be modeled after Europe's failed "green energy" project. During a speech in Ohio, Obama claimed that countries in Europe have superior energy policies, "And think of what's happening in countries like Spain, Germany and Japan, where they're making real investments in renewable energy. They're surging ahead of us, poised to take the lead in these new industries." In reality, Europe's experiments with government subsidized renewable energy and "green" jobs have been a costly disaster.
What's Up With 'Sputnik?'
The list of American innovations that have changed life on Earth is practically endless, but President Obama is trying to inspire America's next technological wave by referring back to a 50-year-old achievement by a defunct nation — Sputnik.
Obama Mispronounces Name Of 'Great Friend' Gillibrand
. [President Obama] was at an event at GE in Schenectady, New York today, announcing his selection of GE CEO Jeffrey Immelt as a senior economic adviser. The president began his remarks by recognizing dignitaries in attendance. The only ones among them he identified as "great friends of mine" were the two New York senators. He then proceeded to mispronounce Gillibrand's last name.
Obama on Libya: Better He Should Have Said Nothing
. After days of silence, the president of the United States took to the microphone and, in a statement of almost unbelievable pointlessness, said as little as he could.
The Speech Obama Hasn't Given
: I cannot for the life of me see how an American president can launch a serious military action without a full and formal national address in which he explains to the American people why he is doing what he is doing, why it is right, and why it is very much in the national interest. He referred to his aims in parts of speeches and appearances when he was in South America, but now he's home. More is needed, more is warranted, and more is deserved. He has to sit at that big desk and explain his thinking, put forward the facts as he sees them, and try to garner public support.
Obama Administration takes victory lap in clown car
. It's been less than 72 hours since President Barack Obama announced that
U.S. Special Forces
"a small team of Americans" had killed Osama Bin Laden. Since then, his administration has been hard at work screwing the whole thing up. Let's start with that speech Sunday night. It was originally announced for 10:30 but didn't happen until 11:30. By that time, the news Obama was supposed to be breaking had broken already. Not the best start. Presumably he was delayed arguing with his speechwriters about keeping in all the "I," "Me," and "Mine." Everything having to do with this raid was "I"; anything that could be attributed to the Bush administration was "We." "I gave the order, I did this, I did that."
Obama's Predictable Immigration Lies
. President Obama went to El Paso, Texas, yesterday to pander to Hispanics by promoting the myth that anyone who wants to get serious about border security is a dishonest racist.
President Obama's phony accounting on the auto industry bailout
. What we found is one of the most misleading collections of assertions we have seen in a short presidential speech. Virtually every claim by the president regarding the auto industry needs an asterisk, just like the fine print in that too-good-to-be-true car loan.
President Obama's war on facts
. President Obama's "corporate jet" line from his press conference Wednesday [6/29/2011] is crashing along with a host of other claims that fact-checkers dismissed in the hours after his speech. Obama referred to private jets six times in his remarks, essentially describing the Republican position on how to decrease rampant deficits as being "willing to compromise their kids' safety so that some corporate jet owner continues to get a tax break."
Smartest president ever gets lost in the grammar weeds
. I caught this howler of a statement from the president on a clip on Fox last night. ... "
And so that mitigates against this danger that you're suggesting that our main goal is going to be to kill these individuals as opposed to potentially capturing them.
" I challenge anyone to diagram that sentence.
What was the point of that Rose Garden speech?
Following the release of the dreadful jobs numbers, President Obama appeared in the Rose Garden this morning [7/8/2011]. However, it was entirely unclear why he was there or what his plan is for digging the economy out of the deep hole in which we find ourselves. The speech, if you can call it that, seemed to be a disconnected collage of one-liners and excuses.
The Permanent Obama Campaign
. At Barack Obama's White House, the presidency and the president's reelection campaign have merged. Totally. In the past, presidents have exploited their office to boost their reelection prospects. But never like this. The weekly radio address from the White House, the presidential policy address, and the opening statement at a presidential press conference have been transformed into campaign tools. Though there's nothing sacrosanct about these events, they've never before been used in such a blatantly partisan way.
Demagoguery is not leadership, Mr. President
. Does President Obama even read what is put in the teleprompter before he delivers it? On Monday night [7/25/2011], Obama claimed that "because neither party is blameless for the decisions that led to this problem, both parties have a responsibility to solve it." But just three paragraphs earlier, Obama put the blame for our $14.3 trillion debt squarely on President George W. Bush, claiming that "trillions of dollars in new tax cuts," "two wars" and "an expensive prescription drug program" caused government surpluses to turn into annual deficits. This despite the fact that in only three years Obama's spending has added $3.7 trillion to the national debt.
Leave Us Alone Mr. Obama
. After enduring a week of terrible news, we were blessed today [8/30/2011] with yet another speech by our President. And the only way to endure
that
is, of course, by analyzing it and revealing its true nature.
Obama: pass, pass, pass, pass, pass, pass, pass
. The president promised the bill a month ago, addressed Congress last week, and is now just getting around to delivering a bill for Congress to consider. These inconvenient little truths did not stop the president from acting as if Congress is dragging its feet as he said the word "pass" 7 times in his 5-minute speech.
This is what is known as
stammering
.
Obama: "I, I, I, I, I'm A Warrior For The Middle Class"
. "You know what? If asking a billionaire to pay their fair of taxes. To pay the same tax rate as a plumber or a teacher is class warfare, then you know what? I, I, I, I, I'm, I'm a warrior for the middle class. I'm happy to fight for the middle class," President Obama said at the Brent Spence Bridge in Cincinnati, OH.
All those Jeremiah Wright sermons are now bubbling out.
Obama gaffe: President says billionaires should pay 'Jew' tax rate
. While defending his call for the rich to pay more in taxes, the president said he didn't mind people calling him a class warrior for merely asking a billionaire to pay the same tax rate as a Jew. Whoops! The president meant to say "janitor" instead of "Jew," and he immediately corrected himself.
Obama mocks Perry, Republican debates
. President Obama broadened his attack on Republicans Sunday night, firing an indirect shot at Texas Gov. Rick Perry and condemning audience members at recent Republican debates. ... "I mean has anybody been watching the debates lately?" Obama said. "You've got a governor whose state is on fire denying climate change."
Obama's Biggest Lies
. If you work hard, play by the rules, save your money, create jobs, and make a success out of yourself, President Obama and the Democrat party will plunder everything you have worked so hard for, because in their view that is only fair. That is the meaning of the policies President Obama is espousing as he campaigns for re-election around the country this week.
In speech ad-libs, Obama shows anti-business bias.
What happens when Obama is off teleprompter?
The texts of Barack Obama's recent speeches seem tailor-made for softening the White House's often hostile description of American business, but the president's impromptu additions are highlighting his efforts to subordinate business to government.
How Progressives Work
: This week, the day after asking for another trillion dollars in spending, President Obama gave a speech about how he wants to shrink government. His plan to combine several departments within the Commerce Department, shrink the federal work force by about 1,000 and save an estimated $3 billion over 10 years, was hailed as "bold" by progressives and an example of how seriously he takes our current fiscal mess. They were counting on, and got, compliance by the media in not reporting that this "bold initiative" save approximately 3/4 of one day's worth of the deficit Obama has racked up ($4 billion).
Here's your post-partisan president at work:
Obama the promise breaker
. From the start, the president insisted 2011 would be a bipartisan year. "What comes of this moment will be determined not by whether we can sit together tonight, but whether we can work together tomorrow." The happy feelings didn't last long. By October, the campaigner in chief sunk to challenging the intelligence of people who disagree with him. At a stemwinder in Asheville, N.C., Mr. Obama insisted he had to break his jobs bill into "bite-size pieces" because Republicans "just couldn't understand the whole all at once."
Obama's failed energy policies
. No one's talking about it yet, but Obama also appears to be fulfilling his campaign promise to drive up home power bills by aggressively regulating America's industries that produce electricity. It will be difficult for Obama to escape his positions, which are heavily rooted in ideology. In today's speech in New Hampshire, he made clear that he knows he has a problem and he doesn't know what to do.
Oil is 'the fuel of the past', says President Obama
. President Barack Obama on Wednesday [6/7/2012] dismissed oil as "the fuel of the past" as he made an unapologetic election-year pitch for his alternative energy industry policies and sniped at Republicans over painfully high gasoline prices. "They get out on the campaign trail — and you and I both know there are no quick fixes to this problem — but listening to them, you'd think there were," he said at a Daimler Truck manufacturing plant in the battleground state of North Carolina.
Obama really is the non-energy president
. In his weekly radio address Feb. 25, the President said that "under my administration, America is producing more oil today than at any time in the last eight years. In 2010, our dependence on foreign oil was under 50 percent for the first time in more than a decade." ... These claims ... are nothing but spin. While it's true that U.S. oil and natural gas production are up, this is not thanks to, but
in spite of
Obama. All the increased production has come from state and private lands, where the President has little power. On federal lands controlled by Obama, production has actually
fallen
.
Obama Misleads on Oil Reserves, Networks Defend Him, Fail to Fact Check
. On March 7, 2012, Obama declared: "We've got 2 percent of the world oil reserves; we use 20 percent. What that means is, as much as we're doing to increase oil production, we're not going to be able to just drill our way out of the problem of high gas prices." While technically true, Obama's "oil reserves" numbers are very misleading due to the narrow definition of "proven reserves." The three broadcast networks failed to clear up that misconception for viewers and passed blame for high prices on to others.
Obama's Fuzzy Math
. One passage from the president's April 3 speech at the Associated Press luncheon in Washington, D.C., which he has repeated several times this week, contains some dubious assertions but has yet to receive any public scrutiny. Obama contends that the GOP budget, authored by Rep. Paul Ryan (R., Wis.), would provide "an average tax cut of at least $150,000 for every millionaire in America." It is unclear how the president arrived at that figure.
President of the Twilight Zone
. Deconstructing one of President Obama's speeches can be a bit like taking a trip to an alternate universe. Take his remarks last week to the Associated Press, contrasting his budget vision with that of Paul Ryan and Republicans. [...] Given that estimates of Medicare's unfunded liabilities run from a low of $25 trillion to as much as $90 trillion, the program is clearly going to have to change. The president may believe his changes are better than Ryan's, but to pretend that he would leave the program exactly as it is while Ryan would leave sick seniors in the streets to die is simply unstuck from reality.
Obama: I'm not trying to 'redistribute wealth'
. President Obama, who famously called for tax increases on the wealthy to "spread the wealth around," denied today [4/10/2012] that his tax increases on the rich are an attempt to "redistribute wealth." "So these investments — in things like education and research and health care — they haven't been made as some grand scheme to redistribute wealth from one group to another," the president said today at Florida Atlantic University. "This is not some socialist dream," Obama added, as he called for tax increases on millionaires today to pay for those investments. When he advocated the same plan in 2008, though, Obama described this "spread the wealth around" policy.
Clueless About Job Creation
. When the president begins a speech these days with praise for free markets, look out! What comes next are proposals for more government intervention in the economy and higher taxes. That's the recipe, Obama says, to "encourage our long-term economic growth and stabilize our budget." He said so in his Republicans-are-Social-Darwinists speech in Washington two weeks ago to newspaper editors. Near the outset, Obama declared: "I know that the true engine of job creation in this country is the private sector, not Washington, which is why I've cut taxes for small-business owners 17 times over the last three years." Those cuts have had minimal effect, and not surprisingly. They were tiny and temporary, and few small-business owners bothered to claim them, if indeed they were eligible to do so. Meanwhile, the president has persistently sought to raise their income taxes.
Barack Obama Shows How Low He Can Go
. Four years ago, when he was campaigning on a promise of "hope and change," here's what then-Senator Obama said in his acceptance speech at the Democratic National Convention: ["]If you don't have any fresh ideas, then you use stale tactics to scare voters. If you don't have a record to run on, then you paint your opponent as someone people should run from.["] Sound like anyone we know?
Obama Administration's Energy Policy A Boon To Petrotyrants
. Wittingly or not, President Obama has contributed to high oil prices by stymieing U.S. production. But if that's the idea, it makes sense to secure energy abroad. He hasn't. In fact, Obama's stated policy, in his March 30, 2011, energy speech has been a crude central planner's diktat of reducing oil imports by a third over the next 10 years and replacing them with increased production of biofuels and other unproven "green" energies yet to be developed.
Dumb and Dumber
. The lack of complexity in President Obama's recent speeches to college students suggests that they were stump speeches more suited for the presidential campaign than official government business, experts say. Obama addressed the coeds at the Universities of North Carolina, Colorado, and Iowa at a sixth grade reading level, according to Flesch-Kincaid reading comprehension difficulty tests conducted by the Washington Free Beacon.
Obama on GOP Agenda
. Seeking to shore-up the important organized labor base for his 2012 reelection, President Barack Obama on Monday [4/30/2012] accused Republicans of seeking to dismantle unions and of being willing to let America "fall further behind" other countries by rejecting his infrastructure-spending proposals.
Obama's whopper about an Ohio River bridge
. The crumbling infrastructure of the nation's bridges is certainly an important issue, but symbolism can only go so far. The administration could never explain what, if anything, the jobs bill would do to improve the Brent Spence Bridge, especially since construction was not slated to start until 2015 — and Obama's jobs bill would spend most of its money in its first year. Moreover, there is a long history of bipartisan support for this project, but Obama framed it as if the Republicans were blocking its reconstruction with their opposition to his legislation.
Obama's Discredited Policies Are Symbols of the Tired Past
. In a gimmicky performance before an audience at the State University of New York in Albany, Obama unveiled his plan on two large flat-screen television monitors in the form of a green Post-it Note with five unchecked boxes next to each proposal. It was a desperate, hastily slapped-together video show in the wake of last week's bleak unemployment report that showed few jobs were being created and the Obama economy was slowing down, again.
This Ain't No Polish Joke
. You cannot use the phrase "Polish death camp" without offending tens of millions of Poles. There were no Polish death camps. The Poles were the ones, by and large, in the Nazi and Soviet death camps. And yet, that's exactly what the author of "smart diplomacy" said last night [5/29/2012], at a ceremony that was supposed to honor WWII Polish underground leader Jan Karski.
The Consequences of Obama's Conceit
. Mark down the president's Memorial Day speech as another solemn occasion this administration has gratingly managed to politicize. [...] The White House's pomposity is the flip side of Obama's long-incubated self-pity, which holds that no president since the 1930s has had things as rough as this one has.
Can Photo Ops Lower Gas Prices? Stay Tuned
. "No matter what happens to America," the satirical pundit Stephen Colbert once observed, "She will always rebound with the most powerfully staged photo-ops in the world." And so Barack Obama stood before a bunch of big pipes today [3/22/2012] in Cushing, Oklahoma, to announce that he was expediting a process that is already on the fast track for approval.
Barack O'Gobbledygook
. At a fund-raising event in Philadelphia, he said: ["]There's (sic) still too many people who are out of work, too many homes underwater, and middle-class families that still don't have the confidence that the future for their kids and grandkids are (sic) going to be brighter than their futures have been (sic).["] This president gets the right agreement between noun and verb only half the time. For the sake of consistency it might be better if he got it wrong all the time.
Bill O'Reilly: 'That Was the Most Boring Press Conference I Have Seen in 37 Years of Covering the News'
. Fox News's Bill O'Reilly said Tuesday [6/19/2012] something few members of the media dare. At the conclusion of President Obama's address at the G-20 Summit in Los Cabos, Mexico, The O'Reilly Factor host said, "That was the most boring press conference I have seen in 37 years of covering the news."
Obama Plugs Birth Control and Planned Parenthood in Speech at High School
. Listing the reasons why Americans should vote for him, President Barack Obama told an audience at a high school in New Hampshire on Monday [6/25/2012] that failure to subsidize abortions and contraception is the same as "restricting access" to those services.
'I,' 'Me' — Obama Uses First-Person Pronoun 117 Times in 1 Speech
. Speaking in Sandusky, Ohio on July 5, President Barack Obama used the first-person pronouns "I" and "me" a combined 117 times in a speech that lasted about 25 minutes and 32 seconds. Obama used "I" 98 times and "me" 19 times, according to a transcript of the speech posted by the White House.
Obama's July 4 speech sets immigration above the law
. President Barack Obama used the White House's Independence Day celebrations to tout his June 15 amnesty for at least 800,000 illegal immigrants, and to suggest that the sweeping change is more important to the nation than compliance with the law. "Just as we remain a nation of laws, we have to remain a nation of immigrants," he told his audience.
With Today's Tax Flip-Flop Obama Moves Left of Pelosi, Hits 900K Small Businesses
. With the economy threatening to fall into another recession and job growth plummeting, Obama came before the American people today [7/9/2012] demanding taxes be raised on those making over $250,000 a year, including what he admitted would include 3% of small businesses. Even if that 3% is correct, which is disputed, that 3% means a tax increase on 900,000 small businesses.
Obama's 'Progressive' Tax Plan Actually Screws Over The Little Guy
. What the President didn't say in his speech yesterday [7/9/2012] is far more important than what he did say. He did not say word one about the 2% Social Security tax break that has been on the books the past few years. What this means is that the FICA tax break is going to expire. When it does, every worker's paycheck is going to get hit by 2%.
Tuning Out a President
. Somewhere around early 2006, the nation tuned out George W. Bush for a variety of reasons, some warranted, but many not. [...] So Barack Obama is likewise being tuned out. "Let me be perfectly clear," "Make no mistake about it," "In truth," "In point of fact," "I'm not kidding," and "I'm not making this up" all tip off a weary public that just the opposite is true.
The Invincible Lie
. Anyone who wants to study the tricks of propaganda rhetoric has a rich source of examples in the statements of President Barack Obama. On Monday, July 9th, for example, he said that Republicans "believe that prosperity comes from the top down, so that if we spend trillions more on tax cuts for the wealthiest Americans, that that will somehow unleash jobs and economic growth." Let us begin with the word "spend." Is the government "spending" money on people whenever it does not tax them as much as it can? Such convoluted reasoning would never pass muster if the mainstream media were not so determined to see no evil, hear no evil and speak no evil when it comes to Barack Obama.
I, President
. This week, President Obama gave a 25 minute speech in which he used the personal pronouns "I" and "me" some 117 times. He preferred "I" to "me" by a margin of 98 to 19. It's not uncommon for presidents to use first person pronouns in speeches. President Bush did it often enough. But Obama's stampede of "I's" and "me's" is unprecedented in its quantity. The President clearly has a high opinion of himself. That's a problem. Americans don't tend to like leaders whose narcissism is out of control. That's because those leaders tend toward the authoritarian and the imperial. They like executive orders and top-down control.
Obama's Shared Prosperity: A Euphemism Wrapped in a Lie
. "Spread the wealth around" sounded like the casual remark of a tone-deaf authoritarian, someone used to speaking to rooms full of like-minded leftists. The problem lay chiefly in the word "spread": so impersonal, it gives the impression that someone — Obama obviously meant
government
— should just forcibly disperse the successful citizen's property to others, willy-nilly. Government will spread your wealth around. Aside from completely addle-minded, entitlement-besotted slugs, what American would approve of reconfiguring America in accordance with such a principle?
Obama's AARP Speech Broke My BS Detector
. [Scroll down] My BS detection device didn't actually begin to smoke until Obama started talking about the mythical Medicare trust fund: "We lengthened the life of the trust fund by eight years." This lie not only caused serious damage to my machine's internal circuitry, it was too much even for the administration's lickspittles over at
Politico
.
Obama Also Discussed Katrina Racism in 2005 Speech
. Coming on the heels of the revelation of a 2007 speech by Barack Obama sewing racial division by discussing Hurricane Katrina, Breitbart news has uncovered another video where Sen. Barack Obama discusses Katrina as an example of white racism. The speech was given on Sept. 17, 2005 at Harvard Law School Association Award Luncheon, as part of the "Celebration of Black Alumni" weekend. Senator Obama was the keynote speaker.
Jeremiah Wright introduces candidate 18 days after Hampton University speech.
Another Obama Tape Surfaces
. It's June 23, 2007 — a mere 18 days after the now infamous Obama speech at Hampton University that the
Daily Caller
and the
Drudge Report
titled as "Obama's Other Race Speech." An angry, racially divisive speech in which Obama effortlessly slides into a Southern accent, shouting "
The people down in New Orleans they [the Bush administration and the federal government] don't care about as much!
" The event: The United Church of Christ's 26th General Synod, the bi-annual gathering of UCC pastors and lay leaders from across the country, meeting that year in Hartford, Connecticut.
Obama's speech at the University of Chicago, January 21, 2002
. In a video that surfaced on YouTube Wednesday morning [10/3/2012], a young state Sen. Barack Obama is seen explaining from a church pulpit that the principle of nonviolent resistance for social change applies more readily to the wealthy than to Americans in lower social classes. "I don't know if you've noticed," Obama says in the video, shot on Jan. 21, 2002 at the University of Chicago, "but rich people are all for nonviolence. Why wouldn't they be? They've got what they want. They want to make sure folks don't take their stuff."
The Editor says...
This was a political speech made from a church pulpit, and the "
separation of church and state
" people have no objection because the speaker is a left-wing Democrat.
Obama's America will Become Detroit. President Barack Obama travelled to Michigan this week and made his case for class war in defense of the welfare state. We need to take more money from the rich, he said, or schools will not be able to afford books, students will not be able to afford college, and disabled children will not get health care. "Our economic success has never come from the top down," said Obama. "It comes from the middle out. It comes from the bottom up." Obama spoke these words a few miles from Detroit — the reductio ad absurdum of his argument.
Obama's speeches in general
Related topic:
Obama is helpless without a teleprompter
.
Impeachment lite is a farce. The Democrats' punch-drunk base has demanded that President Donald Trump be impeached ever since the 2016 election when they suffered a knock-out in Wisconsin and Pennsylvania and then went down again in the recounts. Then they couldn't turn the Electoral College rogue, and failed with something called the Emoluments Clause, and botched their smears of Trump's judges and couldn't convince anyone that the new first lady is last and the last first lady is first. Of course, they attempted all that not for the purpose of succeeding, but for the purpose of making them feel virtuous. That's what they do. Former President Barack Obama brilliantly capitalized on this mindset. Instead of arguing that proposals with which he disagreed would not work, he simply condemned them as unvirtuous. He declared at least 46 times, "That's not who we are." Saying, "That's not who we are" is who Obama is.
An Obama Scandals List 1-100. When Obama spoke of "Yes, we can" that "we" did not include most Americans. But it was still a stirring moment when he said it. Obama does give a good speech. He can often be inspirational. The problem is that his policies don't fit his rhetoric. He gives an uplifting speech and immediately starts walking back the promises he made in it.
Obama White House deleted online speeches about the immigration crisis hours before Trump entered office: Report. The Obama administration deleted hundreds of speeches and statements on the Immigration and Customs Enforcement (ICE) website just hours before President Donald Trump officially entered office, according to research released Tuesday. A collection of 190 transcripts of speeches on ICE's website was deleted on Jan. 18 and late in the evening on Jan. 19, 2017, according to research conducted by the Sunlight Foundation, a nonpartisan organization that advocates for government transparency. Statements made by high-ranking ICE officials regarding controversial immigration topics such as sanctuary cities, E-Verify, treatment of detainees, and other issues were included in the reported deletions.
Beto O'Rourke Is Fauxbama. Only once did I sit in a medium-sized room with Barack Obama. It was May 19, 2006, and the then-senator was speaking at a BookExpo America breakfast to promote his book The Audacity of Hope. [...] Winding down, he deployed Martin Luther King Jr.'s remark about how "the arc of the moral universe is long but it bends toward justice" and said, "I look forward to working with you guys to spread the hope." The place went bananas. In a room full of booksellers and librarians, I was the only one not applauding. I was the only one who didn't leap to my feet as though I had just received a life-altering revelation. As my success is obviously not tied to that of my neighbors, I am obviously not caught up in a mystical mutual-destiny tour with 300 million Americans and never have felt any rhapsodic "collective life" created by the nurturing bonds of government, Obama's speech struck me as completely false, not to mention vapid, platitudinous and void of all meaningful content. Still, a great many people were entranced by Obama's platitudes. Giving speeches, it turned out, was the only thing he was good at. But those speeches made him president.
Obama: Still the Master of 'Making Stuff Up'. Barack Obama is campaigning hard for Democrats and claiming "the character of our country is on the ballot" and Republicans are "making stuff up." Though entirely predictable, that rhetoric might be half right. The character of our country was on the ballot 10 years ago when the freshman U.S. senator from Illinois said, "We are five days away from fundamentally transforming the United States of America." To get to that point, some believe, the former president of the Harvard Law Review had to make up a few things, such as his founding story.
Obama allegedly campaigns for Democrats, but.... Probably my favorite Barack Obama campaign story involves an outdoor speech on a sweltering 2012 day in Roanoke, Virginia. As he went on and on, members of the adoring crowd began fainting from the heat. The president's revealing response was not to cut his remarks short and let everyone seek a cold drink and air conditioning. No, the president of the United States began issuing advice to crowd members on how to avoid fainting so he could finish his remarks. Don't lock your knees, he said. Don't stand on just one leg. Drink water. And he assured everyone that paramedics were on the way. Then, Obama resumed his speech and continued to the very end.
Obama's back, and he's more like Trump than you might think. Neither Obama nor Trump has a limited opinion of himself. Neither minds sharing his observations, whether you asked or not. Neither is shy playing to his crowds. Neither is immune to an affliction called tone-deaf. And neither is capable of publicly apologizing. Remember Obama speeches? It seems like years already, doesn't it? They're meticulously organized and chronological, almost like a lawyer wrote them. Oh, wait. He did.
Impersonators of God. Obama himself began his presidency with the odd notion that he could control the world with a series of speeches — not speeches announcing particular policies, but speeches constructed entirely of grand dreams and virtue-signaling tropes. Not to be ignored is the left's confidence in flinging the word "racist" like a voodoo curse. To be fair, the tactic of shaming their opponents has worked well for them for decades — withering weak Republicans in place like Christ's fig tree. We drown in the perennial mantras of "diversity," "social justice," and "white privilege" — vague ideas that are moldable enough to suit whatever magic incantation the circumstance requires. All of it nonsense.
Obama's 'Greatest' Speeches Have Been Collected in One Book. Here's a Brutally Honest Assessment. In 2004, a handsome young Senate candidate gave a remarkable autobiographical address at the Democratic National Convention. Drawing on his life as the son of a Kenyan Muslim exchange student and a white daughter of a World War II veteran, raised in Hawaii and the Philippines and graduating from Harvard Law School despite his odd-sounding name, it captured the attention of millions of people who otherwise had no interest in the week's blandly coronal proceedings in Boston. It remains a shame to this day that this moving and funny speech had to be wasted on bolstering the electoral prospects of an empty suit like John Kerry. Four years later, after triumphing over a woman who has never uttered a memorable phrase in her life, the orator became first his party's nominee, then his country's president. It was difficult not to be heartened by this assurance that, in an age of officialese and stat-dropping, it was still possible to make it in politics almost entirely on the strength of one's ability to do things with words.
No, You Didn't. Barack Obama will remain in office for a little while still, but we might reasonably consider last night's speech the end of the Obama presidency. [...] Barack Obama has spent eight years under the misconception that the job of the president consists mainly in the making of speeches. And for a man who rose to national attention on the basis of his oratory, he has said relatively little that is memorable. That is because he has relatively little to say, being a man who brought no new ideas or insights to the office, only a pointlessly grandiose sense of his own specialness.
How Obama ruined his Dallas memorial speech. I was a speechwriter for Ronald Reagan, and like all those who have had the inestimable privilege to help craft a president's words, I'm a connoisseur of the form. Despite his reputation as a stemwinder, Obama has not given an address in his seven years that any serious student would elevate into the pantheon of American oratory.
You Don't Know What Obama Said at the Mosque. If you seek to understand Barack Obama and his views, the best place to go is his speeches. But you have to read them in their entirety, not rely on hearing them or on the media's summary of them. When you do, you come to realize how often what Obama says is morally and intellectually confused and even untrue.
Barack Obama and the Hall of Fame of Straw Men. Barack Obama is famous for the false choice: time after time, he posits only two alternatives, one of which is his preferred course while the other option is an obvious straw man, sometimes a course that has never been advocated by anyone.
Inspector in Chief Barack Clouseau. What is [Obama's] default reaction to every terrorist attack on American soil? Before he even has time to receive, much less analyze, the bulk of the evidence on such an attack, he immediately rushes to the presidential microphone and makes two equally bizarre points: that gun ownership is the principal cause of the attack and that we dare not jump to the conclusion that it was motivated by Islam or perpetrated by Islamists. [...] How many times has he lectured Americans on guns after such an attack? How many times has he chided us not to presume it was committed by an Islamist? How many times has he rushed to shame us against jumping to the conclusion that Islamic violence was the culprit and then waxed eloquent about how wonderful Islam is?
The Wrong Side of 'the Right Side of History'. Barack Obama has always evinced a fascination with history. [...] If Obama's interests run toward history, so does his rhetoric. "It's the answer that led those who have been told for so long by so many to be cynical, and fearful, and doubtful of what we can achieve to put their hands on the arc of history and bend it once more toward the hope of a better day," he said the evening of his first election. Since then, the president has repeatedly deployed a series of phrases — especially "the right side of history" and "the wrong side of history" — that suggest a tortured, idealistic, and ultimately untenable vision of what history is and how it works.
Obama Is Not Who We Are. The Washington Free Beacon has put together a video montage of Obama using his catchphrase, "it's not who we are" 46 times. [Video clip] [...] No matter how many times it's used, it is a weak debate trick to muzzle his opponents by suggesting that no true American could possibly disagree with his point of view. Allow me to turn the tables and point out some of the multiple instances when Obama's actions are not what we are.
46 Times President Obama Told Americans 'That's Not Who We Are'. President Obama is fond of telling Americans "that's not who we are" when admonishing them about not agreeing with his liberal principles, a new SuperCut shows. Not unlike his warning to political opponents that they may be on the "wrong side of history," the expression is useful in its ability to shut down conversation and seize a moral high ground, however imaginary.
Also posted under Obama hates America.
Obama Has Just Begun. [Scroll down] An Obama press conference is now a summation of all his old damn-you clichés — the fantasy strawman arguments; the caricatures of the evil Republican bogeymen; the demagogic litany of the sick, the innocent, and the old at the mercy of his callous opponents; the affected accentuation (e.g., Talîban; Pakîstan, Îslám, Latînos, etc.) that so many autodidacts parade in lieu of learning foreign languages; the make-no-mistake-about-it and let-me-be-clear empty emphatics; the flashing temper tantrums; the mangled sports metaphors; the factual gaffes; and the monotonous I, me, my, and mine first-person-pronoun exhaustion. What Obama cannot do in fact, he believes he can still accomplish through invective and derision.
Strategic Lying and Obama. Logical fallacies have long been the lifeblood of dishonest politicians and in Obama, we find an abundance of them. A favorite fallacy is the strawman, which is an attack on a position that is not even held by the other side. Obama's strawmen have been those never-named naysayers Obama claims are "urging him to sit on his hands at the White House and do nothing to address any of the economic or national security problems facing the country." Some telltale indicators that the straw man tactic is being used are the words "there are those who say" or "some say" as in Obama's "[s]ome people say that maybe I'm being too idealistic." Then there is the false choice embedded inside another straw man as in his "You can't have 100 percent security and then also have 100 percent privacy and zero inconvenience" — yet no one ever asked for 100 percent of these things in the first place.
Why Won't Obama Stop Lying About Iran's Military Budget? What is Iran's military budget? Read Obama's lips. It's either $15 billion or $30 billion. Either Iran's military budget changes every time Obama gives a speech or he's playing with numbers to make it seem small. If $30 billion still seems big, how about $15 billion? And if $15 billion is still too big, get ready for the $7.5 billion Iranian defense budget. How can you be worried about that? Obama is borrowing a trick from the Manchurian Candidate. No one is talking about how big Iran's military budget is, but debating how small it is.
Experts reverse-engineer Obama's speech-making template. And this brings me to the urgent need to address [BUZZWORD]. [BUZZWORD] is a threat to our homeland security, our economic infrastructure, the safety and health of the American people. This cannot be subject to the usual politics and the usual rhetoric. Confronting [BUZZWORD] is now a key pillar of American global leadership. When I meet with leaders around the world, [BUZZWORD] is often at the top of our agenda — a core element of our diplomacy. Around the world, [BUZZWORD] increases the risk of instability and conflict.
As Jordan, Egypt bomb ISIS, Obama holds a summit on extremism; He plans 2 speeches. Whenever Barack Obama needs the appearance of taking action on some hot issue in the news, he calls for a summit of some kind. Gun violence. Bullying. Healthy eating. Oh, look! Another one begins today in Washington: The White House Summit on Countering Violent Extremism. It's so very important that Obama will throw not one but two speeches at it during the next three days.
In Obama's Speeches, the 'I's Have It. When President Obama gives a speech, it often seems as though it's more about him than whatever subject he's supposed to be talking about. A case in point comes from his 33-minute talk in India, during which Obama referred to himself 118 times. That works out to once every 16.6 seconds. PJ Media managed to compile them all into one amusing 3-minute video. This is quite a feat, but it's not even close to a record for Obama. In a 2010 speech on jobs and reviving the economy, Obama mentioned himself 132 times. He used the term "small business" just eight times. Last June, Obama gave a 40-minute speech wherein he packed in 199 uses of "I," "me," or "my.".
Obama's shtick is getting tired, even with some Democrats. One of the president's favorite rhetorical tricks is to place himself at the center of any debate and to banish his critics to the extreme fringes. It was a technique he perfected during the 2008 campaign. For example: "At various stages in the campaign, some commentators have deemed me either 'too black' or 'not black enough,'" Obama said during his speech on race relations in March of that year. In this way, the president frames himself as a centrist and all others as irrational and hopelessly partisan.
The 112 broken promises Mr. Obama made in previous SOTU speeches. As we prepare for yet another State of the Union address filled with promises and pledges to the American people, the folks over a Grabien have pieced together a nearly 13-minute montage of the 112 promises that President Barack Obama made in his previous addresses to joint sessions of Congress but never kept. Included in the video are broken promises to lower insurance premiums and reduce healthcare costs, freeze spending for five years, veto spending bills that don't balance the budget, entitlement reform, tax reform, and eliminate red tape that's hurting American businesses.
Explaining Away Obama. When the president uses emphatics like "really" or "actually" or "make no mistake about it, "let me be clear," "in point of fact" or "this is unacceptable," we know that what follows will be untrue and others will be blamed for the president's own self-induced blunders. Like Jonathan Gruber, and his surreal statements on amnesty, Obama believes that Americans are too stupid to retrieve videos and transcripts that prove that Obama makes things up and contradicts himself serially.
Losers. Arrogance and incompetence are a fatal brew. If once his problem was his failed policies, now it is also his persona, especially the blame-gaming and sense of boredom on the job that borders on public petulance, as if he came into the presidency to save us, and we did not appreciate his godhead. "Make no mistake about it" and "Let me be perfectly clear" have become something like Sominex for most Americans.
This 76-Second Video Covers Pretty Much Every Speech Obama Has Ever Made. Thanks to our friends at Washington Free Beacon, you'll never have to watch a Barack Obama speech again. Reason being, this 76-second video shows you everything he's going to say.
Obama's Made-for-TV Worldview. In his mostly admirable remarks about the beheading of American journalist James Foley by the jihadists of the so-called "Islamic State," Obama returned to two of his favorite rhetorical themes: 1) the idea that in the end the good guys win simply because they are good, and 2) that world opinion is a wellspring of great moral authority. Obama invokes the "right side of history" constantly, not only that such a thing exists but that he knows what it is and actually speaks for it as well.
The Callow President. The notion that Obama might be a grand historical figure was always an illusion, although at the beginning his rousing words lent it some superficial support. He gave a truly inspired convention speech in 2004 and a few defining campaign speeches in 2008. But that was long ago. Once the magic wore off, it became clear he's not really an orator. Few of his big speeches as president have been memorable or remarkable, and he's almost always failed to move public opinion. His greatest rhetorical skill turns out to be mockery. The man who once promised to transcend political divisions is an expert at the stinging partisan jab. What Churchill was to thundering statements of resolve, he is to snotty put-downs.
No Rest for the Wicked. Obama's pledge that "we will not rest until..." may sound familiar to you. In fact, the pledge is so chronically overused, and issued so casually, that it no longer carries much meaning. Here's a brief history: [...]
Obama's Words: Like Sand Against the Wind. For Barack Obama speeches are not just motivational instruments or representations of a desired state of affairs, but feats of political transubstantiation, where, if he utters them, words become reality. It is a behavior not dissimilar to Adolf Hitler maneuvering imaginary German divisions from his Berlin bunker while Russian troops rampage throughout the city above him. Delusional is the only term that I can muster to describe the chasm that exists between the words Obama uses and the differing reality into which they are dispensed.
Obama's addiction to speeches: The more he gives, the less people listen. President Obama knows he's in trouble with the American people. [...] He's giving speeches. Many speeches. Campaign speeches. Roll-up-the-sleeves speeches. Point-his-finger speeches. Call-on-others-to-do-something speeches. It's what Obama does, throw speeches at things like pop singers throw eggs at neighbors. What he's always done because meeting, cajoling, joshing, building teams with Congress, bringing people together is not what he's good at.
A Performance Review. Even today, some in the political community and the press regard Obama as an eloquent communicator. They're wrong. He's become windy, boring, whiny, and unpersuasive. He has a case to make for his presidency, but he makes it poorly. [...] One reason for the failure of Obama's speeches is their sameness. He insists the public loves his current agenda (minimum wage hike, more money for infrastructure, etc.), blames Republicans for blocking it, and uses rhetorical devices such as straw men. Republicans, he said again last week at a Maryland fundraiser, don't believe "we as a community, as a country" should give people "a hand up." I don't know a single Republican with that attitude.
Is Obama Stupid and Lazy? One reason why the media has declared Obama to be "brilliant" is because of his inspirational speeches. However, Obama doesn't write his speeches — His campaign speeches were written by Jon Favreau, who is now his main speechwriter at the White House. The soaring words and inspirational phrases were all written by Favreau. Without Favreau, Obama's speeches are mediocre.
Obama's addiction to speeches: The more he gives, the less people listen. Obama believes he's good at speechifying. And he used to be. Trouble is, more and more Americans are tuning him out.

What Obama's 'Making Sure' of. One of President Obama's less-noticed verbal tics is his frequent use of the expression "make sure." He recently proclaimed: "Talk is cheap and we've gotta actually make sure we can do it." The "it" in that opening statement of his "Promise Zones" speech was to "help more Americans get ahead" — beginning with the extension of unemployment benefits. Besides the fact that Obama's talk is actually anything but "cheap" — the unemployment extension alone will cost billions — have you noticed how frequently he and other politicians use the phrase, "make sure"?
Obama's Relentless Use of 'Relentless'. The relentless use of "relentless" began in 2009, when the president nominated John Kammerzell, Mark Martinez, and Stephen James Smith to be U.S. Marshals in Colorado, Nebraska and Georgia. The president noted all three had been "relentless in their pursuit of justice."
Borrowed Eloquence. Is Barack Obama really the somewhat interesting guy who wrote Dreams From My Father? I doubt it. I don't say Bill Ayers necessarily wrote the book, but I doubt that it was Obama. He has yet to formulate a political thought in an even slightly original way. Hackneyed phrases and deadening cliches are the essential medium of his expression. His speeches are like New York Times editorials.
DNC chair utters a strange word to defend Obama. Unlike many officials this long into elected service, President Obama has stuck with his teleprompter. It not only ensures he utters the vocabulary words pre-polled by his communications strategists for effectiveness and resonance with voters. Ever heard him, for instance, not combine the words "quality affordable health care"? No accident. But the prompter frees Obama from having to think much about what he's saying, lets him focus more on a really sincere delivery.
Obama Disassociates from Reality. About President Obama's remarks on Monday in the Rose Garden on the matter of the problems plaguing the Affordable Care Act and, specifically, healthcare.gov, it seemed to me that they served a valuable purpose, at least to this extent: They distilled the Obama presidency to some of its core qualities: (a) detachment from reality; (b) misleading in its claims; (c) deeply polarizing and partisan; and (d) filled with lame excuses. But there was another noteworthy element to what the president said. I have in mind the pitiable quality of his remarks. Speaking about the Affordable Care Act, Mr. Obama kept insisting — over and over and over again — how good the product is, how really and exceptionally good it is, how popular it is, and how things really and truly will work out.
Obama as Chaos. In short, whenever the president prefaces a sweeping statement with one of his many emphatics — "make no mistake about it," "I'm not making this up," "in point of fact," "let me be perfectly clear" — we know that the reverse is always true. For Obama, how something is said matters far more than what is said. If he stumbles, as is his wont, through an un-teleprompted remark that on rare occasions can be mostly accurate, that is a serious lapse; if, more frequently, he mellifluously asserts a teleprompted falsehood, there is little worry. The result is not so much untruth, lies, or distortions, as virtual chaos. Is what he says untrue, contradictory of what he said or did earlier, or just nonsensical?
A Truly Great Phony. Like other truly talented phonies, Barack Obama concentrates his skills on the effect of his words on other people — most of whom do not have the time to become knowledgeable about the things he is talking about. Whether what he says bears any relationship to the facts is politically irrelevant. A talented con man, or a slick politician, does not waste his time trying to convince knowledgeable skeptics. His job is to keep the true believers believing. He is not going to convince the others anyway.
Our Make No Mistake About It/Let Me Be Perfectly Clear President. Never has a commander in chief so casually, so confidently approached the podium as if he were popping open his own laptop, his jaw almost in Mussolini style thrust out, with eyes fixed three feet above the heads of the audience — all with just the right mixture of self-assurance and canned humility. No wonder that after all that we expect a "four score and seven years ago" that will match the perfect choreography. Never has a president so mastered the teleprompter — no easy task in itself — with just the right pauses, followed with a timely ratcheting up of passion, punctuated with a half-smile, a grimace, a laugh.
Barack Obama Is Boring. This is the president's favorite false alternative: either we do things "alone," or government does them for us "collectively." What this world view leaves out, of course, is the voluntary cooperation of private individuals, particularly their cooperation in the free market. Which is to say that he excludes from his world view the actual majority of human activity. But this is the basic false alternative of every Obama speech, and it is the flimsy intellectual foundation of his entire presidency.
No More Excuses
. Interestingly, Obama and the Democrats have had their own stock response line to every problem — it's George W. Bush's fault. Blaming the current economic mess on tax cuts, as Obama and his warm up act, Bill Clinton did, is a bit bizarre, but the Democrats don't have a whole lot to work with. Tax cuts had nothing to do with the financial panic of 2008 or the real estate bubble that preceded it. At no time in American history can a tax cut be shown to have caused a recession.
Barack Has a Record
. Every Obama speech is fraught with lies and half-truths. He relies on his belief in the ignorance of his audience, and that Americans are too lazy and soft to recognize his dishonesty.
Make this the last speech
. [Scroll down] You keep using the wrong words. Your political vocabulary is stymied by words that will prolong the recession and the decline of the United States. Your political lexicon is limited to job-killing words like...
Obama's 'Counteroffensive'? Please!
Seeing as President Obama cannot govern, he's had to go back to campaigning — an activity with which he's quite comfortable but decreasingly successful, as evidenced by his falling poll numbers and his endless, repetitive speeches.
Welcome to Jimmy Carter's 2nd term
. It has taken three decades, but Americans are finally living through Jimmy Carter's second term. Now we've got Jimmy Jr. barking at us from the White House about eating our peas and ripping off our Band-Aid. He might not even let us have our Social Security checks. These are just the latest in a long line of nagging lectures.
Obama's Journey Through Vanity Fair
. At one point I thought it could be attributed to an unusual degree of cynicism, but now I wonder if it goes deeper than that. What I have in mind is President Obama's obsession with portraying himself as our moral superior. ... Obama, according to Obama, is quite simply better, much better, than those around him. He is a man of pure motives and unparalleled reasonableness, extraordinary intellectual depth, and unsurpassed seriousness. Others are driven by narrow self-interest, by the political calendar, by outside pressures. They are too ignorant or too weak to do the right thing, the good thing, the hard thing. Not Obama.
The Community Organizer Who Would be King
. This week's press conference revealed him as a man desperately clinging to the same rhetorical devices that have long worn thin: demagogic false choices, class warfare and a preposterous description of himself as the reasonable adult in the legislative process. Fill in the blanks here, for this is the same speech we have been hearing for his entire term: Republican leaders need to ask their constituents if they are willing to sacrifice the [health, safety, welfare, future] of their children for [you name it].
Obama's Misleading Vocabulary
. A quick review of Obama's speeches reveals his most common euphemisms seem to show a pattern of deception, obfuscation and misdirection. In President Obama's lexicon, words have different meanings; to decipher the message and understand what the President is saying requires a special Washington Dictionary. Here are some samples from President Obama's special dictionary...
Obama's speeches are replete with meaningless pap and filler.
Obama says everything — and nothing
. The most cerebral president in America's history — yes, much smarter than Madison, Jefferson, Adams, any of the Founding Fathers, to hear the mainstream media gush — is suddenly sounding like a community college dropout.
Intermission for America
. Barry's honeyed speeches come dipped in the comb of Reverend Wright who denounced middle-classness as if it were a disease. When he speaks you may not always hear it, but even many of the good and kindly people who voted for that clean shaven young man who promised hope and change, are learning to listen. The empty charm, the warm glow of a television set, the beaming smile practiced four score and seven times before a mirror every morning, are losing their magic. There is less of the fireside chat about them and more of the depression era comedy, lavish and tinkling, but only a distraction.
Oh, Man, Not Another Sputnik Moment...
I keep a list of historical analogies — derived from years of grading papers — that tell me that the individual using them is (to be polite) more interested in rhetorical impact than historical accuracy. ... Now, thanks to President Obama, I've got a third analogy to add to the list: "Sputnik moment." To be fair, I should have added it years ago. The phrase, according to Google, has popped in and out of the news regularly over the past decade, with the president himself beginning to use it last June, in a speech in North Carolina.
Obama's Demoralized Left
. The president is almost as ubiquitous as Big Brother in 1984, but he does not reign over Orwell's Oceania. Every redundant or pointless appearance Obama makes diminishes him. Americans know all about advertising and self-promotion. We are savvy about oversold products, particularly political products like Obama, who works in an utterly scripted and unchallenged public environment. This fatigue affects Democrats, too. All Americans bore easily when the same face is saying the same things.
When the Charm Rubs Off
. His Dec. 8 televised economics speech at the Brookings Institution was followed on Dec. 10 by his televised Nobel Peace Prize acceptance speech, which was remarkable for 38 uses of the pronoun "I." And for disavowing a competence no one suspected him of. ("I do not bring with me today a definitive solution to the problems of war." Note the superfluous adjective.) And for an unnecessary notification. ("Evil does exist in the world.") And for delayed utopianism. ("We will not eradicate violent conflict in our lifetimes." But in someone's.) And for solemnly announcing something undisputed. (There can be a just war.) And for intellectual applesauce that should get speechwriters fired and editors hired.
How O says he's about to mislead
. [Scroll down] For connoisseurs of Obama-speak, the address featured a trifecta, combining three of his favorite rhetorical tropes. There was the vague reference to "those who" question his agenda; the "false choice" they use to deceive the public; the determination to "be clear" and forthright, in contrast with those dishonest naysayers. These devices are useful as signals that the president is about to mislead us.
Obama's Speeches Become a Weak Point
. Obama's rhetorical challenge runs deeper than the recession. In the most unexpected development of his presidency, what was once universally recognized as Obama's greatest political strength — his oratory — now seems a serious weakness.
In Obama's speeches, one favorite phrase: 'Let me be clear'
. Whether President Obama's upcoming State of the Union address focuses on jobs, health care, foreign policy or something else entirely, there is one thing we can count on: Obama will make himself absolutely clear.
Their Own Worst Enemies
. Obama is clearly doubling down on his plans to push through a health-care bill, and his remarks today underscored just how partisan the once "post-partisan president" has become.
Lipstick On A Pig
. [Last year] the physicians were told to bring their white lab coats with them to make sure the TV cameras captured the proper image. Those who just showed up wearing suits or dresses were provided with lab coats hastily rustled up. This year's event was similarly staged, and the stage props standing alongside President Obama might as well have been straight out of central casting. Clearly the White House has run out of ideas, both on the substance of their bill and how to persuade the American people to swallow this bitter pill.
The President's Imaginary Health Plan
: The president launched a last-ditch effort to pass a government takeover of American health care yesterday [3/3/2010]. To hear him tell it, his plan would let every American keep the health insurance he has today if he wants to. And it would reduce premiums, cut taxes for the middle class, slow the pace of rising costs, reduce the federal budget deficit, and keep bureaucrats out of health-care decisions too. This latest presidential health-care pitch might have left some Americans scratching their heads. What plan is he talking about, they might ask themselves. Because the plan he described doesn't remotely resemble anything the Democrats have assembled over the past year.
Obamacare worth the price to Democrats
. So there was President Obama, giving his bazillionth speech on health care, droning yet again that "now is the hour when we must seize the moment," the same moment he's been seizing every day of the week for the past year, only this time his genius photo-op guys thought it would look good to have him surrounded by men in white coats.
Gloomy Obama would rather be a victim than leader
. While the straw men Obama creates in each speech say he should do nothing, the president says he is compelled to act, even if the only option is unpalatable. It's a rhetorical trick that helps Obama avoid the label of hard-Left liberal. But it also helps perpetuate Obama's image as a gloomy pessimist, a label that may be even more damaging. He'd do better by owning his agenda and selling it with vigor instead of moping through his term as a victim of fate.
Obama Has Given 54 Speeches on Health Care
. On no other issue has President Obama put in as much effort and displayed as much passion as on health care. Since launching his campaign for health care reform with a White House forum on March 5th of last year, Mr. Obama has delivered 54 speeches and statements on the issue.
The End of Hope and Change
. President Barack Obama's final speech before this weekend's anticipated vote on health care legislation had the same soaring rhetoric he's been known for, those turns of phrase that sound awfully pretty unless you think about them too hard. Obama's speeches are what a speechwriter I knew liked to call "cotton candy communication" — sticky sweet and airy, made for children, comforting to the listener as they hear, but melting away, instantly forgettable. Plus, ingest too much of it and you get sick as a dog.
Obama incorrectly "quotes" Lincoln.
Obama: Bound to be Fake
. [Scroll down] The book he was consulting may have been
They Never Said It
, by Paul F. Boller and John George. If so, he missed what they said about the Lincoln passage: "This sounds like Honest Abe, but honesty compels admirers of Lincoln to admit that there is no documentary evidence for the statement."
Without Lies, What Could Obama Say?
[Scroll down slowly] Contemplate the reticence, and effectiveness, of George Washington in building this nation. Then compare it with the 500+ speeches that our current leader has given in less than a year and a quarter; all scripted fiction, (do you find that the word 'lie' perhaps applies here?), completely forgettable and delivered to a (or so Obama thought) gullible American public. These increasingly ineffective professorial lessons in everything that is wrong with us were delivered by Obama simultaneous to his systematic dismantling of the United States of America as created by George Washington and the others.
One Man's Quest To Catalog Presidential Minutiae
. Without somebody counting, "a lot of this vaporizes," [Mark] Knoller says. "I've got an assessment of the presidency that others don't... I'm amused by it." While Washington marveled at the verbosity at the president's health-care summit Feb. 25, it was Mr. Knoller who put a number on it: at 60,000 words, the 155-page White House transcript of the summit was the longest ever recorded — by Mr. Knoller, anyway. He says that as of Tuesday [3/30/2010], Mr. Obama has delivered 481 speeches, comments and remarks, and used a TelePrompTer for 220 of those.
The Empty Vessel President
. [Obama's] rhetoric has been shown to be the same hackneyed product of political speechwriters, his communication skills very similar to that of any good news anchor, and his language has shown a disturbing tendency towards propaganda... short on facts, long on emotion, and big on inverted meanings where taxes are investments, spending is saving, and more government intrusion is freedom.
"Enough Money"
. One of the many shallow statements that sound good — if you don't stop and think about it — is that "at some point, you have made enough money." The key word in this statement, made by President Barack Obama recently, is "you." There is nothing wrong with my deciding how much money is enough for me or your deciding how much money is enough for you, but when politicians think that they should be deciding how much money is enough for other people, that is starting down a very slippery slope.
Silent signals
: In 2009 President Obama subjected the nation to 52 addresses, 158 interviews, 42 news conferences, 23 town hall meetings and used the teleprompter 178 times. Oddly, the master of speechifying says more by saying nothing then if every utterance that ever passed Obama's lips was pooled into one unending communiqué.
It's Complicated
. Jon Stewart pointed out something interesting: how often President Obama or his underlings tell us how complicated or complex the job is. So I did some searching on the White House web site to see how often such words appear in various speeches and remarks.
Shut Up, Barack!
Does anyone recall the first weeks of Barack Obama's presidency? He was everywhere on the media all the time. His constant use of TelePrompters became an instant joke, suggesting he could not say anything unless it was scripted. Indeed, listening to him try to speak without them is a painful process of a very slow selection of words and very long pauses in between.
Why is Obama Changing "Freedom of Religion" to "Freedom of Worship"?
Last November Obama used the term "freedom of worship" at the memorial service for the victims of the Ft. Hood shooting. A few days later he did it again in speeches in both Japan and China. In December Hillary Clinton also used that terminology three times in a speech at Georgetown University and never once used the phrase "freedom of religion". In January of this year Clinton used the "freedom of worship" term four times while addressing senators. ... The response by many religious freedom advocates is fear of what this all means.
Obama Moves Away From 'Freedom of Religion' Toward 'Freedom of Worship'
. The change in language was barely noticeable to the average citizen but political observers are raising red flags at the use of a new term "freedom of worship" by President Obama and Secretary Clinton as a replacement for the term freedom of religion. This shift happened between the President's speech in Cairo where he showcased America's freedom of religion and his appearance in November at a memorial for the victims of Fort Hood, where he specifically used the term "freedom of worship." From that point on, it has become the term of choice for the president and Clinton.
"Freedom of Religion" vs. "Freedom of Worship"
. That's a departure from what most Americans understand as "freedom of religion," but it may still seem like an inconsequential difference. The truth is that changing the word "religion" to "worship" drastically changes what is protected.
Let me be clear: Obama's condescending phrase
. Among his favorite phrases — "make no mistake," "whole host," "change isn't easy" — one is President Obama's obvious favorite: "Let me be clear." He uses it — deliberately and extemporaneously — when making what he obviously feels is his main point. So too, annoyingly, does much of his administration.
The Unpresidential President
. [Scroll down] It may be, however, that Obama has created a box for himself from which he cannot escape. He has so monopolized and personalized the public relations aspect of his office that now only his own voice can speak for the presidency. Profligacy in the use of public access — almost a speech a day — has made indirectness impossible. A president who has become his own chief point man puts at risk an asset that is helpful to his standing and vital for the nation's political system: the dignity of the presidential office.
Sixteen Thousand Birthday Wishes From Obama to His Favorite Person
. Since Obama took office January last year, he's talked endlessly about himself. At townhalls, in speeches, during anniversaries and to the press, the message has always been the same: "I." Obama has spoken some form of "I" or "me" more than 16,000 official times since he took office.
How Many "Top Priority" Issues Does Obama Have?
After the Senate passed that $600 million Border Security Bill yesterday [8/12/2010], President Obama issued a statement asserting that securing the southwest border has been "a top priority" since he took office. But if you think Mr. Obama can have but a single "top priority," you'd be wrong. He's got a load of them.
Obamateurism of the Day
. Everyone who has had to listen to Barack Obama speak can identify his rhetorical crutches — "Let me be clear," "It's not about me," and "I inherited a mess," to name just a few. CBS' Mark Knoller has to listen more than most, being a member of the White House press corps, and decided to focus on another of Obama's rhetorical crutches. Just how many "top priorities" can one man have?
The lost promise of Barack Obama
. In his new stump speech, he says: "We're slipping and sliding and sweating, and the other side, the Republicans, they're standing there with their Slurpees watching us." In Seattle, the president of the United States pantomimed drinking a Slurpee to mock his opponents. A campaigner such as Ronald Reagan could draw political blood with a wink and a smile. Obama's partisan rhetoric manages to be prickly, mean-spirited and unfunny. On the campaign trail, he taunts and whines. He does not charm.
Our Lecturer in Chief
. President Obama just can't help himself. It's impulse. Every time he sees the American people, in their infinite and confounding ignorance, pursuing a course they shouldn't, he intervenes to correct them. Such is the view from the clouds on which he placidly floats above us all. Most politicians speak of the wisdom of the American people. Some even believe it. But not Obama. Time and time again, he takes to the lectern to scold or educate us.
United States Declares War on Arizona, Literally
. [Scroll down] Obama proves over and over again his absolute disdain for our Constitution and his deep hate for our country. His every speech contains at least one derogatory comment about the United States, and an equal amount of how great is the world of Islam. And there are some people who just can't see the truth for all of the lies that come out of his mouth.
Our Hula Hoop President
. Hula Hoops are a cheap plastic toy that are easy to use but can only really do one thing well: go in sometimes entertaining circles; Barack Obama is a skilled and dispassionate speechmaker whose once dazzling speeches now begin to be seen as circular exercises in talking without any passion or conviction.
You Want a Speech?
Obama was lauded as a great orator. Ironically, he hasn't given a single memorable speech in his presidency.
The cliche president
. With a brutal midterm smackdown looming, Mr. Obama is desperate enough to break out the cliches. Consider how the local-community-organizer-turned-national-schools-chancellor opined that "we can't spend our way out" of education problems. Without skipping a beat, he went on to provide a long list of ways he thinks we need to increase spending on schools.
The Fruits of Obama's Muslim Outreach
. [Scroll down] Reading this makes me wonder whether [Desmond] Tutu has been one of Obama's speechwriters. All the talking points are there. Could anyone read Tutu's words, which should be revolting to patriotic Americans, and deny that they mirror Obama's both on the campaign trail and during office? It's all there, from the cowboy references to torture to unilateralism to rendition and prisoner abuse to environmental wackoism to America's "arrogance."
Obama Strips the 'Creator' from Declaration of Independence -- Again
. For the second time in little over a month, President Barack Obama stripped the word "Creator" from the Declaration of Independence when giving a speech.
Obama Edits the Declaration of Independence
. An October 19 article at CNSnews by Penny Star noted that "For the second time in little over a month, President Barack Obama stripped the word 'Creator' from the Declaration of Independence when giving a speech." These speeches have generated much debate concerning whether the president's omissions were deliberate or mistaken. The answer, I think, can be found in President Obama's inauguration speech, which is perhaps the most striking example of this phenomenon, yet no one seemed to notice it then.
Obama finally learns Declaration of Independence, includes 'Creator'
. Out on the campaign trail, President Obama is fond of quoting the Declaration of Independence. Time after time as he has appeared on behalf of Democratic candidates, he has quoted the famous passage that reads: ["]We hold these truths to be self-evident, that all men are created equal, that they are endowed by their Creator with certain unalienable Rights, that among these are Life, Liberty and the pursuit of Happiness.["] Except that Obama always edited the passage a bit. Specifically, he took out the phrase "by their Creator."
Obama muffed U.S. motto
. Members of Congress on Monday [12/6/2010] called on President Obama to issue a public correction after he incorrectly labeled
E pluribus unum
the U.S.'s motto in a speech last month, rather than "In God We Trust." The lawmakers, members of the Congressional Prayer Caucus, also said the president was making "a pattern" of dropping the word "Creator" when he recites the self-evident truths of the Declaration of Independence. "By misrepresenting things as foundational as the Declaration of Independence and our national motto, you are not only doing a disservice to the people you represent you are casting aside an integral part of American society," the representatives said in a stern letter asking for him to correct the speech.
The Editor says...
This pattern of behavior clearly shows that President Obama is either dishonest or ignorant.
Obama's revisionist history
. President Barack Obama has been accused of rewriting the Constitution to get his agenda in place. Now he's also rewording the Declaration of Independence. The Heritage Foundation notes that in three recent appearances, the president has quoted the opening passage of the document, but has changed the phrase "endowed by their Creator with certain unalienable rights" to simply "endowed with certain unalienable rights." Heritage suggests Obama's editing out of the Creator is an intentional downplaying of private institutions such as religion in an effort to make government more significant. Maybe. Or it could reflect his obsession with political correctness.
President Obama's Speech Impediment
. Our Dear Leader has a serious speech impediment. Now, I'm not thinking about the mechanics of his highly overrated style and presentation, but rather his apparent inability to pronounce a particular word: Creator. On three separate occasions, within the last few months, he has quoted that immortal phrase from the Declaration ("...that they are endowed by their Creator with certain inalienable Rights..."), but omitting the word "Creator." Now, while this might set aside the suspicion in certain quarters that Obama is indeed a closet Muslim, it gives one pause to reflect on just what is going on here.
Is this the "great orator" everybody on the left was so excited about?
Obama stump speech: Car still in ditch, no Slurpees
. You've heard it a lot. Barack Obama describes the economic crisis by accusing Republicans of driving the nation's economy into the ditch and then sitting back and watching — "sippin' on a Slurpee" — while Obama and the Democrats did the dirty, exhausting work of pulling the car out of the ditch.
Our "Pay No Attention to that Man Behind the Curtain" Moment
. An Obama speech echoing boilerplate themes such as "there are no red states, there are no blue states" today simply could not be given -- the laughing in the audience would be far too much. After Eric Holder's "cowards" outburst, the beer summit, Van Jones, the slurs against Arizona, and the video appeals targeted at particular racial groups, the public takes for granted that a Rev. Wright, the clingers speech, "typical white person," and Michelle's angst (e.g., "downright mean country," "never been proud," "raise the bar," etc.) were disturbing premonitions rather than rightwing racialist paranoias.
Obama Versus Reagan
. This year, the president's speechwriters are trying to figure out how to refer enough to the birth of Christ in his Christmas addresses that others don't think he's a Muslim, but not smack of being so Christian that they alienate the president's progressive, Islamic and atheistic base. Though their speech attempts started better this December than last, both of this year's attempts ended up neutering the soul of Christmas.
The Incredible Lightness of Obama
. I think it's a good rule of thumb that whenever Obama begins a statement with "Let me be clear," he means quite the opposite of whatever follows. And someone might whisper in his ear that if you run around the world bowing deeply before foreign rulers and undermining your country's moral position and standing in the world, you cannot expect to have your imperious demands be taken seriously abroad.
The Limits of Obama's Rhetoric
. [Scroll down] And so Mr. Obama resorts to rhetoric, but not the rhetoric of the wise, cautious statesman, careful with every word, lest unintended, potentially destructive messages be received. It is the rhetoric of the community organizer, the union boss, the black liberation theologian, the socialist, the man who, when his policies are rejected by the American people, thinks it's a failure of "messaging," a failure to be set right by yet another speech with a new "message" — a new word to replace a word to which the public has caught on. The American public, he understands, has not heard nearly enough of his speeches.
President Obama's Yawning Heights
. Socialism politicizes everything — literature, medicine, science, law, education, culture, religion, sports, all of life. And that ultimately makes socialism a crushing bore. President Obama is finding that tens of millions of Americans have tuned him out as he summons us to the heights. His audience for the State of the Union Address is down 18% this year over his first year. Part of this is his speechwriter, a 29-year old who seems never to have had any contact with literature, American history, poetry, or the Bible. The speeches he crafts for this president are textbook examples of ennui. ... Hand our leader a foreign crisis — like Libya. What does the president have to say about that? "This violence is unacceptable." We don't need a $400,000-a-year Commander-in-Chief and his $172,000-a-year speechwriter to tell us that.
Commander-In-Hiding
. The shift from overexposure to carefully targeted public appearances is the smartest political move the White House has made this year. Americans appear ready for a president who's not in their face day after day, hectoring, sounding an alarm, and, more often than not in Obama's case, boring everyone. The less Obama does in public, I suspect, the more popular he's likely to become.
Barack Obama's Arrogant Marxist Rhetoric
. So far, the analysis of President Obama's deficit speech has focused largely on its vagaries, obfuscations, and outright lies. ... But the true heart of Obama's speech wasn't the faulty budgetary analysis or the demagoguery of attacking Paul Ryan personally. It was Obama's soaring rhetoric. ... And the soaring rhetoric is unvaryingly drawn directly from Saul Alinsky. ... Obama was raised in the Alinsky tradition, and he speaks with Alinsky's forked tongue.
Obama's 2010: By the Numbers
. Speeches, statements and remarks: 491
-Since taking office: 883
News conferences and press availabilities: 27
-Formal, solo White House Press Conferences: 6
-Since taking office: 69 total, 11 WH.
US too dumb to know O is always right
. When President Obama started talking at his news conference Monday, I listened intently for 15 minutes or so. Then I got fidgety as his half-truths about the debt grew into full-blown whoppers. As he droned on, I did something I never did before during an Obama appearance: I turned off the TV. Enough. He is the Man Who Won't Listen to Anybody, so why should anybody listen to him?
Job-killing corporate jet tax
. President Obama is rummaging for cheap political points by attempting to tax corporate jets. Apparently, if one uses a private jet, even for business, one must be punished.
An Industry Maligned
. The president won't let go of his obsession with the corporate jet tax break. Eliminating the tax break is fine. But there's no excuse for using the bully pulpit to beat up an industry struggling to recover.
The President's Stale Sermons
. Neither the example of the socialist European Union nor that of big-spending blue-state America suggests that massive government spending and entitlements lead to collective prosperity. In response to this depressing news, President Barack Obama still offers the same predictably stale sermons: George W. Bush did it. The Tea Party fiscal reformers are to blame. Government will fund "millions of green jobs." His political opponents want to destroy Social Security and Medicare.
Keep Talking, Mr. President
. [There is a presidential speech database which] tracks the 865 speeches and appearances made by the president, first lady, vice president, and others since November 2009. During that time period, the president himself made 686 speeches and press-covered comments. The length of each speech, whether in minutes or words, is not available on the database; however, in this the age of the sound bite, the length of a speech seems less important than the appearance itself. Therefore, the methodology used herein weights each speech equally and examines whether the president's speeches are related to his popularity.
Here is the database:
All Obama speeches
.
Barack Obama's Emotional State of Mind
. I've developed an interest in President Obama's speeches not because they are eloquent or uplifting — they are neither — but because of what they reveal about his emotional state of mind. And Mr. Obama's remarks in Holland, Michigan yesterday [8/11/2011] are helpful in that respect. ... Mr. Obama then added, "The only thing preventing these bills from being passed is the refusal of some folks in Congress to put the country ahead of party. There are some in Congress right now who would rather see their opponents lose than see America win." About these comments several things can be said, starting with this: There is something highly unusual in watching a president call attention to his own impotence. The president is declaring to the world that he is simply too weak to govern.
Why President Obama Is Painful to Watch
. If someone looked at your face while watching President Obama make a speech or hold a press conference, I'll bet it would reflect pain and discomfort. Your facial expression might be described as a grimace. There are a number of reasons for that kind of reaction. ... For example, the man is tiresomely repetitive. How many times has he used the terms "millionaires and billionaires," "shared sacrifice," and "corporate jet owners"? He gives new meaning to the term ad nauseam. Most of what he repeats wasn't worth saying the first time.
Obama: The Affirmative Action President
. In 2008, many who agreed that he lacked executive qualifications nonetheless raved about Obama's oratory skills, intellect, and cool character. Those people — conservatives included — ought now to be deeply embarrassed. The man thinks and speaks in the hoariest of clichés, and that's when he has his teleprompter in front of him; when the prompter is absent he can barely think or speak at all. Not one original idea has ever issued from his mouth — it's all warmed-over Marxism of the kind that has failed over and over again for 100 years.
Compare and Contrast
. Obama's permanent publicity blitz has rendered his pronouncements banal and is helping to create an impression that he is all talk, no results. Who can recall with any precision what the president says from one day to the next? Why bother trying when another speech is moments away?
The (Not So) Great Pretender
. [Obama] became president by perfecting the art of appearing cool, calm, intellectual, and competent. Unfortunately, this seems to be the extent of his repertoire of emotions. ... No matter the crisis, the president reads his lines the exact same way: cool, calm, detached. He is truly one of the worst actors I've ever seen.
Messiah of Hate
. Not even the Prince of Chicago is delusional enough to think that a few words from him will convince voters that the economy is fine. At least not since the last twenty times he tried that particular trick. And he only has two modes for discussing policy, the simplistic and the long-winded, neither of which hold up well during a campaign.
The President You Can't Avoid
. Obama is everywhere. Turn on a TV at almost any hour and surf the channels. How many clicks of the remote will it take before you see and hear Barack Obama? How many days go by without a sound-bite or two from him? The answer is "Not many." Whether visually, aurally, or both, the living presence of Obama is practically unavoidable.
A New Chorus for the Mob
. We don't know whether the brave, new and fundamentally transformed America of Obama's dreams would install him as "dictator," but his physical demeanor doesn't exactly emit an air of humble servitude, his community organizing has been firmly grounded on the "arousal of passions," and his speeches certainly include lots of "catchwords." "
Hope
." "
Yes we can
." "
Winning the Future
." "
Pass this bill
." Don't read it first, analyze it, or think about it. Just pass it with "
the fierce urgency of now
."
Obama's Misadventures in Miscommunication
. As a communications professional, my assessment of the Obama Administration's communications strategy is that it may be the most inept performance I have ever seen of any political regime. ... The power with which this message was received allowed the Democratic Congress to ram through a $790 billion "stimulus" without permitting the bill to be read. Forty-eight hours promised to read a 1000 page bill that spends $790 billion? Oh, and then Congress lied about that time frame, and voted on it. So in the communications world, we ask, "What message do the American people take away from this?"
Your voice doesn't matter
.
Quit Coddling Everybody
. A common thread in President Obama's speeches is that despite our political differences, we are all Americans, and we are all in this together, yet his words are hollow because he doesn't understand the essence of America — or because he does and wants to "fundamentally change" it. When he speaks his words, he means two things; that we should see things his way, and in a general sense that we should all be sharing everything.
President Cliché
. Fewer people at home and around the world are paying any attention when Barack Obama speaks. He has become President Cliché. We were all told what a great speech-maker he was and now nobody wants to listen anymore. ... Obama is a national embarrassment. And he wants four more years in office.
The Shuttered White House and Its Fantasies
. The president's public statements are repeatedly off key, responding to imaginary events rather than real ones, and sometimes totally dissonant, as when he gave a speech about jobs at a company that was closing down, or in his increasingly odd and incoherent efforts in foreign policy.
The Speech Obama Should Give to Students Tomorrow
. When President Obama once again addresses public school students this week, he will likely hit all the poll-tested phrases ("
The future of America depends on you
") and other warmed-over pablum ("
There is no excuse for not trying
") which will leave the kids reaching for their contraband ear buds.
Harvard's Deep Green Pockets
. [Scroll down] At the Think Green event, Harvard Law professor Richard Lazarus lamented that President Obama used the phrase "climate change" or "global warming" in speeches 69 times in 2009, 73 times in 2010 and only once in 2011, leading to what he sees as "a crisis in environmental lawmaking" — his crisis being that nothing is happening. In other words, climate legislation like Cap and Trade is dead.
Top 10 things Obama got wrong
: [#9] He got his power of speech wrong. He is not Abraham Kennedy King. He is pedestrian and the speeches TOTUS writes are long and boring. He has come up with no meaningful quotes. His speeches don't sing. They bore.
The purported great orator has produced no memorable lines or results
. The unemployment rate for blacks averaged 16 percent in 2010, according to the Labor Department. In June of 2011, that number stood at 16.2 percent. The overall U.S. unemployment rate is 8.6 percent. Looking at the numbers, it appears that the Obama administration's solution to America's "original sin of slavery" is to make men and women of all races equally miserable. But as with every challenge, Mr. Obama is content to package different flavors of soaring vagueness into a series of candy-coated speeches.
Look at Me Pretending to Care, Mr. President
. In his apparently endless series of speeches, Obama sounds a lot like a paramedic who arrives at the scene of an disastrous accident, looks at the injured who are lying among the wreckage and bleeding to death, and then calls a press conference to spend two hours explaining how
HE
didn't cause the accident, it wasn't
HIS
fault that there are people bleeding and dying because of the accident, and that he and Michelle will now take a vacation to Vail or Martha's Vineyard or Costa del Sol or somewhere else to relax from this trying experience.
Barack Obama: In the Footsteps of Twentieth Century Despots
. In his public speeches and well-produced appearances, Barack Obama plays the fictional role of someone who cares for the "little guy." He is the people's avenger against those he defines as the enemy, be it the wealthy, the corporations, deeply committed religious groups, conservatives and the Tea Party movement, or those intransigent ideologues in Congress who stand in the way of his nation-saving agenda. In this quest for power, there are no lies or obfuscations too egregious to tell or societal tensions too dangerous to create, as he alone can save the nation.
Obama's Rhetoric is Like Junk Food for the Mind
. He really does think we're all stupid, and that if he just keeps serving it up the stupid masses will gobble it up like free candy. He doesn't want you thinking for yourself. He talks about fairness, and getting a "fair shake" and "fair shot" when pushing for higher taxes on the wealthy. No mention of how it's a bit unfair that the top ten percent or so pay 70% of federal income taxes, or that tax increases tend to hamper economic growth and result in less revenue coming in to the Treasury. He just regurgitates soundbites.
Ten Indications That Obama Is Scared
. [#7] Obama is changing his slogan. Realizing that "Yes We Can" has turned into "Well, I Thought We Could," and that "hope and change" now applies to getting rid of him, Obama must adjust his catchphrases. Obama's handlers are testing various new sayings, but the bad news is that nothing is sticking. The new phrases being tested are "Winning the Future," "Greater Together," and "We Don't Quit," and Obama has begun lacing these in his speeches, but none are resonating, which is why Obama is panicking.
Inside the politics of Obama graduation speeches
: For politicians, commencement addresses are an opportunity to be seen saying unremarkable things to happy people who might hopefully remember their ceremonial presence come the next election. For politicians' speechwriters, commencement addresses are a time to package the boss's main messages into remarks that hopefully get out on the media in sound bites — or perhaps the entire thing on C-SPAN, if they're a big enough name.
Obama and the Volt
. Has anybody else noticed the disturbing correlation between Obama speaking for a product and that product failing miserably shortly thereafter? And they say this guy gives good speeches. Solyndra, Evergreen Solar, SpectraWatt — the list of failures touted by Obama goes on and on and on. Midas was to gold as Obama is to blood-red ink.
Rutherford B. Hayes responds
. The mockery is well-earned by our sneering president. Part of the derision is the usual political guffawing. 57 states. Speaking Austrian. Corpse-man. But some of it is taking off on a president who boasts about how smart and well-educated he is, but who in reality is fairly average. Oh he is knowledgeable about some things. I am pretty sure that he could lecture us on critical race theory, black liberation theology and the life of Saul Alinsky. But comments like the one the other day about how he feared warm weather in Chicago — as if that were proof of global warming — reveal his limits.
Obama's Virtual Rose Garden
. When Barack Obama went into hibernation in December and vacationed in Hawaii, we noted that his poll numbers edged back up some. His advisers probably noticed the anomaly too: that the less the people hear and see of Obama, the more they seem to like the abstract idea of Obama — a young, charismatic postracial president. The reality of Obama is something else again: a highly partisan, divisive statist, who cannot finish a speech without blaming his predecessor, mangling history, or creating yet another straw-man bogeyman.
How Obama Destroys His Enemies
: President Obama has always disliked free speech as a general matter, particularly for those who oppose him. He frequently suggests that those who disagree with him simply lack the power of reason; he constantly attacks those who do not bow to his opinions. In the last month alone he has directly castigated the Supreme Court (it would be "unprecedented," he said, for them to strike down Obamacare); Rush Limbaugh (he called up Sandra Fluke to tell her how out of line Limbaugh was); and Congress (if they don't act on whatever it is he wants, he will go it alone).
President Obama's 'Fairness' Vision Would Bankrupt Nation
. It's ironic that President Obama would make two speeches this week in Florida about "fairness," sandwiched as they were between $10,000-a-plate fundraising dinners. But that's the level of hypocrisy coming from the White House these days. To be polite, most of the comments Obama makes these days about the economy, taxes and, especially, "fairness" stretch all credibility. Hearing the large number of outright falsehoods and partial truths he uses to support his argument, it's impossible not to believe it's simply a ploy to get votes from those who envy the rich and the successful. A full unpacking of Obama's whoppers would require a much larger space than we have here.
Obama's Bin Laden Pitch Jumps the Shark
. A year ago even as relentlessly positive a chronicler of the Obama administration as the New York Times noted that the president had begun to use the killing of Osama bin Laden as an integral part of his standard political stump speech. Since then, the president and even Vice President Biden have rarely disappointed listeners waiting for the obligatory bin Laden reference.
George Will: If you strike first-person pronouns from Obama's vocabulary 'he would fall silent'
. On Sunday's [5/6/2012] "This Week" on ABC, Washington Post columnist George Will offered his theory on why Obama might be struggling this go-around. "Look, self-absorption is part of the occupational hazard of politics, and it's also part of the job description of being president," Will said. "All that said, try to imagine Dwight Eisenhower talking about D-Day saying, 'I did this. I decided this. I did this and then I did that.' It's inconceivable."
Sununu: Obama Should Return About 70 Percent of His Salary
. On the Obama campaign's "official" kickoff this weekend: "If you look at what [President Obama] has done since last September, he really ought to return about 70 percent of his salary to the American taxpayers, since about 70 percent of his time has been spent campaigning. I assume with the official start of his campaign, it will move to 100 percent. He clearly has a strategy of talking about everything but what people want to hear, which is how he's going to create jobs and how he's going to get the economy moving. Instead he's on a mission to hype himself, and blame everybody else."
Obama, Story-Teller
. A sign of an undisciplined mind is serial lapses into self-contradiction, or blurting out a thought only to refute it entirely on a later occasion. For a president to do that is to erode public confidence and eventually render all his public statements irrelevant. That is now unfortunately the case with Barack Obama, who has established a muddled record of confused and contradictory declarations.
Obama's biggest mistake as president: not enough speeches
. The Democrats' fallback position, again and again, is: "Well, people would
agree
with our policies if we could just make them
understand
our policies." The truth is exactly the opposite, of course. People do understand their policies, which is why they disagree with them. All Obama talked about for a couple of years was Obamacare — whoops, I mean the "Affordable Care Act" — and most Americans hate it. That's not in spite of his actions. That's because of them.
Obama: I Regret Not Speaking Slower And Using Smaller Words
. You might think Obama's greatest regret as President would be, oh I don't know, massive unemployment, crushing debt, or even a couple of hundred dead Mexicans.
President Obama Has Failed to Tell Enough Stories
. President Obama's plight is a sad one, because he has done an historic and truly remarkable job in every other respect. Due to my post-partisan concern for his continued success, I have thought long and hard about this, his greatest problem, and have tried to help him. It is now clear that he has simply had story-tellers' cramp and that he needs only more stories as models for his own.
Obama's Stump Speech Myths
: Obama's taking poetic license with history, both personal and political, on the campaign trail. Where are the media outlets to vet his speeches for fact-mangling?
Obama's Big, Bad Story Isn't Right
. We're paying White House staffers $38 million yearly, according to Politico, plus looking at roughly $750 million to a billion dollars in campaign spending to support this president -- and the best excuse he can come up with for his failed presidency is that he's not a good story-teller? This is a man who largely won the presidency on nothing other than a fantastic and unbelievable story he sold to America via willing accomplices in the press.
Errors Start To Emerge in Standard Stump Speech of President Obama
. Really understanding President Obama's governing philosophy and agenda doesn't require a whole fleet of investigative reporters or opposition researchers. All you have to do is take a reasonably careful look at his campaign stump speech, a collection of half-truths, misrepresentations, and distortions that are ultimately disrespectful of the American people.
Obama's Calculated Deception
. [In 2007], after 25 years of Reagan Republican tax policies, the top 1% paid 40% of federal individual income taxes.[...] Also in 2007, again before Obama was even elected, and after 25 years of Reaganomics, the bottom 40% of income earners on net as a group paid
less than 0%
of federal income taxes. Instead of paying at least some income taxes to help support the federal government, the federal government paid
them
cash through the income tax code. Does that reality sound like what you hear in President Obama's deceiving speeches?
Be wary of these 5 claims by Obama
. Here are five dubious assertions the president frequently makes on the campaign trail.
Mr. and Mrs. Obama Keep Up Pretense of Growing Up Poor
. Let's get this straight. Barack Obama never knew a life of financial hardship. Ditto for Michelle. But the First Couple keeps bringing up their impoverished childhoods and student loan debts in stump speeches. [...] Obama went to a fancy private school in Hawaii, his grandmother was Vice-President of a bank, and his stepfather worked for Exxon in Jakarta. From fifth grade through high school he attended the elite college-prep Punahou School. Michelle's story of economic misfortune is no more believable than her husband's.
Americans' expectations for Obama 2.0 plunge. Obama craves speeches to select crowds [...] On cue, someone yells they love him. He loves them back. No interruptions. No impertinent House Majority Leader challenging his arrogance. And Obama need make no concessions to them. The Democrat will just recite the same stuff off the same teleprompter that he's been saying for months about taxing the rich more, protecting the middle class from the very deal he made to protect them before and let's talk about spending cuts next year maybe perhaps. Air Force One costs about $181,000 per flight hour.
Misleader-in-Chief. Of all the Presidents in my lifetime, I don't recall a Commander in Chief that seems to purposely mislead. Yet this President often orates with well crafted phrases that can only be explained as contrived to this purpose. The circumstances are virtually always similar. He speaks to a large crowd in which there is no chance for rebuttal or honest questioning. The audience can be as large as a national television audience, as in the State of the Union. The larger the audience, the better.
Fewer Guns, More Crime. To President Obama, the word "politics" means anyone who disagrees with him, as in the phrase "It is time to put politics aside." Whenever he says that, he is really saying "It is time to put aside anyone who disagrees with me on this issue."
Obama's Delivered 699 Speeches Using a Teleprompter Since Taking Office. Since becoming the president of the United States of America, Barack Obama has delivered 699 speeches using a Teleprompter, according to statistics compiled by CBS reporter Mark Knoller. That number includes campaign speeches, State of the Union addresses, and everything in between.
Second-Term Reckonings. Indeed, the more emphatically he adds "make no mistake about it," "let me be perfectly clear," "I'm not kidding," or the ubiquitous "me," "my," and "I" to each new assertion, the more a growing number of people will come to know from the past that what follows simply is not true.
The Root Cause of Gun Violence. Whenever Barack Obama talks, he tells us that whatever he believes is just common sense. And what anyone who disagrees with him says is just politics. That's actually the open communist Saul Alinsky talking, worshipped by every true Democrat (see, e.g., Hillary Clinton). It is just more sophistry and deception.
Obama's State of the Union: 6,419 words and almost as many clichés. Obama used to be known as a Real Good Talker. He made his initial national bones with a speech. But the last two — his Inauguration and State of the Union — are tired, boilerplate, bits and pieces of campaign rhetoric cut and pasted into recycled collections of empty phrases that sound swell — until you read them.
Obama's Speeches are Chilling. [Adolf Hitler] was, quite likely, the greatest orator of the 20th century. Here in the 21st century, we have another great orator. He, too has to power to move his listeners to act while disregarding consequences. He, too, has worshipers — some who even refer to him as "Lord and Master." His Name is Barack Hussein Obama. And he is President of the United States of America.
Barack Obama: The Man Behind the Mask. Nearly all the tyrants of the recent past had a unique capacity to mesmerize a large swath of the populace through ability to deliver a speech and create a cult of personality, aided and abetted by a media, if not state sponsored, then one willingly intimidated into doing the bidding of the exalted leader. This ability and extreme narcissism, which Barack Obama has in abundance, is another pre-requisite for despotism.
Tell me if you've heard this one before: Obama to focus on jobs. Obama's like the kid who constantly breaks windows playing ball too close to the house, does a crummy job mowing the grass, won't clean his room, whines about wanting cookies before dinner, and then demands a raise in his allowance every few months. Heck, the USA Today writer can't even find it in himself to write a full size article, just a few paragraphs, having seen this again and again [...]
Nemesis, After All. Nemesis warns us on the eve of the immigration debate that if Obama will ignore the legal requirements of his own bill, then he surely will be even bolder in subverting the legislative work of others. When shortly he will again lament that he is not a king or tyrant, remember that the disclaimer usually presages his attempt to act like one. Also remember that the best warning about Obama always comes from Obama: when he sermonizes to us about cheap photo-ops, endless campaigning and fund-raising, spiking the football, going after enemies, etc., then we expect that he is shortly to do all that and more.
Obama Takes Refuge on Campus. Is it just me, or has anyone else noticed that President Obama speaks almost exclusively at colleges and universities in Blue States? [...] Obama frequents universities because they are modern-day Potemkin Villages, presenting a façade of presidential popularity. Colleges and universities are guaranteed to produce a crowd consisting of left-wing enthusiasts fawning over Obama.
The Editor says...
Barack H. Obama is a community organizer. That is the extent of his skill set. He makes rabble-rousing speeches to promote expanded government, and even then, he only goes where he is most likely to get a warm reception.
Needed: A Different Sort of President. It is hard now to believe that Obama's banal "hope and change" ever set a nation on fire. Certainly by 2013, we have come to snore when Obama for the nth time laces his teleprompted rhetoric with "make no mistake about it" or "let me be perfectly clear." One-term presidencies — or a constitutional change to a single six-year presidential term — make better sense. A single presidential tenure might curtail an incumbent's customary exaggerations about supposed past achievements and the phony promises about great things to come that are apparently necessary for reelection.
President 'Long Way to Go' Obama. For five years now, President Obama has been telling Americans that we "have a long way to go" before the country will see a return to prosperity. Just how long does he expect us to wait? Do a search of the White House website for "long way to go" and you come up with hundreds of hits, most of them involving President Obama or someone in his administration counseling patience on economic growth. Now, it might have made sense in mid-2009 to say that recovery from a deep recession will take time. After all, the recovery had just begun. But to still be saying it in March 2014?
Speeches he hasn't delivered yet
Why doesn't President Obama address the nation about the climate change crisis? Let me make this suggestion to President Obama: [#1] Address the nation, and tell us about the threat of climate change, in much the same way as previous presidents have spoken about problems. Climate change is either a crisis or a lot of hot air. Obama should treat it like a crisis if he believes that it is one. [#2] Tell us how a failure to act will devastate our economy and national security and affect people all over the world. [#3] Send Congress a proposal that he can eventually sign into law. Why won't he do any of this?
One speech can reclaim O's dignity. Dear Mr. President, Knowing your interest in how previous presidents faced national crises, I recommend an example you might have missed. It's an Oval Office speech noted not for its oratory, but for its surprising content. The parallels to your situation are striking. ... Remember, you pledged to end the divisions between red states and blue states. You have failed, but there is still one hope left. Just say the words, Mr. President. It's the change America needs.
Obama's DNC speech could move to BofA stadium. President Barack Obama's re-election campaign is considering moving the final day of the Democratic National Convention to Bank of America Stadium to sell more skyboxes to wealthy donors, three Democrats involved in the fundraising told Bloomberg News.
A speech I'd like to hear Obama deliver: Later this month, the Supreme Court will deliver its ruling in the Obamacare case. Suppose the government loses. What will Obama say?
Weak Economy Exposes Obama's Upside-Down Priorities. In the first half of 2013, Obama made dozens of speeches on gun control, immigration and global warming, with the latter culminating in Tuesday's declaration about how imperative it is to act now to combat climate change. But aside from a little "jobs tour" and one big speech back in February, Obama has been virtually silent on the economy.
Random Obama speech generator.
Back to the
Barack Obama index page
Jump to
Smoke and Mirrors
More about
Liberals in general
Back to the
Home page