Another nearby page is about the Supreme Court in general. This page is reserved for news and commentary about President Obama's nominees to the Supreme Court. At this point, there have been only two.


---

Obama's first nominee: Sonia Sotomayor

In this subsection, the newest information is at the top.



Sonia Quotamayor: Product of Affirmative Action. Sonia the Quota, aka Sonia Quotamayor, proved what most people have known for years. Affirmative action means hiring, appointing, or promoting people for the color of their skin rather than the content of their character. Sotomayor is obviously not where she is because of her character or her qualifications. Her own words prove that she is grossly unfit to serve in any responsible judicial capacity in an equal opportunity society. [...] Quotamayor's open endorsement of race discrimination comes as no surprise, because her basic competence as a jurist is open to serious question. She thinks only the parts of the Bill of Rights she likes, as opposed to the entire Bill of Rights, applies to the states.

Sonia Sotomayor Exposes the Lie of an 'Apolitical' Supreme Court. [Scroll down] And just as all eyes have returned to the court, observers of all stripes have been presented with a timely reminder as to how the court's progressives view their jobs: to wit, as unabashed liberal partisans. That reminder has now come courtesy of the current court's most far-left justice, Sonia Sotomayor. It follows an entire career's worth of similar comments from Justice Sotomayor's former colleague, the late Justice Ruth Bader Ginsburg. According to reporting from both CNN and the Washington Post, Sotomayor recently offered what can only be interpreted as a substantive public policy position on S.B. 8, Texas' recent anti-abortion fetal heartbeat law that has garnered much national attention. That Sotomayor would now offer a forthright political opinion on the topic is hardly unexpected: She dissented from the court's correct recent decision to deny Texas pro-abortion plaintiffs' emergency request to enjoin any enforcement of S.B. 8, lambasting the law at the time as "flagrantly unconstitutional."

Supreme Court Justice's Net Worth Skyrockets Since Joining The Court: Report. Supreme Court Justice Sonia Sotomayor's net worth has skyrocketed ever since she became a member of the nation's highest court — which has led to criticism from experts. Fox News reported that, according to financial disclosures, Sotomayor's wealth increased from being in the $15,001-$65,000 range in 2008 to being in the $1,600,000-$6,600,000 range in 2021. Sotomayor was nominated by then-President Barack Obama to the Supreme Court in 2009. A recent data analysis of her actions on the court found that she is the most partisan justice on the court. The 69-year-old reportedly makes more than $25,000 per year teaching law schools in addition to her $285,400 salary from the court. The Associated Press reported that the main reason that her wealth has surged is because of the books that she has written.

The 'wise Latina' is suddenly 'la millonaria Latina'. Can Justice Sonia Sotomayor refer us to her investment counselor? The wise Latina's finances have done rather well since joining SCOTUS.

Supreme Court Justice Sotomayor's staff prodded colleges and libraries to buy her books. For colleges and libraries seeking a boldfaced name for a guest lecturer, few come bigger than Sonia Sotomayor, the Supreme Court justice who rose from poverty in the Bronx to the nation's highest court. She has benefited, too — from schools' purchases of hundreds, sometimes thousands, of the books she has written over the years. Sotomayor's staff has often prodded public institutions that have hosted the justice to buy her memoir or children's books, works that have earned her at least $3.7 million since she joined the court in 2009. Details of those events, largely out of public view, were obtained by The Associated Press through more than 100 open records requests to public institutions.

The Muddled Mindset of Progressivism. It's time we had a courageous conversation about the left's incoherent stance on big government and race. This muddled mindset was on full display last week as two progressive Supreme Court justices, Sonia Sotomayor and Ketanji Brown Jackson, attacked the majority's decision rejecting affirmative action in higher education by crediting such race-based policies for progress while also claiming that nothing much has changed in our supposedly racist country. "Today," Sotomayor declares in the second paragraph of her dissent, "this court stands in the way and rolls back decades of precedent and momentous progress." Despite that grand advancement, she asserts just one sentence later that the majority was cementing "a superficial rule of colorblindness as a constitutional principle in an endemically segregated society where race has always mattered and continues to matter." Momentous progress in an endemically segregated nation? Both Sotomayor and Jackson try to show how race continues to matter by drawing on the pessimistic historical determinism of critical race theory to argue that African Americans are still shackled by the original sin of slavery.

Liberal Supreme Court Justices Rely on False Claims about Racism, Anti-Gay Bigotry to Bolster Dissents. Justice Sonia Sotomayor wrote a long dissent for 303 Creative v. Elenis, in which the court determined that a Christian web designer cannot be compelled to make a wedding website for a gay couple. In her dissent, Sotomayor said a "social system of discrimination created an environment in which LGBT people were unsafe," and quoted many examples including the murder of Matthew Shepard, who was, "targeted by two men, tortured, tied to a buck fence, and left to die for who he was," Sotomayor wrote. Shepard, who was involved in the Wyoming meth drug culture, was murdered by a bisexual who confirmed that the murder had nothing to do with Shepard's being gay. Sotomayor's interpretation of Shepard's death is in line with the mainstream narrative that's coalesced around the incident. That popular telling has inspired countless articles, a gay-rights non-profit, and, ultimately, the Matthew Shepard Act, a law signed by President Obama in 2009 that expanded the scope of offenses that could be considered hate crimes under federal law. Sotomayor's version of events was eventually debunked by author Stephen Jiminez, who spent thirteen years reporting and writing a book about Shepard's death.

Liberal SCOTUS Justice Caught in Scandal That Blows up Recent Left-Wing Attacks. [Scroll down] That sound you hear is every Democrat who demanded Thomas and Gorsuch resign suddenly running away from any discussion of Supreme Court "ethics." While the accusations against the conservative justices were silly and shallow, there is actual meat on the bone regarding what Sotomayor did. The publishing company in question actually stood to lose money depending on how the court ruled, yet she took millions of dollars from it anyway and then didn't recuse herself from the case.

Liberal Supreme Court Justice Caught in Scandal. In recent weeks, Democrats have ramped up criticism of conservative Supreme Court justices like Clarence Thomas and Neil Gorsuch, alleging corruption and using that as a pretext for congressional oversight of the court. [...] While these incidents were much ado about nothing, the same Democrats who were calling for DOJ investigations and impeachments will no doubt sing a different tune over the revelation that liberal Justice Sonia Sotomayor took $3.6 million from Penguin Random House publishing when the company did have business before the court, and declined to recuse herself. In addition to the $3.6 million advance (which Penguin Random House lost money on), the Daily Wire found that Sotomayor received payments from the company annually from 2017 to 2021, totaling over $500,000. In 2013, she voted in a decision regarding a case involving Random House despite then-fellow Justice Stephen Breyer recusing himself after receiving money from the publisher. In 2020, Sotomayor received a $10,586 check from Penguin Random House on the same day a lawsuit against the publisher appeared before the Supreme Court. The Court voted not to hear the case in February 2020, and Sotomayor received her largest-ever payment from the publisher in May of that year.

While we're talking SCOTUS ethics ... what about Sotomayor's? Senate Democrats, led by Dick Durbin, seem obsessed these days with supposed appearances of impropriety by conservative Supreme Court justices. Does that concern over the integrity of the court extend to its liberal wing — perhaps to its senior member taking in millions from a conglomerate with repeated cases before the court? A justice who never bothered to recuse herself from them? [...] Sotomayor's defenders will push back on this by claiming that she at least disclosed those payments, while Clarence Thomas never disclosed his travel arrangements and other personal gifts from Harlan Crow. That is a red herring, however. In the first place, the disclosure rules for the Supreme Court didn't require Thomas to make those disclosures, although they do now. In the second place, Crow didn't have business before the Supreme Court, so there was no conflict of interest at all. To claim that Thomas is an equal or worse violator of ethics as Sotomayor is to invert the entire purpose of disclosure and ethics.

Liberal SCOTUS Justice Took $3M From Book Publisher, Didn't Recuse From Its Cases. Liberal Supreme Court Justice Sonia Sotomayor declined to recuse herself from multiple copyright infringement cases involving book publisher Penguin Random House despite having been paid millions by the firm for her books, making it by far her largest source of income, records show. In 2010, she got a $1.2 million book advance from Knopf Doubleday Group, a part of the conglomerate. In 2012, she reported receiving two advance payments from the publisher totaling $1.9 million. In 2013, Sotomayor voted in a decision for whether the court should hear a case against the publisher called Aaron Greenspan v. Random House, despite then-fellow Justice Stephen Breyer recusing after also receiving money from the publisher. Greenspan was a Harvard classmate of Mark Zuckerberg's who wrote a book about the founding of Facebook and contended that Random House rejected his book proposal and then awarded a deal to another author who copied his book and eventually turned it into the movie The Social Network. In 2017, Sotomayor began receiving payments each year from Penguin Random House itself, which continued annually through at least 2021, the most recent disclosure available, and totaled more than $500,000.

Liberal SCOTUS Justice Caught in Scandal That Blows Up Recent Left-Wing Attacks. There's one certainty in politics. If a Democrat is accusing a Republican of doing something, it is the Democrat who is inevitably actually doing it. That dynamic played out again Wednesday after a major revelation about Supreme Court Justice Sonia Sotomayor called into question all the recent left-wing attacks on Justices Clarence Thomas and Neil Gorsuch. [...] These attacks have been absolutely ridiculous, but that didn't stop Senate Democrats from calling a hearing to furiously wag their fingers. Well, they are going to have to call another hearing because it's been revealed that Sotomayor took $3.6 million from a book company that did have business before the court at the time.

Dobbs was probably leaked by Sotomayor. The Supreme Court decision last year in Dobbs v. Jackson overruled Roe v. Wade, their 1973 decision that purported to find an abortion right in a U.S. Constitution that never mentions or alludes to it. Abortion is now rightly governed by the people's elected legislators, and, sadly, to some extent by unelected bureaucrats, but, in any event, not by judges. The Dobbs decision was leaked a couple of months in advance of its issuance. The effect of the leak was an outcry from abortion proponents, illegal protests at the homes of the conservative Justices, and an attempted assassination of one. The leak was unprecedented in over two centuries of Supreme Court jurisprudence. Chief Justice Roberts turned the matter over to the Court's marshal, a person not skilled in criminal law investigation. Apparently unaided or little-aided by the unlimited resources of federal law enforcement, she concluded that there was no "preponderance of evidence" to name the leaker.

There Is No 'Expert' Clause in the U.S. Constitution. [Scroll down] There is no provision within the United States Constitution that accords unlimited power to bureaucrats simply because some people consider them to be well-credentialed. As for Sotomayor's suggestion that, by superintending this statutory matter, the Court is taking it upon itself to set policy, "instead of leaving that decision in the hands of the person who has experience with these questions," that too is absolute rot.

Is Justice Sonia Sotomayor about to be pushed off the Supreme Court? Supreme Court Justice Sonia Sotomayor is recognized for three things: (1) She was the first Hispanic female justice on the Court; (2) She's a leftist's leftist; and (3) she is not wise but is, in my humble opinion, almost staggeringly ignorant and biased. All those factors benefit Democrats, but now they're getting worried, not because of her manifest legal and intellectual deficits but because there's a possibility that they will not hold the White House and Senate after the 2024 election. Barack Obama nominated Sotomayor to the Supreme Court in 2009, following her eleven-year stint as a Clinton appointee on the Second Circuit. Of Puerto Rican heritage, she has the Ivy League credentials that mean so much to Democrats. She graduated from Princeton with a summa cum laude degree in history (the focus of which was apparently entirely on Hispanic studies). She admits that she got in because of affirmative action.

Supreme Court Affirms Kentucky AG's Right to Defend Law Banning Live-Dismemberment Abortion. In an 8-1 decision, the U.S. Supreme Court ruled that Kentucky Attorney General Daniel Cameron (R) can defend the commonwealth's law banning live-dismemberment abortion, despite Gov. Andrew Beshear's (D) refusal. The decision authored by Associate Justice Samuel A. Alito overturned a ruling from the U.S. Court of Appeals for the Sixth Circuit that barred Cameron's office from intervening in the case. Associate Justice Sonia Sotomayor was the sole dissenter.

The worst problems with our best judges and doctors. Last month, Supreme Court justice Sonya Sotomayor was criticized for seriously misstating figures to push Biden vaccine mandates: 100,000 children were seriously ill, with "many on ventilators." The exaggerated figures underscored an embarrassing setback for the Biden administration. Corporate media, rightfully, pointed out that Sotomayor's claims were egregious. Even the Washington Post weighed in, giving the Justice "four Pinocchios" for her false statements.

Supreme Court Rejects Effort to Block Vaccine Mandate for NYC Schoolteachers Without Religious Exemptions. The U.S. Supreme Court on Friday denied a request to block the city's COVID-19 vaccine mandate for employees of the New York City Department of Education who were not given a religious exemption. Justice Sonia Sotomayor, who handles cases from the region, denied the emergency injunction filed by a group of public school teachers, supervisors, and staff employed by the New York City Department of Education (DOE), the largest public school district in the country. Her latest ruling comes the same day as the deadline for the teachers as well as other New York City public workers, firefighters, and police officers to get their COVID-19 vaccinations. Those who do not have proof of vaccination will likely be fired or put on unpaid leave.

Does Sotomayor Not Trust The Science? Throughout the pandemic, our ruling class has demanded that the vast majority take unprecedented steps to protect the minute minority. Kids have been asked to sacrifice their academic growth and emotional wellbeing so that teachers unions could collect dues while their members cowered behind screens. [...] Each day, one hopes that this mindset is reverting back to a conventional and commonsensical norm. Reporting from NPR tried to claim that Supreme Court Associate Justice Neil Gorsuch declined to "wear a mask out of respect" for his overweight, diabetic, and unhealthy colleague Sonia Sotomayor at her request. It turns out that NPR's Nina Totenberg pushed more fake news in an attempt to smear one of the few conservative thinkers on the nominally conservative-leaning Supreme Court. Still, though, Gorsuch is indeed going maskless while hearing oral arguments. At the same time, Sotomayor is listening virtually from her chambers.

Will Twitter suspend Sotomayor for COVID misinformation? A wise axiom warns us not to deduce Supreme Court decisions based on the questions asked by its justices during oral arguments. Perhaps, however, we can deduce their relative wisdom and grasp of reality from the questions they pose. In today's debate over the legality of the Biden administration's vaccine mandates imposed by OSHA, a few of the justices appear to have little grasp of the current facts of the pandemic. Justice Sonia Sotomayor led the way on misinformation. Sotomayor was hardly alone in causing jaws to drop, but she was the clear leader. The transcript isn't yet available, but observers shared their amazement on Twitter.

Justice Sotomayor phones it in. Supreme Court Justice Sonia Sotomayor may want people to think of her as a "wise Latina," but she displayed very little wisdom throughout the court's oral argument in National Federation of Independent Business v. Department of Labor on Friday. Multiple fact-checkers have already slammed Sotomayor for falsely asserting, "We have over 100,000 children, which we've never had before, in serious condition and many on ventilators." But that was far from her only mistake. On the 100,000 children claim, not only was this not even remotely true when she said it — according to the Department of Health and Human Services, there are fewer than 5,000 children with COVID-19 hospitalized right now — but over the course of the entire pandemic, only 83,000 children have been hospitalized for any reason. This includes asymptomatic children in the hospital admitted for a broken leg who happened to test positive for COVID while they were treated. The reality is that from the beginning, almost everyone has recognized that children face much lower risks of severe illness and hospitalization from COVID-19 than older adults and those with comorbidities.

Emerging uses of "emergency". [Scroll down] Justice Sotomayor puts it this way (transcript at page 29): "Why isn't the human being like a machine if it's spewing a virus, blood-borne [sic] viruses?" Justice Sotomayor isn't completely worthless. She is good for comic relief as we slide down the slippery slope. Justice Sotomayor sagely observes, for example (transcript at pages 53-54): "[C]ounsel, those numbers show that Omicron is as deadly and causes as much serious disease in the unvaccinated as Delta did.... We have over 100,000 children, which we've never had before, in — in serious condition and many on ventilators." Often wrong, but never in doubt. If things don't work out for her on the Court, a brilliant career beckons at MSNBC.

Sonia Sotomayor roasted after spreading false information about child COVID hospitalizations. Supreme Court Justice Sonia Sotomayor came under withering criticism Friday after she falsely suggested that upwards of 100,000 children in the United States are hospitalized from COVID-19, many of them on ventilators. During oral arguments on the Biden administration's mandate on private businesses for employees to be either vaccinated or frequently tested, Sotomayor drastically overstated the number of young people who have fallen severely ill from coronavirus. "We have hospitals that are almost at full capacity with people severely ill on ventilators. We have over 100,000 children, which we've never had before, in serious condition, many on ventilators," she said.

Rand Paul: 'Is Fauci Advising Justice Sotomayor?'. Sen. Rand Paul (R-KY) asked if Dr. Anthony Fauci is "advising" Supreme Court Justice Sonia Sotomayor after she touted falsehoods during oral arguments on Friday at the Supreme Court as justices weighed President Joe Biden's coercive vaccine mandates. "We have over 100,000 children, which we've never had before, in serious condition, many on ventilators" from the coronavirus, Sotomayor asserted on Friday, raising eyebrows. After the remarks surfaced, Sen. Paul, a prominent critic of Anthony Fauci, tweeted: "Sotomayor: 'over 100,000 children... in serious condition, many on ventilators' Is Fauci advising Justice Sotomayor? Will YouTube censor her?"

Supreme disgrace. January 7, 2022 saw panic porn-riddled disinformation peddled by Supreme Court Justices Breyer, Sotomayor, and Kagan during the OSHA and CMS vaccine mandate arguments. You can read about it [elsewhere]. I unplugged from the livestream, disturbed by their commentary, believing it revealed deeper cracks in our republic's foundation than those supposedly from January 6th. Justice Kagan challenged claims that OSHA's vaccine mandate exceeded its narrow emergency powers by arguing that nothing could be more necessary than protecting people in the workplace from Covid. Self-righteous and didactic, her opening salvo was riddled with superlatives, hyperbole, and "we all know what's best-isms," a tactic that forces the opposition either to defend itself with facts to rebut hers or forego that defense and carry on with their arguments.

Liberal Supreme Court justices spread COVID-19 misinformation. Justices Elena Kagan, Stephen Breyer, and Sonia Sotomayor confirmed during Friday's oral arguments that they are firmly in favor of President Joe Biden's private sector vaccine mandate. However, the facts they relied upon to make their case were flat-out wrong. Kagan began by claiming "the best way" to prevent the spread of COVID-19 is "for people to get vaccinated," and the "second best way" is to "wear masks." Neither claim is true. While the vaccines appear to slow the spread of COVID-19 and reduce the chance of death, there is absolutely no evidence that they prevent transmission, especially not against the much more contagious omicron variant.

Justice Sotomayor 'paraded her scientific ignorance' in questioning during oral arguments on Dobbs v Jackson Women's Health. Sonia Sotomayor, Associate Justice of the United States Supreme Court, raised eyebrows and cast doubt on her fitness for her elevated office during oral arguments over the pending Mississippi abortion case, Dobbs v Jackson Women's Health.

A Science Lesson for Justice Sotomayor. [Scroll down] In a piqued, incredulous tone, Sotomayor demanded to know just "What are the advancements in medicine?" As Stewart began to list them, mentioning new knowledge of fetal pain, the Justice abruptly cut him off. Our brief and others document the medical and scientific advances Mr. Stewart was referring to, in language easily accessible to lay people and rigorously sourced in the latest scientific journals and currently accepted medical practices. It's there for anyone with eyes — or the will — to see. Sotomayor vigorously rejected Stewart's reference to advances in our understanding of fetal pain. She claimed that only an eccentric "small fringe" believes fetal pain exists "before 24, 25 weeks." She could not have been more wrong. A growing body of scientific evidence indicates that a fully developed cortex is not necessary for the transmission of pain sensations, which may be present as early as 12 weeks.

Sotomayor's intellectual limitations [are] on display in the oral arguments over Dobbs v. Jackson Women's Health. For anyone paying attention to the abortion rights case just argued before the Supreme Court, it would be hard to miss the deep emotional passion of Justice Sotomayor in defense of Roe v. Wade. The justices heard arguments in Dobbs v. Jackson Women's Health over a Mississippi law that prohibits termination of pregnancies after 15 weeks. Lower courts have found the ban plainly unconstitutional due to the half century of legal precedent since Roe and put it on hold. While hardly alone in her knee-jerk attachment to the faux constitutionality of Roe, neither she nor the other liberals on the Court can address any relevant text in the Constitution that supports that 1973 decision. That would be because there isn't any. All that clever stuff about emanations and penumbras was wholly without constitutional basis. Justices Clarence Thomas and Samuel Alito are running intellectual rings around the "it-was-written-by old-white men" anti-Constitutionalists. [...] Does she [Sotomayor] actually think that the court's decision on Roe in 1973 was not political? Can she be that dim? Yes, she can and is.

What's that you smell in the Supreme Court? In Wednesday's [12/1/2021] Supreme Court oral arguments in Dobbs v. Jackson Women's Health Organization, Justice Sonia Sotomayor got a whiff of something she did not like. She said many abortion opponents, including the sponsors of the Mississippi abortion law at issue, hoped her three new colleagues would allow for the reversal or reduction of Roe v. Wade. With Justices Brett Kavanaugh, Neil Gorsuch and Amy Coney Barrett listening, she asked, "Will this institution survive the stench" created from such political machinations — and then answered: "I don't see how it is possible." Of course, when justices begin to declare their disgust at the very thought of overturning precedent, there is another detectable scent in the courtroom. [...] Justices Sotomayor and Stephen Breyer insisted that overturning Roe in whole or in part would bring ruin upon the court by abandoning the principle of stare decisis, or the respect for precedent. Yet neither showed the same unflagging adherence to precedent when they sought to overturn conservative doctrines.

Doctor Slams Sotomayor: "To Compare an Unborn Child to a Brain-Dead Person is Wholly Ignorant". Doctors and scientists corrected U.S. Supreme Court Justice Sonya Sotomayor this week after she compared unborn babies to brain dead people and claimed they cannot feel pain until at least 24 weeks of pregnancy. Dr. Grazie Pozo Christie, a radiology specialist and senior fellow with The Catholic Association, said the justice's statements were "wholly ignorant" of basic scientific knowledge. "To compare an unborn child to a brain-dead person or a corpse flouts science, which tells us that at 15 weeks gestation, a baby's organs are fully formed, her heart pumps 26 quarts of blood a day, and her lungs are already practicing drawing breath," Christie responded in a statement.

Sotomayor Calls on Law Students to Oppose the Texas Abortion Law. Modern justices have long chafed at the restraints of judicial ethical rules about public commentary. The late Ruth Bader Ginsburg was celebrated as "notorious" due in part to her controversial public speeches and discussions of pending or expected cases before the Court. Despite my long criticism of this trend, I was still taken aback by comments of Justice Sonia Sotomayor at an event organized by the American Bar Association. In her comments, Sotomayor appeared to call for political campaigns and discussed a matter just before the Court. Despite the discussion of the case and political opposition from a sitting justice, the ABA members were silent as were the many liberal activists who have been denouncing the Court as too "political." I admittedly hold a more traditional and cloistered view of public role of justices. I was particularly critical of the late Justice Antonin Scalia and Justice Ginsburg who relished appearances before ideologically supportive groups. Other justices like Justice Samuel Alito also crossed this line of judicial decorum and restraint in my view. We have seen more and more public speaking by justices in both books and speeches on contemporary issues. I have called this trend the "rise of the celebrity justice."

Low-Wattage Justice Sotomayor's Attack on the Bill of Rights Makes Her the Left's New Supreme Court Bobblehead. Yesterday evening [11/25/2020] the US Supreme Court, in a 5-4 decision, defended the Constitution's Bill of Rights against a concerted attack by one of the three most totalitarian governors in the United States, New York's Andrew Cuomo. Cuomo had decreed that the size of religious services could be arbitrarily limited to as few as 10 people. Ostensibly, this was to protect us all from the dreaded Chinese Lung AIDS because, as we all know, that virus hates people who go to church and hangs out in the church parking lot to attack those who attend. This is much like how the virus loves to visit bars and restaurants after 9 p.m. and how it also targets Thanksgiving meals. For reasons unknown to scientists, the virus is afraid to get close to BLM or Antifa demonstrations, though it is very, very attracted to demonstrations defending Constitutional rights. How very odd. It is almost like the scientists are just making up [stuff] to target gatherings they personally oppose or push policies they approve of.

Justice Sotomayor Upbraids SCOTUS Majority for 'Playing a Deadly Game' With COVID Restrictions. U.S. Supreme Court Justice Sonia Sotomayor issued a stinging rebuke of her conservative colleagues, calling out what she perceived as hypocrisy and false equivalencies in Wednesday's ruling against New York Governor Andrew Cuomo's COVID-19 restrictions. In a 5-4 decision, the court's conservative block of justices granted a temporary injunction requested by a Catholic Diocese and two Orthodox Jewish synagogues. By so doing, the court narrowly held that Cuomo's regulations limiting attendance at religious services likely violated the Free Exercise Clause of the First Amendment. It was the court's first major decision since the staunchly conservative Justice Amy Coney Barret joined the bench. Sotomayor was having none of it.

Sotomayor Goes After Unethical Prosecutors and Conservative Judges on First Day of New SCOTUS Term. U.S. Supreme Court Justice Sonia Sotomayor began the October term with two opinions related to orders which offer some telling insights into the progressive jurist's legal philosophy. Neither of Sotomayor's opinions carry the force of law and are properly understood as judicial musings about the high court's potential and more abstract notions of what justice means and/or could be in the future. In each case, the full court declined to hear the case at issue and in each case, the justice agreed with her peers but took the opportunity to elaborate on her own decision-making processes as well as pitfalls contained in the lower court records.

Cruz Scorches Sotomayor over Trump Critique. [Scroll down] Restraining activist judges who apply ideology over law on a scope outside the jurisdiction of the cases at hand is not "extraordinary" relief. It is welcome relief and reflects President Trump's reshaping of the federal courts, a work in process, and restoring them to their originalist origins and interpretations, written in an era when the Constitution meant what the Founders wrote in the context of their times, not what a "wise Latina' in touch with her life experience and feelings might say it means, colored by the passions of the day. Supreme Court Justice Neil Gorsuch, a "Trump judge" according to Sotomayor, condemned activist judges exceeding the scope of their legal authority in a January concurrence. Gorsuch scolded lower courts that have routinely issued blanket injunctions against the Trump administration, rather than limiting themselves to the parties before them.

Ted Cruz Takes a Sledgehammer to Sotomayor's Dissent and Comes Up with a Fitting Metaphor. Earlier, I posted about President Trump's call for Supreme Court Justice Sonia Sotomayor to recuse herself from any future cases involving his administration after reading the scathing dissent she wrote last Friday. She accused her colleagues of bias and the federal government of seeking stays "in an unprecedented cases, demanding immediate attention and consuming limited court resources by claiming one emergency after another." In a Senate Judiciary Committee meeting today, Sen. Ted Cruz (R-TX) destroyed Sotomayor's dissent in two minutes and even came up with an appropriate, and quite creative, metaphor.

Cruz scorches Sotomayor over court critique, turns tables on her dissent. Republican Sen. Ted Cruz on Tuesday tore into Supreme Court Justice Sonia Sotomayor for a widely noticed dissent in which she blasted her colleagues for lifting injunctions on controversial Trump administration policies. During a Senate Judiciary Committee hearing on the use of nationwide injunctions — which stop policies from taking effect — Cruz cast the blame on liberal jurists for what he described as an abnormal number of these measures against the Trump administration in the first place. He accused judges of acting as "partisan political activists." This, he argued, has reasonably resulted in the government fighting back.

President Trump Calls on Sotomayor and Ginsburg to Recuse Themselves From His Supreme Court Cases. President Trump responded from India via Twitter on Tuesday local time to a scathing dissent by Justice Sonia Sotomayor released Friday [2/21/2020] that accused the conservative majority justices on the Supreme Court of being biased in favor of the Trump administration. Trump called on Sotomayor and her fellow Trump-hating Justice Ruth Bader Ginsburg to recuse themselves from cases involving or relating to him.

Tom Cotton: Sonia Sotomayor Falsely Accused GOP-Appointed Justices of Doing What Democrat-Appointed Judges Do. Supreme Court Justice Sonia Sotomayor projected when she accused her Republican-appointed peers of acquiescence to the Trump administration, said Sen. Tom Cotton (R-AR) in an interview on Breitbart News Sunday [...] Sotomayor dissented in the Supreme court's 5-4 decision in Wolf v. Cook County, upholding the federal government's authority to restrict immigration from foreigners who would become financial burdens on taxpayers as "public charges."

Supreme Court Justice Sotomayor rages that colleagues are conservative. Supreme Court Justice Sonia "Wise Latina" Sotomayor once was explicit that she values feelings over the law. She is discovering to her chagrin that this approach does not work when a majority of Justices believe in the Constitution. On Friday, her frustration erupted in an angry dissent attacking her colleagues for partisanship. In 2009, Sotomayor gave a speech trumpeting life experience rather than the Constitution and the law as her guiding judicial principles: [...] Sotomayor disavowed the speech during her nomination hearing. Nevertheless, her a navel-gazing analysis was at the forefront when she wrote a dissent accusing her strict constructionist Supreme Court colleagues of improperly favoring the Trump administration.

Justice Sonia Sotomayor: Supreme Court 'putting a thumb on the scale' for Trump. Justice Sonia Sotomayor said she is concerned the Supreme Court is going out of its way to help the Trump administration. The high court voted along ideological lines on Friday to grant the Trump administration's demand for an emergency request to stay an injunction in an Illinois case regarding the restriction of low-income immigrants from entering the United States.

'Wise Latina' Sotomayor heaps praise on San Francisco's new far-left DA, Chesa Boudin. San Francisco, whether it knows it or not, should be bracing to get even more crime-ridden and hellish than it already is with the questionably rigged election of Chesa Boudin as the city's chief prosecutor. Boudin, recall, vows to ignore quality-of life crimes; drop gang enhancement charges on gangsters; and pressure victims of violent crimes to opt for "restorative justice" instead of jail time, letting crooks off if they apologize. What could go wrong? Not a problem for Wise Latina herself, Supreme Court justice Sonia Sotomayor, who horned in on Boudin's inauguration, sending this far-to-the-far-leftist an unprecedented message of pride and praise: [...]

Justice Sotomayor: Hispanics have 'rational fear' of Trump administration citizenship question. Hispanics have "legitimate fear" of the Trump administration and its quest to query Americans about their citizenship on the 2020 Census, Justice Sonia Sotomayor said Tuesday, as the Supreme Court debated whether President Trump has the power to add the question back in to the decennial count. The government's lawyer, Solicitor General Noel Francisco, was less than two sentences into his argument when Justice Sotomayor pounced for the first time, keeping up a steady stream of questions suggesting Mr. Trump and his team invented reasons to ask about citizenship, and that Hispanics, in particular, will refuse to take part, souring the all-important survey. "Are you suggesting they don't have, whether it is rational or not, that they don't have a legitimate fear?" Justice Sotomayor demanded.

The Democrats and SCOTUS: The Real Record. Sonja Sotomayor was nominated to the SCOTUS in 2009 by a Democrat president (Obama). Sotomayor, who riled conservatives by repeatedly claiming that a "wise Latina" would make better conclusions than a "white male", was approved via Senate Vote 262 a 68-31 bipartisan vote that saw twenty three percent of senate Republicans voting "yes."

Sonia Sotomayor saddened by perception of judges as political. Supreme Court Justice Sonia Sotomayor bemoaned people losing confidence in judges they believe to be political while taking questions at the University of California, Berkley on Thursday. Sotomayor urged the crowd, "[D]on't give up hope on us" and said judges are "human beings who care deeply about what we're doing," according to the Associated Press. The justice also said since the late Justice Antonin Scalia's death that the eight remaining justices are "talking more" and "trying to reach consensus more."

Sonia Sotomayor Cites Ta-Nehisi Coates in a Supreme Court Dissent. Race is everything for the "wise Latina." The media have widely praised Sonia Sotomayor's dissent in Utah v. Strieff. Even though she is derided as one of the worst writers on the bench, even by her ideological comrades, headlines describe the dissent as "stinging" (New York Daily News), "ringing" (Atlantic), "fierce" (Washington Post), "fiery" (CNN), "epic" (Nation), "blistering" (NPR), "biting" (Christian Science Monitor), and "scathing" (NBC). In particular, they praise the dissent for bravely taking on racial injustice in America. Slate called it an "atomic bomb of a dissent slamming racial profiling and mass imprisonment." Mother Jones lauded the "court's only Latina justice" for putting "her life experience to practice" and "excoriating her colleagues for misunderstanding the police harassment to which people of color are regularly subjected." The Atlantic wrote that "few institutions in American life have grappled with race and racism like the U.S. Supreme Court, for better or worse, but rarely does it speak about it with this level of detail." It went on to suggest that the dissent may be a "veiled nod to the Black Lives Matter movement." The nod is barely veiled.

The Court Loon. The madmen and lunatics get all the attention, but history is littered with examples of mediocrities managing to thread the needle somehow, ending up on top, only to be undone by their own stupidity. In my lifetime, Jimmy Carter is the most obvious example. [...] The point is, life is big and complicated with lots of variables. Under the right conditions, the dice can land the wrong way and we end up with a lunatic on the Supreme Court, which is why we have an impeachment system. If a nut winds up in the White House or on the bench, they can be removed. It does not happen often, but it's a remedy, just in case we end up with someone like, say, Supreme Court Justice Sonia Sotomayor. [...] . Obama nominated this woman because she was a Latin lesbian. Finding someone who checks those boxes and is competent in the law is impossible so he just took a loyal fanatic. The result is we have a mentally disturbed woman on the high court — for life.

Justice Sotomayor's Troubling View of the Law. The Supreme Court is in the news again this week after a bitter disagreement over civil liberties. Yesterday [6/21/2016], in a 5-3 decision, the majority of justices came down squarely on the side of the state, but it was Sonia Sotomayor's rousing dissent that captured the public's attention. She wrote vividly, addressing readers in the second person: "You are not a citizen of a democracy but the subject of a carceral state, just waiting to be cataloged." She cited works such as James Baldwin's The Fire Next Time and Ta-Nehisi Coates's Between the World and Me from the civil-rights canon.

Sotomayor in fiery dissent: Illegal stops 'corrode all our civil liberties'. Supreme Court Justice Sonia Sotomayor on Monday [6/20/2016] issued a vehement dissent in a Fourth Amendment case — writing that the majority's opinion sanctions police stops that "corrode all our civil liberties and threaten all our lives." The fiery objection came on case where a Utah man challenged his arrest based on a stop that was later found to be unlawful. The 5-3 majority opinion, Sotomayor wrote, will have dramatic ramifications for law-abiding citizens targeted by police, especially minorities.

Sotomayor Dissent Reads Like 'A Black Lives Matter Manifesto'. [Scroll down] Sotomayor filed a peppery dissent, joined in part by Justice Ginsburg. "The white defendant in this case shows that anyone's dignity can be violated in this manner," she wrote. "But it is no secret that people of color are disproportionate victims of this type of scrutiny. For generations, black and brown parents have given their children 'the talk' — instructing them never to run down the street; always keep your hands where they can be seen; do not even think of talking back to a stranger — all out of fear of how an officer with a gun will react to them." "We must not pretend that the countless people who are routinely targeted by police are 'isolated,'" she continued. "They are the canaries in the coal mine whose deaths, civil and literal, warn us that no one can breathe in this atmosphere." Elsewhere in the dissent, she characterizes the United States as a "carceral state," and pillories the "civil death" endured by those subject to arrest, a process she describes in vivid terms. She also accused the Court of treating minority communities as "second class citizens." The dissent's citations are as interesting as the text itself, which read like a survey of the American black literary tradition.

Sotomayor wants more diversity on court, after Obama picks Garland, a white Ivy male. Justice Sonia Sotomayor says the Supreme Court needs more diversity, amid the politically charged debate about filling a vacancy on the high court. "I ... think there is a disadvantage from having (five) Catholics, three Jews, everyone from an Ivy League school," Sotomayor, the court's first Latina justice, said Friday [4/8/2016] at Brooklyn Law School. However, she did not mention by name Judge Merrick Garland, a white male with a Harvard Law School degree whom President Obama recently nominated to fill the vacancy of Justice Antonin Scalia, a conservative voice on the court. Scalia died unexpectedly in January.

Sotomayor's 4th Amendment Time Bomb. A painfully slim 5 — 4 ruling this week by the Supreme Court in City of Los Angeles v. Patel [...] struck down a Los Angeles ordinance that allowed police officers to inspect hotel guest registries for any or even no reason, and without a warrant. The ruling that the Fourth Amendment applies to businesses and that statutes may be declared unconstitutional on their face is consistent with principles as old as, and even older than, the Constitution. Privacy advocates seem to be suffering from a bit of Stockholm Syndrome. Joyful about the court's barely holding the line on two issues, most have yet to acknowledge how Justice Sonya Sotomayor's majority opinion is also a blueprint for a major power grab for the administrative police state.

Sotomayor Fears Drones Yet Votes To Strip Citizenry Of Ability To Combat Tyranny. I wonder if the fog of liberalism is finally lifting from the eyes of Supreme Court Justice Sotomayor or if she is just ignorantly hypocritical as most liberals seem to be. Speaking before a group of students and faculty at Oklahoma City University's School of Law on Thursday [9/11/2014], Justice Sotomayor railed against the increasing intrusion into our privacy during this "frightening" age of surveillance technology. She made a specific point about the use of drones by both public and commercial entities to encroach on our private lives.

Liberals Understand The Constitution Like Justin Bieber Understands Particle Physics. Based upon Justice Sotomayor's bizarre dissenting opinion in the recent Michigan affirmative action case, it seems she believes that government decisions made on the basis of race, something the Constitution expressly bars, are mandatory. [...] It ought to be called the "Ratchet Doctrine." You are free to make things more liberal to your bleeding heart's content. You just can't ever undo them. It's right there in the Constitution. Somewhere.

Justice Sonia Sotomayor proves herself not so wise. Justice Sonia Sotomayor this week took the unusual step of reading her dissent in a case involving state-sponsored affirmative action in Michigan. In doing so, she showed herself not only petulant to be on the losing side in a 6-2 decision, but unable to divorce her legal reasoning from her own sense of racial grievance. It was an embarrassing but predictable performance. In 2009, I was one of a handful of witnesses who testified against Sotomayor's confirmation before the Senate Judiciary Committee. I did so with sadness, because there is much to admire in Sotomayor's personal history.

Justice Sotomayor and the affirmative action bitter-enders have lost bigtime. There is a growing body of experience indicating that the phenomenon known as "mismatch" results in minorities being placed in situations where they cannot compete with the more-qualified students who received no such preferences. The results have been high drop-out rates, leaving failed students worse off than if they had been admitted to institutions where their qualifications were similar to those of other students. This is precisely what has happened with the end of racial preferences in California following the passage of Proposition 209.

The 'Wise Latina jumped the shark. Justice Sonia Sotomayor jumped the shark Tuesday with her lengthy dissent from the Schuette decision, read aloud from the bench. Although the liberal media sympathize with her and presented the decision as a setback, the positions she took are at variance with both the clear meaning of the text of the Constitution and with the sentiments of the vast majority of Americans, who consistently vote against racial preferences whenever they get the chance.

Senate confirms Sotomayor for high court. Sonia Sotomayor won confirmation Thursday [8/6/2009] as the nation's first Hispanic Supreme Court justice in a history-making Senate vote that capped a summer-long debate heavy with politics. According to NBC News, she will be sworn in on Saturday — Chief Justice John Roberts will administer both the constitutional and judicial oaths.



Sotomayor's autobiography whitewashes radical college years. Instead of the familiar "tell-all" book, Sotomayor apparently wrote a "tell-all-she-wants-us-to-know" book leaving out key experiences during her college years. To be clear, she wrote in great lengths about her time at Princeton University, but her association with openly racist organizations and other left-wing fringe movements are conveniently absent.

Supreme Court won't block Obama health law's contraception mandate. The Supreme Court on Wednesday refused to block the Obama administration's contraception mandate from taking effect. Justice Sonia Sotomayor rejected a request for an emergency injunction that would have shielded employers from the mandate.

Sotomayor's Ties to La Raza. [Scroll down] It's difficult to defend someone belonging to a group called "The Race" by accusing her opponents of playing racial politics. The last thing the Democrats want is for the American people to know about the National Council of La Raza, their radical agenda and Sotomayor's association with the group. Sotomayor is a member of La Raza and her comments about "Wise Latinas" being superior to white men appeared in the La Raza Law Journal.

Sonia Sotomayor: From Biased and Proud to just Biased. In spite of failing to prove her point, Sotomayor's argument does prove something: that for her it is indeed impossible to get past personal biases. Her only mistake is that she goes on to assume that the same is true for everyone — which it is not. Her unshakeable commitment to the idea that white guys cannot ever realize the error of their ways, even after hundreds of years of judicial unfairness to minorities and at least 50 years of consistent scrapping/overruling of all those old mistaken laws, is uncanny.

University experts state the obvious:
UT researchers predict Sotomayor to be most liberal. Researchers in the Department of Political Science at the University of Tennessee are predicting that newly confirmed Supreme Court Justice Sonia Sotomayor will cast a liberal vote in roughly two-thirds of cases during her first term. The prediction, if accurate, would make her the most liberal member of the current court.

Sotomayor Would Not Concede a Right to Self-Defense. When Sen. Tom Coburn (R-Okla.) asked Wednesday [7/15/2009] whether citizens have a right to self-defense, Supreme Court nominee Sonia Sotomayor told the Senate Judiciary Committee, "I don't know." Coburn had asked, "As a citizen of this country, do you believe innately in my ability to have self-defense of myself — personal self-defense? Do I have a right to personal self-defense?"

Sonia Sotomayor's Supreme Court confirmation hearings are turning into bad joke. Supreme Court nominee Sonia Sotomayor joked about going home and getting her gun Wednesday [7/15/2009]. In one of the most hilarious moments of a boring and repetitive third day of her Senate confirmation hearing, Sotomayor made the gun analogy after Oklahoma Republican Tom Coburn repeatedly prodded her to explain if the Second Amendment gave every American a right to self-defense. "Do I have a right to personal self-defense?" Coburn said. Sotomayor said she couldn't recall a single federal law that dealt with that issue.

Sotomayor's Bias. Other than declaring war, neither house of Congress has a more solemn responsibility than the Senate's role in confirming justices to the U.S. Supreme Court. As the Senate considers the nomination of Judge Sonia Sotomayor, Americans are watching to see if this nominee would lend her support to those who've declared war on the rights of America's 80 million gun owners. After the first day of confirmation hearings, gun owners have good reason to worry.

She's Lying. Even some liberals are frustrated by Sonia Sotomayor's carefully plotted answers this week. ... Sotomayor's performance, predictable though it was, drove some otherwise sympathetic observers up a metaphorical wall. For example, Mike Seidman, an unambiguously liberal Georgetown University law professor, fumed that he "was completely disgusted by Judge Sotomayor's testimony. If she was not perjuring herself, she is intellectually unqualified to be on the Supreme Court. If she was perjuring herself, she is morally unqualified."

Of Race, Gender and Justice. Judge Sotomayor's offensive words are a reflection of her much greater body of work as an ethnic activist and judge. Identity politics is at the core of who this woman is. And let me be clear here, I am not talking about the understandable pride in one's ancestry or ethnic roots, which is both common and natural in a country as diverse and pluralistic as ours. Identity politics involves a sense of grievance against the majority, a feeling that racism permeates American society and its institutions, and the belief that members of one's own group are victims in a perpetual power struggle with the majority.

The Evasions and Misstatements of Sonia Sotomayor. There is plenty of reason to conclude, as [The Washington Post's Eva] Rodriquez did, that Sotomayor was being less than honest in her testimony. Many of Sotomayor's misstatements were blatant and easily revealed.

Sotomayor in the Dock. With near unanimity, mainstream media outlets have presented [Sonia] Sotomayor as a genial striver whose inspiring personal story of struggle and triumph against the steepest odds makes her an ideal choice to serve the country's highest court. The theme has been echoed by Congressional Democrats, who have suggested that Sotomayor is such a superbly qualified nominee that only the most cynically partisan, and perhaps even racist political hacks would challenge her nomination.

Rachel Maddow Spins Anti-Racism into Racism. The facts would be clear to anyone familiar with the situation: Barack Obama nominated a racialist judicial activist who ruled on the Second Circuit Court of Appeals that banning felons currently in prison from voting is a form of racial prejudice according to the "plain terms" of the Voting Rights Act. White House Press Secretary Robert Gibbs warns Republicans to "be exceedlingly careful" in opposing her, lest they be branded racists. The Left and mainstream media (but then I repeat myself) trumpet the historic importance of the first African-American president appointing the first Latina Supreme Court justice.

Obama the Trickster. This administration is just filled with racial anger. So why would Sotomayor be its first Supreme Court nominee? ... Sotomayor believes in the US Constitution like Obama does: not at all. But Sotomayor is not nearly as good as Obama at this double game, seeming rather dim-witted. She's given away her Hispanic Victimhood at least half a dozen times in public, not exactly what you expect from a Justice of the Supreme Court. She would be a living embarrassment to the US Constitution. ... Her job on the Supremes will be to keep the Affirmative Action Establishment in power.

Pro-Life Group Disputes Sotomayor's View. Supreme Court nominee Sonia Sotomayor told the Senate Judiciary Committee on Tuesday that she considered Roe v. Wade, the Supreme Court case that legalized abortion, to be "settled law." ... During questioning from Sen. Orrin Hatch (R-Utah), Sotomayor also said that "all precedents of the Supreme Court I consider settled law." ... Dr. Charmaine Yoest, president of Americans United for Life, said Roe is "anything but settled law."

FOX News: Sotomayor Opposes Gun Rights. The National Rifle Association's Wayne LaPierre said on the "Glenn Beck Program" Monday that President Obama's Supreme Court nominee Sonia Sotomayor does not deserve to be on the high court because she does not support Americans' right to self-defense. On the day Sotomayor's confirmation hearings began, LaPierre stated that the Second Amendment is a "constant" throughout American history. "People want to be free," he said. "With a firearm I can protect my family... and Judge Sotomayor doesn't get that," LaPierre told Beck. "She should not be on the Supreme Court."

NRA growing more alarmed over Sotomayor. The National Rifle Association (NRA) has questioned Sonia Sotomayor's fitness to serve on the Supreme Court, a troubling sign for the nominee in what has so far been a smooth confirmation hearing. The NRA is considered one of the most powerful lobbies in Washington and holds sway with Democrats from conservative states, who could side with Republicans in opposing the nominee.

Sotomayor Let Wrongly Convicted Man Languish in Prison. One person who is not so thrilled about the prospective elevation of Sonia Sotomayor to the United States Supreme Court is a man named Jeffrey Deskovic. Mr. Deskovic spent 16 years in prison for a crime he didn't commit — the last six years, Deskovic claims, being a direct result of the actions (or, rather, the inaction) of Judge Sotomayor.

Sotomayor's self-contradictions. After two days of hearings for Supreme Court nominee Sonia Sotomayor, it appears that her strategy for confirmation is to contradict herself at every turn. She spent much of yesterday claiming not to have meant the things she actually said or not to have ruled the way she actually ruled. For the first time, therefore, it is not just her judgment but also her integrity that is in question.

Parsing Sotomayor's Declining Poll Numbers. The recent Rasmussen poll that found a significant deterioration in the level of support for Supreme Court nominee Sonya Sotomayor warrants a tad more scrutiny. In a poll conducted May 26-27 Rasmussen found that likely voters wanted to confirm Sotomayor by the margin of 45% to 29%. This was an underwhelming margin, to be sure, given all the laudatory media coverage, and may have been an early warning sign that Sotomayor could be vulnerable.

Public Support for Sotomayor Falls After Supreme Court Reversal. A heavily publicized U.S. Supreme Court reversal of an appeals court ruling by Judge Sonia Sotomayor has at least temporarily diminished public support for President Obama's first Supreme Court nominee. The latest Rasmussen Reports national telephone survey, conducted on the two nights following the Supreme Court decision, finds that 37% now believe Sotomayor should be confirmed while 39% disagree.

Judge Sotomayor — more liberal than the average liberal. According to the [Washington] Post's analysis, Sotomayor took the liberal position in 59 percent of her "split" cases. The average appeals court judge appointed by a Democratic president voted "liberal" in 52 percent of such cases. ... Sotomayor, then, is to the "left" of the average judge appointed by a Democrat.

Uncommon Detail Marks Rulings by Sotomayor. Supreme Court nominee Sonia Sotomayor's opinions show support for the rights of criminal defendants and suspects, skepticism of corporations, and sympathy for plaintiffs alleging discrimination, an analysis of her record by The Washington Post found. And she has delivered those rulings with a level of detail considered unusual for an appellate judge.

Democrats Double Down on the Sotomayor Race Card. Democrats are hustling the vote because they don't want to give Americans time to be fully informed about Sotomayor. What we already know calls for the Senate to proceed with caution, not full-speed ahead. A Supreme Court nomination shouldn't be a summary, rubber-stamp decision. Sotomayor's record including 3,600 opinions, hundreds of speeches and other writings needs serious and thorough review.

Firefighter to Testify Against Sotomayor. Republicans plan to call a white firefighter whose reverse discrimination claim was rejected by Supreme Court nominee Sonia Sotomayor to testify against her. ... Sotomayor was part of an appellate court panel that rejected Ricci's claim. The Supreme Court reversed the ruling last week.

Legal Expert Says Sotomayor Aims to 'Annihilate' Losing Side in Cases. Imagine, if you will, an expert on the federal judiciary told a Washington Post reporter a few years ago during the Sam Alito nomination that the conservative jurist took "a kind of carpet-bombing" approach to the law, showing a determination "not to just defeat the other side, but to annihilate it" when rendering his opinions from the bench. It's hard to image that being buried deep in an article on the jurist. But of course the nominee in question isn't Alito, it's President Obama's pick of Judge Sonia Sotomayor to replace outgoing liberal Justice David Souter.

Sotomayor's secret files. We wonder what Supreme Court nominee Sonia Sotomayor has to hide. Her confirmation hearing starts Monday, but the White House refuses to turn over boxes of documents for review about her past. Republican senators requested board meeting minutes of the Puerto Rican Legal Defense and Education Fund, where Ms. Sotomayor served on the board of directors from 1980 to 1992. ... Contrary to White House dodging, these board meetings may be important in evaluating Ms. Sotomayor's legal and policy reasoning because the Puerto Rican Legal Defense and Education Fund was involved in a wide range of controversial legal cases. For instance, the fund fought to abolish the death penalty.

Sotomayor's Confirmation "Not A Done Deal". While Republicans are short on votes they have a plethora of issues, many of which resonate with the public at large. And indeed recent polling shows that voters aren't that enamored of the "wise Latina" Supreme Court nominee.

GOP: Sotomayor approval not guaranteed. The Senate Judiciary Committee's top Republican cautioned Friday [7/10/2009] that Supreme Court nominee Sonia Sotomayor's confirmation is not a "foregone conclusion" amid what he said was growing concern from moderate to conservative Senate Democrats.

The Agenda and the Moment. Pres. Barack Obama has made a tactical mistake, one that is characteristic of the man. Suffering, as he plainly does, from a tendency toward self-aggrandizement, President Obama has undertaken to do too much at once, seeking a radical re-ordering of American life ... Republicans probably will not stop Obama from installing Sonia Sotomayor, a left-wing activist, on the Supreme Court. But they will want to make him fight for it, and in fighting expend some of the political capital that might go toward the rest of his agenda.

Sotomayor plays the race card. A biased judge should not be promoted to a higher court. Yet the Obama administration has not been able to put to rest fears that Supreme Court nominee Sonia Sotomayor might let ethnic grievances sway her decisions on the bench. That's exactly what it appears Judge Sotomayor did in the Ricci v. DeStefano case, in which she ruled that white firefighters could be denied promotions they clearly had earned.

Sotomayor and Quotas: Appellate judges often get reversed by the Supreme Court, but this reversal could prove more troublesome to Sotomayor. She has made it clear in a series of speeches over the years that she considers her own ethnic identity crucial to how she decides cases. No fewer than a half-dozen times, Sotomayor has uttered some variation of her now infamous remarks...

Firefighter Case Shows Seamy Side of Racial Politics. The Supreme Court's decision in Ricci v. DeStefano, the case of the New Haven firefighters, was a ringing endorsement of the Civil Rights Act of 1964's ban on racial discrimination and a repudiation of Supreme Court nominee Sonia Sotomayor's decision in the Second Circuit U.S. Court of Appeals. While five justices flatly rejected Sotomayor's ruling, even the four dissenters wouldn't have let stand her ruling allowing the results of a promotion exam to be set aside because no black firefighter had a top score.

Sotomayor Has Record That Doesn't Inspire. For the fourth time in six cases, the Supreme Court of the United States has reversed a decision for which Judge Sonia Sotomayor voted on the 2nd Circuit Court of Appeals. If this nominee were a white male, would this not raise questions about whether he should be elevated to a court that has found his previous decisions wrong two-thirds of the time when those decisions have been reviewed?

So Much For Wise Latinas. The one advantage Sotomayor's talk-to-the-hand opinion has over Justice Ginsburg's prolix dissent is that brevity prevented Sotomayor from having to explain why quotas aren't quotas. That was left to Ginsburg. Liberals desperately want race quotas — as long as quotas never come to their offices. ... Based on her lifetime of experience working as a firefighter, Ginsburg said: "Relying heavily on written tests to select fire officers is a questionable practice, to say the least." Liberals prefer a more objective test, such as race.

Legal group's records tell little about Sotomayor. A Puerto Rican civil rights organization advised by Supreme Court nominee Sonia Sotomayor campaigned against seating conservative Robert Bork on the high court in the late 1980s, according to new documents that shed light on the group that's become a key focus of Republicans questioning Sotomayor's fitness to be a justice. The Puerto Rican Legal Defense and Education Fund officially opposed Bork...

What Will She Do For An Encore? Short of writing "get whitey," It's difficult to imagine how Judge Sotomayor could have fouled up the Ricci case any more than she did. Let's count the ways. First, her panel issued a summary order in a case that ended up being heard by the Supreme Court and generating a 5-4 decision with nearly 100 pages worth of opinions. Second, Sotomayor's panel was sharply criticized by her mentor, Judge Cabranes, for its "perfunctory disposition" of the case, in an opinion which suggests that Cabranes believed that Sotomayor and her fellow panel members were attempting to bury the matter.

Connecticut Firefighters 'Vindicated' by Supreme Court Ruling. Justice Anthony Kennedy authored the 5-4 opinion in favor of Ricci and his fellow firefighters. It included no specific reference to Sotomayor. But Republicans skeptical of Sotomayor swiftly used it to bolster their case that the high court nominee may let her personal views influence her judicial decisions. "It was quite a rebuke actually to her and the opinion that was rendered," Sen. Jeff Sessions, R-Ala., ranking Republican on the Senate Judiciary Committee, told FOX News Radio.

Sonia Sotomayor Reversed (Again) by US Supreme Court. Given this latest reversal (Sotomayor has a history of being reversed by the SCOTUS), President Obama must act to restore credibility to the nominating process. Nominations to the Supreme Court should NOT be used as thinly disguised program of affirmative action. Nor should the process be used in an attempt to troll for Hispanic votes or any other demographic group with large numbers of voters. President Obama should immediately withdraw Sotomayor's name from consideration and begin his search anew.

A judicial embarrassment. The Supreme Court of the United States reversed a decision today [6/29/2009] that will prove to be a major embarrassment to the Obama Administration. ... The reversal of the decision in which Sotomayor helped uphold the principle of an employer's ability to discriminate against its employees, so long as those being discriminated against are not members of "minority" groups, demonstrates a return to sanity based on sound constitutional reasoning and represents and embarrassment to the president.

A Supreme Case Against Sotomayor. The Supreme Court's overturning of high-court nominee Sonia Sotomayor's ruling in the New Haven firefighter case exposes what lies at the core of her misguided philosophy: stark racial favoritism.

Supreme Court gives victory to white firefighters. The Supreme Court handed a victory Monday [6/29/2009] to a group of white firefighters charging racial discrimination, while also giving some fodder to critics of President Barack Obama's pending nominee for the high court, Judge Sonia Sotomayor.

The New 'Separate but Equal'. On the surface, it seems like a blatant case of unlawful discrimination. The fire department in New Haven, Conn., administered an exam for firemen seeking promotions. "Many firefighters studied for months, at considerable personal and financial cost," as Justice Anthony Kennedy recounts on behalf of the Supreme Court's majority in Ricci v. DeStefano. When the results came out, the city decided to deny promotions to the men who had earned them — because they were of the wrong race.

New Haven Firefighters. In this one case we see the multiple issues which will be at the center of Sotomayor's confirmation hearing. And what's more we have a story that the average American can understand and relate to. The disabled guy worked hard under adverse circumstances and did better than most of his non-disabled peers, only to be told, "Sorry, the 'numbers' didn't come out right." And this is justice? Most Americans, I suspect, will think not and will want to know why Sotomayor acted as she did.

Sotomayor's Racialist Judicial Activism: Felon "disenfranchisement" is the radical idea that those imprisoned for serious infractions of the law should not be voting for those who will make it. This prudent practice has a history in the United States that predates the Constitution. ... Seeking to overturn several thousands of years of juridical precedent on the flimsiest of bases qualifies Sotomayor as a judicial activist par excellence, and conservatives ought not let the point go unmade because any action against this Latina will bring cries of racism.

An Affirmative Action Baby: Sotomayor's opposition to test scores in particular and meritocracy in general is caused and reinforced by her personal history. Sotomayor has called herself an "Affirmative Action baby" and does not believe her test scores merited her acceptance at Princeton or Yale Law School. "If we had gone through the traditional numbers route of [entering Princeton and Yale Law], it would have been highly questionable if I would have been accepted," she said.

Pat Leahy's Fish Story. In 2002 Vermont Democrat Senator Patrick Leahy, then as now the Chairman of the Senate Judiciary Committee, was a vocal opponent of Bush Third Circuit Court nominee D. Brooks Smith because of Smith's former membership in an all-male fishing club in Pennsylvania. Today, Leahy is silent on the membership of Obama Supreme Court nominee and sitting Second Appeals Court Judge Sonia Sotomayor in the Belizean Grove, an elite, all-female club.

Sotomayor's ethical oversight. Judge Sotomayor has tried to make — in the words of liberal columnist Michael Kinsley — "the preposterous argument that the Belizean Grove [to which she belongs] isn't a women's club," even though membership in that ritzy club is open to women only. We don't care that she belongs to such a club, or if gentlemen belong to clubs for men only, for that matter. But what Mr. Kinsley called her "brazen whopper" and "insult to the citizenry" is pertinent. That's her practice of twisting rules and standards to fit her circumstances. This calls her veracity into question.

Judge Sonia Sotomayor and the Puerto Rican Legal Defense and Education Fund. "In Judge Sotomayor, Obama offers the personal embodiment of his liberal judicial activist philosophy that places 'empathy' above the rule of law. Judge Sotomayor's leadership positions with the PRLDEF suggest she is more than willing to advance a liberal, race-based agenda through the court system. And for this Judge Sotomayor owes an explanation to the American people," stated Judicial Watch President Tom Fitton.

Bailing Out Sotomayor. No reasonable person can deny that there are things in Judge Sotomayor's record that could raise serious concerns in a reasonable observer. And as her record is examined, more and more questions seem to surface. We all know about her statements that the "court of appeals is where policy is made." Also widely known are her statements that ethnicity and gender "may and will make a difference in our judging." ... In light of those comments, the Ricci v. DeStefano case has to be troubling to everyone.

Sotomayor's 'Fundamental' Flaws. Supporters of Supreme Court nominee Sonia Sotomayor claim that her Second Amendment rulings are examples of "judicial restraint." The problem is that she's restraining the Second Amendment. Judge Sotomayor has ruled twice that the right to keep and bear arms is not a "fundamental right." The second time was after the U.S. Supreme Court said that it is.

Halfway to the Supremes? We are at precisely the halfway point between the official announcement of Judge Sonia Sotomayor's Supreme Court nomination and the scheduled opening of her Senate Judiciary Committee hearing. So what do we know about her so far? Judge Sotomayor's success is an inspirational story, and she has shown an admirable commitment to serving her community. The record also shows her to be a bad judge.

Glass Ceilings Aren't Glass Slippers. You don't have to be from Venus or Mars to notice that Sonia Sotomayor was appreciated more for her Hispanic roots than for female gifts. That's how President Obama introduced her. Firsts are firsts, after all, and Sandra Day O'Connor was followed by Ruth Bader Ginsberg, and that was that for a woman expecting recognition as a pioneer. No one any longer regards it as worth remarking when a woman becomes a doctor, lawyer, editor, astronaut or CEO. Women have shattered a lot of glass ceilings, and when nobody notices the broken glass, that's a sign of progress.

Sotomayor Vs. The Death Penalty. A recently unearthed memo not disclosed on the questionnaire filed with the Senate Judiciary Committee shows that the empathy that the Supreme Court nominee feels is more for the predators among us than their victims. It also shows that some of the reasons this self-proclaimed "wise Latina" has for opposing capital punishment are bogus and flawed.

The diversity mess. U.S. Attorney General Eric H. Holder Jr. has scolded Americans for being "cowards" and not talking more about race. Now Mr. Holder is getting that "dialogue" with the recent controversy surrounding President Obama's Supreme Court nominee, Judge Sonia Sotomayor. Most of the furor surrounds statements on race by Judge Sotomayor herself.

Miss Affirmative Action, 2009. What are the grounds for rejecting Sonia Sotomayor? No one has brought forth the slightest evidence she has the intellectual candlepower to sit on the Roberts court. By her own admission, Sotomayor is an "affirmative action baby." Though the Obama media have been ballyhooing her brilliance — No. 1 in high school, No. 1 at Princeton, editor of Yale Law Review — her academic career appears to have been a fraud from beginning to end, a testament to Ivy League corruption.

More Scandals Haunt Sotomayor. Sotomayor was not born in Puerto Rico. She was born in the Bronx in New York. Still, she apparently counts Puerto Rico, not America, as her home. This is a matter that must be covered by the media and explored by the Senate. The radical or Marxist view is that Puerto Rico is under colonial occupation and deserves independence. Sotomayor holds that view. Her 1976 thesis expressed support for Puerto Rican independence because she feared the "Americanization" of Puerto Rico.

Sotomayor's club for women only. It was revealed Friday [6/5/2009] that Supreme Court nominee Sonia Sotomayor belongs to the Belizean Grove, a highly selective club for women only. Senate Judiciary Chairman Sen. Patrick J. Leahy of Vermont announced Tuesday that her confirmation hearings will begin on July 13. If this judge were a man, the nomination would never make it to the Senate for hearings.

Update:
Sotomayor quits women's club after GOP criticism. Supreme Court nominee Sonia Sotomayor resigned Friday [6/19/2009] from an elite all-women's club after Republicans questioned her participation in it. Sotomayor said she resigned from the Belizean Grove to prevent the issue from becoming a distraction in her confirmation hearings.

The Editor says...
Distraction? That's what the hearings are for -- to uncover disqualifications like this one.

Sotomayor Qualifications: Why Bother With The Constitution? As the confirmation ritual of Sonia Sotomayor continues to play out, it is becoming grimly apparent that the only relevant issue, her worthiness (or more accurately, her total lack thereof) as a guardian of the Constitution, will be no more of a consideration for Republicans than it ever was for Barack Obama. Flowery rhetoric and her heart-wrenching biography notwithstanding, if Obama ever had any concern whatsoever for the nation's founding charter, he never would have nominated a radical judicial activist like Sotomayor in the first place.

Journalists Ignore Reality That 'Post-Racial' President Isn't. Had Obama truly wanted to bury the issue, he wouldn't have gone against one of his strongest bases of support — unions. The New Haven Firefighters Local 825 also sued the city to make the test count. The head of the New Haven Hispanic Firefighters Association called the city's decision "a travesty." Had Obama truly wanted to bury the issue, he wouldn't have chosen a justice with such an activist view of race-based government. In fact, Sotomayor believes more in the "empathy" that Obama was looking for than law itself. Sotomayor's "modern approach" essentially means judges get to do whatever they want. In New Haven, that meant talented, skilled and knowledgeable firefighters weren't promoted because Sotomayor and the city didn't like the results.

Look! Up In The Sky! It's Sotomayor! President Obama claims that Sotomayor is smart. He even claims that she believes in the Constitution. But when one stops following his pointed finger into the sky where his nominee supposedly soars, we see that there is a plethora of evidence on the ground that contradicts the rhetoric. ... There is one case in particular that sums this point up so succinctly and makes it impossible to ignore that Sonia Sotomayor is neither smart nor a believer in our Constitution. That case is Maloney vs. Cuomo...

Judge Sotomayor, a mythic 'Hispanic'. The supposedly racial term was pushed by Nixon to lump distinct Spanish-speaking groups into one voting bloc. There's no such thing, and the judge should be appointed on her merits.

Is This What Judges Should Do? The New Haven city officials knuckled into public pressure by "powerful African Americans" to throw out the test. What better example is there of the need for impartial justice to protect a politically unrepresented and unpopular figure (Frank Ricci) from the howls of the mob that would deny him the equal protection of law? Unfortunately Sotomayor didn't grasp that. She condoned the mob's bullying and was prepared to give those that caved to their pressure a legal stamp of approval. The Senate must ask: is this what we want in a Supreme Court justice?

Sotomayor Skipping PR Parade. Judge Sonia Sotomayor, a hero to the city's "Nuyorican" population after her nomination to the Supreme Court by President Obama last month, won't be marching — or hobbling on crutches — in the 52nd Annual Puerto Rican Day Parade today. "She's been a regular in the past," said disappointed parade organizer Caesar Pillot.

Sotomayor Memo Argued Death Penalty Is 'Racist'. The Judicial Confirmation Network (JCN) says Judge Sonia Sotomayor failed to disclose to the Senate Judiciary Committee a controversial document arguing that the death penalty is "racist" and a violation of the present "humanist" thinking of society. The 1981 memo, they say, should have been disclosed as required under Question 12(b) of the questionnaire that the Supreme Court nominee turned in Thursday [6/4/2009].

What price our pseudo-empathy? President Obama said that what he's looking for in a big-time judge is "the depth and breadth of one's empathy." ... The President wants someone less hung up on the rule book. He likes to cite the case of Lilly Ledbetter, who sued Goodyear Tire for discrimination but ran up against the pesky old statute of limitations. An "empathetic" judge would presumably say, "Screw the statute of limitations."

A Wise Latina Spender? Sotomayor's annual earnings come to $196,000 a year ($170,000 a year as an appeals judge and $26,000 for part-time teaching). She has served as an appeals judge for 17 years. This service was preceded by lengthy tenure at a corporate law firm of Pavia and Harcourt, where she was a partner, and presumably was well compensated. Yet after a career that has spanned 25 years, Ms Sotomayor only has one thousand dollars in net savings. As reported in the New York Post, Sotomayor's bank account holds $31,985. Her credit cards debts are $15,823, and she has $15,000 in unpaid dental bills. That leaves her with $1,162.

Judicial 'Activism' Isn't the Issue. The growing dispute between conservatives and liberals over the Supreme Court nomination of Sonia Sotomayor obscures a more troubling point of agreement: The government should almost always win. Many conservatives who think of themselves as proponents of limited government would be surprised to discover that conservative judges begin their constitutional analyses in almost every context by placing a thumb firmly on the government side of the scale.

Having Your Racial Cake and Eating it Too. The left has responded to the reproof of Sotomayor with stuttering indignation, accusations of a latent fear of brown people and claims that Sotomayor's reputation was being besmirched unfairly. (The fact that Democrats have routinely besmirched the reputations of brown justices nominated by Republican presidents on far less substantive grounds or outright lies seems to have slipped their minds. But I digress.) In point of fact, Sotomayor is not a racist. She is, however, clearly enamoured with the identity politics of the left.

Whoops! Montel Williams Claims Sotomayor Doesn't Need Senate Approval. Air America radio host Montel Williams displayed a brain cramp last Thursday [5/28/2009] on the Sonia Sotomayor nomination. He suggested the Constitution protects the right of the president to nominate Supreme Court justices and "doesn?t have to get it cleared from Congress, Senate or anybody."

A Quota Queen for the Court. If the U.S. Senate rejects race-based justice, Sonia Sotomayor will never sit on the Supreme Court. Because that is what Sonia is all about. As The New York Times reported Saturday [5/30/2009], the salient cause of her career has been advancing persons of color, over whites, based on race and national origin.

On the other hand...
It's Not Fair Casually to Call People Racist. Judge Sonia Sotomayor deserves careful vetting by the Republicans on the Senate Judiciary Committee. She may or may not deserve their vote. But those Republicans should seize this teachable moment to remember all of the fine candidates — [Charles] Pickering, Miguel Estrada, Robert Bork — and many more who were so shamefully treated by the Democrats who have suddenly discovered the evil of baseless accusations.

Judge Sotomayor and the Diversity Crowd. The diversity crowd doesn't really believe in diversity. In fact, what they're really aiming for is conformity of opinion. They expect that members of racial and ethnic groups will adhere to liberal orthodoxy, and woe to those who don't fall into line. If Judge Sotomayor were a conservative or the nominee of a Republican president, we'd be hearing that she wasn't an "authentic" Latina at all.

Saint Sonia, or Not. President Obama has repeatedly brushed aside worries about Sotomayor's racial ideology, claiming that her 2001 speech in Berkeley, in which she implied that a Latina judge would render better verdicts than a white man, is being quoted out of context. I agree with President Obama. In full context, Sotomayor's statement is far more troubling.

"Out of Context". In Washington, the clearer a statement is, the more certain it is to be followed by a "clarification" when people realize what was said. The clearly racist comments made by Judge Sonia Sotomayor on the Berkeley campus in 2001 have forced the spinmasters to resort to their last-ditch excuse, that it was "taken out of context." If that line is used during Judge Sotomayor's Senate confirmation hearings, someone should ask her to explain just what those words mean when taken in context.

"Out of Context": Part II. What does it say about a nominee to the Supreme Court that the most that her defenders can say in her defense is that her critics used words that her defenders don't like? What does it say about her qualifications to be on the Supreme Court when her supporters' biggest talking points are that she had to struggle to rise in the world? Bonnie and Clyde had to struggle. Al Capone had to struggle. ... There is no evidence that struggle automatically makes you a better person.

"Out of Context": Part III. While Sonia Sotomayor was not born with a silver spoon in her mouth, let's not make her someone who rose from such depths as those conjured up by the words "housing projects" today. It is bad enough that biographical considerations carry such weight in considerations of nominees for the Supreme Court. But, if biography must be elaborated, let it at least be done "in context."

The Make Believe Sotomayor. While Democrats have exaggerated her background, burnished her career, and misrepresented her philosophy to seek approval from the court of public opinion, Judge Sonia Sotomayor has been equally misleading about herself. As more of her words from the past begin to surface, it has become apparent that who she really is and who she portrays herself to be aren't the same person.

Sotomayor Repeatedly Referenced 'Wise Woman' in Speeches. Supreme Court nominee Sonia Sotomayor delivered multiple speeches between 1994 and 2003 in which she suggested "a wise Latina woman" or "wise woman" judge might "reach a better conclusion" than a male judge. Those speeches, released Thursday [6/4/2009] as part of Sotomayor's responses to the Senate Judiciary Committee's questionnaire, suggest her widely quoted 2001 speech in which she indicated a "wise Latina" judge might make a better decision was far from a single isolated instance.

Sotomayor Guns For The 2nd Amendment. Those Pennsylvania townsfolk bitterly clinging to their guns may have been premature in celebrating the decision in D.C. v. Heller that the 2nd Amendment to the U.S. Constitution does indeed guarantee an individual right to keep and bear arms. ... Surely a wise Latina with varied life experiences such as Sotomayor can feel empathy for the unarmed and defenseless potential victims vulnerable to armed predators in this country.

Why Racialism? Why is Sonia Sotomayor allowed to get away with being described, or describing herself as "non-white"? I thought, as every MSM or government report on any race statistics puts it: "Hispanics can be of any race." She looks strikingly like my wife's in-laws — Italian. Are Italians not "white"?

Sotomayor's Mistake. [Scroll down] Sotomayor also once complained that, "We (Latinos) have only 10 out of 147 active circuit court judges and 30 out of 587 active district court judges. Those numbers are grossly below our proportion of the population." Aside from Sotomayor's notion that federal jobs should be parceled out on the basis of race, what exactly does she mean in an America that is intermarrying, integrating, and assimilating as never before? And why were the same people who now hold up Sotomayor's background as a qualification for the Supreme Court so quick, when George W. Bush was president, to rally to deny Miguel Estrada a court-of-appeals judgeship?

Sotomayor less bipartisan than thought. Supreme Court nominee Sonia Sotomayor said in a 1998 speech that she owed her first federal judicial nomination almost entirely to New York Democratic Sen. Daniel Patrick Moynihan, undercutting the spirit of President Obama's claim that it was Republican President George H.W. Bush who was responsible for her first appointment to the federal bench. Mr. Obama and fellow Democrats have repeatedly pointed to her initial nomination to a federal district court by Mr. Bush in 1991, and her later elevation to an appeals court by President Clinton seven years later, as evidence she is a nonpartisan jurist.

More questions for Robert Gibbs. Gibbs' and the president's assurances that Judge Sotomayor "misspoke" when she asserted the innate inferiority of one race and one gender on the bench haven't put the controversy over her nomination to rest. The rushed, perfunctory schedule of hearings Democrats had planned for the nomination is looking like it will be less and less rushed and less and less perfunctory. Even Democrats like Sen. Ben Nelson, D-Neb., are calling Sotomayor's remark "troubling."

'A Wise Latina Woman'. The hapless White House press secretary Robert Gibbs at first refused to address Sotomayor's words. By the end of the week though he declared, "I think she'd say that her word choice in 2001 was poor." Sotomayor herself, according to Senator Dianne Feinstein, said that "if you read on and read the rest of my speech you wouldn't be concerned with it but it was a poor choice of words." The following week the excuse of inadvertence unraveled. Sotomayor had used similar or identical words in speeches between 1994 and 2003, the most recent at Seton Hall, in which the same "wise Latina" formulation was used.

Sotomayor and the Ugliness of Identity Politics. Defenders of Sonia Sotomayor's nomination have taken to condemning the rhetoric of Rush Limbaugh and Newt Gingrich under the pretense that the conservative icons are responsible for denigrating the discussion and making it all about race. This could hardly be further from the truth. It is the proponents and adherents of identity politics, the most prominent of which who now resides in the White House, that have burdened us with perpetual discussion about irrelevancies like race, and it is Sonia Sotomayor herself who has made it her defining characteristic. This is a far cry from the post-racial promise of the Barack Obama campaign.

Remember Gonzales and Estrada. [Miguel] Estrada has a compelling life story, perhaps even more compelling than Sotomayor's. He was born in Honduras and immigrated to America with a limited understanding of English. He still succeeded as a law student, U.S. attorney and member of the Justice Department prior to his nomination for the D.C. court in 2001. His bid ended, however, after a two-year filibuster by Senate Democrats. Due to the D.C. court's influence, Estrada could have become the first Hispanic on the U.S. Supreme Court when vacancies cropped up during Bush's second term. But Democrats would have no part of it.

Sotomayor's Judicial Record Could Be Battlefield. Already, a few Republicans have cast doubt on Sotomayor's objectivity. And her history of decisions and opinions surely will raise more questions. Sotomayor, who would be the court's first Hispanic member and third woman — and who has touted her race and gender as an asset — frequently has argued in favor of minority plaintiffs and points of view.

Obama Voted to Filibuster a Supreme Court Nominee, but Now Hopes for Clean Process. President Obama's expressed hope today in his weekly address "that we can avoid the political posturing and ideological brinksmanship that has bogged down this (Supreme Court nomination) process, and Congress, in the past" runs against another historical first for the 44th president: his unique role in history as the first US President to have ever voted to filibuster a Supreme Court nominee.

Flashback: Nets Were Quick to Tag Alito and Roberts as 'Ultra' and 'Hardline' 'Conservatives'. Network anchors and reporters didn't hesitate to apply strong ideological labels (not just quoting others) to President Bush's two Supreme Court nominees, John Roberts and Samuel Alito. Will they be as willing to tag President Obama's nominee, U.S. Appeals Court Judge Sonia Sotomayor, as "staunch," and "hardline" and "ultra" liberal, or at least as "very liberal"?

Sonia Sotomayor blinded by ideology. [Scroll down] M. Edward Whelan III, president of the conservative Ethics and Public Policy Center, wrote that "when President Bush nominated Sotomayor to the district court in 1991, the New York senators, Moynihan and [Al] D'Amato, had forced on the White House a deal that enabled the senator not of the president's party to name one of every four district court nominees in New York. Sotomayor was Moynihan's pick. I am reliably informed that Bush 41's White House nonetheless resisted nominating her because she was so liberal and did so in the end only as part of a package to move along other nominees whom Moynihan was holding up."

Good Justices Are Made in the Image of Obama. In the process of reading all this stuff about Obama's criteria for a Supreme Court Justice (blah, blah, empathy, blah blah blah), it occurred to me that maybe what he really wants to do is appoint himself, or at least the best approximation of himself he can find that politics will allow. Think about it. He places this huge emphasis on a personal narrative that produces empathy for select disadvantaged groups — minorities, single moms etc. He wants someone who is smart enough, but whose real priorities can be boiled down to trite lefty tropes about "social justice."

Obama's Nominee Spouts Biased Views on Race and Gender. There's that ubiquitous word again — "historic." It seems to follow Barack Obama wherever he goes... After telling the world that he would choose someone with "empathy," Obama has announced that Appeals Court Judge Sonia Sotomayor, a Hispanic woman, is his choice to replace Justice Souter on the Supreme Court. Women and Hispanics the nation over, rejoice. There may soon be someone on the bench who will put you first. Literally. Sorry, white guys. Ms. Sotomayor is, quite simply, not your gal. For one thing, she doesn't think you're anatomically or ethnically qualified to do her job as well as she is.

White Men Can't Judge.
Discrimination Case Could Pose Problems for Sotomayor. A reverse discrimination lawsuit filed by a group of Connecticut firefighters is shaping up to be the most contentious case in which Sonia Sotomayor participated, one sure to provoke sharp questioning when the Senate begins consideration of her nomination to the Supreme Court. In 2008, Sotomayor was one of three judges on a panel of the U.S. Court of Appeals for the 2nd Circuit who upheld a trial court's ruling rejecting the reverse discrimination claims by 19 white firefighters, one of whom was also Hispanic.

Obama, Sotomayor, Ricci and White Male Privilege. It is now asked whether Sonia Sotomayor has empathy for Frank Ricci. It's a question larger than the first Latina nominated to the Supreme Court, larger than the first black president who selected her and larger than the case before the high court of a firefighter who did not get a promotion because he was white and male.

More like a pol than a judge. Sotomayor's 2001 speech at the University of California-Berkeley Law School is a cross-examiner's dream. Too bad in these politically correct times no senator is likely to use it as a roadmap to learn if the judge is better suited for Congress than for the Supreme Court.

Obama, Sotomayor, Ricci and White Male Privilege. It is now asked whether Sonia Sotomayor has empathy for Frank Ricci. It's a question larger than the first Latina nominated to the Supreme Court, larger than the first black president who selected her and larger than the case before the high court of a firefighter who did not get a promotion because he was white and male.

I Feel Your Pain. Not Theirs. Yours. After President Barack Obama announced his empathetic Supreme Court nominee this week, Judge Sonia Sotomayor, we found out that some people are more deserving of empathy than others. For example, Judge Sotomayor apparently "empathized" more with New Haven, Conn., government officials than with white and Hispanic firefighters who were denied promotions by the city on the basis of their race. Let's hope she's as empathetic to New Haven residents who die in fires fought by inferior firefighters as a result of her decision.

The case against Sotomayor's confirmation: President Obama has, unfortunately, given us exactly what he promised, a nominee who allows feelings and personal agendas to color her judicial temperament. Her most glaring surrender to those disqualifying instincts came in the case of Ricci v. DeStefano, as white and, ironically, Hispanic firefighters sued the city of New Haven, Conn., for denying them promotions they had earned because no black firefighters had passed the same advancement exam. Her complicity in affirming this obscene discrimination is but one page of a track record that will become more familiar as the days pass.

Sotomayor Ruled That States Do Not Have to Obey the Second Amendment. Supreme Court nominee Sonia Sotomayor ruled in January 2009 that states do not have to obey the Second Amendment's commandment that the right to keep and bear arms shall not be infringed.

The racist jurisprudence of Sonia Sotomayor. Sotomayer spent 11 years on the federal appeals court in Manhattan, where she morphed from the "moderate" she supposedly was when President George H.W. Bush first appointed her to the bench. Sen. Orrin Hatch, R-UT, who has spent decades on the Senate Judiciary Committee reviewing the qualifications of federal judicial nominees from presidents of both parties, now describes Sotomayor as "extremely liberal." Many of her appellate rulings have been overturned by the Supreme Court, and her misguided New Haven decision may soon meet the same fate.

Gingrich on Twitter: Sotomayor Racist, Should Withdraw. Just a day after President Obama announced he was nominating appellate court judge Sonia Sotomayor to the Supreme Court, the battle over her confirmation has begun with former House speaker Newt Gingrich branding her a racist and saying she should withdraw. Gingrich today [5/27/2009] joined the chorus of conservatives such as Ann Coulter and Rush Limbaugh, who called Sotomayor a "reverse racist."

Sotomayor overturned 60% of the time by Supremes. If senators vote on Sonia Sotomayor's track record, they might want to look at the 60% reversal rate when her decisions reach the Supreme Court. ... But the American people should be shown just what our president thinks of the Supreme Court to nominate such a candidate to sit in judgment on our most vital cases involving our principles and rights.

Sotomayor reversed 60% by high court. With Judge Sonia Sotomayor already facing questions over her 60 percent reversal rate, the Supreme Court could dump another problem into her lap next month if, as many legal analysts predict, the court overturns one of her rulings upholding a race-based employment decision.

Sonia Sotomayor: Environmental extremist? Obama Supreme Court nominee Sonia Sotomayor represents a potential threat to U.S. consumers and to the economy in terms of energy and the environment. ... Fortunately, Judge Sotomayor's decision was recently overturned by the Supreme Court, fittingly on April 1, 2009 (Entergy v. Riverkeeper, No. 07-588). Had the EPA been required to abide by Judge Sotomayor's decision, American consumers would have been forced to pay billions of dollars more in energy costs every year as power plants producing more than one-half of the nation's electricity would have had to undertake expensive retrofits.

Judge Sotomayor and Five Million Criminal Votes for Obama. There are 5.3 million votes for Obama out there, the only problem is that they happen to belong to murderers, rapists, armed robbers and other convicts and ex-convicts. That golden box of 5+ million votes is being unlocked by Democrats in one of two ways. The first relies on changing state laws that prevent felon voting at the state level. Their greatest success has arguably been Florida, a crucial swing state with over a million ex-felons.

10 Questions For a Supreme Court Nominee. [#6] Do you believe that beyond the plain text of the Constitution, that there are "emanations" and "penumbras" which contain unwritten and previously unknown provisions that remove issues from democratic determination, and which therefore may be used to strike down popularly enacted state or federal laws?

Sotomayor: "Empathy" in Action. You might think that this was some kind of popularity contest, instead of a weighty decision about someone whose impact on the fundamental law of the nation will extend for decades after Barack Obama has come and gone. ... If you were going to have open heart surgery, would you want to be operated on by a surgeon who was chosen because he had to struggle to get where he is or by the best surgeon you could find — even if he was born with a silver spoon in his mouth and had every advantage that money and social position could offer?

What Could Go Wrong? Don't count Sonia Sotomayor as one of the justices of the Supreme Court quite yet. Yes, the odds of her winning confirmation as the first Hispanic woman on the court are almost prohibitive, especially since Democrats have an overwhelming majority in the Senate. But the odds are 90 percent, maybe 95 percent — but not 100 percent. So it's not over yet. ... Things turn up. No matter how extensively an administration investigates a nominee, it can't look into everything.

A judge too far. With his nomination of Judge Sonia Sotomayor for the U.S. Supreme Court, President Obama has abandoned all pretense of being a post-partisan president. While he may like to think of himself as a thoughtful moderate soaring above the issues that divide America, his actions reveal what hides under that hopeful lining. Presidents usually nominate judges that espouse their philosophy. So what does this nomination tell us about Mr. Obama's true colors?

Why did George H.W. Bush pick Sotomayor for the courts? Senators, even those in the opposing party from the White House, wield great power over who is nominated to the district court seats in their states. And in 1991, when Sotomayor was nominated, the Senate was controlled by Democrats, and the two senators from New York were Democrat Daniel Patrick Moynihan and Republican Alphonse D'Amato.

Not all "Compelling Personal Stories" are Equal. Since when did securing a Supreme Court seat become a high hurdles contest? The White House and Democrats have turned Second Circuit Judge Sonia Sotomayor's nomination into a personal Olympic event. Pay no attention to her jurisprudence. She grew up in a Bronx public housing project. She was diagnosed with childhood diabetes at 8. Her father died a year later. And, oh, by the way, did you hear that she was poor? It's a "compelling personal story," as we heard 20,956 times on Tuesday.

Cardozo was first, but was he Hispanic?. Sonia Sotomayor's Puerto Rican heritage would make her the first Hispanic to serve on the nation's highest court — unless you count Benjamin Cardozo, who was on the court from 1932 to 1938. As news of Sotomayor's nomination spread, so did the question of whether she truly would be the first Hispanic on the court.

The 'Empathy' Nominee. In making Sonia Sotomayor his first nominee for the Supreme Court yesterday, President Obama appears to have found the ideal match for his view that personal experience and cultural identity are the better part of judicial wisdom. This isn't a jurisprudence that the Founders would recognize, but it is the creative view that has dominated the law schools since the 1970s and from which both the President and Judge Sotomayor emerged.

Questions for Sotomayor: Let's assume Ms. Sotomayor will refuse to answer questions about any of the hot-button issues that the confirmation battle will focus on: constitutional questions about abortion, gay marriage, the rights of terrorist detainees, and the like. No recent nominee to the court has directly answered questions about particular issues that are likely to come before the court. ... But the nominee should answer questions about her judicial philosophy.

Sotomayor: Obama's Supreme Court Pick and the Cost of Environmental Protection. Much of the fireworks surrounding Ms. Sotomayor's work on the Second Court of Appeals centers on the controversial affirmative-action ruling in Connecticut. But she also wrote the opinion in one big environmental case — one the Supreme Court just overturned.

Sotomayor pick not based on merit. In picking Sonia Sotomayor, President Obama has confirmed that identity politics matter to him more than merit. While Judge Sotomayor exemplifies the American Dream, she would not have even been on the short list if she were not Hispanic.

'Empathy' Is Code for Judicial Activism. Mr. Obama said he wanted to replace Justice David Souter with someone who had "empathy" and who'd temper the court's decisions with a concern for the downtrodden, the powerless and the voiceless. "Empathy" is the latest code word for liberal activism, for treating the Constitution as malleable clay to be kneaded and molded in whatever form justices want. It represents an expansive view of the judiciary in which courts create policy that couldn't pass the legislative branch or, if it did, would generate voter backlash.

A Tale of Two Kids from the Projects. "I would hope that a wise Latina woman, with the richness of her experience, would more often than not reach a better conclusion than a white male who hasn't lived that life." Imagine if a white male nominee made this racist statement in reverse. He would be toast! Despite Sotomayor's heartwarming story, Republicans must have the courage to say, "NO!" to this radical, extreme left, agenda driven nominee.

CBS Decides Sotomayor No Liberal: 'Can't Be Easily Defined by Political Labels'. "Pundits usually label judges as either liberal or conservative, but that won't be easy with Judge Sotomayor," Katie Couric propounded in setting up a piece from Wyatt Andrews, who concluded: "President Obama, then, has found a judge with 17 years experience but no clear ideology on discrimination, gay rights, or abortion and who can't be easily defined by political labels." At least not by the CBS newscast, which back in 2005 asserted Roberts would move "the court further to the right" and fretted over the Alito pick "tilting the Supreme Court in a solidly conservative direction for years to come."

Oppose Sotomayor at Your Own Risk? A few of our newly minted spokesmen for all those seemingly ubiquitous new Republican moderates out there are starting to say that if we oppose Sotomayor, we do so at our own risk. By this they mean that if we are seen to oppose a strong Hispanic woman we will be hurting our chances further with Hispanic voters. To this one can only say poppycock. Sotomayor should be opposed and vigorously but not because of anything other than her rather un-judicial judicial philosophy.

Tancredo: La Raza is "Latino KKK". Anti-illegal immigration crusader and former Colorado Republican Rep. Tom Tancredo was on CNN this afternoon [5/28/2009] whacking Sonia Sotomayor for her association with the National Council of La Raza, which was listed in a 2000 American Bar Association bio of the judge.

Sonia Sotomayor 'La Raza member'. As President Obama's Supreme Court nominee comes under heavy fire for allegedly being a "racist," Judge Sonia Sotomayor is listed as a member of the National Council of La Raza, a group that's promoted driver's licenses for illegal aliens, amnesty programs, and no immigration law enforcement by local and state police. According the American Bar Association, Sotomayor is a member of the NCLR, which bills itself as the largest national Hispanic civil rights and advocacy organization in the U.S.

Sotomayor: Of Fish And Men. Sonia Sotomayor fits the administration's requirement for bringing empathy to the law. The problem is that it isn't always for human beings and law-abiding citizens. Fish gotta swim and criminals gotta vote.

Lawyers tag nominee as 'terror on the bench'. Lawyers who have argued cases before Supreme Court nominee Sonia Sotomayor call her "nasty," "angry" and a "terror on the bench," according to the current Almanac of the Federal Judiciary — a kind of Zagat's guide to federal judges. ... "She really lacks judicial temperament. She behaves in an out-of-control manner. She makes inappropriate outbursts," one lawyer told the almanac. Another said she "abuses lawyers."

The franchise for felons. Supreme Court nominee Sonia Sotomayor wants to give jailbirds the right to vote. It's her opinion that the federal Voting Rights Act can be used to force states to allow voting by currently imprisoned felons. Ms. Sotomayor's dissenting opinion in a 2006 felon-voting case should make senators extremely wary of confirming her for the high court.

Minority Status Not a Qualification for the Supreme Court. Being a Hispanic woman does not qualify Judge Sotomayor to be a Supreme Court Justice. Yes, her story is inspiring to all Americans, especially Hispanics, not to mention Puerto Ricans, but we have to be very careful that we not take it too far. We cannot support someone for a position just because she is "one of us." A Hispanic woman judicial activist is just as bad as any other judicial activist. A conservative judicial activist is just as bad as a liberal judicial activist. The requirements for being a judge are still the same whatever your race, gender, or economic status.

Obama's End Run on the Second Amendment. The recent landmark case District of Columbia v. Heller put an end to decades of arguments regarding the meaning of the Second Amendment. ... Just six months after Heller, however, Sotomayor issued an opinion in Maloney v. Cuomo that the protections of the Second Amendment do not apply to the states, and that if your city or state wants to ban all guns, then they have the right to disarm you. Such an opinion seems to fly directly in the face of Heller, exposing Sotomayor as an anti-gun radical who will affirm full-on gun prohibitions and believes that you have no right to own a firearm, even for the most basic right of defending your family in your own home.

Why you should oppose Sonia Sotomayor's nomination to the Supreme Court. You'll be hearing about Appeals Court Judge Sonia Sotomayor ad nauseam in the coming weeks. Did I say "Sonia Sotomayor"? I meant, of course, "Sonia Sotomayor, the first Hispanic nominee to the Supreme Court." It will be a constantly recurring epithet...

Is she a Supreme Court nominee or Queen for a Day?
Obama SCOTUS Choice a Blow to Racial Equality. The president is clear: it's about fishing out the neediest, the most downtrodden, and the least powerful. The Supreme Court is composed, in his view, of nine community organizers who are out to right wrongs, regardless of their assigned task. (That task, for those who have forgotten, is to interpret the statutes and constitutional provisions which are before the Supreme Court and to render justice equally and impartially to all who come before it.)

Judge Sotomayor, Empathize This! Judge Sotomayor's record and her astonishing high reversal rate speak for itself. Her judicial philosophy, such as it is, could not be less opaque. She is an activist, intent on setting policy from the bench in a lawless manner better-suited to a social democracy rather than a democratic republic. Her empathy is selective and selectivity has no place on any bench, let alone the highest.

Identity Politics and the Sotomayor Nomination: In her speech, Sotomayor stated that she not only accepts that judges would vote differently based on gender and national origins, but that she hopes "a wise Latina woman with the richness of her experience would more often than not reach a better conclusion than a white male who hasn't lived that life," and that judicial impartiality is an aspiration that ignores these realities. That notion flies in the face of the overriding goal of an impartial legal system that is blind to such differences, with judges who are able to treat everyone as equal under the law.

Sotomayor, Obama and the trouble with role models. It's a beautiful image: By the thousands, Latino boys and especially girls inspired by Judge Sonia Sotomayor's ascension to the nation's highest court start envisioning a better future — and cracking the books to realize their dreams. There's just one problem with this vision. It's a romantic fallacy. What guides success in America is not an ample supply of role models, much less a few strategically placed role models who bear some surface similarity to the aspirants, but good parenting and good schooling. A productive culture. High expectations and a strong work ethic. None of which are changed much, if at all, by the sudden presence of a Sotomayor on the court (or an Obama in the White House).

Sotomayor's remark termed 'poor' word choice. The White House said Friday [5/29/2009] that Supreme Court nominee Judge Sonia Sotomayor now regrets saying in 2001 that a Hispanic woman would tend to arrive at a "better conclusion" in making legal decisions than a white male. "Her word choice in 2001 was poor," spokesman Robert Gibbs said, seeking to settle what has become an early stumbling point for President Obama's nominee as she prepares for her Senate confirmation battle.

Make Case For Blind Justice, Then Confirm. Since the 2008 election, people have been asking what conservatism stands for. Well, if nothing else, it stands unequivocally against justice as empathy — and unequivocally for the principle of blind justice. Empathy is a vital virtue to be exercised in private life — through charity, respect and lovingkindness — and in the legislative life of a society where the consequences of any law matter greatly, which is why income taxes are progressive and safety nets built for the poor and disadvantaged. But all that stops at the courthouse door. Figuratively and literally, justice wears a blindfold. It cannot be a respecter of persons. Everyone must stand equally before the law, black or white, rich or poor, advantaged or not.

Media Ignores Obama's SCOTUS Nominee's Membership In Radical La Raza Organization. Just looking at Sotomayor's record, we can already see how she is prone to rule in race cases. We also shouldn't ignore what we ended up with the last time a nominee mentioned race and gender influencing decisions. However, the most disturbing reflection of Sotomayor's character is the company she keeps. According the American Bar Association, Sotomayor is a member of the NCLR, otherwise known as "La Raza".

No Patty-Cake, Please. Already, Judge Sotomayor's unfitness for the high court is abundantly manifest. No non-ethnic white nominee, under any circumstances, could possibly be confirmed if she had uttered, in a formal speech, anything close to the converse of Sotomayor's statement that Latina judges by their very background and nature, including perhaps "physiological" differences, would be more likely to reach "correct" decisions than would a white male. Especially since it was not a mere throwaway line, but instead amply defended throughout her speech, the statement is so racist in nature that it is utterly disqualifying.

Sotomayor and White Wise Guys. Many political pundits apparently share Democrats' low opinion of Hispanic voters. All we've heard thus far is, "Republicans don't dare go after Sotomayor," or they'll lose the Hispanic voting bloc. Democrats are counting on Hispanics forgetting that it was Democrats who blocked Honduran immigrant Miguel Estrada's nomination to the D.C. Circuit Court of Appeals solely because they couldn't abide the prospect that President Bush might elevate the first Hispanic to the Supreme Court. Hispanics should be insulted by the race-baiting. They know the difference between addressing an issue and attacking a person. That's what Democrats do when a woman or a minority won't toe the Party line as a judge.

White House Damage Control on Sotomayor. "The facts that judges choose to see"? That's an unorthodox description, to say the least, of how a judge goes about his work.

Sotomayor's minority cred. Sotomayor can keep playing the poor, underprivileged Boricua, but let's be real, she's spent her childhood in private school environments, early adulthood amongst the Ivy League elite, and most of her adulthood as a corporate attorney and judge living in Greenwich Village, where the average household income tops that of the entire NY metro area and 98% of the residents are White. I guess that's what she means by her rich experience.

Would Judge Sotomayor Qualifiy as a Juror? [Scroll down slowly] Let's say she forthrightly explained to the court during the voir dire (the jury-selection phase of a case) that she believed a wise Latina makes better judgments than a white male; that she doubts it is actually possible to "transcend [one's] personal sympathies and prejudices and aspire to achieve a greater degree of fairness and integrity based on the reason of law"; and that there are "basic differences" in the way people "of color" exercise "logic and reasoning." If, upon hearing that, would it not be reasonable for a lawyer for one (or both) of the parties to ask the court to excuse her for cause? Would it not be incumbent on the court to grant that request?

Republicans Begin to Find Voice on Racial Aspects of Sotomayor Nomination. Republican senators are starting to figure out how they will navigate the racial aspects of Judge Sonia Sotomayor's nomination to the Supreme Court, showing Sunday that they won't be tongue-tied when it comes to the politically tricky subject. Sotomayor would be the first Hispanic on the high court if confirmed, and just the third woman, and Republicans don't want to appear insensitive to this historic significance during summer hearings.

When Words Don't Mean Anything. With the advent of Obamaworld, the centrist veneer sometimes rubs off the race/class/gender/religion talk and we see the fundamentalism in its essence — in the impromptu moments of the campaign it was Michelle's "mean country" and first-time pride in the U.S., Obama's "typical white person," Pennsylvania clingers, and original contorted defense of Reverend Wright, then there was Eric Holder's "cowards" outburst, and now Sotomayor's Latina tribalism.

The Affirmative-Action Aristocracy? The Sotomayor nomination — since the media focused on her ethnic profile rather than her solid credentials — has had the unintended effect of reminding the nation how strange the politics of racial identity have become, especially in a society where social status and material well-being are not necessarily predicated on being "white" (cf. per capita incomes of many Asian minorities), and the notion itself of "race" is now problematic with so many Americans of 1/2, 1/4, 1/8, 1/16 racial heritage.

No more apologies from Sotomayor. With Barack Obama, many Americans had hoped to get a post-racial president. With Mr. Obama's pick of Judge Sonia Sotomayor to replace David H. Souter on the Supreme Court, it looks less and less like they got one. President Obama — a man we still hardly know — clearly subscribes to the notion that we should judge each other not just on the content of our character, but also by the color of our skin. We've had warning signs before. Remember the Rev. Jeremiah A. Wright Jr.?

Green Justice: Sotomayor's Enviro-activism. Greens have a lot to be happy about now that Sonia Sotomayor is poised to be come the next Supreme Court justice — she's shown she's willing to impose their agenda from the bench. In 2006, then-Second Circuit Judge Sotomayor heard arguments in Riverkeeper v. EPA, a suit brought by eco-activist groups led by Robert Kennedy Jr.'s Hudson River pit-bull environmental organization, Riverkeeper.

Sotomayor's Aversion to Impartiality. Maybe when she gets to her confirmation hearing, Sotomayor will disavow the remark. But her supporters are taking another tack. They say this criticism is unfair, because critics have taken the quotation out of context and grossly distorted her meaning. ... Her allies have a point. Anyone who reads the whole speech will indeed find that her comment wasn't as bad as it sounds. It was worse.

Right before he admits he doesn't know the context...
Howard Dean Says Sotomayor's Race Comment Taken Out of Context. Former Democratic National Committee Chairman Howard Dean told CNSNews.com yesterday [6/1/2009] that Supreme Court nominee Sonia Sotomayor's comment that "a wise Latina woman with the richness of her experiences would more often than not reach a better conclusion than a white male who hasn't lived that life" has been taken out of context by critics. Then he immediately conceded that he himself had not actually read the full context of the speech in which Sotomayor made the comment.

Why I would oppose Sonia Sotomayor. [Scroll down] [Joe] Biden himself voted for Justices Thomas, John Roberts and Samuel Alito when they came before the Senate as circuit court nominees, but he turned around and voted against their Supreme Court nominations. Biden's not the only one to flip-flop. Seventeen Democrats who voted for Alito's confirmation to the circuit court did not vote for his nomination to the Supreme Court, and 21 Democrats did the same to Roberts. And then there's Thomas, who had an astounding 43 Democrats oppose his Supreme Court nomination just a year after supporting his appeals court nomination.

Judge Sotomayor, in Her Own Words. Having decided to take Mr. Gibbs up on his challenge [to "look at the context of the longer speech that she (made)"], I have read Judge Sotomayor's 2001 lecture, delivered at the University of California, Berkeley, School of Law. (It was later published in the Spring 2002 issue of the Berkeley La Raza Law Journal.) What is clear is that Ms. Sotomayor's locution wasn't simply a stray line or lazy formulation, as President Obama would have us believe. It was, instead, a line that perfectly captured a particular worldview. It acted as a capstone to an argument. There are several important passages to analyze in Judge Sotomayor's lecture (which I will quote at length, to ensure the context is fair).

Answering Peggy Noonan: Why Sotomayor Should Withdraw. The fact Judge Sotomayor is a woman and a Latina is irrelevant. If we are truly supposed to have colorblindness as our goal, as then-Attorney General Robert Kennedy once approvingly cited Justice John Marshall Harlan, then it should not matter if all nine justices are Hispanic women, black men, Catholics or members of the Chevy Chase Country Club. (Although, typically, when Democrats had the chance to put Bush nominee Miguel Estrada on the bench, their since-leaked memos show they decided to keep him off the D.C. Appeals Court specifically because he was — in their words — "Latino" and "dangerous." No racism there.) The question in these situations should always be: "What's in the nominee's head?" Will she or he see defendants standing in front of them as Americans seeking justice through the colorblind interpretation of the Constitution? Or will they see them, as Sotomayor clearly has already done with her curt dismissal of the New Haven firefighters case, through the eyes of racial beliefs?

Reid Hasn't Read One of Sotomayor's Opinions, Media Mostly Mum. One would think the Majority Leader admitting that he's supporting the nomination of a Supreme Court justice without reading any of her opinions would be quite newsworthy. Well, think again, for according to Google News and LexisNexis searches, of major media outlets, only the Washington Post's Dana Milbank thought Reid's comments were at all interesting, although they came in the last paragraph of his article published Wednesday [6/3/2009]. ... I guess when it comes to Democrat nominees for the Court, only comments from the Left that support his or her confirmation are newsworthy.

Near and Dear. Even before yesterday excusing the 32 words from Sotomayor's 2001 Berkely speech as some type of slip was not holding up well. It was a "slip" or a "misstatement" or a "poor choice of words." ... Then word came on Wednesday [6/3/2009] that the speach was given in similar form some seven years earlier.

Sotomayor's Flawed Reasoning. The consequence of Sotomayor and Obama's bigoted mindset is that they are, by definition, right, and those who disagree with them are wrong. This is classic ipse dixit reasoning, which is to say, reasoning based solely on the assumed superiority of one's standing. Again, this is the reasoning of a supremacist. It is intolerant, bigoted and surprisingly stupid. ... By Sotomayor and Obama's reasoning, the best doctors for treating cancer are doctors who have suffered cancer. The best counselors for treating alcoholism are reformed alcoholics or possibly practicing alcoholics.

Obama Knew What He Was Getting With Sotomayor. It amazes me that for all the attention Judge Sonia Sotomayor has attracted for a racially charged statement in a 2001 speech, few are tying her attitude to President Barack Obama's. Just as he knew precisely what his 20-year pastor, the Rev. Jeremiah Wright, was about and approved, he knew, prior to nominating her, what Sonia Sotomayor is about and approved. In both cases, he just didn't want us to know.

Some compelling stories are 'better' than others. While the Democrats are running around calling anybody 'racist' who oppose Judge Sonia Sotomayor, let us remember these names — Clarence Thomas and Miguel Estrada. Both of them had compelling life stories that make Sotomayor look like a rich young brat raised in the English manor, with servants at her beck and call. Both of them worked extremely hard to achieve heights seemingly unattainable from their humble beginnings. Both are brilliant. Both are minorities. Yet both are to this day treated to the most vile and inhuman treatment that the Left can levy, called horrible things in public and in print. Why?

On the other hand...
Judge Sotomayor's not-so-liberal moments. If confirmed, Judge Sotomayor will probably join the Supreme Court's liberal wing most of the time, but her jurisprudence should not be carelessly stereotyped. Every senator should examine her entire record before deciding whether she is fit to serve.



---

The material below was posted before Judge Sonia Sotomayor was nominated. There was a lot of speculation about the type of judge President Obama was looking for, and about the important issues that will come up over the lifetime of that judge, whoever it may be.

FOX News Poll: Pick Supreme Court Justice Based On Experience. Americans think judicial experience should be the most important factor in selecting the next Supreme Court justice, far outdistancing other qualities such as the nominee's race, gender, sexual preference, and issue positions.

Poll: Americans Don't Want Pro-Abortion Justices. As speculation builds around President Barack Obama's nomination to replace Supreme Court Justice David Souter, a new survey revealed Thursday a majority of Americans would oppose nominees who hold staunch pro-abortion viewpoints, including support for partial-birth abortions and taxpayer-funded abortions.

Hatch: Obama Using 'Code' for Activist Judge. Republican Sen. Orrin Hatch of Utah, the longest serving Republican on the Senate Judiciary Committee, said on "This Week" Sunday that President Barack Obama used "code" for an activist judge this week when describing his ideal nominee to replace retiring Justice David Souter. "It's a matter of great concern, if he's saying that he wants to pick people who will take sides. He's also said that a judge has to be a person of empathy — what does that mean? Usually that's a code word for an activist judge," Hatch told [George Stephanopoulos] on "This Week."

The Pity of Obama's Judicial Doctrine: If Obama's campaign promises last year are to be taken seriously, here is what the current president intends to use as a litmus test for filling vacancies on the court: "We need [judges] who've got the heart, the empathy, to recognize what it's like to be a young teenage mom. The empathy to understand what it's like to be poor, or African-American, or gay, or disabled, or old. And that's the criteria by which I'm going to be selecting my judges."

'Empathy' versus law. People who are speculating about whether the next nominee will be a woman, a Hispanic or whatever, are missing the point. That we are discussing the next Supreme Court justice in terms of group "representation" is a sign of how far we have already strayed from the purpose of law and the weighty responsibility of appointing someone to sit for life on the highest court in the land.

"Empathy" Versus Law: Part II. The great Supreme Court justice Oliver Wendell Holmes is not the kind of justice who would have been appointed under President Barack Obama's criterion of "empathy" for certain groups. ... Justice Holmes saw his job to be "to see that the game is played according to the rules whether I like them or not."

"Empathy" Versus Law: Part III. There is a reason why the statue of Justice wears a blindfold. There are things that courts are not supposed to see or recognize when making their decisions — the race you belong to, whether you are rich or poor, and other personal things that could bias decisions by judges and juries. It is an ideal that a society strives for, even if particular judges or juries fall short of that ideal. Now, however, President Barack Obama has repudiated that ideal itself by saying that he wants to appoint judges with "empathy" for particular groups. This was not an isolated slip of the tongue. Barack Obama said the same thing during last year's election campaign.

"Empathy" Versus Law: Part IV. While President Barack Obama has, in one sense, tipped his hand by saying that he wants judges with "empathy" for certain groups, he has in a more fundamental sense concealed the real goal — getting judges who will ratify an ever-expanding scope of the power of the federal government and an ever-declining restraint by the Constitution of the United States. This is consistent with everything else that Obama has done in office and is consistent with his decades-long track record of alliances with people who reject the fundamentals of American society.

Identity Politics And Sotomayor: "I would hope that a wise Latina woman with the richness of her experiences would more often than not reach a better conclusion [as a judge] than a white male who hasn't lived that life." — Judge Sonia Sotomayor, in her Judge Mario G. Olmos Law and Cultural Diversity Lecture at the University of California (Berkeley) School of Law in 2001.

Opening of a sorry chapter. Supreme Court Justice David Souter has decided to hang up his robe and go back to his native New Hampshire, handing President Obama his first Supreme Court nomination. The president's remarks yesterday confirmed what Americans who care about the court and the Constitution have been dreading since the campaign. Mr. Obama will make Supreme Court history, all right. He will become the first president in American history to make lawlessness an explicit standard for Supreme Court justices.

Frontrunner for Supreme Court Believes Constitution Grows 'With the Times'. Judge Diane Wood, reported to be on President Obama's short list of possible nominees to replace Justice David Souter on the Supreme Court, believes a judge's interpretation of what the Constitution means must "grow with the times."

Obama's Ideal Justice. Many hope, and many others fear, that President Obama will choose a crusading liberal activist to energize the Supreme Court's progressive wing. Such an appointee might push to expand racial preferences, abortion rights, and especially welfare rights for poor people; to strike down the law barring openly gay people from the military; to recognize gay marriage (which Obama has opposed); to end the death penalty and curtail gun rights ... and much more.

Borking machine gets early tuneup. The president hasn't nominated anyone to the Supreme Court yet but Democrats on the fringe are tuning up the Borking machine. The target is not the nominee, but the ranking Republican on the Senate Judiciary Committee. ... The racist slurs against [Jeff] Sessions aren't particularly vicious but they predict the tone and temperature of the hearings on whoever Barack Obama sends to the Supreme Court to replace David Souter.

Sotomayor Guides Court's Liberal Wing. Justice Sotomayor has completely dispelled the fear on the left that her background as a prosecutor would align her with the court's more conservative members on criminal justice issues.

Justice Sonia Sotomayor's Shocking Ignorance. The liberal Supreme Court justices have demonstrated profound and shocking ignorance of the American health care system. Here's one of the most jarring examples: "What percentage of the American people who took their son or daughter to an emergency room and that child was turned away because the parent didn't have insurance," asked Sotomayor, "... do you think there's a large percentage of the American population that would stand for the death of that child — (who) had an allergic reaction and a simple shot would have saved the child?" I have a precise answer for Justice Sonia Sotomayor. The percentage of American people who took their son or daughter to an emergency room and were turned away because the parent didn't have insurance is exactly zero.



A Cheap Shot From Sotomayor. The opposition Sotomayor received on Capitol Hill was on account of her judicial philosophy and her rulings, not because of her Latina heritage, and she knows it.

Sotomayor says she's no Democrat, eager to show her independence on court. Sonia Sotomayor appeared on "The Colbert Report" Monday night [2/4/2013] to talk about her new memoir, "My Beloved World," but she stumbled upon an interesting confession in the process: She claims to be an independent.

Supreme Court Justice Sonia Sotomayor nets over $3 million from memoir. Being a Supreme Court justice has not only been good for Sonia Sotomayor's legal career, it's also helped her bank account. The justice on Friday [6/7/2013] reported that she's received more than $3 million in advance payments for her best-selling memoir, "My Beloved World." Her annual financial disclosure forms show that Knopf Doubleday Group paid Sotomayor $1.925 million in 2012 in anticipation of her book. This comes in addition to the $1.2 million in advance payments she received from the publisher in 2010.

Justice Sonia Sotomayor Stops Same-Sex Marriages In Kansas For Now. Kansas Attorney General Derek Schmidt, in a filing with Supreme Court Justice Sonia Sotomayor, has asked the Supreme Court to stop same-sex couples from being able to marry after 5 p.m. CT Tuesday [11/11/2014]. After the 10th Circuit Court of Appeals denied the state's request for a stay last week, Schmidt had said he would be asking for a stay from Sotomayor — who hears procedural requests like this from the 10th Circuit.

Justice Sotomayor Tips Her Hand In DAPA Case Arguments. Those who got up extra early to get in line at the Supreme Court on Monday [4/18/2016] got to hear oral arguments for the biggest case of the court's term: The Texas-led multi-state challenge against President Obama's legacy-defining 2014 amnesty. Predictions that the eight-member panel will be split right down the middle with the program being kept frozen (but without a nation-wide precedent being created) went unfazed. Also predictable was the standout performance of Justice Sonia Sotomayor, the first justice to use the euphemism "undocumented immigrant" in a court opinion. A former member of pro-amnesty organizations LatinoJustice and the National Council of La Raza, Sotomayor's unusually numerous questions to counsel were filled with all the wafer-thin precedents and stock factoids so frequently offered up by the open-borders lobby. Clearly, she knows this territory well.

Sonia Sotomayor wants Religious Litmus Test! If one Supreme Court Justice gets her way, there will be a religious test for the next SCOTUS nominee... as well as the standard abortion litmus test! Not happy with the proposed nominee offered by President Obama, Sonia Sotomayor offered her faith-based suggestions: [Video clip]
---

Obama's second nominee: Elena Kagan

Note: In a dramatic reversal of style, the newest items are at the bottom of this subsection.



Justice Sotomayor Told a Huge Whopper About Kids and COVID. The liberal wing of the Supreme Court embarrassed itself Friday [1/7/2022] with a slew of false claims about COVID-19 during oral arguments over Joe Biden's vaccine mandates. For example, Justice Stephen Breyer claimed hospitals are at capacity because of unvaccinated Americans with COVID. This is false. But perhaps the most ridiculous false claim from a Supreme Court justice came from Justice Sonia Sotomayor, who falsely claimed that 100,000 children are in "serious condition" from COVID. "We have hospitals that are almost at full capacity with people severely ill on ventilators. We have over 100,000 children, which we've never had before, in serious condition, and many on ventilators," Sotomayor claimed. This false claim can be easily fact-checked thanks to data from the Department of Health and Human Services, which says that the current number of confirmed pediatric hospitalizations with COVID in the United States is 3,342. Those are hospitalizations with COVID, not from COVID.

Despite Sotamayor's Absurd Lack Of Covid-19 Knowledge, USSC Seems Skeptical Of Biden Vaccine Mandates. Aside from the utter lack of basic knowledge of Covid-19 exhibited by some of the USSC Justices, the court seemed skeptical of the Biden administration's claim that it has the authority to force vaccine mandates on over 84 million private sector employees.

Leftist Supreme Court justices are trying to legislate their ignorance. After reading about Friday's Supreme Court hearing the power of federal agencies to impose far-reaching vaccine mandates, a friend asked me how Supreme Court Justice Sonia Sotomayor could be so completely ignorant about COVID. The snarky answer was that the "Wise Latina" was drawing on her inner wisdom, obviating the need for facts. However, given that Justices Breyer and Kagan were just as ill-informed, and all three were pushing to define public policy rather than analyze the Constitution, the accurate answer is that leftist Supreme Court justices care nothing about the law. They view themselves as an unelected legislature and are guided by their personal fears.

Even SCOTUS leftists have to lie to further the left's Wuhan virus narrative. Make no mistake about it, leftists lie. This is especially true of leftists in politics and the media. In fact, on most any matter dear to the left's perverse agenda, one is safer assuming that the leftist you're hearing or reading is lying. Thus, almost no one should've been surprised at the wild (and numerous) lies hurled by Supreme Court Justices Elena Kagan, Stephen Breyer, and Sonia Sotomayor during oral arguments over the Biden Administration's private sector Wuhan Virus vaccine mandate. Early in the hearing, Justice Kagan called the Wuhan Virus "the greatest public health danger that this country has faced in the last century." She added, "More and more people are dying every day. More and more people are getting sick every day. I don't mean to be dramatic here. I'm just sort of stating facts." I suppose "sort of stating facts" is like "sort of telling the truth," [...] Of course, Kagan's statements here are premised on the notion that we can even trust the U.S. Wuhan Virus numbers — we can't.

Justice Kagan's Rhetoric Diminishes the Court. In the case of Brnovich v. DNC decided last week, the Supreme Court wrestled with whether Arizona's laws against ballot harvesting and out-of-precinct voting are permissible under Section 2 of the Voting Rights Act. Given the political nature of the dispute, a naïve Court observer might assume that the justices would be especially careful to limit their analysis to the relevant text and case history, avoiding any hint of personal investment in the outcome. The naïve observer is not familiar with Justice Elena Kagan. Her dissent establishes from the outset her emotional commitment to the Voting Rights Act. "If a single statute represents the best of America, it is the Voting Rights Act," she gushes. It is "a monument to America's greatness," "an extraordinary law," a "crucial tool," a statute that has "done more to advance the Nation's highest ideals" than any other.

Justice Kagan is Concerned About the Supreme Court's 'Legitimacy'if Kavanaugh is Confirmed. While, in theory, the Supreme Court is an "impartial" group of people deciding and interpreting law that will impact us for generations to come, it's not. For the most part, we know how justices are going to side. Justices Sonia Sotomayor, Elena Kagan and Ruth Bader Ginsburg are pretty much always going to fall on the liberal side of the position. Justices Samuel Alito, Neil Gorsuch and Clarence Thomas are pretty much always going to fall on the conservative side of the issue. That leaves Justices Anthony Kennedy falling to the left-of-center and John Roberts falling to the right-of-center. That's not being impartial in the least bit. If it was, Kennedy's retirement wouldn't be such a huge deal.

The Democrats and SCOTUS: The Real Record. Elena Kagan nominated to the SCOTUS in 2010 by a Democrat president (Obama). Kagan who was arguably the least qualified nominee in modern history as she had never served a single day as a judge at any level, was approved via Senate Vote 229 a 63-37 bipartisan vote in which twelve percent of senate Republicans voted "yes."

Why Did Elena Kagan Vote for the Masterpiece Cakeshop Supreme Court Ruling? Observers of Monday's Supreme Court ruling in favor of a Colorado baker who refused to make a wedding cake for a gay couple in 2012 may have been surprised to find that two of the court's liberal justices, Elena Kagan and Stephen Breyer, joined with the conservative majority for the opinion. But a legal expert told Newsweek this was the result of the very specific nature of this case. "The reason and motive for the baker's refusal were based on his sincere religious beliefs and convictions," Justice Anthony Kennedy wrote in the majority opinion. Justices Ruth Bader Ginsberg and Sonia Sotomayor dissented while Breyer and Kagan, considered to be liberal-leaning, joined the more conservative justices in a majority ruling.

Obama Interviews Solicitor General Elena Kagan for Supreme Court. President Obama on Friday [4/30/2010] interviewed Solicitor General Elena Kagan for an upcoming vacancy on the Supreme Court, a source close to the president's selection process told Fox News. The interview came one day after Obama conducted his first known formal interview with federal appeals court Judge Sidney Thomas of Montana. The White House has not confirmed either interview.

Conservatives Note Kagan's 'Anti-Military' Views. U.S. Solicitor General Elena Kagan will face two major stumbling blocks as a Supreme Court nominee — her anti-military views and her ties to Goldman Sachs, a conservative group says.

President Obama taps Elena Kagan for Supreme Court. President Barack Obama will name Solicitor General Elena Kagan as his second nominee to the Supreme Court Monday [5/10/2010] — a by-the-books pick straight from the top of his short list that seems designed to avoid a major confirmation battle with Republicans. ... Yet Kagan is highly unusual in one way — she has never been a judge.

Why Is It a Slur to Suggest Elena Kagan Is a Lesbian? Are leftist anti-gay identity groups shifting blame for a "whispering campaign" against the potential SCOTUS nominee onto conservatives and Republicans?

Obama Choice for SCOTUS, Elena Kagan, Angers Pro-Troop Groups. The nation's leading grassroots military-support organization, Move America Forward, says military families and their supporters are extremely displeased to learn that President Barack Obama has chosen Solicitor General Elena Kagan to join the U.S. Supreme Court.

Global gun control, shredding of capitalism and Supreme Court compromise. [Scroll down] We see the continued, tilt to the extreme, radical left with his latest pick, pro-abortion, radical Elena Kagan for Supreme Curt Justice. She is replacing Justice John Paul Stevens. She is radically a pro abortion advocate and was on the legal counsel in the administration of Bill Clinton, an abortion fan as well. As Hitler did, Obama continues to surround himself, not with balance reflecting the constitution and people's values but with immoral, radical, UN American nightmares.

Elena Kagan's most notable foray into public life: President Obama's latest choice for the Supreme Court has held a number of high-profile jobs over the years, but she has left a relatively thin paper trail, with one major exception. As the dean of Harvard's law school, Kagan fought to bar military recruiters from the university's campus. Her reasoning? Even with two wars in progress, she contended, Don't Ask, Don't Tell should disqualify the US military from having any association with the school.

Why Ultra-Liberal Obama Needs Kagan On the Court. President Obama needs a Supreme Court that will endorse his far-left vision for America and Elena Kagan will help him realize it. ... First, she's a liberal without a paper trail. She's never been a judge or had to lay out her beliefs on hot-button issues.

White House bristles at mention of Elena Kagan's sexuality. Top White House officials bristled Monday [5/10/2010] when asked whether they think Supreme Court nominee Elena Kagan's sexuality will become an issue in her confirmation hearings. "It's not anything I'm going to get into," said White House press secretary Robert Gibbs, speaking to reporters in his West Wing office.

Wait! Someone has something positive to say:
My Friend, Elena Kagan. On the Kagan nomination, its hard for me to stay fair and balanced. Why? I've been a guest in her home many times when teaching and lecturing at Harvard Law School (my alma mater), and I found her to be an absolute gem. The Harvard Law School faculty is a contentious one, filled with large egos. Elena, the first female Dean of the Law School ran it with grace and clarity of judgment, from what I heard and observed.

Sen. Jeff Sessions tosses 'activist' label at Elena Kagan. The top Republican on the Senate Judiciary Committee has signaled that the GOP will put up a tougher fight against Solicitor General Elena Kagan than it did against the White House's other Supreme Court choice, Sonia Sotomayor. Alabama Sen. Jeff Sessions told POLITICO that Kagan's "activist" background could be a significant impediment for GOP support.

Kagan Whitewash. Kagan does have an identifiable, though overlooked, track record on one matter and it's a telling one. As Dean of Harvard Law School in 2004 and 2005 she treated two liberal law professors with kid gloves when they were busted for plagiarism. Her chicanery was so blatant that even a leftist academic said she should be fired for her "whitewash." Kagan's essential absolution of both professors has been virtually unnoticed in the flood of stories about her possible Supreme Court nomination this year and in 2009 when she was considered a top candidate to replace liberal Justice David Souter.

Elena Kagan: Gas Guzzler And Tree Hugger? Elena Kagan has an extremely sparse paper trail for a Supreme Court nominee, even by recent standards. She reputedly has signaled sympathy to environmental laws and regulation. But with so little to go on, her personal actions offer obscure and conflicting clues.

Inexperience Is Only Beginning Of Weak Points. The liberal double standard is undeniable. Liberals who insisted that Clarence Thomas was too inexperienced to be on the Supreme Court now defend a nominee who has written little, litigated even less and not decided a single case. Instead, Obama tries to force on Americans someone whose background shows she is more interested in remaking the law than in applying it impartially. A baseball umpire would be a better selection — and probably fairer, too.

Elena Kagan and the Yale-Harvard Nexus. [Elena] Kagan has one qualification that trumps nearly everything else: She's an alumna of Harvard, and formerly a faculty member there. If it sometimes seems that the nation is governed by an elite liberal clique of college fraternity and sorority pals who are out of touch with average Americans, that's because it's largely true. Every president, and almost every presidential candidate for the last two decades, has been a graduate of Harvard or Yale. If the Senate confirms Kagan, every member of the Supreme Court will have been a Yale or Harvard attendee, too.

Exploring Kagan. [Scroll down] Kagan clerked for Justice Thurgood Marshall. Following Marshall's death, Kagan wrote a glowing tribute to him in the Texas Law Review. ... [One] problematic passage from Kagan's Marshall tribute was her boastful recitation of Marshall's declaration that "the Constitution, as originally drafted and conceived, was 'defective.' ... The Constitution today ... contains a great deal to be proud of. '(B)ut the credit does not belong to the Framers. It belongs to those who refused to acquiesce in outdated notions of 'liberty,' 'justice,' and 'equality.'" Kagan said, "Our modern Constitution is (Marshall's)."

The Harvard Way of Life. Among other topics, the Kagan confirmation hearings will also bring to mind her and her university's long and deep resistance to allowing U.S. military recruiters on campus. Let us think that one through. The dean of the Harvard Law School is against affording her country's government a facility to meet with potential leaders of the very forces pledged to guarantee her country's freedoms.

What Kagan Nomination Tells Us About Obama. [Elena Kagan] graduated from Princeton and Harvard Law School. She clerked for Abner Mikva on the D.C. Circuit federal appeals court, then Thurgood Marshall on the Supreme Court. ... Judge Abner Mikva was openly a far-left judge. And Justice Thurgood Marshall was the most liberal Supreme Court justice in American history, with ultra-left views on every single constitutional issue. With Kagan, the White House gets to allow some on the left to wring their hands in contrived anxiety, saying, "Gee, she looks too moderate for me," when the White House knows all along that she's exactly what Obama wants.

Kagan's Just the Latest Radical Obama Lawyer. President Obama went back to the radical bullpen for his second Supreme Court nominee. Solicitor General Elena Kagan, former dean of Harvard Law School, is a legal activist who tried to boot recruiters off Harvard's campus because of the military's homosexuality policy. ... [S]he also carries some baggage: no judicial experience, a pro-homosexual agenda and, yes, a mysterious "sexual orientation." The liberal media are going to have a tough time selling her as a "mainstream" nominee.

Elena Kagan donated to President Obama, John Kerry. Supreme Court nominee Elena Kagan has given at least $12,050 over the past decade to Democratic candidates and causes — including to the president who nominated her and a sitting senator who will get to vote on her nomination — according to federal campaign finance records. Kagan maxed out to her boss and appointer, President Barack Obama, with $4,600 in contributions in June of 2008, adding to the $2,000 she gave him when he ran for the U.S. Senate.

Obama Nominates Himself. Writing in the Washington Post in February, law professor Jeffrey Rosen made the provocative suggestion that President Obama should nominate himself to the Supreme Court. On Monday, Obama ended up doing just that. Well, sort of. In Elena Kagan, who is just one year apart from him in age, Obama has found somebody whose biography, temperament, and values (as far as they are known) closely resemble his own.

Elena Obama. In selecting Elena Kagan to be the country's next Supreme Court Justice, President Obama has tapped the legal world's version of himself: a skillful politician whose cautious public persona belies a desire to transform the court and shape a new Constitutional liberalism.

Young Kagan's Thesis on Socialism. The Daily Princetonian has an illuminating article on the young Elena Kagan, Class of '81. Under the tutelage of Sean Wilentz — lefty historian, friend of the Clintons, and notorious Bush-basher — Kagan wrote a thesis called "To the Final Conflict: Socialism in New York City, 1900-1933," which first raised eyebrows when Kagan was being considered for Souter's seat last year.

Kagan's Paper Trail. Solicitor General Elena Kagan, President Obama's new Supreme Court nominee, has never been a judge. As such, her paper trail is much slimmer than the average nominee, but it still is providing fodder for critics. Groups on both the right and left say they are worried that Kagan is too much of an unknown entity for them accurately gauge what kind of justice she would be.

Kagan's scant writings spark concern. The Senate is about to embark on something it hasn't done in nearly four decades: vet a candidate for the Supreme Court — Solicitor General Elena Kagan — who has no paper trail as a judge.

Kagan Can Be a Justice, Though She's Never Been a Judge? Elena Kagan has never spent a day employed as a judge, and may now be given a lifetime appointment.

Losing the Battle And The War? A hot-button issue for Supreme Court nominee Elena Kagan's confirmation will be her opposition, as dean of Harvard Law School, to military recruiters on campus. Kagan's blank-slate background gives Republican critics little else to chew over...

Leftist Out, Leftist In. During his first week in office, [President] Obama, who has known Kagan since the two were colleagues on the University of Chicago Law School faculty during the 1990s, named her for the post of U.S. Solicitor General, the nation's second-most-influential legal authority. It bears mention that Kagan, at the time of that appointment, had never argued a case in any court and had published only three major articles along with a handful of minor pieces.

A stealth mission for Elena Kagan. Some of the senators — not most, but some — will be interested to know what she thinks of the Constitution as the Founders wrote it. President Obama will want her to rule on the law as decent and high-minded folk like him think it ought to be, not what it is. The gay community, which rarely seems very gay, expects her to be a reliable vote for changing the definition of marriage and for remaking the military into something Barney Frank can be proud of. Since Mzz Kagan has argued that the Supreme Court's role is mainly to tend the interests of "the despised and disadvantaged," somebody will be disappointed.

Kagan on Obama circa 2005. By now, anyone with a working knowledge of narcissism recognizes the pathological condition of the president. Even liberals concede that the man who sends thrills up Chris Mathews' leg is self-absorbed. It therefore makes sense that Elena Kagan, his Solicitor General, is the SCOTUS nominee. ... To label a man who voted "present" in the Illinois assembly and was a do-nothing Senator "great" is remarkable.

Supreme Court Sleeper Agent: Elena Kagan. Elena Kagan, the President's pick to replace retiring Supreme Court Justice John Paul Stevens, is an affable and intelligent Trojan horse. Obama's high court nominee has been groomed for years, standing ready for the judicial mission of advancing the secular-progressive agenda, if confirmed, for decades to come. Conservatives can (and must!) build a coalition to defeat Kagan's nomination.

Is Elena Kagan from the 'real world'? President Barack Obama introduced Elena Kagan on Monday in the terms that have come to define his approach to the Supreme Court: She understands the law "as it affects the lives of ordinary people," he said, adding that her presence will make the court "more reflective of us as a people than ever before."

After Election of Reagan, Kagan Yearned for a 'More Leftist Left'. Elena Kagan, President Barack Obama's nominee to replace Justice John Paul Stevens on the Supreme Court, has always been a committed liberal — and said so as early as 1980, as the undergraduate editor of the student newspaper at Princeton. Kagan, who served as editorial committee chairman for the Daily Princetonian, even wrote of her hope in the aftermath of the election of 1980 and the Reagan Revolution that "a new, revitalized, perhaps more leftist left will once again come to the fore."

Kagan's Hidden, But Obvious, Agenda: President Obama's high court pick has practically no paper trail, yet her left-leaning orientation is clear. The president knows what he's getting in his old friend Elena Kagan; America doesn't — yet.

Elena Kagan White House "Interview" Riles Reporters. The White House today [5/11/2010] posted on its website a video allowing Supreme Court nominee Elena Kagan to speak "in her own words" about her personal history and perspective. ... While the White House seems to believe the American people deserve to hear from Kagan, it has not made her available to reporters.

Nothing to see here: Kagan "interview" just another infomercial. It's standard practice around the White House (going back administrations) for any big nominee pending confirmation to stay away from interviews and unscripted public utterances until the voting is over. It keeps things tidy and minimizes variables. No biggie. The Obama administration, however, made SCOTUS nominee Elena Kagan available for an interview — by White House staffers. ... It's just another campaign commercial, masquerading as openness.

More evidence that the Obama team manipulates the news media.

Kagan kicked out campus recruiters at first chance. At her first opportunity to do so, Supreme Court nominee Elena Kagan banned military recruiters from campus during her tenure as dean of Harvard Law School, in protest over the Pentagon's policies on gays. Ms. Kagan's defenders insist the nominee was simply following the law as it worked its way through the courts, but Ms. Kagan banned the recruiters as soon as an appeals court in 2004 struck down a law tying federal funding to allowing military recruiting on campus. She acted despite the court's order that the ruling not take effect until the Supreme Court reviewed the case.

Kagan's Defense of Censorship: [Scroll down] In the wake of the administration's remarkable claim that it could constitutionally prohibit publication of a book, the court decided to use the Citizens United case to revisit its precedents on campaign finance law. Had the court given the government too much power to abridge speech? Last September, Solicitor General Elena Kagan presented the administration's second oral argument in the case.

Reagan-Hating Kagan. It's more than a little tiresome to contemplate that every current liberal Supreme Court justice was touted by the national media as a moderate or even a conservative when they were originally announced, from John Paul Stevens to Sonia Sotomayor. Dan Rather even claimed the last retiree, David Souter, was dangerously "anti-women's rights" when he was nominated in 1990. So it was less than shocking that the latest liberal nominee, Elena Kagan, drew the same phony "moderate" baloney.

'Don't Ask, Don't Tell'... Anything about Shariah Law. Elena Kagan, current Solicitor General of The United States and former Dean of the Harvard Law School, exemplifies selective outrage. She knows a lot about "Don't Ask, Don't Tell" when it comes to ROTC on the Harvard Campus, but wears official blinders when it comes to Islamic treatment of homosexuals.

The Way to Block Kagan. While many conservatives say the Democrats' 59-to-41 advantage in the Senate guarantees confirmation of Elena Kagan to the Supreme Court, one of the most renowned experts on Senate rules and procedures says "not so." "Kagan can be stopped, but only if Republicans in the Senate are willing to go all the way to do this," said New Hampshire attorney Mike Hammond, who served as general counsel to the Senate Republican Steering Committee from 1978-89.

Kagan Says 'Governmental Motive' is Proper Focus in First Amendment Cases. Supreme Court nominee Elena Kagan said the high court should be focused on ferreting out improper governmental motives when deciding First Amendment cases, arguing that the government's reasons for restricting free speech were what mattered most and not necessarily the effect of those restrictions on speech.

The Socialist Judge: Elena Kagan and the Teachable Moment. Why focus on an undergraduate college paper written almost thirty years ago? Because we are in the middle of a massively controversial presidency led by a man who has exhibited every intention of "transforming" America in the socialist image — leading the country away from its capitalist heritage. This Supreme Court nomination does not, after all, come in a vacuum. Since taking office, the Obama administration has taken control of everything from car companies to financial institutions to banks to your health care.

Would someone please list Kagan's qualifications? Obama's first Supreme Court appointment was Sonia Sotomayor, the Bronx-bred daughter of Puerto Rican parents, who supposedly was a valedictorian student with a deficiency in English and become an Ivy-League educated jurist credited with saving Major League Baseball. Now we have Elena Kagan, the granddaughter of immigrants, who as Dean of Harvard Law, introduced the concepts of civil debate, a faculty lounge, free coffee and tampons. If this woman has some legitimate qualifications to serve as a Supreme Court Justice, I hope they are presented soon...

Biden's Botox Infects Obama. Now friends, it's bad enough that the vice president of the United States has a forehead that you can break a brick over, but now Biden's Botox is contaminating Obama's drinking water. How else do you explain our Dear Leader's insistence that Elena Kagan holds enough experience to be our next Supreme Court justice? Yes, yes, the brother is a liar, after all. But still, the arguments the Obama Administration has ginned up in support of Kagan are mind-bogglingly pathetic.

Missing: Kagan's Record of Impartiality. Elena Kagan's history paints a picture of a smart political advocate, loyal to liberal ideology. What you do not see in President Obama's pick for the Supreme Court is someone whose respect for the law and the Constitution exceeds her political opinions. She looks primarily like a Democrat insider who will rubber stamp the President's agenda.

Increasingly Opaque White House Insulates Kagan From Press Corps. In the latest example of a pattern of opacity, the White House has cut off the press's access to Supreme Court nominee Elena Kagan. Kagan has extensive ties to journalists, which only serves as a testament to this administration's determination to control the message on its major initiatives, including Kagan's nomination.

Want to Talk to Kagan's Family? Permission Denied. White Houses traditionally put a muzzle on their Supreme Court nominees, to keep them from saying anything that might jeopardize Senate confirmation. But the Obama White House has taken it one step further. It is limiting, if not blocking, access to the nominee's family.

We're Speechless. Elena Kagan's thin paper trail was supposed to be an asset. But the confirmation of Obama's nominee may focus on one position it's clear she holds: that banning political speech can be constitutional.

Anatomy of an Activist. The nomination of solicitor general Elena Kagan to the U. S. Supreme Court gives us a chance to reflect, not so much on her qualifications for the bench but how her career trajectory illustrates the manner in which academia provides an outlet for activism, perhaps at the expense of scholarship. We can see this trend illustrated in the endpoints of the arc of Kagan's private sector career, from her senior thesis at Princeton to her tenure as dean of Harvard Law. In the former, she lamented that, "In our own times, a coherent socialist movement is nowhere to be found in the United States."

Kagan Flunks Her Own Test. While there's certainly a case to be made for a nontraditional appointment to the court, is the legal academy really the best place to look? As Walter Olson has noted, what passes for unexceptional in the elite law schools can seem jarring to the average American. What brings distinction in the ivory tower is rarely suited to the federal bench.

Why Obama Chose Kagan. Obama made clear in nominating Kagan that he expects a justice who will advance his progressive political agenda. Senate Republicans would be remiss if they failed to understand his intention and articulate to the country the constitutional issues at stake.

Read Elana Kagan's undergraduate thesis: Socialism in New York City. Here is a paragraph from the conclusion: ["]The story is a sad but also a chastening one for those who, more than half a century after socialism's decline, still wish to change America. Radicals have often succumbed to the devastating bane of sectarianism; it is easier, after all, to fight one's fellows than it is 'to battle an entrenched and powerful' foe. Yet if 'the history of Local New York shows anything, it is that American radicals cannot afford to become their own worst enemies. In unity lies their only hope.['"]

Elena Kagan a big Dem donor. Supreme Court nominee Elena Kagan has been a faithful Democratic donor over the past decade, lavishing nearly $15,000 on candidates from Barack Obama to Al Gore — a generous habit that may spark some fireworks at her confirmation hearings, experts said.

Kagan, Obama, and the Harvard Legacy of Literary Fraud. When Barack Obama's two faculty mentors at Harvard Law got in trouble for plagiarism, they were rescued by Dean Elena Kagan.

Obama's Hackneyed Hypocrisy. The appeals courts exist to ensure that those laws are applied the same way to every litigant regardless of what their personal stories are, not because of their personal stories.

The Case for Judicial Experience. Judicial experience, and particularly U.S. Courts of Appeals experience, matters because it best prepares one for the work that a Supreme Court justice does on a day-to-day basis.

We Have to Talk About Elena Kagan. By her own words — "...the uncoerced disappearance of such speech would be cause for great elation..." and "Americans are more likely to speak of... capitalism's glories than of socialism's greatness" — Ms. Kagan has proven that she is grossly unqualified for the position of United States Supreme Court Justice.

Obama Steers the Court Left. Barack Obama has thumbed his nose at veterans and many other Americans by trying to replace Supreme Court Justice John Paul Stevens with the liberal Elena Kagan. She is mainly noteworthy for excluding military recruiters from Harvard Law School. This nomination illustrates how far Obama has fallen from his lofty rhetoric about ending insider politics. Kagan, a campaign donor to Obama, has never decided a single case.

Komrade Kagan. Just as Obama was mentored by Marxists, Kagan has been steeped in socialist doctrine, and is no doubt rejoicing in the resurgence of socialism in the U.S. under the leadership of Obama and his water boys in the legislative and judicial branches. As for her qualifications for a seat on the Supreme Court, Obama insists that Kagan "is an acclaimed legal scholar with a rich understanding of constitutional law." In fact, she has exactly no judicial experience and very limited litigation experience, though one could argue she is far more qualifications for the Supreme Court than Obama had for the presidency.

Who is Elena Kagan? Kagan's understanding of the Supreme Court's role mirrors that of Thurgood Marshall. In one of her legal writings, Kagan cited Marshall's assertion that the Constitution, "as originally drafted and conceived," was "defective." This view is consistent with President Obama's contention that the Constitution "is not a static but rather a living document and must be read in the context of an ever-changing world."

Will her own words bite her? Republican senators have already begun to use Supreme Court nominee Elena Kagan's words against her, noting that she once said Senate confirmation hearings had become a "vapid and hollow charade." Sen. Jeff Sessions (R) of Alabama further said on ABC's "This Week" Sunday [5/16/2010] that the hearings would be "a big deal" because Ms. Kagan has no history as a judge to parse and scrutinize.

Elena Kagan's First Amendment Problem: One of the narratives that's emerged in the media's shallow examination of Elena Kagan's record and temperament suggests that the Supreme Court nominee is a centrist who has built a career on working with both sides and finding common ground. ... But Kagan's centrism is a lot like that of the man who nominated her — all rhetoric and no substance. Many voters fell for Candidate Barack Obama's talk of post-partisanship. Millions of Americans have since been roused to the reality of a president who seeks, among other things, to radically redistribute to the government their hard-earned income. Americans must likewise wake up to a Supreme Court nominee who displays a disturbing eagerness to redistribute to the government their hard-earned constitutional free speech rights. Or, to put it bluntly, she is willing to allow the use of government force to silence citizens.

Can Kagan Be Trusted to Defend the Constitution? Elections have consequences and Presidents should be given wide latitude on nominees. However, there is a major issue for the Senate to consider and one which, with the continuing filling in of the Kagan belief system jigsaw puzzle, should possibly lead Republicans to filibuster her. That issue is whether Kagan is likely to be honest when she swears to the oath of office which must be taken by all federal officials in support of the Constitution.

Those Who Can't Do, Teach. Either that, or they become the President or a Supreme Court justice. Our Professor in Chief has nominated fellow ex-professor Elena Kagan to the Supreme Court -- thus giving another academic a shot to swing our country to the left. Ever since Obama arrived at the White House, he's been appointing his old academic friends to high places.

Diverting Kagan Questions. My opinion, relying on a gaydar tuned to Aegis levels of sensitivity by two decades in New York City, is... no question about it. If Elena Kagan is not gay, the world simply does not work the way I have always understood. I am aware that her old friends have rallied to assure the public that she is straight. I am also aware that one of them is named Eliot Spitzer. I need say no more. There is her record of activities involving the Harvard gay, lesbian, and whatever community, e.g. her direct involvement in the Harvard Gay and Lesbian Caucus 25th anniversary weekend. And finally, there's the oddity of the large number of gay spokesmen and organizations who openly defended the claim that she's straight, a reversal of customary roles that I have not previously encountered.

A female version of our president. Elena Kagan has no judicial experience and no paper trail of thoughtful legal opinions to merit any consideration for a seat on the highest court of the land. Recent history has taught us a lot about "blank slates." President Obama had a shallow resume and virtually no paper trail when he fooled many voters into believing he shared their philosophical viewpoints.

Elena Kagan Princeton thesis: 'Sad' that U.S. socialist movement imploded. Supreme Court nominee Elena Kagan's undergraduate thesis at Princeton University in 1981 was mostly a clinical analysis of the socialist movement in the United States, but in her conclusion she expressed disappointment that "labor radicalism" had failed to gain political prominence.

Kagan Has Donated Exclusively To Democrats; MSM Pretends Not To Notice. In the aftermath of President Obama's nomination of Elena Kagan to the Supreme Court, ABC and Politico, among others, have reported on Kagan's history of political contributions. Not surprisingly, she has donated exclusively to Democrats, with Obama receiving more than half ($6300) of the $12,300 in total she contributed to national level campaigns in the preceding 10 years.

Obama the destroyer. President Obama is subverting the Supreme Court. His latest pick for the high court, Solicitor General Elena Kagan, is a radical leftist who would rubber-stamp Mr. Obama's transformative socialist agenda. She is not an independent, serious nominee, but an Obama ideological clone.

Kagan's Nomination Really More About Obama. I'm loving the drama that is unfolding around President Obama's nomination of Solicitor General Elena Kagan to the Supreme Court. Conservatives are, true to form, bungling the narrative they should be rightfully pushing — an unqualified liberal just chomping at the bit to legislate from the bench. Meanwhile, Miss Kagan's record on anything that might reveal her jurisprudence is so sparse that liberals are beginning to get a little skittish on just how she may rule on various issues.

Do Elites Belong on the Supreme Court? Elena Kagan is by all accounts a brilliant thinker. But is she a lawyer? Based on her resume, she is arguably unqualified to take a deposition, plot case strategy, or, heaven forbid, try a case without help from an experienced practitioner. ... Some of us in the trenches are skeptical. Is it really too much to ask that Supreme Court justices know how to practice law before presuming to write the rules for those of us who do?

On Elena Kagan's Senior Thesis: Sound anti-Communist Labor History. Some conservatives have been criticizing Supreme Court Justice nominee Elena Kagan for her 1981 Princeton senior thesis in history titled "To The Final Conflict: Socialism in New York City, 1900-1933." Not me. As a historian who has read widely in socialist and communist history, and written about the topic, I found her thesis to be academically first rate, based on a wide-ranging use of primary and secondary source material, with a thoughtful analysis and sound conclusions that derive from the evidence.

Kagan The Unqualified. The nomination of Elena Kagan for the vacant seat on the US Supreme Court is a slap in the face to serious lawyers, experienced jurists and anyone who has a serious understanding of the law. Of course, from Barack Obama, someone who seems to have very little knowledge of, or respect for, the law and particularly the Constitution, it should not be surprising. After all, he has a particularly warped view of just about everything that relates to the Supreme Court.

Why Kagan's Sexuality Matters. Every major world religion, thousands of years of history and uncompromising human biology have established that homosexual conduct is among other volitional behaviors filed under "sexual immorality." Indeed, the majority of folks around the world — billions, actually — count this a timeless truth. But the controversial nature of homosexuality is only one point of concern. Another involves potential conflicts of interest, "real or perceived." If we had a judicial nominee — widely believed a compulsive gambler — tapped to preside over gambling cases, would it not matter?

Why we should be very afraid of Elena Kagan: From the Harvard Law Record, via Ed Whelan, we learn that Elena Kagan considers Israeli supreme court justice Aharon Barak her "judicial hero." According to Kagan, Barak "is the judge who has best advanced democracy, human rights, the rule of law, and justice." However, it would appear that Kagan's judicial hero actually has very little regard for the rule of law and, indeed, is the antithesis of what a judge should be.

Obama and Kagan are Memorial Day MIAs. [Scroll down] Clearly during Elena Kagan's tenure at Harvard, she advanced the shunning of all things military even if it was in direct conflict with federal law. The Kagan policy on military recruiting on campus was in direct violation with the Solomon Amendment, a federal law that should have superseded any of her considerations of Harvard Law School policy. But as Stuart Taylor wrote aptly described in his National Journal column on May 15, 2010, "Kagan's World is a legal academic complex oozing politically correct bias, moral vanity, detachment from the real world, and a cynical view of the law as meaning whatever you can manipulate it to mean."

Kagan's Disdain For Constitutional Law: Judicial experience for a Supreme Court nominee is significant in that previous decisions are often the best indicator of the nominee's interpretation of the law and the constitution. For a nominee such as Elena Kagan who lacks judicial experience their legal scholarship takes on increasing importance in determining their fitness to serve on the high court. Since the volume of Ms. Kagan's legal scholarship is miniscule it would be prudent to examine her actions and decisions in her previous positions.

Questions for Elena Kagan. [Question #3] You clerked for Thurgood Marshall, the first African-American justice on the court. He categorized his judicial philosophy as "You do what you think is right and let the law catch up." Do you agree with that view?

Kagan's Thesis Endorsed Judicial Activism. Everyone had hoped that with a complete disclosure of Elena Kagan's writings that we would have a greater understanding of her judicial philosophy and rest assured that her political activities would not be transferred to her role as a Supreme Court justice. Unfortunately, uncovering her positions on the role of the judiciary has only confirmed previous suspicions that she endorses the use of the judiciary as a mechanism to enact her social beliefs.

Senate Should Reject Kagan Nominiation. The Senate should reject President Obama's nomination of Elena Kagan to the Supreme Court. Kagan's experience is inadequate and her general jurisprudential views are largely unknown. Therefore, senators cannot vote "Aye" consistently with their oath of office.

Kagan Wants to Impose Her Values on Your Speech. Supreme Court nominee Elena Kagan has expended a great deal of intellectual energy searching for a rationalization that would preserve freedom of speech for viewpoints she likes while imposing government controls on speech she does not like.

Kagan documents to go online. The National Archives has announced that about 46,500 pages of documents from Supreme Court nominee Elena Kagan's four years of service in the Clinton White House will go online at 1 p.m. E.T. Friday [6/4/2010], providing a fresh trove of information for Kagan's supporters and opponents to pore through in search of ammunition for her confirmation hearings set to start later this month.

Documenting The Real Elena Kagan. It's no mystery why the White House wants nominee Elena Kagan to remain a mystery. The more we know of her views, the more we know she'd be a justice of the left.

Kagan helped defend late-term abortion ban veto. As a domestic policy adviser to former President Bill Clinton, Supreme Court nominee Elena Kagan helped defend the veto of a measure that would have banned late-term abortions with few exceptions.

Kagan: Affirmative action good law — good politics. As a White House adviser Supreme Court nominee Elena Kagan indicated support for affirmative action as good law and good politics.

CBS Correspondent Annoyed White House Trying to Conceal Kagan's Liberalism. This is probably what a lot of people suspected, but couldn't tie it all of it together until documents and memos from President Barack Obama's Supreme Court nominee Elena Kagan were made available to the public — that she is beyond a shadow of a doubt liberal.

DNC, Obama Now Astroturfing Talk Radio. The shameless media manipulators at the DNC have a new campaign designed to promote Elena Kagan for the Supreme Court. As with previous campaigns, the "Kagan for Justice Action Center" is run via a special website set up by Organizing for America. It encourages people to write letters to the editors of newspapers nationwide (And we can presume that, as before, local newspapers will publish DNC talking points without realizing it).

Kagan's threat to gun owners. President Obama poses a real and present danger to the Second Amendment, and he's working to pack the Supreme Court with justices who will undermine Americans' gun rights. Mr. Obama didn't fess up to this radical agenda when running for the highest office in the land. ... Despite the campaign rhetoric, Mr. Obama is appointing judges who strongly oppose that position. The most recent pick, Elena Kagan, ran much of President Clinton's war on guns from 1995 to 1999.

Clinton Files Show Kagan Advocated Cloning for Human Research. White House memos from 1997, when Elena Kagan was a top domestic policy advisor to President Clinton, show that Kagan — nominated to the Supreme Court by President Obama — recommended that the Clinton administration permit cloning of human embryos for research purposes.

Kagan role in Clinton sex harassment suit withheld. Bill Clinton's presidential library won't publicly release memos and notes Supreme Court nominee Elena Kagan wrote about the sexual harassment lawsuit that triggered Clinton's impeachment.

Ruby Ridge: Kagan focus as 1996 re-election loomed. As an aide in the Clinton White House, Elena Kagan steeped herself in details of the Ruby Ridge controversy, an issue that Sen. Arlen Specter of Pennsylvania had zeroed in on as he sought the Republican presidential nomination.

Kagan: Bad on Abortion, Gun Rights and the Commerce Clause. Another round of documents from Elena Kagan's time in the Clinton White House was released Friday afternoon [6/18/2010], giving further evidence of her decidedly liberal legal and policy positions. The release comes as a Rasmussen poll shows that support for Kagan's nomination to the Supreme Court has fallen to 33% while opposition to her nomination has risen eight points to 41%. By way of comparison, 28% of the public opposed Harriet Miers' nomination at the time she withdrew under fire from the process.

Leftists Say the Darnedest Things. [Scroll down] It's all bilgewater. And so is so much else from the mouths not of children but of adult lefties who should know better. Supreme Court nominee Elena Kagan, billed by her supporters as a moderate consensus-builder, opposed allowing ROTC recruiters on Harvard's campus and defended Bill Clinton against charges of sexual harassment against Paula Jones — in a case that later triggered his impeachment.

Did Kagan Compare the NRA with the KKK? It has become clear that Elena Kagan, Obama's most recent Supreme Court nominee, is no friend of gun rights, to say the least. While clerking for Supreme Court justice Thurgood Marshall in 1987, she wrote the judge that she was "not sympathetic" to a Second Amendment-based challenge to the D.C. gun ban. While serving in the Clinton administration, she wrote a memo that "paved the way for an executive order banning dozens of semiautomatic weapons," according to the L.A. Times.

Now He Tells Us! As the Senate weighs the nomination of Elena Kagan to the Supreme Court, the interest shown in the 46,000 pages recently released by the Clinton Presidential Library reminds us that confirmation is a one-shot deal. Once confirmed, with very rare exceptions, a Justice sits for as long as he or she likes. So find out what you can now. Later is too late.

Kagan sought secrecy in 4 of 5 open gov't cases. Supreme Court nominee Elena Kagan's arguments as solicitor general in several cases on government secrecy were at odds with a promise of transparency made by her boss and top client, President Barack Obama.

Kagan Unqualified To Be on Court. The new Supreme Court pick, Elena Kagan, has never been a judge. She's never seen a courtroom from the bench. She's never had a judge's responsibilities. Elena Kagan has never instructed a jury or ruled on a point of law — any point of law. She's never tried a criminal case, a civil case, or even a traffic case. She has not decided even one constitutional issue.

Bork: Kagan Not Qualified for Supreme Court. Judge Robert Bork said Elena Kagan's admiration of Israeli Judge Aharon Barak is "disqualifying in and of itself" for her to sit on the Supreme Court. Bork said Barak "may be the worst judge on the planet" because of his judicial activism and that the Israeli court under Barak was the "most activist court" he'd seen. Kagan has called Barak her judicial hero.

What a Sack of Sacrosanct. [Scroll down] With that in mind, here are some questions it would be fun to ask a New York liberal like Supreme Court nominee Elena Kagan at her hearings next week: [#1] Roughly one-third of Americans are Evangelical Christians. Do you personally know any Evangelical Christians? Name two. [#2] In 1972, Richard Nixon was elected president with more than 60 percent of the vote, winning every state except Massachusetts and the District of Columbia. How many people do you know who voted for Nixon?

Bork Says Kagan Lacks 'Mature Philosophy' Needed in a Justice. Former federal appellate judge and Supreme Court nominee Robert Bork says Elena Kagan lacks the "mature philosophy of judging" needed to be a Supreme Court justice and that the Supreme Court is "drifting" toward becoming "a committee of ideologues."

The case against Kagan. Solicitor General Elena Kagan is too political, too leftist, too inexperienced and too disrespectful towards existing law to be confirmed for the U.S. Supreme Court. As Ms. Kagan's nomination hearings begin on Monday [6/28/2010], what we now know about her should disturb fair-minded Americans, and should embolden moderate senators of both parties to avoid rubber-stamping her for a lifetime appointment. The pressure should be most intense not on Republicans, but on Democrats who claim moderation and yet try to explain away Ms. Kagan's history of leftist proselytizing.

Kagan on Life: As Radical as They Come. The discredited practice of partial-birth abortion has been rejected by the overwhelming majority of Americans, including a large percentage of people who consider themselves "pro-choice." A 2003 Gallup poll found that over 70 percent opposed the procedure where the life of a baby is ended by suctioning the child's brain matter while almost its whole body is delivered and only the head remains inside. But President Obama's Supreme Court candidate, Elena Kagan, does not reject this inhumane, gruesome procedure.

Elena Kagan Ready For Her Close-Up. A political hack with no experience as a judge and no constitutional scholarship — wasn't that why Harriet Miers didn't make it onto the high court? Is Elena Kagan any better?

Tossing A Few Legal Queries Into The 'Void'. It would be naughty to ask you about litigation heading for the Supreme Court concerning this: Does Congress have the right, under its enumerated power to regulate interstate commerce, to punish the inactivity of not purchasing health insurance? So, instead answer this harmless hypothetical: If Congress decides interstate commerce is substantially affected by the costs of obesity, may Congress require obese people to purchase participation in programs such as Weight Watchers? If not, why not?

Abandon the 'Ginsburg Rule' for Supreme Court candidates. The Supreme Court is no longer a neutral umpire ensuring that both sides are governed by the same predetermined rules. To use a baseball metaphor, the justices have given up calling balls and strikes, and instead tinker with starting lineups, pitching changes and decisions to hit and run. Because the senators are representatives of the people, they have a duty to ask probing questions. And as a prospective participant in the policymaking game, Kagan should candidly answer all questions put to her.

Elena Kagan Demanded Sex-Change Operations and Bathroom Access as 'Equal Rights'. [Scroll down] While serving as Dean of Harvard Law School, Kagan's administration demanded and forced Blue-Cross, Blue-Shield to cover sex-change operations as an "equal right" paid benefit, harming gender-confused students, as confirmed in 2006 and 2008 by Harvard Crimson newspaper articles. Kagan also offered sympathetic ear to lesbian group Lambda's Transgender Task Force demand to force all women to share public bathrooms and locker-rooms with cross-dressing men, which is now part of Harvard's dormitory policy, according to the report.

Republicans Roll Over For Kagan. Supreme Court confirmation hearings have degenerated into slick TV entertainment. Millions of viewers seeking real scrutiny of President Obama's choice instead heard light banter about how New York Mets fan Kagan might get along with Yankees fan Justice Sonia Sotomayor.

Kagan Hearings Surpass World Cup For Most Boring TV Event. The two main points being made by Democrats in support of Elena Kagan's nomination to the Supreme Court merely serve to remind us that Democrats are inveterate liars. First, it has been repeatedly observed how wonderful it is that Ms. Kagan is "someone who's an intellectual heavyweight who's going to give Roberts a run for the money" — as Sen. Amy Klobuchar, D-Minn., put it.

A Vote for Kagan Is a Vote to Take Away Your Guns. As the number of President Obama's judicial appointments and nominations continues to grow, it appears pretty clear that he does not care about the individual's right to self-defense. We can tell this by looking at the record of his two Supreme Court picks but also by examining the long list of lower-level judicial appointments. All of these reflect a pattern of favoring person who have written anti-gun opinions.

Kagan's Abortion Distortion. When President Obama promised in his inaugural address to "restore science to its rightful place," he never explained what that rightful place would be. Documents recently released in connection with the Supreme Court nomination of Solicitor General Elena Kagan suggest an answer: wherever it can best be used to skew political debate and judicial outcomes.

Kagan Concocted Medical Claim to Justify Partial-Birth Abortion. If Kagan twisted science to advance her political agenda, why wouldn't she do the same to the law?

Constitution Is Endangered If Kagan OK'd. Now that Obama is president, he has the power to nominate Supreme Court justices who will "break free" from the Constitution and join him in "fundamentally transforming" America. That's the essence of his choice of Elena Kagan as his second Supreme Court nominee. She never was a judge, and her paper trail is short. But it's long enough to prove that she is a clear and present danger to the Constitution.

A Smoking Gun in the Kagan Case? Shannen Coffin was a deputy attorney general during the Bush administration, and was charged with defending the federal partial-birth abortion act in court. At National Review, he writes that documents released by the Clinton White House show Elena Kagan's "willingness to manipulate medical science to fit the Democratic party's political agenda on the hot-button issue of abortion." The account, if it is true, is a shocking one.

Harriet Miers faced the gauntlet while Kagan skates on by. [Scroll down] According to Kagan, a nominee must demonstrate that he or she "has the training, skills, and aptitude to do the work of a judge at the highest level" (University of Chicago Law Review, Vol. 62, No. 2, Spring 1995). Even a cursory look at Kagan's record shows she fails her own test and has neither the training, skills nor aptitude required for a Supreme Court justice.

Kagan's Lying Her Pearls Off. I truly like Elena Kagan, but she is doing a terrible job of telling the truth during these hearings. At yesterdays proceedings, she lied in no less than five areas of the law, none of them boding well for the future of the Constitution.

Kagan's partial-birth extremism. Elena Kagan has failed the ethical standards necessary for service on the Supreme Court. She also has shown herself to be an apologist not just for legalized abortion, but for legalized partial-birth abortion -- a gruesome form of infanticide opposed by up to 75 percent of the American public. In yesterday's Senate Judiciary Committee hearings, Ms. Kagan utterly failed in her attempts to explain away her unethical actions on behalf of an immoral policy. After these revelations, no senator claiming to be a moderate should be able to support Ms. Kagan.

The War on Science. [Scroll down] What's described in these memos is easily the most serious and flagrant violation of the boundary between scientific expertise and politics I have ever encountered. A White House official formulating a substantive policy position for a supposedly impartial physicians' group, and a position at odds with what that group's own policy committee had actually concluded? You have to wonder where all the defenders of science — those intrepid guardians of the freedom of inquiry who throughout the Bush years wailed about the supposed politicization of scientific research and expertise — are now.

The dodgy Miss Kagan. Fifteen years ago, Elena Kagan wrote a law review article calling the Supreme Court confirmation process "a vapid and hollow charade" that takes on "an air of vacuity and farce." Instead of a quality discussion, she wrote, nominees offer "repetition of platitudes" and "personal anecdotes." On Tuesday [6/29/2010], fate cast Kagan as the lead actor in the very farce she correctly described.

Distortion disqualifies Kagan. Supreme Court nominees in our era always have a lot of explaining to do. Doing it right means stirring up enough murk that their Senate interrogators eventually admit defeat and confirm them. Elena Kagan has been playing the game this week, saying as little as possible of any substance and trying to avoid serious mistakes until her interrogators tire of the game.

Kagan the conqueror. The Republicans have failed — once again. The Senate confirmation hearings on Elena Kagan's nomination to the Supreme Court have been a farce. Republican senators refused to challenge thoroughly and aggressively Ms. Kagan's transnational, leftist agenda. Instead, they hardly laid a glove on her. This is inexcusable. Ms. Kagan is one of the most radical nominees to sit on, potentially, the highest court in the land. She is a postmodern academic cultural Marxist.

Why Kagan Is Unqualified — and Dangerous. Let's say you needed to hire a football referee. If he said that he was a "pragmatic" referee, who viewed the rule book as "living" and thus would interpret the rules to suit the "times," would he be your man? Since it's the job of the rule-makers to craft the rules, and the referee's role is only to determine if they've been broken, I think you'd be aghast.

Hyper-Partisan Elena Kagan's Road to the High Court. [Scroll down] Not surprisingly, in introducing Elena Kagan as his nominee to replace retiring Justice John Paul Stevens, Obama spent a great deal less time touting her judicial experience -- that's because she has none. Obama did, however, refer to Kagan as a "trailblazing leader." And in one sense, he's right. Kagan would be a pioneer of sorts, at least among the current justices. She would be the first Supreme Court justice who has spent his or her life not applying the law but rather crassly manipulating it for political ends.

Senate Hearings Confirm Kagan's Leftism. During her Senate hearings this week, Supreme Court nominee Elena Kagan confirmed, beyond any doubt, that she is indeed the leftist which most objective observers have always known her to be.

Is Elena Kagan Morally Blind? Elena Kagan has some terrifying opinions about the government's ability to kill free speech. At Harvard she was part of the feminist establishment that got Larry Summers fired as president for dropping a politically incorrect remark. Kagan is no defender of free speech, not even on university campuses where telling the truth is the essence of scholarship. Just the opposite. We have censorship on our campuses today because of the likes of Dean Kagan.

Shooting Hoops with Kagan. It is difficult to envision a basketball tournament in which the officials observe the NCAA regulations the way Kagan seems to understand and view the Constitution and the role of the Supreme Court. Imagine playing in an athletic competition without confidence that officials will apply the written rules equally to all the players, or with the sport overseen by "activist" judges who instead look for "rights" and "fairness," based on factors such as racial or ethnic quotas, the wealth or history or position of the respective colleges, the regulations of foreign countries, mainstream popularity, or other empathetic ideals.

Kagan's Cakewalk. What were Americans thinking in November 2008? Did they think they had just voted to put in motion the Supreme Court appointment of someone who has never served as a judge, whose paper trail is as thin as it is indicative of extremism, and whose career as a political hack betrays a well-honed opportunism? Clearly, most of those voting for president were thinking of other things, such as the state of the economy and taking part in the historic election of our first black president. But if Solicitor General Kagan's free ride through a Democrat-dominated Senate proves anything, it's that court picks should be in the forefront of the minds of voters.

A vague, vapid mystery for the Supreme Court. [Scroll down] This week Mzz Kagan did her best to say nothing, and her best was sufficient unto the day. She reduced the vapid to the insipid, as in an exchange with Sen. Tom Coburn over the limits of the Constitution's Commerce Clause — written by the Founders to limit the power of the federal government and distorted by liberals, both on the Supreme Court and off, to enable the feds to expand the nanny state without limit.

The Left's Use and Abuse of Children. [Scroll down] Obama has already appointed transexuals to high positions. And then there's Elena Kagan, about to become a SCOTUS. While she presents as unassuming, at Harvard, she was a firebrand. There, Kagan reportedly strong-armed Harvard's health insurer to pay for sex change operations for staff and students. So an 18-year-old who wasn't sure about his career choice could, without parental knowledge or approval, reconfigure his private parts. Kagan also spearheaded a campaign to make bathrooms unisex. Apparently, she considers gender-neutral johns to be a constitutional right, more compelling than the First and Second Amendments. Kagan and Obama and all the president's czars are secular fundamentalists. They are trying to force-feed a radical agenda to this country. And they're doing it, in part, by recruiting impressionable children.

A Socialist on the High Court? Part One. Elena Kagan's controversial "Final Conflict" thesis on socialism was written in 1981 when she was 21 years old. Professor Harvey Klehr, an expert on the socialist and communist movements, told me that while he sensed "a lurking sympathy" in the document for the left-wing of the Socialist Party, he didn't find a "red flag" that would derail her nomination. Kagan's thesis covered the rise and fall of the socialist movement in New York City from 1900-1933.

A Socialist on the High Court? Part Two. As a student, Obama Supreme Court nominee Elena Kagan was so interested in the socialist movement that she wrote a thesis about its history in New York City from 1900-1933. But the history of the Progressive Party, which ran FDR's former vice president Henry Wallace as its presidential candidate in 1948, helps bring the subject up to date and explains the current direction of the Democratic Party. The Progressive Party was controlled by the Communist Party but efforts to work through the democratic process did not die out with its election defeat in 1948. Communists and "progressives" then targeted the Democratic Party for a takeover from within.

Why The Rush To Seat Elena Kagan? Despite the fact that America is suffering from its biggest deficit ever; the highest unemployment rate in years; terrorist threats, and an environmental disaster of monumental proportions, last week, Congress spent valuable time rushing to confirm President Obama's handpicked Solicitor General, Elena Kagan, to the Supreme Court. She's supposed to replace Justice John Paul Stevens, a liberal who'll retire this summer, but the question should be whether Congress has more important things to consider.

Kagan's kiss of death. Senators who vote to confirm Elena Kagan to the Supreme Court will need to answer this fall for ignoring legal ethics while contributing to the Obama administration's culture of death. Solicitor General Kagan acted unethically — while an aide to President Clinton and in testimony last week to the Senate Judiciary Committee — to promote the monstrosity known as partial-birth abortion.

Kagan: Unfit for the Supreme Court. On June 30, in her confirmation hearings, Solicitor General Elena Kagan gave a response which gives me pause about her fitness to serve on the Supreme Court. Senator Tom Coburn, Republican of Oklahoma, asked her view of the natural right to self-defense. She responded, hesitantly, that she didn't have a view of natural rights independent of the Constitution. But natural rights independent of the Constitution form the very fabric of it.

'Commerce Clause' Totalitarians. [Scroll down] After Kagan is confirmed, Obama will have put two Justices on the Supreme Court. Another one could be "strike three" for our democratic republic. The sooner Republicans re-capture the Senate — where they should unashamedly oppose any more radical additions to the court — the better. If SCOTUS in its present incarnation can only muster five votes for the Second Amendment, one more liberal Court appointee could fundamentally alter this nation forever.

Elena Kagan Will, Unfortunately, Fit Right In. Elena Kagan will fit right in on the Supreme Court. That is not a compliment: Kagan will become yet another Justice too willing to interfere with necessary administrative decision-making.

Justice Ginsburg Rolls Out Welcome Mat for Kagan. Elena Kagan is already feeling the love from at least one corner of the Supreme Court. Speaking yesterday [7/8/2010] at the Aspen Ideas Festival, Justice Ginsburg said, "I am so glad that Elena is joining us." Ginsburg must be gunning for Scalia's title as the court's most provocative off-campus speaker, because she also took on the topic of abortion. Calling herself a "flaming feminist," Ginsburg said, "we will never go back" to the days when abortion was illegal.

Opposition to Kagan Nomination Continues to Build. Democrats will need 60 votes to bring Kagan's nomination to the floor for a confirmation vote by the full Senate. With the death of West Virginia Ku Klux Klan founder and Democrat Sen. Robert Byrd, the Democrat caucus controls 58 votes. If the caucus stands firm, they'll need two Republicans to put them over the top. The standard for cloture is 60 in favor as opposed to 41 against.

The Case against Confirmation. After studying Elena Kagan's record, actively participating in her hearing, and listening to the views of folks in Utah and across the country, I do not believe that she meets the standards we should require of federal judges — especially Supreme Court justices. The first important standard is experience. Ms. Kagan has never before served as a judge — and, in addition, has little legal experience of any kind. Over the Supreme Court's long history, justices who were nominated without past judicial experience have had an average of 21 years of legal practice. Ms. Kagan has two. Her experience is instead academic and political.

SCOTUS nominations shouldn't be pro forma exercise. Supreme Court nominee Elena Kagan must be psychic. Fifteen years ago she called the nomination hearings "a vapid and hollow charade." Last week, she ensured that her prediction came true. After more than nine hours of questioning, we still lack critical insights into how Justice Kagan would approach some of society's most pressing questions before the court — let alone the slightest whiff of a judicial philosophy that would inform her decision making.

Kagan's cookbook: The joy of tyranny. Does Congress have the power to tell people what to eat? Maybe you think that's a stupid question. Nonetheless, it was a question that Supreme Court nominee Elena Kagan was unwilling to answer. The question was posed to Ms. Kagan by Sen. Tom Coburn, Oklahoma Republican, during her Senate hearings. In trying to avoid answering the question, Ms. Kagan responded by saying, "Sounds like a dumb law," but she did admit that just because a law might be dumb does not make it unconstitutional. And that was the extent of her answer.

Kagan nomination hits roadblock. Could it happen? Could Kagan's nomination wither on the vine? It's probably unlikely. But at the back of my mind is the tale John Bolton tells in his excellent memoir Surrender is Not an Option, on how Harry Reid is a master of the rope a dope when it comes to killing a nomination while appearing to approve it going forward.

Sessions: 'One Vote Away From Banning Firearms'. Sen. Jeff Sessions told Human Events that Supreme Court Justice Sonia Sotomayor wasn't forthcoming during her confirmation hearings on whether the right to keep and bear arms was settled, constitutional law. In light of that, the Alabama Senator said that even many Democrats are uneasy about confirming Elena Kagan because she, too, was cagey and evasive when asked if the Second Amendment applied to individuals.

Republican Senators Must Filibuster Elena Kagan. Americans have now learned about the extreme views of Solicitor General Elena Kagan, President Obama's nominee to the Supreme Court. Kagan's testimony before the Senate Judiciary Committee contained much clear evidence of her expansive view of federal power and her lack of respect for the 2nd Amendment. Kagan's views on the Commerce Clause and Americans' right to "keep and bear arms" make her unfit to serve on the Supreme Court.

Lindsey Graham: Sellout. Sen. Lindsey Graham broke ranks with fellow Republicans in a key vote Tuesday [7/20/2010] to confirm Elena Kagan to the Supreme Court, signaling that there will be no united front for a filibuster of President Obama's nominee. In a 13-6 vote by the Senate Judiciary Committee, Graham of South Carolina was the sole Republican supporting Kagan to replace retiring Justice John Paul Stevens.

Why No On Kagan. As another functionary of the left slides through to a lifetime perch of unchecked power, listless Republicans fail to focus on the central issue: Elena Kagan is no supporter of the Constitution.

Progressives and the Declaration of Independence. In her Supreme Court confirmation hearings, Elena Kagan said she is a political Progressive and was dismissive of the Declaration of Independence, relying solely on the Constitution for legal decisions. That's a consistent position; Progressives don't like what the Declaration declares. U.S. courts follow stare decisis, meaning "to stand by that which has been decided before." They are supposed to follow established precedents; judges aren't to make things up as they go along. There are legislators for that. That leaves Progressives like Ms. Kagan stranded.

Kagan's Snowe job on gun rights. The more it looks like the Senate will confirm Elena Kagan for the Supreme Court, the more gun owners should worry. Yesterday, Sen. Olympia J. Snowe of Maine became the fourth Republican to stand behind President Obama's nominee on the phony basis that Ms. Kagan supports gun rights.

Kagan to join Supreme Court Saturday. President Barack Obama said he is "very pleased" with the Senate confirmation of Elena Kagan Thursday [8/5/2010], and thanked the Judiciary Committee for giving her a "full, fair and timely hearing" shortly after her nomination in May.

Elena Kagan Confirmed as Supreme Court Justice. In a 63-37 Vote, the Senate confirms President Obama's nominee, making her the 4th-ever woman to serve on the high court.

Rights for the unborn. President Obama's selection of Elena Kagan, the most demonstrably pro-abortion Supreme Court nominee in recent memory, presented a daunting challenge to pro-life leaders, as her 63 Senate votes during Thursday's confirmation attest. Not unreasonably, observers have asked: Why then, do we bother? The question resonates for this particular political confrontation but applies equally to the larger issue as a whole as we near four decades of abortion on demand in America post Roe v. Wade. We bother because, in the end, we will win.

With Kagan, We Get a Lifetime Obama? No matter who it is, everyone you will speak to about Kagan has their own ideas of her but the one thing that stands out within everyone's response is clear: "No experience in the judicial chambers." Although many follow that up with other previous members of the Supreme Court and their glowing background as justices, it is not just the experience but what comes along with it that we should be just as concerned with. It is the timing of her arrival.

Not with a bang but a whimper. Did anyone in Washington (or anywhere outside the beltway for that matter) notice that the United States Senate confirmed Elena Kagan as an Associate Justice for the United States Supreme Court last week? Not to mistrust the intelligence of the American citizenry, but this is, as Anchorman Ron Burgundy would say "kind of a big deal." One sure wouldn't be able to glean very much about the proceedings however, from the cavernous dearth of media coverage of Kagan's confirmation.

Judge overturned Prop. 8 while claiming he wasn't changing anything. Judge Vaughn R. Walker's opinion purporting to strike down California's Proposition 8 ballot initiative banning gay marriage is a screaming advertisement against the appointment and confirmation of renegade judicial activists like Elena Kagan. The labyrinth of twisted reasoning Walker constructs in his opinion is a testament to the depth of deceit that inhabits the modern left's thought processes.

Supremely Slanted. For almost 20 years, in this new era of activist groups and activist reporters, The New York Times has covered Supreme Court fights with a heavy finger on the scales of justice, tipping the balance. They have painted conservatives as highly controversial and dangerously ideological, while liberal nominees were presented as "brilliant" moderates who were only newsworthy in that they were often laudably "historic" choices, or, in Kagan's case, she was not only "brilliant," but "very funny, warm and witty."

The Wise Latina Goes Off the Deep End. Here's what happens when you pick Supreme Court Justices based on "empathy."

An Unhealthy Mandate. During her confirmation hearings last summer, Supreme Court nominee Elena Kagan was asked if the Constitution empowers the federal government to pass a law requiring Americans to eat fruits and vegetables. What did she say in response? She said, "It sounds like a dumb law." She said the commerce clause of the Constitution "has been interpreted broadly." She said the courts have a duty to ensure that "Congress doesn't go further than the Constitution says it can go, doesn't violate individual rights, and also doesn't act outside its enumerated authorities." This is what she did not say: "No."

Sotomayor, Kagan shift Supreme Court debates to the left. For most of the last two decades, Supreme Court conservatives led by Justice Antonin Scalia dominated the debates during oral arguments. They greeted advocates for liberal causes with sharp and sometimes caustic questions, putting them on the defensive from the opening minute. But the tenor of the debate has changed in recent months, now that President Obama's two appointees to the court, Sonia Sotomayor and Elena Kagan, have joined the fray and reenergized the liberal wing.

Should Kagan Recuse from Health Cases? In the questionnaire she filled out for the Senate Judiciary Committee before her confirmation hearing, Kagan explained her thinking on the recusal issue. Among other things, she said she would abide by the "letter and spirit" of 28 U.S.C. 455. This law states that any "justice, judge or magistrate judge of the United States shall disqualify himself in any proceeding in which his impartiality might be reasonably questioned."

New Documents Suggest Kagan Involved with Crafting Defense of Obamacare. Emails between Supreme Court Justice Elena Kagan and members of the Obama Administration reveal she was more involved with President Obama's health-care law than was disclosed previously. The documents likely will lead to a revival of questions about whether the Kagan should recuse herself from future cases.

A Supreme conflict of interest. Judicial Watch, a public-interest watch dog group, just unearthed a cache of e-mails showing that Elena Kagan participated in preparing the government's defense of ObamaCare during her time as President Obama's solicitor general. By all precedent — and her promise to the Senate Judiciary Committee she'd abide by "letter and spirit" of the law — this should oblige Justice Kagan to recuse herself when the ObamaCare cases come before the Supreme Court.

Kagangate: A Coverup Of Obamacare Conflict-Of-Interest? Judicial Watch and the Media Research Center have obtained potentially explosive e-mails that could prove Supreme Court Justice Elena Kagan provided misleading answers during her Senate confirmation hearings when she said she had no involvement as U.S. Solicitor General in any strategizing over how to defend the health care reform law known as Obamacare. Whether or not she had any such involvement is crucial in determining whether she must recuse herself from cases dealing with the constitutionality of Obamacare.

49 Lawmakers Call for Judiciary Committee Investigation. Forty-nine members of the U.S. House of Representatives — including the chairman of the House Oversight Committee, the chairman of the Republican Policy Committee and two presidential candidates — are pointing to evidence they say is "contradictory" to Supreme Court Justice Elena Kagan's confirmation testimony and calling for the House Judiciary Committee to investigate the matter.

Justice Kagan Embraces Sharia Law That Would Kill Her. Of course, it's too late now but a writer named Kevin A. Lehmann has done the vetting the Senate was supposed to do, and in the process, uncovered some of Kagan's "opinions" about sharia written before the fact Obama planted her in a lifetime job on The Supreme Court. I think it's safe to assume our President knew of these views before he made Kagan his choice and must have found them appealing qualifications for the job.

House lawmaker asks Justice for data about Kagan. The chairman of the House Judiciary Committee has asked the Justice Department to turn over more specific information on Supreme CourtJustice Elena Kagan's role in crafting a legal defense of President Obama's health care law when she served as the administration's solicitor general.

ObamaCare and Kagan's Conflict of Interest. From the moment President Obama announced her nomination, Elena Kagan has faced serious questions about her role in preparing the legal defense of PPACA. And, contrary to the claims of the White House and its allies in the news media, these queries cannot be written off as politically-motivated smear tactics generated by the "Republican noise machine." It's hardly unreasonable to assume that, in her former role as Solicitor General, she would have played some part in preparing for the onslaught of lawsuits that ObamaCare was bound to provoke.

House Weighs In on Kagan Recusal. In response to a letter from 49 members of the House expressing concerns about Justice Kagan's involvement in the legal defense of Obamacare, House Judiciary Committee chairman Lamar Smith has asked Attorney General Eric Holder for key documents as well as interviews with key DOJ staff. The purpose of the request is to determine whether she should disqualify herself from considering any of the cases challenging the law when they reach the Supreme Court.

Judiciary Chairman Withholding Judgment on Kagan Recusal. House Judiciary Chairman Lamar Smith (R-Texas) is withholding judgment on whether Supreme Court Justice Elena Kagan should recuse herself from judging lawsuits that were filed against the health-care law that President Barack Obama signed while Kagan was serving as the Obama administration's solicitor general and was charged with defending the administration's position in federal court disputes.

Coming Soon: Kagangate. Forget unconvincing liberal demands that Clarence Thomas recuse himself from the ObamaCare case because his wife is a Tea Partyer. Ex-Obama operative Elena Kagan has a true conflict.

Court Ruling Proves: Kagan Must Recuse. U.S. District Judge Ellen Huvelle, a Clinton appointee, ironically provided evidence last week that seals the case that Justice Elena Kagan is required by law to recuse herself from cases challenging Obamacare. The law in question is 28 U.S.C. 455. It mandates that a justice "shall disqualify himself in any proceeding in which his impartiality might be reasonably questioned" or "(w)here he has served in governmental employment and in such capacity participated as counsel, adviser or material witness concerning the proceedings ..."

DOJ refuses to release Kagan Obamacare documents. There are plenty of Republican congressmen and senators who believe that associate justice Elena Kagan should recuse herself from the upcoming Supreme Court case involving the constitutionality of Obamacare because of her service as Solicitor General. Emails released last summer clearly showed that Kagan's interest in Obamacare exceeded the threshold by which judges should voluntarily recuse themselves.

Kagan emails lead to calls for inquiry over her involvement in Obamacare. Alabama Republican Sen. Jeff Sessions issued a letter to Attorney General Eric Holder Tuesday [11/15/2011] requesting answers to Kagan's involvement after emails revealed Kagan enthusiastically supporting President Obama's Patient Protection and Affordable Care Act, as well as possibly orchestrating legal defenses for the act. The emails, obtained by Judicial Watch and originally reported by CNSnews.com, show Kagan and other administration officials setting up meetings to discuss how to counter legal challenges to the health care law.

Elena Kagan Must Be Recused In ObamaCare Case. Should a justice who participated in ObamaCare's creation recuse herself from the court's review of that law? Of course. But then a nominee who lies in confirmation hearings shouldn't be on the court anyway.

Sessions Demands Written Testimony from Holder on Kagan and Obamacare. Sen. Jeff Sessions of Alabama, a senior Republican on the Senate Judiciary Committee, is demanding that Attorney General Eric Holder provide the committee with written testimony related to Supreme Court Justice Elena Kagan's possible involvement in President Barack Obama's health-care legislation or litigation that was filed against that legislation during the time she was solicitor general.

85 Call for Kagan Recusal on Obamacare. The call for Congress to hold hearings on the need for Justice Elena Kagan to recuse herself from the ObamaCare case now on the docket of the Supreme Court has exploded. The number of organizations signing on to a letter to House Judiciary Chairman Lamar Smith has more than tripled in just 48 hours since our original blog post calling for her to stand aside.

Leading senators: Kagan may have to recuse herself from health case. Top Republican senators said late Friday [11/18/2011] the Justice Department has been stonewalling their request for more information on Supreme Court Justice Elena Kagan, and said her previous work as solicitor general "may satisfy both requirements for recusal" from the upcoming health-care case.

Kagan should recuse herself from Obamacare deliberations. Legal hair-splitting by Washington lawyers is a daily occurrence in the nation's capitol, but not even the most accomplished barrister can twist federal law into something it's clearly not. Exhibit A here is the law specifying when a federal judge should recuse himself or herself from hearing a case. On the issue of when recusal is appropriate, that law is about as clear as the English language can make it.

Thomas, Kagan asked to sit out health care case. Conservative interest groups and Republican lawmakers want Justice Elena Kagan off the health care case.

DOJ Memo: Solicitor General Kagan 'Substantially Participated' in Obamacare-Related Case. On Jan. 13, 2010, the Republicans on the Senate Judiciary Committee sent then-Solicitor General Elena Kagan a series of written questions examining the issue of how she would handle recusing herself from cases she might have been involved in as solicitor general if she were confirmed to the Supreme Court. "Notably, we are concerned about the standard you would use to decide whether to recuse yourself from litigation you participated in as Solicitor General," the senators wrote.

Elena Kagan and Question 3. [Scroll down] "No," she said. That was how she answered question No. 2, which inquired if she had ever been asked her opinion about the merits or underlying legal issues in Florida's lawsuit against Obamacare. That was also the way she answered question No. 3, which asked: "Have you ever been asked your opinion regarding any other legal issues that may arise from Pub. L. No. 111-148?" — aka Obamacare. Thus, during the time Obamacare was debated, enacted and targeted by lawsuits, no one in Obama's administration bothered to ask his solicitor general about any legal issue that might arise from it.

Top 10 reasons to elect anybody but Obama. [#6] President Obama gave us Elena Kagan and Sonia Sotomayor — who for decades will be two reliable liberal votes on the Supreme Court — and he is slowly remaking the entire federal judiciary by advancing activists to the bench.

Kagan Must Recuse Herself from Obamacare Case. As solicitor general of the United States, Justice Elena Kagan served as the head of an office responsible for formulating the Obama administration's legal defense of its domestic agenda priority — Obamacare. It could be no surprise to President Obama[,] who appointed her to the Supreme Court[,] that any former solicitor general would have many conflicts for years to come. Now, the Court will soon hear a constitutional challenge to the health-care law. Despite mounting evidence of her substantial participation in the administration's legal defense of that law, she still has not announced whether she will recuse herself from presiding over the case as a justice.

Judicial Watch sues DOJ over Kagan Obamacare docs. Judicial Watch has sued the Department of Justice to seek files relating to Supreme Court Justice Elena Kagan's involvement in discussions about the legal challenges to the national health care law when she was President Obama's solictor general. With the Supreme Court set to hear oral arguments in the health care challenges late next month, the issue of whether Kagan should recuse herself given her prior role in the Obama administration has generated controversy.

Kagan Sits in Judgment of Obamacare — Despite Cheering Its Passage and Assigning Lawyer to Defend It. When the Supreme Court on Monday [3/26/2012] began hearing oral arguments in the cases challenging the constitutionality of the Patient Protection and Affordable Care Act — AKA "Obamacare" — Supreme Court Justice Elena Kagan showed up to hear the arguments and gave no indication she would recuse herself from judging the cases even though she had cheered enactment of Obamacare as an Obama political appointee and had personally assigned her top deputy in the Obama Justice Department to defend the law in federal court.

Obama's Quest To Consolidate Federal Power. [Scroll down] Of course, the primary suspect in this scenario is Elena Kagan, the newest member of the court. It may seem pejorative to suggest that she could so flagrantly compromise the integrity of her office, except that by remaining involved with the Obamacare court case, she has already done just that. Having stumped for Obama's massive governmental power grab as his Solicitor General, she can by no means be objective in her current position. Yet she flatly declined to recuse herself from the case. So regardless of whether or not she actually divulged last week's decision on Obamacare, the Court as it currently exists is in a wholly compromised condition.

Kagan: 'Sometimes I Think the Job Doesn't Really Change at All'. Describing her move from serving as President Barack Obama's solicitor general to serving on the Supreme Court, Justice Elena Kagan said last week that "sometimes I think that the job doesn't really change at all." As solicitor general, Kagan's job was to advocate the Obama administration's position in cases brought to the Supreme Court. As a justice, Kagan's job is to judge cases brought to the Supreme Court.

Exclusive: Kagan's Handwritten Notes to Bell on Critical Race Theory. Breitbart News has discovered previously unknown handwritten notes from Elena Kagan to radical professor Derrick Bell, sent to Bell as Kagan worked on his seminal 1985 article on Critical Race Theory in the Harvard Law Review.

Holder Refuses to Provide Testimony on Kagan's Involvement in Obamacare. Attorney General Eric Holder has refused to provide written testimony to the Senate Judiciary Committee in response to "questions for the record" submitted to him by Sen. Jeff Sessions (R.-Ala.) that focus on Supreme Court Justice Elena Kagan's involvement in the Patient Protection and Affordable Care Act — AKA Obamacare — while she was President Barack Obama's solicitor general.

Elena Kagan: The ObamaCare Recusal That Wasn't. When the U.S. Supreme Court releases its decision on the fate of the Patient Protection and Affordable Care Act, Justice Elena Kagan will cast a vote that should not have been counted. The relevant rule requires that Supreme Court justices recuse themselves if in their previous capacity they served as "counselor or advisor" concerning a current matter before the Court, or if there is anything about the proceeding by which the justice's impartiality can reasonably be called into question.

Roberts Hands a Poisoned Chalice to the President. If the Supreme Court conservatives had voted down ObamaCare by a vote of 5 to 4 the liberals would not have accepted it, any more than the pro-life movement accepts Roe v. Wade. There was only one way in 2012 to make a Supreme Court decision to invalidate ObamaCare stick, and that would have been for Justice Kagan to join the conservative majority in a 6-3 decision. Why Kagan? Look at the other three liberals: Ginsburg was a liberal ACLU lawyer; Breyer was a Kennedy staffer; Sotomayor an affirmative action pick — liberal hacks every one. But Elena Kagan was dean of Harvard Law School and Solicitor General; she is the liberal educated elite. Her vote to overturn would have been an admission from the educated establishment that ObamaCare was unjust and wrong.

Investigation Into Kagan's Role in ObamaCare. Representative Louie Gohmert (R-Texas) is calling for an investigation of Justice Elena Kagan, arguing that her prior service as solicitor general should have disqualified her from participating in last week's decision on the constitutionality of ObamaCare, a law she helped craft and defend as a former member of the Obama administration. On Friday [7/6/2012] Gohmert, a member of the Tea Party Caucus, delivered a speech from the floor of the House insisting that as the government's top litigator Kagan surely would have advised the President on the possible legal challenges that his healthcare reform legislation would face. If not, says Gohmert, she would have been the "worst solicitor general in history."



Refuse to Recuse. Critics of President Barack Obama's recess appointments are calling on Supreme Court Justice Elena Kagan to recuse herself from a potential Supreme Court hearing on the matter. The Chamber of Commerce raised the prospect of recusal, citing then-solicitor general Kagan's defense of President Obama's recess appointments in a previous case regarding the composition of the National Labor Relations Board.

The Top 50 Liberal Media Bias Examples. [#6] Robert Bork and Clarence Thomas Vs. Elana Kagan: In 1987 and in 1991 when Robert Bork and Clarence Thomas were respectively nominated to serve on the Supreme Court of the United States, both men were utterly destroyed by the press. In the case of Bork they were successful in preventing his nomination, not so in the case of Thomas. It was so bad for Robert Bork that a verb was made of his name.

Did Justice Kagan embarrass herself during the Hobby Lobby oral arguments? If Betsey McCaughey is correct (and I bet she is, because she has not only read the entire ObamaCare bill, she has written a book about it), Supreme Court Justice Elena Kagan publicly humiliated herself during the oral arguments on the Hobby Lobby case, revealing that she either did not read the law, or failed to comprehend it if she did so. Writing in the New York Sun, McCaughey lays out what is wrong with the Justice's declaration about Obamacare: she asserted that the statute itself mandates provision of birth control.

Obama-Nominated Justice Kagan Officiates at Wedding of CBS News Reporter to Ex-Obama Staffer. Julianna Goldman, who endured a marriage to former FNC, MSNBC, Current and Al-Jazeera America host/reporter David Shuster, got married on Saturday, in Aspen, Colorado, to Michael Gottlieb, a former associate White House counsel for Obama. The New York Times reported on Sunday [7/13/2014] that Supreme Court Justice Elena Kagan, a former colleague of Gottlieb's at the White House, "officiated."

Justice Kagan Performs Her First Same-Sex Wedding. Justice Elena Kagan has officiated for the first time at a same-sex wedding, a Maryland ceremony for her former law clerk and his husband.

Elena Kagan 2009: "There is no federal constitutional right to same-sex marriage". I know, 2009 was then, this is now. Then she was a nominee for Solicitor General, now she is an Associate Justice of the United States Supreme Court. Then she was bound to follow the law, now she gets to make it. Then supporting gay marriage may have sunk her nomination, now public opinion has shifted.

Justice Kagan in 2009: 'There Is No Federal Constitutional Right to Same-Sex Marriage'. Of course, there was no right to constitutional right to same-sex marriage right up until last week when Kagan joined four other justices on the court in creating one.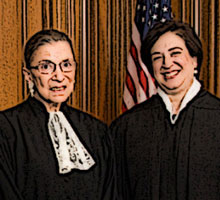 Two Supreme Court Justices Must Go: The Case for Impeachment. Justice Antonin Scalia said in his dissent in the same-sex marriage case that the ruling was a threat to our democratic form of government and constitutes a "judicial Putsch," or secret power grab. He didn't just say the majority was wrong or misguided; he essentially said they had conspired to overthrow our form of government. His position on the Court may have made it impossible to supply specifics. But one possible explanation of what he meant is that he saw a conflict-of-interest on the part of members of the majority, which required their recusal from the case. Rather than investigate what Scalia is hinting at, our media have opened fire on Scalia for blowing the whistle on judicial corruption. In fact, the push for gay marriage has been tainted by lies from the beginning.
The Coming Confrontation. [Scroll down] Even our Supreme Court has been assigned a role in the destruction of the American culture. There are parameters that the Court must abide by that have been trampled into oblivion. Ethics have been set aside for political purposes in both the Obamacare and same sex decision. States are laboratories for managed societal change and state's rights have been circumvented for the benefit of the Federal government and those dependent on it. The non-recusal of both Ginsburg and Kagan are just the start of a judicial system that is progressive in nature and no longer follows the principled law that this country is founded on.
Dred Scott was popular, Justice Kagan. Some things are so obvious that it surprises me that no one else says it. I am surprised no one pointed out to Justice Kagan that we have a Supreme Court to do that which is unpopular. The Court protects the Constitution from The Mob. Miss Kagan said, "I'm not talking about any particular decision or even any particular series of decisions, but if over time the court loses all connection with the public and with public sentiment, that's a dangerous thing for democracy." She should know better. The worst decisions made by the Supreme Court are the ones that were popular at the time.
---

Commentary on both Sotomayor and Kagan



Startling Rift on Supreme Court Springs From Error by Kagan On Text of Obamacare Law. A startling rift appeared Tuesday [3/25/2014] on the Supreme Court as the three female Justices came out swinging like Brunnhildes — women warriors — for what they erroneously labeled an "entitlement" to employer-provided contraceptives and morning-after pills. The Justices were hearing oral arguments in Sebelius v. Hobby Lobby Stores, Inc., a case hyped by the Democratic Party as a test for women's rights. Justices Kagan, Ginsberg, and Sotomayor sprang on Hobby Lobby's attorney, interrupting his every sentence and pummeling him with questions taken right out of the Democratic Party's "war on women" playbook.

Cruz: Obama's View of Federal Power 'Knows Virtually No Bounds'. Cruz points to Obama's own Supreme Court appointees, Elena Kagan and Sonia Sotomayor, to make his case: "When President Obama's own Supreme Court nominees join their colleagues in unanimously rejecting the Administration's call for broader federal power six times in just over one year, the inescapable conclusion is that the Obama Administration's view of federal power knows virtually no bounds," the senator's report said.

Sotomayor, Kagan Browbeat Scalia over Voting Rights Act Argument. Liberals have accused Supreme Court Justice Antonin Scalia of being the court's resident bully, but when two liberal female Suprem Court Justices -- Sonia Sotomayor and Elena Kagan -- this week tried to browbeat Scalia and lawyers arguing against the Voting Rights Act's Section 5 pre-clearance requirement, the mainstream media hailed their efforts.

Obama's Supreme Court and Critical Race Theory. [Elena] Kagan is not the only one of Obama's Supreme Court appointees who is thought to have more than a passing familiarity with Critical Race Theory. The issue came up in legal circles during debate over the nomination of Justice Sonya Sotomayor, particularly with regard to her comments that a "wise Latina" might reach a "better conclusion" than a white male, and her ruling (later overruled) against white firefighters alleging discrimination in the Ricci case. Regardless, Critical Race Theory is emerging as an important theme among some of President Obama's most important influences — and most important appointments.

The Bright Side of Kagan and Sotomayor. Yes, Kagan and Sotomayor are down-the-line liberals but anybody else the president picked would have been one as well. So the question of how they would vote was never really at issue. The more pressing question is whether they are smart enough, sharp enough, to sway any of the other justices or poke serious holes in the conservative lawyers' cases. Neither has shown that ability.



Obama's Second Term Regulations That Will Destroy America. Imagine more justices in the philosophical mold of the president's most recent addition, Elana Kagan, a gun-unfriendly attorney who participated in writing the 1998 Clinton White House executive order banning imports of 58 types of "semiautomatic assault rifles". Then there's also Sonia Sotomayor, an Obama nominee who joined Justice Stephen Breyer's dissenting opinion in the narrow 5-4 McDonald v. City of Chicago decision which clarified that Second Amendment rights apply to states. An Obama reelection presents an extreme risk of replacing at least one of five Supreme Court justices who have vindicated Second Amendment protections in the precarious Heller and McDonald decisions. If this were to happen, our right to bear arms might become a lost historical memory for future oppressed generations to read about.

The Editor says...
Future generations will read all about it, unless their electronic history books are scrubbed.

Latino Democrat: 'Marriage Between a Man and a Man Is Not Biblical'. Speaking at the March for Marriage rally in Washington, D.C., on April 25, New York State Senator Ruben Diaz (D-South Bronx) spoke in favor of traditional marriage saying, "Marriage between a man and a man is not biblical," and, "It doesn't matter what the Courts say. Christ lives." He also questioned why Supreme Court Justices Ruth Bader Ginsberg and Elena Kagan, each of whom has officiated at same-sex marriage ceremonies in the past, have not recused themselves from Obergefell v. Hodges, the same-sex marriage case that comes before the Supreme Court on Tuesday [4/27/2015].

The Top 50 Liberal Media Bias Examples. [#6] Robert Bork and Clarence Thomas Vs. Elana Kagan: In 1987 and in 1991 when Robert Bork and Clarence Thomas were respectively nominated to serve on the Supreme Court of the United States, both men were utterly destroyed by the press. In the case of Bork they were successful in preventing his nomination, not so in the case of Thomas. It was so bad for Robert Bork that a verb was made of his name. After the press and Democrats succeeded in ruining his career and reputation the term "Borked" gained cache. On the other hand, when Elana Kagan was nominated by Obama to serve on the highest court in the land, the media went out of its way to ignore key factors in her career in order to facilitate her ascension to the court. Just for one for instance, when running as McCain's VP, Sarah Palin the media reported that she engaged in "book banning" when she was mayor of Wasilla. But Elana Kagan actually ruled that book banning was OK and the media ignored the story during her confirmation hearings. Liberal media bias 101.

Justice Kagan's sophomoric misunderstanding of West Virginia v. Environmental Protection Agency. The Supreme Court's decision on West Virginia v. Environmental Protection Agency, issued on the last day of its term, may mark the beginning of the decline of the unchecked power of administrative agencies to make law and issue judgments on their own. The so-called "fourth branch of government," the "administrative state," has been grabbing power with no accountability to voters for many decades. Congress has been its co-conspirator in short-circuiting political accountability. [...] Congress has defaulted for decades on its responsibility to write laws, by delegating its legislative authority to bureaucrats who then make up "regulations" (with the authority of law) and issue judgments and exact penalties (just like laws). The benefit for the legislators is that they escape the responsibility they would face if they had written these regulations as laws, when they produce negative consequences for interested parties, including potential campaign donors.

Justice Kagan warns parts of East Coast could be 'swallowed by the ocean' in dissent in EPA case. Supreme Court Justice Elena Kagan warned parts of the East Coast could be "swallowed by the ocean" in a dissenting Supreme Court opinion in an environmental regulation case Thursday [6/30/2022]. "If the current rate of emissions continues, children born this year could live to see parts of the Eastern seaboard swallowed by the ocean," Kagan wrote in her dissent. Justices Stephen Breyer and Sonia Sotomayor joined Kagan's dissent in the 6-3 case. "Today, the Court strips the Environmental Protection Agency (EPA) of the power Congress gave it to respond to 'the most pressing environmental challenge of our time,'" Kagan wrote.

The Editor says...
I guess if a Supreme Court Justice says "parts of the East Coast could be 'swallowed by the ocean,'" and none of the other Justices dissent, the statement is carved in stone and can't be ridiculed. The article below goes into some detail about the origins of that rash pronouncement.

How To Think Like A Liberal Supreme Court Justice. Consider Justice Elena Kagan. She was the Dean of the Harvard Law School. Then she became the Solicitor General of the United States. That's the person in charge of arguing the government's positions in the Supreme Court. You need to be really smart to do that job. So if you're looking for someone who can teach you the thinking processes of the very smartest of the smart, there is no one better to look to than Elena Kagan. With that in mind, let's take a closer look at Justice Kagan's dissent on behalf of the three liberal justices in the case of West Virginia v. EPA that came out just last week. That's the case where the six conservative justices held that EPA lacked the authority under existing statutes to transform the electricity-generation sector of the economy. In my last post, I already quoted in full the second paragraph of Justice Kagan's dissent. The first couple of paragraphs of an opinion are where a judge normally tries to encapsulate the essential gist of the argument, the reasoning that will capture the reader's attention and immediately convince him of the rightness of the judge's thinking. So let's look at that paragraph again: [...]

Elena Kagan Claims 'Legitimacy' of Supreme Court Is at Risk When It Strays From Public Opinion. [H]ere we go again — with more ignorance of the role of the United States Supreme Court in the aftermath of the Roe overturn. Only this time, the idiocy comes from within SCOTUS, courtesy of Elena Kagan, who on Thursday claimed the legitimacy of the Court is tied to its conformity with public opinion. [...] Silly me. All this time, I thought the Supreme Court's role was that of final arbiter of the law, thus ensuring the American people with the promise of equal justice under the law and, thereby, as guardian of the Constitution of the United States of America.

Exactly the opposite is true.
Kagan claims Supreme Court has to follow 'public sentiment'. The Supreme Court may lose its legitimacy if it strays too far from public sentiment, according to Justice Elena Kagan. Kagan, a liberal judge appointed to the court in 2010 by former President Barack Obama, tied the standing of the court to its "connection to the public," noting it could be dangerous if people continue to view Supreme Court justices as increasingly partisan, likely an allusion to the recent contentious court term that saw the overturning of Roe v Wade and an expansion of gun rights. "I'm not talking about any particular decision or even any particular series of decisions, but if over time the court loses all connection with the public and with public sentiment, that's a dangerous thing for a democracy," Kagan said at a judicial conference in Montana.
---

The Supreme Court's Official Web Page.

Recent Supreme Court decisions.





Jump to the material about the Ten Commandments
Jump to the material about Property seizures
Jump to Lower-Level Judges and Lawyers in General
Back to the Home page