You may want to start at the KRLD Pictures Index Page, especially if you have stumbled across this page through the use of a search engine.

The document shown on this page is the October 1955 edition of "RCA Broadcast News." It was recently found stashed away in a file cabinet at the KDFW-TV transmitter site, located near the base of the original Cedar Hill TV tower. RCA was apparently very proud of the design and fabrication of this tower, because apparently nobody had ever attempted to make a "candelabra" style tower before, to accommodate two or more television stations' antennas at the same height above ground. Even today, it is rather unusual to see such a large platform at the top of a very tall tower.


---

Click to enlarge, of course: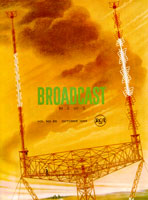 Front cover.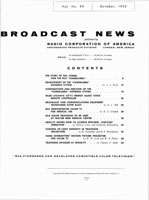 Table of contents.



The story of Hill Tower and the RCA "Candelabra"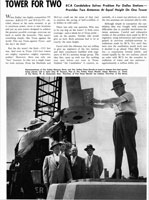 Tower for Two

I wonder... is the man on the far right (who is obviously relieved to see there are six bolts waiting for the six holes in the flange) the same as this man, who was featured on this page?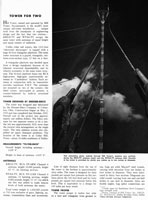 Overall height above ground: 1520 feet, 9 inches.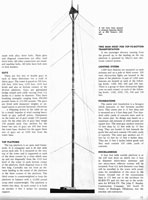 More about the guys, the beacons, the foundation, etc.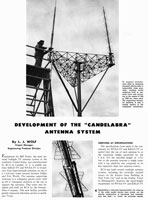 Development of the "Candelabra" antenna system.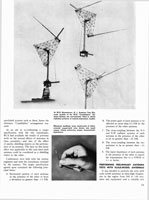 RCA built a scale model of the Cedar Hill tower (I wonder where it is now!) and in the process, they made their own "miniature" coax cable -- about what we would call RG-174 today.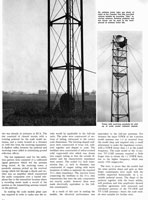 The model was built on a scale of about 1:10, using antennas at 500 and 1500 MHz.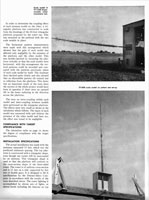 This was done to predict the isolation between the low-band and high-band transmitters.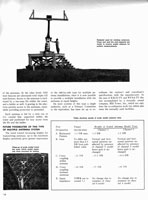 Results of the isolation tests were quite good.

Updated 3/24/2009:
I was informed today by a very reliable source that the scale model of the Cedar Hill tower is still at the Cedar Hill site. Apparently the preliminary testing with the scaled-down antennas was done in Cedar Hill, and not at an RCA facility on the east coast, as I had suspected earlier. If I pull a few strings (and push a few buttons), perhaps I can take some pictures of it.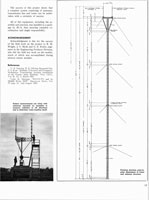 Stem-to-stern dimensions of the tower.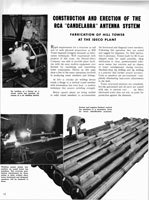 Construction and erection of the RCA "Candelabra" antenna system: Fabrication of Hill Tower at the Ideco plant.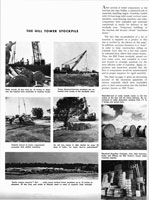 The Hill Tower stockpile.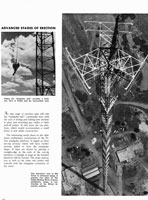 Advanced stages of erection -- with a really impressive aerial photo of the incomplete candelabra.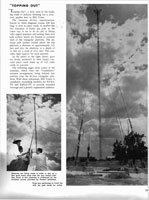 Topping out.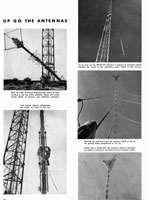 Up go the antennas.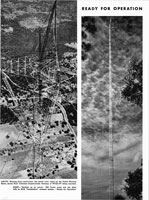 Ready for operation. Another good aerial photo.



Back cover. An ad for an RCA Victor color TV -- pretty impressive for 1955. Probably a VHF-only receiver, since the UHF band wasn't catching on too quickly.*


Simulated reception.

Incidentally, this TV set carried a price tag of $895 back then, which would be the equivalent of $7,060 today.




Another copy of this issue of RCA Broadcast News can be found here.




More pictures of the Cedar Hill Tower.